US public sector workers are paid less than their private counterparts
Whenever I hear some empirical proposition used by a politician my curiosity is immediately aroused and I go searching for evidence to support or refute the statement. That is the nature of my professional life as a researcher. I often find that politicians twist the facts to suit and when put in context the argument becomes more nuanced to say the least. I also often find out that the politician has just made things up which in other words is referred to as lying. The fiscal austerity push in the US and elsewhere is being justified by a number of erroneous propositions but one of the worst claims is that public workers are so well paid that they are bankrupting governments all over the world. That is a claim that needs investigating and fortunately some credible researchers in the US have done the hard yards and come up with some definitive results. They all show the claims by the austerity proponents to be lies, to say the least. Progressives should focus on these lies and construct simple messages to drown the public in – like – US public sector workers are paid less than their private counterparts! Then we can progress and discuss what deficits mean etc.

There was an Associated Press release today (March 1, 2011) – Wis. gov. to outline ultimate intentions in budget – which said that Wisconsin Governor Scott Walker's proposal to take most "collective bargaining rights away from most public workers"
… represents just one piece of his vision for the state's future. Now he's ready to reveal the rest.
As background, please read my recent blog – The conservative agenda is becoming more transparent – for more discussion on this point.
The AAP reports that the state plans "major cuts to schools and local governments" (about 9 per cent state-wide). So as Paul Krugman also noted yesterday – Leaving Children Behind – that the deficit terrorists are not only diminishing the present but they are also undermining the future.
As Krugman notes, over the long-term the burden of fiscal cuts proposed by conservatives "always seems to fall disproportionately on those very children they claim to hold so dear."
His example is Texas which he says should adopt the slogan "Lose the future", but the argument applies to every government that pursues a neo-liberal agenda.
This is a constant theme in my blog – by sustaining high teenage unemployment and allowing children to grow up in homes where their parent(s) are unemployed – the neo-liberal policy approach is locking-in a dumbed down future of mediocre productivity and unhappiness.
This is compounded by cuts to education to "save money" when every bit of evidence shows that education helps militate against joblessness and also provides the basis for future technological improvements.
With ageing societies, the best thing governments can do is ensure there is full employment and handsomely fund public education and the supporting infrastructure – transport, child care etc.
But all the likes of Scott Walker can think about is a number on some set of accounts "the budget shortfall".
How does a school system cope with a 9 per cent cut? The AAP report that it will mean "teachers are laid off, class sizes are larger, course offerings are reduced, extracurricular activities are cut, and whole parts of what we value in our schools are gone".
So the agenda is wider than just cutting pay for public servants. The same thing is happening in the UK at present, although the atrocities are being pursued by the national government which has no financial constraint at all. What we are witnessing now – in the aftermath of the worst crisis in 80 years that was caused by governments giving the private sector too much latitude – is a fundamentalist attack on the public nature of our lives.
You can bet that the corporate welfare subsidies will remain intact and the concessions to the rich will go unscathed (witness conservative support for the extension of the Bush tax cuts for the high income earners). But there is a concerted effort now – under the smokescreen of fiscal crises – to reduce the public nature of our lives.
Given many people rely on the support of the public sector – including all the children that receive their education from state schools – this move will increase inequality and further undermine future wider participation in growth and prosperity.
Of-course, when the next crisis comes along those who have most to gain from the privatisation of our public spheres will have their hands out the first for public support.
As you will recall a key claim of many governments (both national in the US and elsewhere and the US states) is that they are encountering a fiscal crisis because their bureaucracies are stacked with high paid and lazy public servants that have been nurtured by aggressive unions who succeed in gaining benefits for their members which are out of all proportion with the private sector – in both relative and absolute terms.
This argument has been rehearsed widely in the press – clearly being a dominating recent theme in the rabid right-wing press but it has also gained traction in the mainstream media such as the New York Times.
In this paper (published September 2010) – Debunking the Myth of the Overcompensated Public Employee – The Evidence – by Jeffrey Keefe we see a sample of "public official condemnation" of public employees by senior US politicians. I have documented them as follows with more detail than Keefe provides.
First, we have the extraordinary statement on NBC's Meet the Press (December 13, 2009) from former Governor Mitt Romney of Massachusetts:
government workers"
… the real threat right here is something that Alan Greenspan just said, and that is that if we don't take action to rein in the scale of government and the growth of government spending and the compensation levels of government workers-you saw government workers, average government workers, are now making $30,000 a year more than the average private sector worker … These kinds of excesses and the massive deficits that, that, that government is putting in place, over a trillion dollars a year for these coming several years, this threatens our long-term viability, because it, it, it suggests that we could have runaway inflation.
Governor Chris Christie addressed the Annual Luncheon Meeting of the New Jersey Conference of Mayors on April 29, 2010 and said:
And I think that people in New Jersey now feel as if there have become two classes of people in New Jersey. Public employees who receive rich benefits, and those who pay for them. Now that is an uncomfortable reality to come to in this room, but it is the reality … You are setting up two different classes of people, because for those of you who work in the private sector you know pay freezes have become the norm. Pay cuts, failure to match in 401K programs, more contributions towards your health benefits, have become the norm to keep businesses afloat …
I note that in the transcript his statement (which ended with a challenge to the teachers' union to pursue legal action to preserve their benefits to "go ahead, go ahead") was followed by "Laughter, applause".
Governor Tim Pawlenty of Minnesota was at it in this article (April 30, 2010) –
Gov. Pawlenty: Public employees are 'over-benefited and overpaid' – saying:
It used to be that public employees were underpaid and over-benefited. Now they are over-benefited and overpaid compared to their private-sector counterparts.
In an article (June 7, 2010) – Gov. Daniels Bashes Public Employees As 'A New Privileged Class' – Daniels of Indiana said:
We have a new privileged class in America … We used to think of government workers as underpaid public servants. Now they are better paid than the people who pay their salaries … Who serves whom here? Is the public sector – as some of us have always thought – there to serve the rest of society? Or is it the other way around?
Finally, in the article (June, 24, 2010) – Bouchard says public employees overpaid, calls for Constitutional amendment to limit pay we read that the then Republican gubernatorial candidate Mike Bouchard claiming that:
Almost every study says (government compensation levels) are between 17 and 24% higher. So we have to reflect the people we work for.
More recently, in a speech to the Milwaukee Press Club (December 7, 2010), Wisconsin Governor-elect Scott Walker claimed that:
There needs to be a reality check for everybody across the State of Wisconsin that you don't cut hundreds of millions of dollars out of the state budget … Unless we have alternatives like we're talking about like wage and benefit reforms … We can no longer live in a society where the public employees are the haves, and the taxpayers who foot the bills are the have-nots … The way to get things under control is to get wages and benefits under control for state employees.
So a reasonable hypothesis would be that public employees (sheltered from the cold winds of the private market by their powerful unions) are being paid more for equivalent work than their private counterparts.
For a researcher like me when you have a conjecture to examine you look for credible research or do it yourself. The media and the politicians can say what they like but there is a research community out there generating information that should force policy to be evidence-based.
If politicians blithely proceed to repeat statements that are contrary to the evidence then the public has a better chance of understanding the underlying motivation of the politicians intentions and actions. I cannot find one statement by a deficit terrorist that is supported by the evidence.
Anyway, what about the overpaid public worker in the US? What is the evidence about that?
Answer: No credible evidence. Conversely, there is plenty of evidence in the credible research literature that shows exactly the opposite – that public sector workers are less paid once you control for other influential characteristics.
For example, this study by the US Center for State and Local Government Excellence and the National Institute on Retirement Security – Out of Balance? Comparing Public and Private Sector Compensation Over 20 Years – which showed that:
The picture is clear. In an apples-to-apples comparison, state and local government employees receive less compensation than their private sector counterparts … These public sector employees earn less than they would earn if they took their skills to the private sector.
The apples-to-apples refers to the fact that you have to control for characteristics other than sector when assessing pay differentials.
There are a lot of errors in logic based on composition. It is often said that divorce rates are higher in Canberra (our National capital). The raw statistic is correct although distorted by the fact that a "high proportion of applicants from south-eastern New South Wales and Victoria … apply for divorce through Australian Capital Territory courts" (Source).
But there is also a major compositional problem. Canberra, home of the public service, has on average much higher proportions of higher educated and higher paid workers, two characteristics that are associated with higher divorce rates. So when you make comparisons controlling for these characteristics the regional disadvantage (or advantaged depending on how you look at it) all but disappears.
The key findings of the study were:
"Jobs in the public sector typically require more education than private sector positions".
"Wages and salaries of state and local employees are lower than those for private sector employees with comparable earnings determinants, such as education and work experience. State workers typically earn 11 percent less and local workers 12 percent less".
"During the last 15 years, the pay gap has grown: earnings for state and local workers have generally declined relative to comparable private sector employees".
"Benefits make up a slightly larger share of compensation for the state and local sector. But even after accounting for the value of retirement, healthcare, and other benefits, state and local employees earn less than private sector counterparts".
There are many other well-designed and implemented research studies of this question which come to the same conclusion. In terms of the current ravings by these conservatives what that means is that they are lying and are probably also ignorant of the research literature.
What comes out of the Cato Institute is not research it is propaganda.
In Jeffrey Keefe's paper – Debunking the Myth of the Overcompensated Public Employee – The Evidence – (published September 2010) you are provided with another piece of evidence that demonstrates the mendacity of the conservatives.
The paper explicitly:
… investigates whether state and local public employees are overpaid at the expense of taxpayers.
As long as we are speaking of state and local governments then spending is, in part, underwritten by revenue gained from taxes. That never applies to a national governments where Taxpayers do not fund anything. You might also like to read this blog – When governments are financially constrained – for more discussion of the difference between a state and national government in terms of fiscal constraints.
Anyway, Keefe writes that as a result of targetting excessive public sector pay and conditions as a key fiscal problem governments propose remedies which:
… include public employee pay freezes, benefits reductions, privatization, major revisions to the rules of collective bargaining, and constitutional amendments to limit pay increases, each as a necessary antidote to the supposed public employee overpayment malady.
The following table is taken from Table 2 of Keefe's study and provides a public-private pay comparison by education.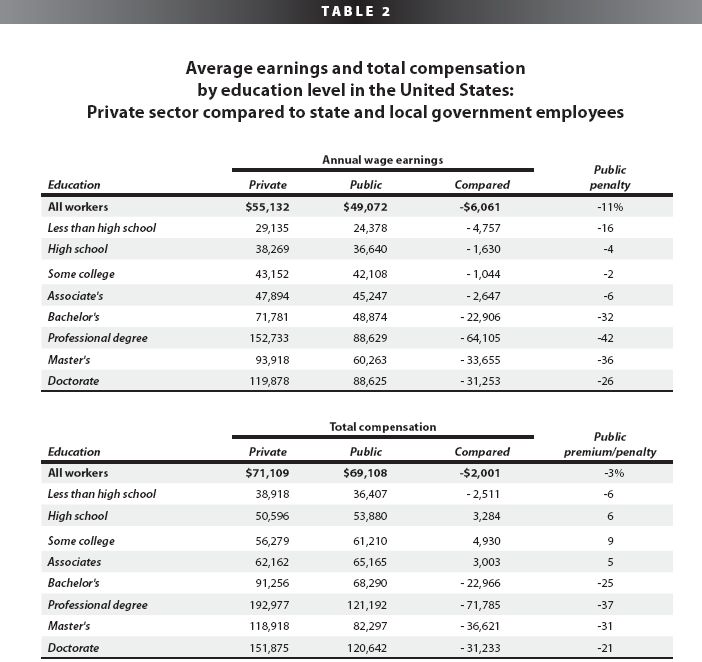 Relevant to the information presented in his Table 2, Keefe says that:
1. "The public sector employs more highly educated workers."
2. "As a result of the relatively high level of unionization, the public sector has established a floor on earnings, allowing those with a high school education to be better compensated than their private-sector counterparts … On the other hand, college educated private-sector employees earn considerably more than similarly educated public sector employees".
3. "Public sector employees receive more of their compensation in the form of benefits than private-sector workers".
Keefe's overall summary conclusion is:
… that public employees, both state and local government, are not overpaid. Comparisons controlling for education, experience, hours of work, organizational size, gender, race, ethnicity and disability, reveal no significant overpayment but a slight undercompensation of public employees when compared to private employee compensation costs on a per hour basis. On average, full-time state and local employees are undercompensated by 3.7%, in comparison to otherwise similar private-sector workers. The public employee compensation penalty is smaller for local government employees (1.8%) than state government workers (7.6%).
You will find a host of links on this page which also bear on the question of lying about public sector wages and conditions.
Once you understand what the evidence is indicating then you are better able to see through the neo-liberal agenda.
If you have friends who are sympathetic to the type of claims that come out of Scott Walker's mouth ask them if they know what the research literature rather than the ranters indicates.
Ask them to debunk Keefe's work or the myriad of other credible studies that have been done in the interests of knowledge generation. Ask them to provide alternative research. They will quickly deflect the conversation and start raving about children being burdened by debt or some other erroneous claim.
My experience is that you cannot nail these characters down. I have spent my whole professional life looking at the way systems operate and then examining evidence to see if my understandings are consistent with the data. Yes, I have priors and prejudices. But I would have no credibility if I rejected evidence because it was uncomfortable for my latest pet theory or bias.
As a digression, we now have better information about why Wisconsin Governor is trying to limit collective bargaining. The workers are apparently enjoying themselves too much.
Scott Walker recently put out a media release –
Collective Bargaining is a Fiscal Issue – which reports among other things that unions have been bullying state employers (Education Department) to include erectile dysfunction drugs in the health insurance policy. His office references this News Report as an authority.
Unless the V was supporting serious paedophile activity, I would have thought that the Education Department would have wanted happy teachers.
I thought one needed brains to brainstorm
I thought the title of this CNN video was overstatement exemplified. I do not recommend watching it – the characters that appear are enough to tell you that – public deficits are dangerous and have to be cut and then we will enjoy more freedom – was the message.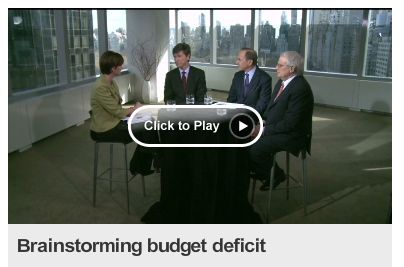 But I did wonder – don't you need brains to brainstorm?
Advertisement – CofFEE Conference 2011
The Call for Papers for the 13th Path to Full Employment/18th National Unemployment Conference – December 7-8, 2011 is now announced.
Hope to see many of you in Newcastle this year.
Conclusion
Remember to ask the conservatives in your life to comment on the evidence. Not to summarily dismiss it – but to consider the methods, techniques, data and then tell you that it "ain't so".
My prediction is that they will quickly divert the argument into another of their pet biases – that is the nature of religion – when the going gets tough it comes down to faith. Evidence cannot really shake faith.
But what evidence can do is undermine political support and get these creeps out of office and into places where they can do less harm.
That is enough for today!