Deficits are here to stay … get used to it
Today I am writing about the sectoral balances which are derived from the national accounts. A recent article in the Financial Times uses these balances to demonstrate that attempts to reduce the UK public deficit can only be successfully achieved by engineering growth in non-government spending. That is an insight that is core to Modern Monetary Theory (MMT) but typically escapes the understanding of most commentators. The article is interesting because it shows how the sectoral balances – which are accounting statements and thus true by definition – can be interpreted in different ways and influence different policy strategies. But the fundamental understanding you gain from knowledge of these balances is that at present public deficits are here to stay … and if you don't like them … you better get used to it!

Yesterday's (April 13, 2010) release of the latest Trade Data, by the UK Office of National Statistics, showed that:
The UK's deficit on trade in goods and services was £2.1 billion in February, compared with a deficit of £3.9 billion in January
This is the smallest trade gap in nearly three years and has been driven by rising exports with imports largely unchanged. So this trade boost is coming mainly courtesy of the significant sterling depreciation (25 per cent since the crisis began in 2007).
This boost to growth may be short-lived because the main export market – the Eurozone – is flagging badly.
In this context, a common topic these days is that the World economy has to be rebalanced. It is usually presented as a veiled attack on China but reflects the obsession policy makers, aided and abetted by the mainstream economists, have with export-led growth. The rebalancing is in terms of the broad macroeconomic sectors – government, private domestic and external.
These sectors are often used in MMT to demonstrate basic national accounting relationships that have to hold at all times. To refresh your memory here is a quick summary.
Sectoral balances approach
The national accounts concept underpin the basic income-expenditure model that is at the heart of introductory macroeconomics. We can view this model in two ways: (a) from the perspective of the sources of spending; and (b) from the perspective of the uses of the income produced. Bringing these two perspectives (of the same thing) together generates the sectoral balances.
So from the sources perspective we write:
GDP = C + I + G + (X – M)
which says that total national income (GDP) is the sum of total final consumption spending (C), total private investment (I), total government spending (G) and net exports (X – M).
From the uses perspective, national income (GDP) can be used for:
GDP = C + S + T
which says that GDP (income) ultimately comes back to households who consume (C), save (S) or pay taxes (T) with it once all the distributions are made.
So if we equate these two perspectives of GDP, we get:
C + S + T = C + I + G + (X – M)
This can be simplified by cancelling out the C from both sides and re-arranging (shifting things around but still satisfying the rules of algebra) into what we call the sectoral balances view of the national accounts.
(I – S) + (G – T) + (X – M) = 0
That is the three balances have to sum to zero. The sectoral balances derived are:
The private domestic balance (I – S) – positive if in deficit, negative if in surplus.
The Budget Deficit (G – T) – negative if in surplus, positive if in deficit.
The Current Account balance (X – M) – positive if in surplus, negative if in deficit.
These balances are usually expressed as a per cent of GDP but that doesn't alter the accounting rules that they sum to zero, it just means the balance to GDP ratios sum to zero.
A simplification is to add (I – S) + (X – M) and call it the non-government sector. Then you get the basic result that the government balance equals exactly $-for-$ (absolutely or as a per cent of GDP) the non-government balance (the sum of the private domestic and external balances). This is also a basic rule derived from the national accounts and has to apply at all times.
Most countries currently run external deficits. The crisis was marked by households reducing consumption spending growth to try to manage their debt exposure and private investment retreating. The consequence was a major spending gap which pushed budgets into deficits via the automatic stabilisers.
The only way to get income growth going in this context and to allow the private sector surpluses to build was to increase the deficits beyond the impact of the automatic stabilisers. The reality is that this policy change hasn't delivered large enough budget deficits (even with external deficits narrowing). The result has been large negative income adjustments which brought the sectoral balances into equality at significantly lower levels of economic activity.
Please read my blogs – Stock-flow consistent macro models"> – Barnaby, better to walk before we run – Norway and sectoral balances – The OECD is at it again! – for more discussion on the sectoral balances.
But this framework while strict in accounting terms is open to interpretation by policy makers. For example, you can sustain economic growth with a private domestic surplus and government surplus if the external surplus is large enough. So a growth strategy can still be consistent with a public surplus. Clearly not every country can adopt this strategy given that the external positions net out to zero themselves across all trading nations. So for every external surplus recorded there has to be equal deficits spread across other nations.
Rebalancing the UK economy
In his recent Financial Times column (April 13, 2010) – UK economy must perform a rebalancing act – Martin Wolf continues this theme, although to my pleasure, he actually presents the sectoral balances correctly.
The article is useful because it shows you how the basic national accounting relationships that are produced at the macroeconomic level can be interpreted in different ways but not ignored, as most mainstream analysis does.
While he is talking about the UK (given his readership), the principles he discusses are applicable to all nations although EMU nations constrain their macroeconomic policy and trade environments so severely that they cannot enjoy the sectoral flexibility that sovereign nations benefit from.
As I read his opening gambit, I said to myself … not this bs again. Wolf starts off:
The one point on which everybody agrees is over the depth of the fiscal hole: the government is borrowing a pound for every four it spends. But nobody wants to discuss what might need to be done. This is not surprising: today's fiscal deficits exceed those of any previous period in peacetime. Yet even if one accepts that these deficits must be tackled, huge questions remain over the timing and content of such action.
Question: Am I not included in everybody? My basic recollection of set theory tells me that everybody must be a Union of the sets A (All others) and B (BILL), denoted A U B, which, in turn, is the set of all objects that are a member of A, or B, or both. Answer: definitely.
Which means that Wolf is lying. Everybody doesn't agree over the depth of the fiscal hole because I don't even think that is a concept worth considering. What does it mean? A hole is something you fall down or … I consulted the definition.
A hole is:
* an opening into or through something
* one playing period (from tee to green) on a golf course; "he played 18 holes"
* an unoccupied space
* a depression hollowed out of solid matter
* a fault; "he shot holes in my argument"
So does a budget deficit fit any of these concepts? This is how it arises.
Every day the government is crediting private bank accounts (directly or via cheque issuance) to pursue its socio-economic program. Each day also, they collect tax revenue by debiting private bank accounts (or writing receipts over counters to payees). The tax revenue is accounted for but "doesn't go anywhere" in a physical sense.
A deficit arises when the spending exceeds the revenue and the net result is an addition of net financial assets (bank reserves). In achieving this outcome, the government hopes that its spending will boost aggregate demand ("finance" the leakages from the income-expenditure system), and, hence maintain high levels of employment and material prosperity.
The only hole I can see is one that needs to be filled. That is the spending gap – the leakages from the income-expenditure system – that are created when there is a CAD and/or a desire by the private sector to save.
Budget deficits should aim to fill that hole in and not allow aggregate demand to "fall through it", which would lead to income and employment collapses.
If budget deficits are underwriting income growth, then workers can enjoying secure employment and achieve their saving desires – which will enable them, should they wish to use purchase some golf clubs and play a few "holes" in their leisure moments. Sounds good.
Please read my blog – We are in trouble – squirrels are falling down holes – for more discussion on this point.
So even considering the dollar amount of the deficits per se or the ratio to GDP (that is, without reference to anything else) is meaningless. What does it mean to say that "today's fiscal deficits exceed those of any previous period in peacetime". All it means is that the non-government surpluses exceed those of any previous period in peacetime. The question is what is going on rather than focusing on the $ or sterling values of the aggregates or balances.
It was at this point in his article, that Martin Wolf showed he realises this, which makes his opening paragraph gratuitous:
In the UK at least, the fiscal deficits are mirror images of private sector surpluses. Moreover, the direction of causality is from the latter to the former. The necessary conditions for a return to fiscal (and economic) health are a recovery in private spending, a huge increase in net exports or, ideally, both. The big question is whether the essential recovery in private spending and net exports will occur before, or after, it becomes difficult for the government to borrow on reasonable terms. If it comes before, a smooth fiscal exit is feasible. If it comes after, a crisis would intervene. I am optimistic on this, but am not blind to the risks.
That is very clear. The shift to non-government surpluses has left a huge spending gap and firms responded to the failing sales by cutting back production. Employment falls and unemployment rises. Then investment growth declines because the pessimism spreads. Before too long you have a recession. Without any discretionary change in fiscal policy (now referred to in the public media as "stimulus packages") the government balance will head towards and typically into deficit.
Why? As a result of the automatic stabilisers. Tax revenue collapses and welfare payments increase – not in rates but in volumes as economic activity wanes.
The greater the decline in non-government spending, the greater the rise in the government deficit. The current situation has also been influenced by the stimulus packages which have put a floor in the downward spiral and saved the World from depression.
So the causality is from the non-government balance to the government balance. This is another way of saying that the budget balance is endogenous and driven largely by the spending and saving choices made by the non-government sector. Private households and firms have it within their capacity to drive the public deficit down whenever they choose. They can simply spend more.
You can also use the sectoral balances framework to understand what the impacts of the current demands for fiscal austerity might be. Then the causality will initially shift from government to non-government via income changes and then reverse as the latter reacts to the net spending cuts.
So an attempt to achieve a discretionary reduction in the budget deficit – via tax rate hikes or public spending cuts – will reduce aggregate demand immediately.
This reduction in demand will reduce output and income. The only way this will not cause a further contraction in the macroeconomy is if it stimulates private investment and growth in the same outstrips the household saving (so the private domestic sector goes into deficit); or households stop saving and borrow more to spend up; or net exports grow to offset the reduction in the deficit.
The first two possibilities are virtually impossible to imagine. Investment falls when demand plunges and households save more. Credit becomes tighter and so borrowing falls. Further, net exports might grow as imports fall (due to the contraction in income) but it is very unlikely the required demand offset would ever be forthcoming from this source.
So it is highly likely that the government would not be able to achieve its aim anyway, because the non-government sector balance will remain in surplus. This situation is what I have, on many occasions, termed a "bad deficit". You get the deficit but for all the wrong reasons – a contracting economy and rising unemployment. Bad deficits are produced by the automatic stabilisers moving to shore up demand as the economy falters.
The government could have had the same deficit to GDP ratio but with high employment and a growing economy. That is a virtuous or "good" deficit.
Anyway, given Wolf's worry about the public deficits he sees the sectoral balances in terms of demonstrating a need for the non-government sector to lead the growth charge. He clearly understands that that has to come "before, a smooth fiscal exit is feasible". So that is a start.
Wolf thus distances himself from the manic deficit terrorists who do not understand these sectoral relationships and are advocating that the government leads the charge by introducing austerity packages – just when the state of private demand is still stagnant or fragile. A very silly thing to be advocating.
The problem I have with Wolf's perspective is that he is taking it as given that the fiscal deficits are "unsustainable" and dangerous. That is certainly not the case and I will come back to it in a moment.
Wolf then analyses some very interest sectoral balance graphs which I reproduce here.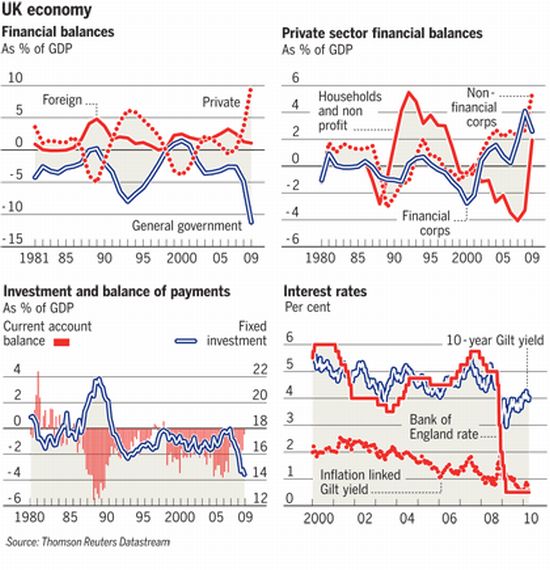 In the top left-hand graph, you can see the startling rise in the private sector balance ("jumped by a massive 9.8 per cent of gross domestic product") and virtually no change in the external position. As a result, the government balance moved into an increasing deficit ("jumped by 8.6 per cent of GDP between 2007 and last year").
Even though he understands the sectoral balances, Wolf displays his prejudices when he describes this private "shift towards frugality" as the government's shift "towards profligacy".
First, endogenously-driven shifts in the public deficit, reflecting causality moving from behavioural changes in the non-government sector to the government sector via the automatic stabilisers can hardly be called profligate.
Second, the discretionary fiscal changes in the UK that have added to the deficit have clearly not been enough given how long the UK economy was in recession and the rise in unemployment. I would actually describe the current British budget balance as being irresponsibly frugal rather than anything that connotes extravagance.
You can also see (top right-hand graph) how the British households shifted to saving during the crisis years. Wolf notes that the "impact of the crisis on private spending has overwhelmed the monetary policy offsets from the Bank of England, at least in the short term". He is referring to the quantitative easing and low interest rate regime that the BOE has followed and everyone (other than those who know how the system works) claimed would stimulate credit growth and be inflationary. It did and was never going to achieve either. Please read the following blogs – Building bank reserves will not expand credit and Building bank reserves is not inflationary – for further discussion.
Wolf then turns to the "policy challenge":
… the policy challenge: it is not to cut the fiscal deficit, regardless; it is to cut the fiscal deficit, while sustaining recovery and growth. It is stabilisation with growth, not stabilisation at the expense of growth. Economic misery is not desirable but detestable.
At this stage, I am sure I heard loud cheers emanating from the computer rooms around the World as readers grasp the fact that Wolf is a complicated deficit terrorist rather than the plain vanilla variety deficit terrorist, which is as thick as two planks. He hates deficits but understands enough to know that these austerity plans will cause economic … which means … human misery.
So what is required?:
If the actual fiscal deficit is to be cut by, let us say, 10 per cent of GDP, then the sum of the financial surpluses of the domestic private and foreign sectors must fall by the same amount. If this is to occur with growth, there needs to be a strong surge in spending in these sectors … this is impossible without a massive improvement in the external balance.
The reason is that despite the move into surplus by the private domestic sector "the UK's net household savings are exceptionally low" which is a result of the debt binge between 1992 and 2007. So "(h)ousehold savings need to rise, not fall" to reduce the vulnerability of highly indebted households. Wolf also considers "an offsetting jump in residential investment … is unlikely to occur".
That is why net exports have to rise if you want the public deficit to fall. He discusses some recent research, which suggests that the UK external balance is heading south rather than north. That is, it will drain growth rather than add to it.
They run a policy line that the UK government has to introduce an industry policy aimed at "nurturing a more dynamic manufacturing sector".
So bad luck if you are a deficit-hater and you live in the UK. You are not going to get a reduction in the public deficit anytime soon. Wolf is clearly anxious about this:
Yet even if fiscal tightening is far more likely to follow recovery than cause it, it does not follow that current fiscal deficits will be easy to finance for long enough to permit the needed economic adjustments to occur. While the UK's private sector surpluses are nearly big enough to finance the fiscal deficit, this may well not be how it decides to invest its money, at least at present prices. It might buy foreign assets instead.
At that point, you just turn off again and say well he had some good points in his article amidst all the trash.
It is crucial to understand that fiscal deficits are not "financed" at all. The games that governments play with Offices of Debt Management (as in Australia) or whatever is the analogue elsewhere whereby they have set up elaborate institutional mechanisms to allow private "investors" to purchase government paper via complex tendering and auction processes have nothing to do with funding the government net spending.
This is true, even when the auctions of the debt are $-for-$ matched to the net spending increase.
Most people are seduced by the intuitive logic that the coincidence of the timing (of the net spending and the borrowing) must be causal and flow from latter to the former. Where do they get this "intuition" from?
They have been taught by the mainstream economists and their media-lackey mouthpieces that the government budget is just like the household budget. We clearly have a close connection with our household budgets and know very well that when we want to purchase something beyond the capacity of our current income that we have to either run down saving, sell something else, or borrow. We thus correctly understand the borrowing to be funding the net spending.
Then we apply that logic – as intuition – to the government sector and the conclusion we reach not be more wrong if we tried.
As noted many times, a sovereign currency-issuing national government is not like a household despite what the mainstream macroeconomics textbooks teach the students to believe. The household uses the currency that the national government issues. The latter is never revenue-constrained unlike the former.
Once you abandon this erroneous "intuition" you can see that the constraints that governments place upon themselves are entirely voluntary. This realisation then leads you to ask: why would they do that?
The answer is that they have been influenced by conservative mainstream economists who have forced the policy makers to continue gold standard logic (where net spending had to be "financed" with debt-issuance) into the fiat currency system. Why? Because the mainstream economics profession is ideologically opposed to governments being involved in the economy (unless it is handing money to the same economists as consultants or providing corporate welfare to companies they own shares in).
Once you get to this point, you just laugh at statements such as the current fiscal deficits may not "be easy to finance for long enough to permit the needed economic adjustments to occur".
The problem here is that the UK government (like most) are so stupid that they will voluntary lie down and be screwed by the constraints they have imposed upon themselves. The sensible thing would be to instruct the BOE to manage the yield curve and/or stop borrowing altogether.
So Wolf is probably correct in saying the bond markets will push rising interest rates onto the economy and a further malaise will be probable. But this will only be because the BOE will allow that to happen. It will be all self-inflicted and unnecessary.
However, by perpetuating these myths, Wolf himself becomes part of the problem. He should be using his position of influence to change public perceptions and pressure government to change their institutional structures (borrowing etc).
The challenge for our side of the debate is to expose these voluntary constraints for what they are. The dominant commentary assumes the institutional landscape is given and therefore not to be questioned. It is of-course essential that conservatives argue for a status quo, which serves them well.
The progressive side of the debate should be challenging everything rather than operating within the constrained institutional environment and arguing neat little things about how the deficit could be better spent or similar. That sort of argument is essential too, but has to follow a basic challenge to the whole structure that the conservatives have put in place to preserve their position as elites.
So questions like why would the government issue debt – have to be central to the debate. That is where I see MMT as being a crucial knowledge structure to help progressives prosecute the case for eliminating all this ideologically-conservative machinery that is used to maintain persistently high rates of labour underutilisation and entrenched poverty around the globe.
The last point I would make, is that the UK solution is to expand the deficit at present on a discretionary basis to support the private saving desires and to build confidence among the investment community (real investments that is). That is the best way to revitalise private spending. Once the households have achieved their desired saving ratio and reduced their indebtedness to prudent levels, then the support from the fiscal deficits will lead them to resume spending. Until income levels are at the levels consistent with these saving desires the deficits will have to remain (and grow) notwithstanding the modest improvement in the UK external position reported yesterday.
Interesting letter to the former shadow minister for finance
I was sent this by one of the regular billy blog readers today. He was outraged sometime ago when Barnaby Joyce, the hapless former shadow finance minister who was finally dropped by his leader to some remote portfolio, said that Australia was about to default on its sovereign debt. He claimed he knew this because he had a background in accounting.
I wrote this blog about that public statement – Barnaby, better to walk before we run.
Anyway, here is the letter my mate sent to Joyce. I think you will like it. For overseas readers, Mr Stevens is the Governor of the RBA and Mr Henry is the boss of the Federal Treasury. Exchange Settlement Accounts are the reserve accounts that all member banks have to have at the RBA to faciliate clearing and payments.
Dear Senator

I heard and read the news story on the ABC about you questioning whether the Government could repay its debts.

Obviously, as I am typing this message to you, keyboards still have keys including numbers, and therefore, assuming the Government uses the same type of keyboard as myself then the Australian Government being the monopoly issuer of the $A will never default on its debts unless for political purposes it decides to. The Australian government budget is not revenue constrained like a household budget, and to compare the two is to compare apples with iron ore.

Why?

Just say that you own $1m of Australian federal government treasury bonds and come maturity you decide not to roll over but to redeem you cash. Mr Henry will send a note to Mr Stevens say that you want to be repaid and here are your bank details.

Mr Stevens then enters the following journal entry in the RBA general ledger:

Debit – Department of Treasury Account – $1m
Credit – Exchange Settlement Account – Your bank $1m.

Mr Stevens then lets your bank know that the $1m added to their Exchange Settlement Account is for you and your bank enters the following journal into their general ledger:

Debit – RBA Exchange Settlement Account – $1m
Credit – Mr Joyce $1m.

So until such time that we lose the ability to run accounting systems, the Australian Government being the monopoly issue of its own non-convertible currency (as are Japan, United States, United Kingdom, but not Greece, Ireland, Italy, Portugal, France, Germany) will never have default forced on it.

Paying the interest is no different.

"We're going into hock to our eyeballs to people overseas"

Are we?

As at 31 December 2007 per RBA statistic table E3, there was $59bn of Treasury securities on issue, of which the Australian Bureau of Statistics estimates $38.7bn or 65.55% was owned by non-residents. As at 30 June 2009 the figures were $52bn of $101bn or 52% of Treasury securities were owned by non-residents.

If you then go to RBA statistic table E10, as at 30 June 2009, of the $101 bn of Australian government securities on issue, only $1m is repayable in UK pounds, and $7m in USD. Therefore, the Australian Government cannot default on $52bn of Treasury securities owned by non-residents unless it wanted to, because it is repayable in Australian dollars, which then leaves it up to the non-resident to decide whether what they want to do with their Australian dollars. There is no obligation for the Australian government, (other than $1m UKP, and $7mUSD securities) to provide anything other than $AUD to redeem government securities. That is, the non-residents are voluntarily deciding to acquire Australian dollar denominated financial assets. They and not the Australian government assume the exchange rate gain.

Inflation

I know that you are probably going to suggest that this is printing money, and that this will lead to inflation and then hyperinflation alia Germany and Zimbabwe. This is not true unless you contract the supply side of the economy at the same time like what happened in those two countries. For a detailed explanation see the following: https://billmitchell.org/blog/?p=3773

Senator I would also suggest that you read Bill Mitchell's other writings on how the monetary system works. Whilst you may look at Bill's writings and you may think that him is some left-wing nut, if you open your mind up, what he says has application to Coalition polices as well, for example:

* Low interest rates. Stop $ for $ issuing of treasury bonds and notes to "finance" the deficit. The accumulated bank reserves left in the system will be lent between the banks in the inter-bank market forcing down inter-bank rates. Also, there are no 'risk-free' assets available for sale forcing entities such as life insurers, and pension funds to invest in private assets, or leave the money in the bank putting downward pressure on rates. The build up of bank reserves will not cause inflation – see https://billmitchell.org/blog/?p=6624

* Job Guarantee:

Providing a job is the best form of welfare. Deregulation of the labour market – Work Choice/Fair Work Australia – could be completely repealed, with the minimum work conditions regulated via what is offered under the work guarantee.

* Encouraging self-support through saving. The non-government sector's desire to save and invest is supported by government running deficits, not the other way around.
My only complaint is the suggestion that the Senator might consider me to be "some left-wing nut" when I have spent years developing my image as a right-wing conservative [note: American readers the previous comment was a joke] [note: the reference to American readers was also a joke!]
Conclusion
My band is playing tonight so …
That is enough for today!