Barnaby, better to walk before we run
Today I have been thinking about the macroeconomics textbook that Randy Wray and I are writing at present. We hope to complete it in the coming year. I also get many E-mails from readers expressing confusion with some of the basic national income concepts that underpin modern monetary theory (MMT). In recent days in the comments area, we have seen elaborate examples from utopia/dystopia which while interesting fail the basic national income tests of stock-flow consistency. Most of the logic used by deficit terrorists to underscore their demands for fiscal austerity are also based on a failure to understand these fundamental principles. So once again I provide a simple model to help us organise our thoughts and to delve into the elemental concepts. It is clear that in order to come to terms with more complicated aspects of MMT, one has to "walk before they can run". So its back home today.

Today, was a classic case. The Opposition Finance spokesperson Barnaby Joyce (or B Jo as he is being called – for what reason?) who is fast becoming the "joke of the town" told ABC news that Australia was in danger of defaulting on its sovereign debt. He was quoted as saying:
You've got to ask the question: how far into debt do you want to go? We are getting to a point where we can't repay it. Let's look at exactly what they're doing now and ask this very simple question: are you paying back your money, are you even meeting your interest component, and can you keep the debt stable? Or is the debt racing ahead by more than even the interest expense? And if it is, any household budget will tell you that's a very dangerous place to be.
So Mr. Joyce hasn't the first clue about how the monetary system operates nor the difference between the household budget and the Australian government budget. I thought this little tutorial would help.
To help Barnaby along we need to simplify things. I would refer him to this diagram, which should be in the first chapter of every macroeconomics textbook. It depicts the essential structural relations between the government and non-government sectors. You can make it bigger by clicking on it and it might help to print it for reference (to avoid scrolling up and down).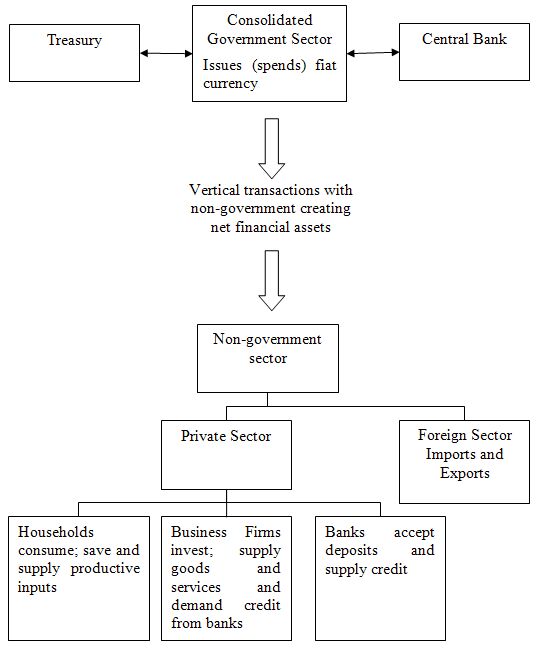 You can see that the diagram is arranged in a vertical manner with the government sector at the top. Most macroeconomics textbooks wait until well into the book to introduce the government sector. That lapse is telling.
Further, debt-deflation theories (such as pure credit models) also abstract from the government sector. But MMT shows that a failure to understand the vertical relationship between the government and non-government sectors leads to spurious conclusions about stocks and flows.
A digression: a flow variable can only be calculated with reference to a time period. So $100 of spending per quarter or year. A stock variable like the unemployment pool has no time dimension so has to be observed at a point in time. Flows feed stocks and so a valid macroeconomic model has to ensure that all the flows it specifies augment/reduce stock variables in a consistent manner.
Several points emerge from this diagram.
First, while central banks appear to be independent of treasury functions, there is no gain in separating the treasury and central bank operations when seeking an understanding of how the monetary system operates. The consolidated government sector determines the flow of net financial assets (denominated in the fiat currency) in and out of the economy.
Treasury operations (spending and taxing) can deliver surpluses (destruction of net financial assets) or deficits (creation of net financial assets). Most central bank operations merely shift non-government financial assets between bank reserves and government bonds (open market operations), so for all practical purposes the central bank is not involved in altering net financial assets.
The exceptions include the central bank purchasing and selling foreign exchange and paying its own operating expenses. While within-government transactions occur, they are of no importance to understanding the vertical relationship between the consolidated government sector (treasury and central bank) and the non-government sector.
Second, we can understand the basic vertical relationships by cutting the diagram off just below the non-government box. Extending the model to distinguish the foreign sector makes no fundamental difference to the analysis and as such the private domestic and foreign sectors can be consolidated into the non-government sector without loss of analytical insight. Foreign transactions are largely distributional in nature. We can thus operate as if the non-government sector is as one. The point here is that all (horizontal) transactions between institutions or entities within the non-government sector net out in an accounting sense to zero – for every asset created there is a corresponding liability.
This is a crucial difference – the vertical transactions between government and non-government do not net to zero – they can create/destroy net financial assets. Understanding that is a key step in being able to make literate and informed comments, whatever your ideological persuasion, about the monetary system and the role of government within it.
Third, the results we derive below is exactly the same when expanding this example by allowing for private income generation, a banking sector and diversifying the non-government sector into a foreign and domestic sector.
Apart from getting the accounting clear and allowing us to avoid making fools of ourselves by saying things like – "the taxpayers will be paying off the debt for years"; or "debt is financing government spending" and related nonsenses; this framework helps us understand that it is the use of state money that introduces the possibility of unemployment.
Unemployment is always a choice of government in a modern monetary economy. It always has the capacity to maintain full employment by ensuring its net spending is sufficient to meet the desire to net save by the Non-Government sector.
When I talk about a modern monetary economy I mean a system with:
A floating exchange rate, which frees monetary policy from the need to defend foreign exchange reserves;
Fiat money is the unit of account to pay for goods and services. A fiat currency is convertible only into itself and not legally convertible by government into gold, for instance, as it was under the gold standard.
A sovereign government that has the exclusive legal right to issue the particular fiat currency which it also demands as payment of taxes.
A tax system that ensures viability of the fiat currency by dint of the fact that it is the only unit which is acceptable to extinguish tax liabilities and other financial demands of the government.
However, Barney clearly needs some more basic learning tools to get his head around these concepts. It just happens we can simplify the relationship between the government box and the non-government box depicted in the diagram down to some basics. We are going to walk now!
So here is a basic modern monetary economy stripped down to the essentials which will allow us to walk through the government relationship with the non-government sector.
We are going to visit a someone's house and pry into their affairs for a 6-month period. To preserve anonymity assume it is my house. So lets see what happens in my house in the first month.
Month 1 – no private saving
I decide that I want to instill the work ethic in my children. Yes, I am old-fashioned despite being a hippy. So I devise a plan that I learned from MMT. I call them around the table and say:
Kids, there are always plenty of household tasks to perform and you can earn my business cards if you complete them each month.
The kids respond in unison immediately:
Why would we want to earn your worthless business cards – they are just scraps of paper that you litter conference and meeting floors with.
I then sit back in my chair and suggest that:
Any child who wants to eat and live in the house must pay me, say, 600 business cards each month for the privilege.
The kids respond in unison, almost immediately:
When do we start work?
You can see that by requiring that the children use my cards to fulfill a "tax obligation" I have instantly given value to my cards and real resources transfer from the kids (the "private sector") to the me (the "public sector").
Where do the business cards come from? Our modern home has broadband and a local area network and the kids have their own computers and no-one ever really bothers to talk to each other anymore. This is great because efficiency is increased. All our business cards transactions are done via our network and a master spreadsheet is kept which is accessible to all members of the house. This spreadsheet records all the transactions. Business cards are created (for spending) and destroyed (as taxes are collected) with the stroke of a key in a spreadsheet cell.
So in the next graphic for Month 1 you can see the summary spreadsheet entries. I have spent 600 cards on wages and raised 600 cards in taxes (this is a one child household).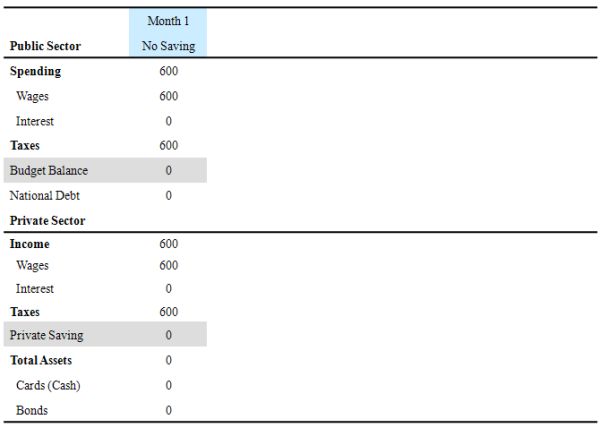 Principles learned in Month 1
Until there is spending there is no capacity to pay taxes.
Taxes function to create the demand for federal expenditures of fiat money, not to raise revenue per se. In fact, a tax will create a demand for at LEAST that amount of federal spending.
A balanced budget is, from inception, the MINIMUM that can be spent, without a continuous deflation. That is, the kids would not be able to earn at least as much as they needed to pay taxes.
If the budget is balanced there can be no net saving or net accumulation of financial assets.
Month 2 – private saving
The kids then want to know how they can save some business cards. They want to be able to earn a few more cards than they need for the immediate tax bill to allow them to have a holiday some months. In multi-kid households, they might want to start doing deals among each other to swap work obligations etc.
What imperative does this introduce? The accounts for Month 2 appear in the next graphic. It is clear that the children's desire for thrift will force me to run a deficit as a matter of course. They cannot save in the currency unless I am spending more than I tax them.
So the desire increases the level of activity in the economy by 200 cards per month and the extra employment generates higher incomes and permits the children to save 200 cards a month.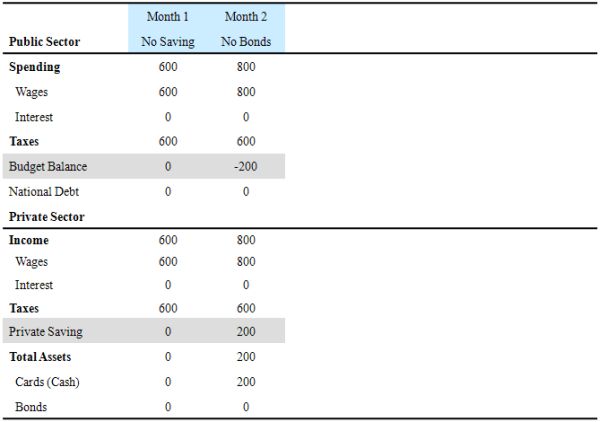 Principles learned in Month 2
Public deficits allow the private sector to net save in the fiat currency and accumulate financial assets. In this case the saving is in the form of non-interest earning business cards.
The accumulated saving of financial assets is the stock of wealth and reflects the accumulated deficits. Without the deficits, the private sector (the kids) cannot save and accumulate wealth in the currency of issue.
Month 3 – a public debt instrument is created
As it stands, the savings last month of 200 cards will just sit there in the spreadsheet and the kids will not earn anything from the foregone consumption (that is, no interest will be earned).
The saved cards represent holdings of "money" that will allow the kids to not work sometime in the future but in the current situation they will not accumulating (compound). Another way of looking at this is that there is excess liquidity (spare cards) in the overall system and the rate of return is zero (zero interest rate).
The kids might try to get rid of that excess by lending to each other but the competition would maintain the return at zero because they are unable as a "sector" to eliminate the "excess reserves" which arose from my deficit spending.
To reward thrift (preparing my kids for the real world), I call them around the table again and say:
I now propose to pay 10 per cent on all outstanding business cards (payable in more business cards) per month.
The kids soon realise this is a good deal and all extra cards not needed overnight for inter-sibling transactions are instantly deposited in a new account created by me – bond-issues
The kids thus swap the non-interest earning cards for an interest-earning bond. For me it is a matter of just borrowing back some of the business cards from the kids that I have already spent and providing them with a financial asset (bond) in return. We agree in the interests of the environment not to create any paper bond certificates. Everyone is happy that the bonds are recorded in the spreadsheet and have instant maturity (that is, can be converted back into cards at any time).
The business card deposits become the "national debt of the household" and are liabilities that the parent (me) owes to the children. Anytime they wanted to convert them back into non-interest bearing saving deposits they can send me an E-mail and a few clicks later the spreadsheet would reflect their desires. I have no constraint on how many numbers I can type into the spreadsheet.
So the graphic for Month 3 with the newly created public debt instrument is next.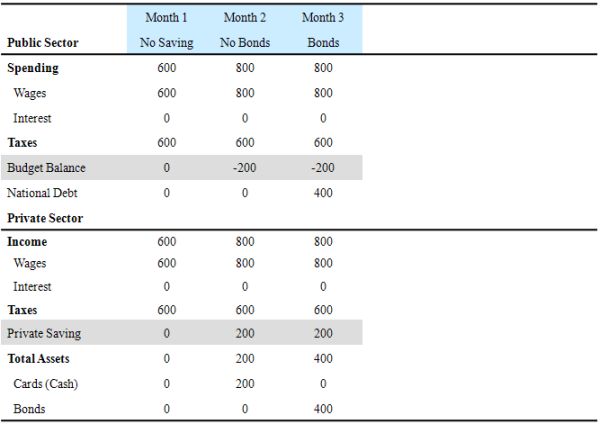 Principles learned in Month 3
The accumulated public deficits equal the accumulated private savings.
This in turn equals the accumulated stock of financial assets (which can be split between cards and bonds).
Without the issuance of the bonds the rate of interest would be zero unless I agreed to pay an interest rate on the saving balances.
The bonds issued have nothing to do with "financing" my business card spending.
I am just borrowing back cards that I had previously spent
Month 4 – the neo-liberals invade
One night when the kids are safely sleeping I read some neo-liberal economics literature on the Internet. I had stumbled on a WWW site called billy blog but decided he was nuts and found other sites that were relating things I had read in the paper and heard on the news. It was credible stuff.
The accumulated budget deficits that I had been running in the first three months started to send shock waves down my back. Cut backs were obviously required.
The literature was telling me that I would have to pay higher interest rates on my debt; that inflation would rise; and that the national debt would choke the initiative out of the economy because they would require higher taxation in the future. My plans to help my kids would fail. They would refuse to work and probably turn to drugs.
So I need an exit strategy!
So I implement a cut back in spending because I read that increasing taxes would stifle incentives. I now offer only 500 cards of work in Month 4 and have to pay 40 cards on the outstanding bonds. It is clear that the bond-servicing costs are starting to impinge on my ability to spend on other things given I have to as a matter of priority get the budget back into surplus.
The austerity plans delivers me the cherished budget surplus of 60 cards in Month 4. Total income for the kids is now 540 cards which is comprised on 500 labour wages and 40 interest income on their debt holdings. But they are still liable for 600 cards in taxes.
So where do they get the cards from given they are being squeezed in this month? They sell 60 cards worth of bonds back to me to ensure they can meet their monthly tax obligations.
I reduce the national debt by 60 and smile because I am following my neo-liberal plan to a tee. The kids dis-saved by 60 cards in Month 4 (a flow) and "pay for that dis-saving" by running down their wealth by 60.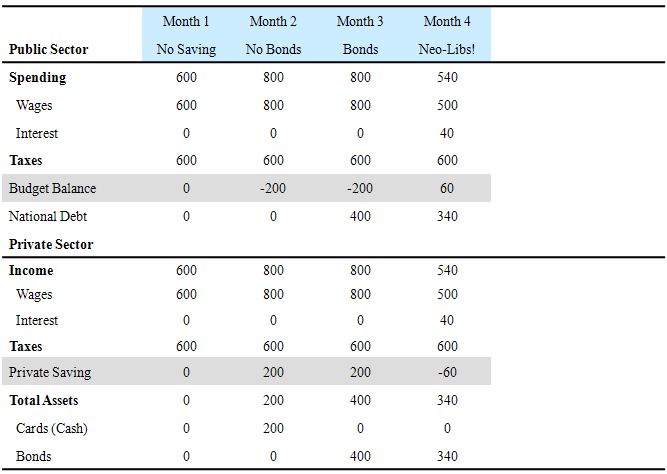 Principles learned in Month 4
If I had stayed reading billy blog I would not have made this error.
Budget surpluses squeeze the private sector for liquidity and the private sector is forced to run down wealth through negative saving in order to meet their tax obligations.
Budget surpluses destroy private wealth!
Month 5 – wealth declines
From the neo-liberal perspective, my strategy as the government of the household has been exemplary. I am now generating surpluses and retiring debt. I am no longer living beyond my means.
I fail to notice that the kids' (private sectors') wealth is being destroyed and they are unable to work as much as they want. Some Chicago economist wrote that unemployment was voluntary anyway and the kids are probably lazy or just enjoying leisure more now.
I also fail to notice that the kids who hadn't accumulated any wealth are facing rising debts. They seek to borrow from other kids because their work opportunities are being limited and they have to pay their taxes still.
In Month 5, I also get reinforcement from reading European Central Bank discussion papers; IMF staff papers; World Bank papers; lots of stuff on the Internet from various journalists – I especially study the Greek government profligacy and fail to recognise that my economy is not part of a monetary union and I can spend without revenue constraints.
Anyway, bouyed by my advice I decide that I should wipe out all the national debt. So I extend the fiscal austerity and cut spending to 405 and my interest servicing payments on the outstanding debt is also now lower at 34 cards. I keep my tax regime intact and return a great surplus of 161 cards.
The kids' income is now only 439 cards (405 wages, 34 interest) and have to pay 600 in taxes. As a result, they dis-save by 161 cards (exactly the surplus I run but I don't make that connection).
To "finance" this dis-saving, they liquidate 161 bonds and I reduce the spreadsheet entry for their wealth by 161. Private wealth is now at 179 cards as I get the debt monkey of my back.
Principles learned in Month 5
The reductions in outstanding public debt is systematically reducing the income-earning opportunities for the kids. So not only does the austerity plan reduce employment opportunities it also erodes private fixed-income capacity.
The budget surpluses continue to destroy wealth by squeezing the private sector of liquidity.
Some kids will be becoming increasingly indebted.
Month 6 – insolvency
By now I am so imbued with neo-liberal logic that billy blog is accusing me of being a "deficit terrorist". But we all know he is nuts. Anyway, the austerity plan continues because I want to pay down all the national debt.
So I cut my wage bill to 418 cards in Month 6 and almost halve the interest payments on public debt that was outstanding at the start of the month. I keep the tax at 600 cards.
I now achieve a wonderful surplus of 182 cards (the exemplar of fiscal prudence).
The kids now dis-save 182 cards but only have 179 cards in bonds that they can liquidate. They are now technically insolvent (having a cash deficit of 3 cards).
But I call them around the table and tell them how wonderful it is that I have retired all our national debt and am now "saving". They look at me askance – underemployed and insolvent.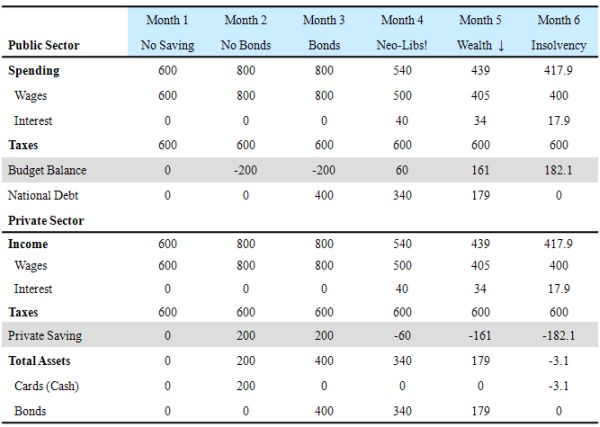 Principles learned in Month 6
The accumulated budget balances equal the accumulated savings in the non-government sector. So if you add each of the deficits and subtract the surpluses you will come up with minus 3 cards. Now saving was achieved after 6 months because the surpluses (destroying private wealth) just offset the earlier deficits (which created private wealth).
Running surpluses thus forces the private sector to dis-save and private wealth holdings are destroyed as a consequence.
For a time the kids were able to borrow from each other to maintain their spending (and tax payments) but eventually, their saving is compromised by the falling national income (household wages plus interest payments). The fiscal austerity in each of the last 3 months causes recession and increasing unemployment and ultimately mass insolvency in the private sector.
While some people might try to develop elaborate examples to suggest otherwise the stock-flow accounting is clear and doesn't matter if you do the analysis in nominal terms or real terms (deflating using a price level). Introducing inflation would not change the fundamental accounting relationships.
You cannot escape the conclusion that when a government budget deficit adds net financial assets (adding to non government savings) available to the private sector and a budget surplus has the opposite effect.
Further, given effective demand is always equal to actual national income, ex post (meaning that all leakages from the national income flow is matched by equivalent injections), the following sectoral flows accounting identity holds:
(G-T) = (S-I) – NX
where the left-hand side depicts the public balance as the difference between government spending G and government taxation T. The right-hand side shows the non-government balance, which is the sum of the private and foreign balances where S is saving, I is investment and NX is net exports. With a consolidated private sector including the foreign sector, total private savings has to equal private investment plus the government budget deficit.
In aggregate, there can be no net savings of financial assets of the non-government sector without cumulative government deficit spending. In a closed economy, NX = 0 and government deficits translate dollar-for-dollar into private domestic surpluses (savings). In an open economy, if we disaggregate the non-government sector into the private and foreign sectors, then total private savings is equal to private investment, the government budget deficit, and net exports, as net exports represent the net financial asset savings of non-residents
It remains true, however, that the only entity that can provide the non-government sector with net financial assets (net savings) and thereby simultaneously accommodate any net desire to save (financial assets) and thus eliminate unemployment is the currency monopolist – the government. It does this by net spending (G > T). Additionally, and contrary to mainstream rhetoric, yet ironically, necessarily consistent with national income accounting, the systematic pursuit of government budget surpluses (G < T) is dollar-for-dollar manifested as declines in non-government savings. If the aim was to boost the savings of the private domestic sector, when net exports are in deficit, then taxes in aggregate would have to be less than total government spending. That is, a budget deficit (G > T) would be required.
Conclusion
That is about as simple as it gets. You should be able to relate this easily to the first diagram.
As background reading I suggest the following blogs – A simple business card economy and What causes mass unemployment?. Further, to map this model into the real world I would recommend you read the following trilogy: Deficit spending 101 – Part 1 – Deficit spending 101 – Part 2 – Deficit spending 101 – Part 3.
That is enough for today!