The Japanese denial story – Part 1
Well, it's 2022 already and we enter the 18th year of this blog. Regular readers will know that I have studied the Japanese economy in considerable detail over the course of my career and when it experienced one of the largest commercial asset price bubble busts in history in early 1992, the questions I was asking and the data I was looking out were important in framing the way I have done macroeconomics since. I consider Japan to be one of the nations that was early to embrace the madness of neoliberalism – credit binge, wild property speculation then crash – and the first nation to abandon it in favour of more responsible fiscal policy – which given the circumstances required on-going fiscal deficits exceeding 10 per cent of GDP at times. Its policy approach – including the relatively high deficits, the zero interest rate policy of the Bank of Japan, and then the massive bond-buying program by the same, became the target for various New Keynesian macroeconomists (including Krugman) to prophesise doom. Their textbook models predicted the worst – rising interest rates, accelerating inflation, rising bond yields and then government insolvency as bond markets bailed out and the currency plummetted. Nothing like that scenario emerged. Japan was playing out policies that ran counter to the mainstream consensus in the 1990s and beyond and I learned so much from understanding why things happened there as a consequence. This is Part 1 of a two-part discussion about why Japan demonstrates key MMT principles and how those who wish to deny that reality have to invent a parallel-universe version of MMT to make their case.

Japan is an MMT laboratory – like all nations
You can find out about the – Japanese asset price bubble – and its causes and ends.
I am currently writing a book about these events (in a broader perspective of post Bretton Woods history and policy mistakes).
In my reckoning, the Japanese government policy approach provides a number of key lessons, all of which support Modern Monetary Theory (MMT) understandings.
Further, the policy shift we have seen during the pandemic (and was rehearsed during the GFC) is diametric to what mainstream macroeconomists have been advocating for decades as they repeatedly warned that high deficits and public debt levels, and, large-scale central bank bond purchases would lead to disaster.
However, their predictions have been dramatically wrong and provide no meaningful guidance as to the available fiscal space nor the consequences of these policy extremes for interest rates and inflation.
Japan' experience is illustrative.
It embraced the neoliberal private credit excesses in the 1980s, which caused the 1991-2 property collapse.
The government's response pushed economic policies to the extreme of conventional limits – continuously high deficits, high public debt, with the Bank of Japan buying much of it.
Mainstream economists predicted rising interest rates and bond yields, accelerating inflation and, inevitable government insolvency.
All predictions failed to materialise.
Japan has maintained low unemployment, low inflation, zero interest rates and strong demand for government debt.
Similar predictions were made during the GFC, when many governments followed the Japanese example.
The predictions failed again because the underlying economic theory is wrong.
Austerity-obsessed governments, applying that flawed theory, forced their nations to endure slower output and productivity growth, elevated and persistent unemployment and underemployment, flat wages growth, and rising inequality.
The following graph provides a snapshot of some of the key policy variables and targets since the 1980s.
No mainstream macroeconomist can explain these graphs and remain consistent with what they teach their students, write in Op Eds, write in published research, and tell government policy makers as paid consultants.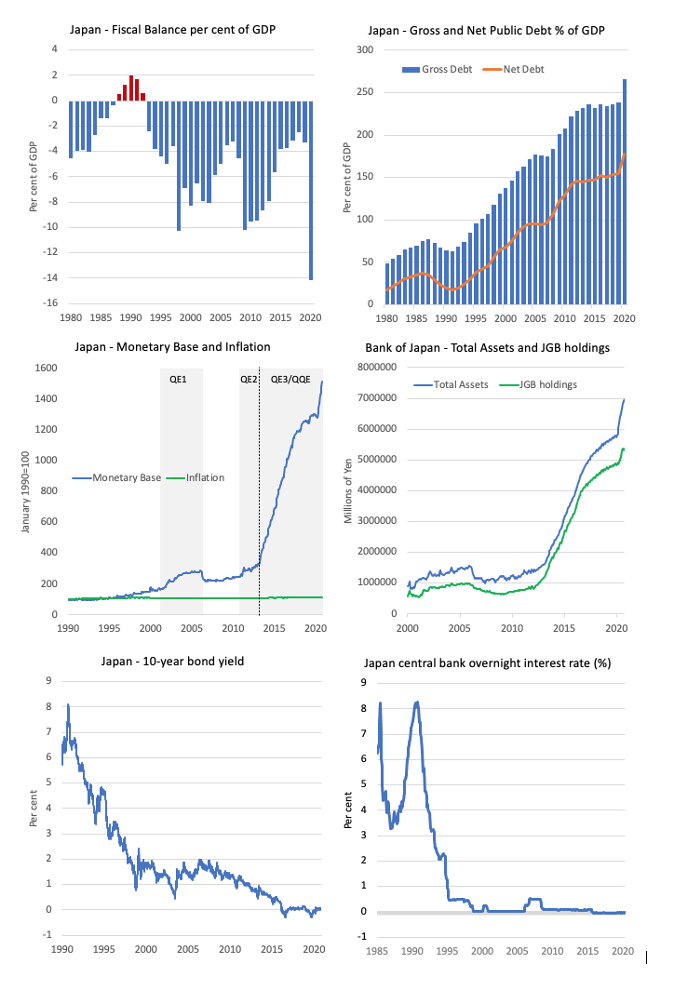 MMT has consistently advocated a return to fiscal dominance and disabuses us of the claims that fiscal deficits are to be avoided.
MMT defines fiscal space in functional terms, in relation to the available real productive resources, rather than focusing on irrelevant questions of government solvency.
As far as I am concerned Japan demonstrates what happens when macroeconomic policies are pushed well into the territory that mainstream economists claim guarantees disaster.
And what happens is not what the mainstream predict.
So Japan has been an important case study which is why I maintain close relationships with Japanese researchers and, Covid willing, will be taking up a position at Kyoto University a bit later in 2022.
But with the rising awareness of our work – Modern Monetary Theory (MMT) – mainstream economists are lining up to deny that Japan teaches us anything about the way governments should be conducting policy.
The latest attempt at this approach came in an article by American-based Japanese economist Takatoshi Ito – Does Japan Vindicate Modern Monetary Theory? (December 22, 2021).
The no free lunch argument
First, he argues that the high public debt that "the Japanese government has amassed" has not triggered "higher borrowing costs or inflation" but because:
… there is no such thing as a free lunch … it is future generations who will be left with the bill.
He acknowledges that the shift to very aggressive fiscal policies (GFC then pandemic) has not provoked any financial crisis "because government bond yields have been so low for so long."
He also knows that the central banks have been able to control yields on government debt whenever they wanted through their various bond-buying programs.
Okay, so that is progress.
The imaginary MMT argument
Takatoshi Ito then puts his conjecture about MMT or what he claims is MMT:
Advocates of MMT contend that as long as debt is denominated in a country's own currency, there is no reason to fear a fiscal crisis, because a default cannot happen. Any withdrawal of fiscal stimulus therefore should be gradual. And in the meantime, new issues of public debt can be used to fund infrastructure investments, income-support programs, and other items on progressives' agenda, provided that the inflation rate remains below the central bank's target (generally around 2%).
Is this an accurate description of what MMT economists say?
In part, yes.
There is no reason to fear a fiscal crisis because the currency-issuer can meet any of liabilities that are denominated in its own currency – clearly that is definitional.
They issue the currency – they can expand it at will.
So if we are defining a fiscal crisis to occur when the government runs out of money then that is impossible for a currency-issuing nation.
The clue is that the debt issuance is not funding the spending.
It is matching it by definition of the way the auctions are organised by the various debt management authorities that governments have created.
But matching is not causation.
The original and current MMT position is that such governments do not need to issue the 'matching' debt and should cease to do so.
Anyone purporting to be an MMT advocate who argues otherwise is not being true to our work.
So you can see that the second part of the Ito's quote about – new issues of public debt being "used to fund" various things that might or might not be desirable is his invention about what MMT says.
We do not advocate that position and never have.
So then the link between the inflation rate and the central bank's target rate being some sort of MMT ratio to trigger fiscal action (including debt issuance) is similarly spurious.
Thus this Op Ed is not a good start for a critique of MMT.
Like many similar critiques – we get imaginary MMT developed by the author and then shot down.
Real MMT evades scrutiny therefore – why? – because otherwise the author would not be able to make his/her/whatever case.
The Japan is different argument
Takatoshi Ito is correct to say that:
MMT's boosters cite Japan as proof of concept.
However, the use of the term 'boosters' is an attempt to demean.
Boosters are like carnival barkers or shoddy car sales people.
I don't say New Keynesian boosters.
I say New Keynesian economists.
But he is correct in saying that people like yours truly do consider Japan to demonstrate what does and does not happen when policies are pushed beyond conventional limits.
And I qualify that by noting that there are nuances relating to economic structure and the like that any case study analysis has to take into account.
So what might apply to Japan, as an advanced industrialised nation, may not turn out the same way for a impoverished African nation with very little export potential.
What will apply though is that the monetary and fiscal institutions will work broadly in the same way.
Why does Takatoshi Ito think we should not use Japan as an example?
After acknowledging that the gross "debt-to-GDP ratio (including both central and local government) is above 250%" and that long-term bond yields have
"remained at around zero throughout the COVID-19 pandemic, and its average inflation rate has barely exceeded zero for 20 years" and that "Annual new bond issues and soaring debt levels have not had any apparent impact on borrowing costs", he thinks there are particular Japanese circumstances that prevent us generalising from this experience.
Which are?
– "Japanese government bonds are issued in yen, and almost all are held by Japanese residents, both directly and indirectly through financial institutions and the central bank."
– "This makes Japan quite different than the US, whose Treasury bonds are held by investors worldwide."
Both points are illustrative of the way a mainstream economist thinks.
Think about these two statements.
First, neither the US nor Japanese governments issue bonds in foreign currencies.
So there is no point trying to make a difference between the two as if it matters.
Second, does it matter who holds the local currency bonds?
Well, in some cases it might, but we need to first understand what it means for a foreigner to hold a US government bond (as an example).
Take the popular argument that China is funding US government spending and shifts in geopolitics will cause the US grief when China calls in the piper.
China can only do what the Americans and everyone else it trades with allow them to do.
They cannot sell a penny's worth of output in USD and therefore accumulate the USD which they then use to buy US treasury bonds if the US citizens didn't buy their stuff.
Presumably, people buy imported goods made in China instead of locally-made goods (which are more expensive) because they perceive it is their best interests to do so.
There is often a curious inconsistency among those who advocate free markets.
They hate government involvement in the economy yet propose complex regulative structures (for example, tariffs) which would increase government control on resource allocation and, not to mention it, force citizens (against their will) to purchase goods and services they reject in an open comparison (on price and whatever other characteristics).
Many economists do not fully understand how to interpret the balance of payments in a fiat monetary system.
For example, most will associate the rise in the current account deficit (exports less than imports plus net invisibles) with an outflow of capital.
They then argue that the only way the US (if we use it as an example) can counter this is if US financial institutions borrow from abroad.
They then assume that this is a problem because it means, allegedly, that the US nation is "living beyond its means".
It it true that the higher the level of US foreign debt, the more its economy becomes linked to changing conditions in international credit markets.
But the way this situation is usually constructed is dubious.
First, exports are a cost – a nation has to give something real to foreigners that it we could use domestically – so there is an opportunity cost involved in exports.
Second, imports are a benefit – they represent foreigners giving a nation something real that they could use themselves but which the local economy will benefit from having.
The opportunity cost is all theirs!
Thus, on balance, if a nation can persuade foreigners to send more ships filled with things than it has to send in return (net export deficit) then that is a net benefit to the local economy.
I am abstracting from all the arguments (valid mostly!) that says we cannot measure welfare in a material way.
I know all the arguments that support that position and largely agree with them.
So how can we have a situation where foreigners are giving up more real things than they get from the local economy (in a macroeconommic sense)?
The answer lies in the fact that the local nation's current account deficit "finances" the desire of foreigners to accumulate net financial claims denominated in the local currency.
Think about that carefully.
The standard conception is exactly the opposite – that the foreigners finance the local economy's profligate spending patterns.
In fact, the local trade deficit allows the foreigners to accumulate these financial assets (claims on the local economy).
The local economy gains in real terms – more ships full coming in than leave – and foreigners achieve their desired financial portfolio.
So in general that seems like a good outcome for all.
The problem is that if the foreigners change their desire to accumulate financial assets in the local currency then they will become unwilling to allow the "real terms of trade" (ships going and coming with real things) to remain in the local nation's favour.
Then the local economy has to adjust its export and import behaviour accordingly. If this transition is sudden then some disruptions can occur.
In general, these adjustments are not sudden.
Conclusion
In Part 2, I will trace through the transactions that reveal what is going on with respect to foreign bond purchases.
And then we will discuss the inflation story, the kids are being screwed story and more.
Coming tomorrow.
Happy 2022 – and don't forget to watch Don't Look Up.
That is enough for today!
(c) Copyright 2022 William Mitchell. All Rights Reserved.