Vaccine study suggests boosters will be required sooner rather than later
It is Wednesday and so just a few points today. I obviously like data as it tells me a lot about the world and often forces me to alter my views on things. While I mostly analyse economic and financial data, which is my professional skill, I also like to investigate other data sets on things that interest me. Today, I am looking into the vaccine question, which has been playing on my mind lately as the Australian political class, under pressure from all sorts of business lobby groups who fund their election campaigns, have been 'opening up' the economy (states and territories) despite high case numbers in some jurisdictions and despite relatively low vaccination rates. They have come up with a 'Roadmap' to 'living with Covid' (which will see many people die from Covid) and defined key thresholds in terms of average vaccination rates. The problem is the these thresholds are not very scientific at all and their semblance of 'safety' points is an illusion. In effect, the political class has abandoned their pretence to following health advice and are just going for it. It is a difficult period in our history.
Some Vaccine Analysis
Last week, the NSW State Government run by free marketeers 'opened' the economy up after weeks of lockdown due to a severe virus outbreak, which resulted from initial incompetence by the same government.
It touted that NSW had reached the celebrated '70 per cent double dose' threshold, that the so-called 'National Plan' had deemed the point when we "live with the virus".
The next threshold is '80 per cent double dose' which will see almost all restrictions lifted.
The politicians have been touting these thresholds for months now as if they represent a safe passage out of the health risks of the virus.
The thresholds are a farce.
To safely achieve herd immunity against COVID-19, a substantial proportion of a population would need to be vaccinated, lowering the overall amount of virus able to spread in the whole population.
The World Health Organisation advises that (Source):
Attempts to reach 'herd immunity' through exposing people to a virus are scientifically problematic and unethical. Letting COVID-19 spread through populations, of any age or health status will lead to unnecessary infections, suffering and death … We are still learning about immunity to COVID-19. Most people who are infected with COVID-19 develop an immune response within the first few weeks, but we don't know how strong or lasting that immune response is, or how it differs for different people.
They know that to achieve safe levels of immunity for polio requires 80 per cent of the population to be vaccinated, but, for measles, the figure rises to 95 per cent.
But, they admit that "The proportion of the population that must be vaccinated against COVID-19 to begin inducing herd immunity is not known."
So it would be better to find out before adopting the "exposing people to a virus" approach becomes the norm.
Unfortunately in Australia the latter option is what the conservatives are now pushing on us. Even progressive state governments are being forced to follow the 'live with Covid' mantra because the spillover from the 'freedom' state (NSW) became difficult for other states to prevent without draconian border rules, which cannot be maintained indefinitely.
And then you think about what the 70 and 80 per cent above 16 years threshold rules actually amount to.
I did some calculations.
This graph covers the states/territories and Australia and shows the proportion of the Total populations in each jurisdiction that will be covered when the two thresholds: 70 per cent 16+ double-dosed, and, 80 per cent 16+ double-dosed, is achieved.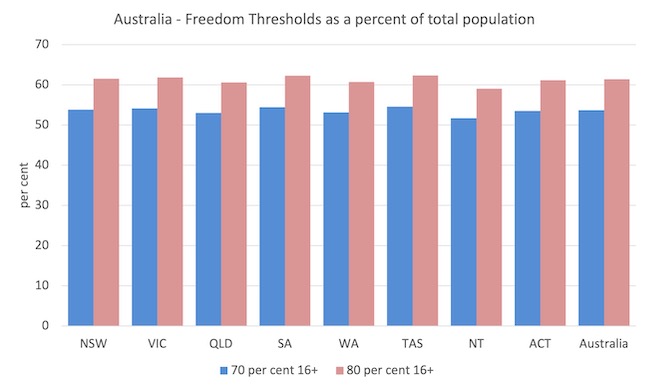 So for the nation as a whole, when the first opening up at 70 per cent double-dose for 16 years and above is achieved, the nation is only 53.7 per cent vaccinated.
And at 80 per cent 16+, the figure becomes just 61.4 per cent.
Both thresholds are below any sensible measure of 'herd' immunity.
At present, no-one below 12 years is being vaccinated as if the young children don't catch and spread the virus.
I may be proven wrong and case numbers might drop significantly as the thresholds are passed.
But we have only the UK to observe and note that they are now heading back into escalating numbers and strains on the hospital system.
There has also been extreme pressure on citizens to truncate the period between the first and second innoculation injections despite the scientific evidence that this reduces the effectiveness of the vaccination markedly in some cases.
Many people are getting their second dose of AZ, the already inferior vaccine, after just 4 weeks, despite the scientists saying that maximum effectiveness comes if the doses are at least 12 weeks apart.
There are two reasons for this:
1. People have been scared by the daily press conferences and the berating from the politicians.
2. The politicians knew they could fabricate a 'safe' opening if they came up with these threshold vaccination targets and then hurried everybody into achieving them.
Forget the science.
Every day the politicians have been out on TV talking about the 'Roadmap' (to freedom) and telling us that if one had not received a double dose then they would be denied freedoms etc.
Society has been segmented into those without the double and those with.
So people who were sick of lockdown were given a massive incentive to join those with (double dose) by truncating the time period between the doses.
The politicians could then look like they were giving us back our freedoms because we were all dutifully reaching these fabricated 'safety' thresholds.
The problem is that now we have millions of Australians wandering around free – going to bars, parties, homes, schools etc – thinking they are fully vaccinated, when, in fact, their double dose is inferior and the antibodies will wane quickly.
The rush to do this was also pushed by the Federal government to cover up the fact that they had no ordered enough vaccine in the first place (they penny pinched on Pfizer who pushed the nation down the queue) and so the actual program of innoculation was delayed by some months as they scrambled to get more doses.
And that made the closed border issues more stark because it was simply unacceptable to 'open up' with low vaccination rates.
The fact that none of the journalists are pursuing this point surprises me.
I read a recent study done by the Public Health England researchers – Vaccine effectiveness and duration of protection of Comirnaty, Vaxzevria and Spikevax against mild and severe COVID-19 in the UK – which uses data compiled after 9 months of vaccine used in the UK.
Their study seeks to "estimate vaccine effectiveness over time since the second dose of Comirnaty, Vaxzevria and Spikevax in England."
The results are interesting and highlight why we should be both careful in opening up while not falling into the short-termism of truncating the second dose interval.
1. "Vaccine effectiveness against symptomatic disease peaked in the early weeks after the second dose and then fell to 47.3 (95% CI 45 to 49.6) and 69.7 (95% CI 68.7 to 70.5) by 20+ weeks against the Delta variant for Vaxzevria and Comirnaty, respectively."
2. "Waning of vaccine effectiveness was greater for 65+ year-olds compared to 40 to 64 year-olds."
3. "Vaccine effectiveness fell less against hospitalisations to 77.0 (70.3 to 82.3) and 92.7 (90.3 to 94.6) beyond 20 weeks post-vaccination and 78.7 (95% CI 52.7 to 90.4) and 90.4 (95% CI 85.1 to 93.8) against death for Vaxzevria and Comirnaty, respectively."
Here are some graphs I produced from the data provided in the Study.
The first one shows the effectiveness against Delta symptomatic disease from Weeks 2-9 after the second dose to 20+ weeks for Astra and Pfizer. The shaded areas are the 95 per cent confidence intervals, whereas the lines indicate the mean estimate from the regression models.
So the CIs indicate that we can be 95 per cent sure that the true result lies within the range. It also means, for example, that we are indifferent between that level of confidence between, say, Astra Zeneca being 52.7 per cent effective against Delta death after 20+ weeks and 78.7 per cent effective.
The points to observe are:
1. A fairly rapid waning in effectiveness in both vaccines.
2. After 20+ weeks, a person who has followed the Astra Zeneca routine is less than 50 per cent protected against symptomatic illness from Covid. For Pfizer, the drop is to 69.7 per cent effective.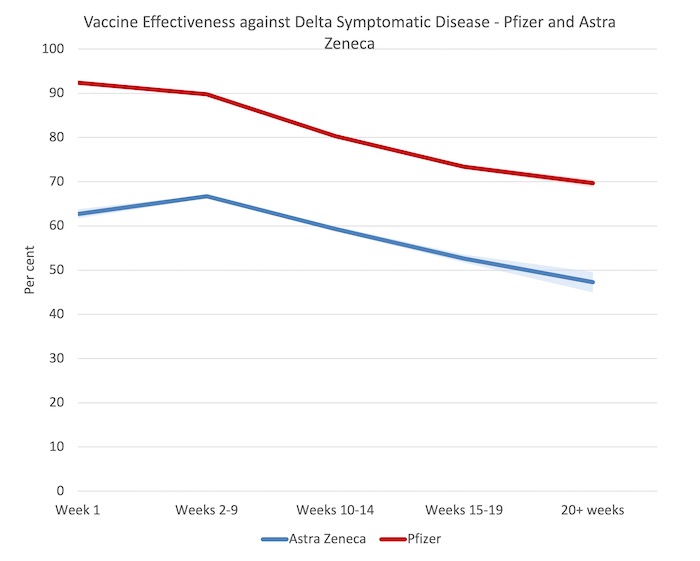 The next graph shows the effectiveness against Delta hospitalisations from Weeks 2-9 after the second dose to 20+ weeks for Astra and Pfizer.
The points to observe are:
1. Even though the effectiveness against disease wanes substantially, the chances of ending up in hospital decline less.
2. Both vaccines are very effective in this regard.
3. The authors write:
Our study provides evidence of significant waning against symptomatic disease but limited waning against severe disease over a period of at least 5 after administration of second doses in a programme with an extended interval between first and second doses. Waning appeared to be greater in older age groups and among individuals in clinical risk groups, suggesting that these individuals should be prioritised for booster doses.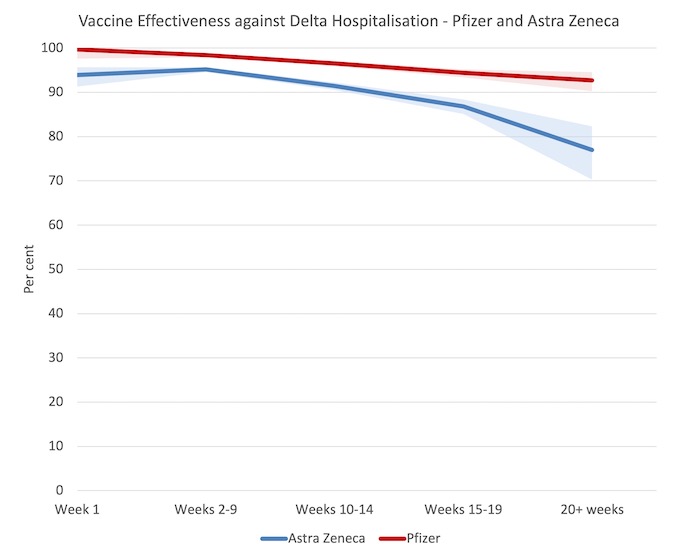 The final graph one shows the effectiveness against Delta deaths from Weeks 2-9 after the second dose to 20+ weeks for Astra and Pfizer.
The points to observe are:
1. Anyone who has taken AZ has an almost 50-50 chance of dying after 20+ weeks of receiving the second dose if they get sick. That is not a very 'safe' position to be in.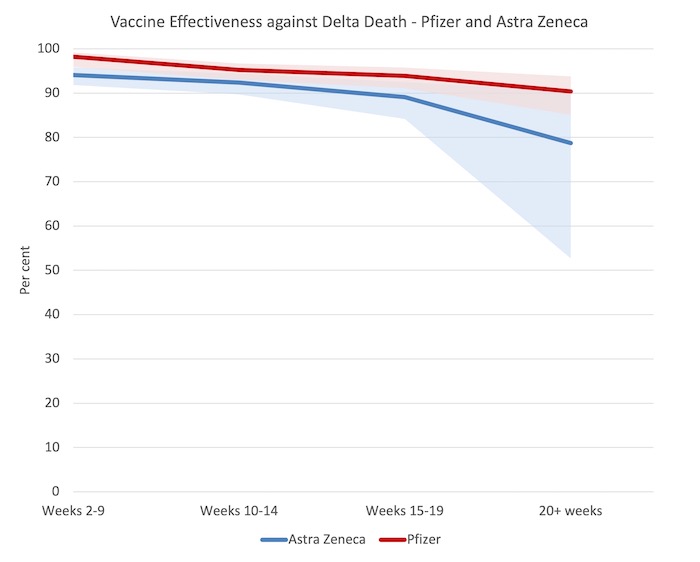 The study also found that truncating the period between doses significantly reduced the effectiveness of the vaccines, other things equal.
For example, for Pfizer, the effectiveness from symptomatic disease dropped from over 60 per cent to less than 40 per cent in people aged 80+ after 25+ weeks after second dose (the intervals were large and overlapping though).
The main message from the study, is that we cannot conclude that we are safe after two doses of either vaccine and booster shots will be necessary to increase the longer-term effectiveness as the 2-dose effectiveness wanes after 20+ weeks.
Of course, with the first world looking after themselves and allowing the companies to maintain patents, the idea that the advanced nations should be boosting while the poorer nations are enduring such low levels of first round vaccinations is somewhat difficult to cope with.
The reality is that billions of doses are necessary to be distributed everywhere as a matter of priority.
Music – Wes Montgomery and Clark Terry
This is what I have been listening to while working this morning.
This is from the 1992 album – Straight, No Chaser – which was recorded on the Dutch Radio VARA on April 2, 1965 at their Hilversum studios.
One of my closest friends, now deceased, worked at the studio on these sorts of projects for many years. I miss him.
The album was released in 1988 as "VARA Radio – 1965" on Vara's own jazz label.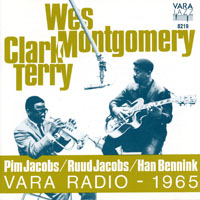 The interesting thing is that Wes Montgomery only visited Europe once over the course of his career (which was short anyway).
His Paris concert in March 1965 was a classic and features Wes and flugelhorn player Clark Terry.
This track – Just Friends – was the peak of their partnership.
The players are:
1. Wes Montgomery – guitar.
2. Clark Terry – flugelhorn.
3. Ruud Jacobs – double bass.
4. Han Bennink – drums.
5. Pim Jacobs – piano.
Anyway, this is one of the best versions of this jazz standard.
I loved the way Wes Montgomery played without a pick and achieved that really sombre yet clean sound on his octaves. I have never really been able to replicate that level of clarity in that context but it doesn't stop me trying to mimic his genius.
That is enough for today!
(c) Copyright 2021 William Mitchell. All Rights Reserved.