There is no such thing as a free lunch
I guess if mainstream economists use Milton Friedmanesque smears they think that will be sufficent to discredit Modern Monetary Theory (MMT). There have been a few critiques in the financial media recently along those lines. The authors tell their readers that they get the impression that MMT is just about a free lunch. Throw in Zimbabwe or Weimar are few times during the article and there you have it – rather tawdry attempts at maintaining mainstream thinking when the world has entered a new era of fiscal dominance as policy makers discard their reliance on monetary policy to stabilise economies. This policy shift is diametric to what mainstream macroeconomists have been advocating for decades as they repeatedly warned that high deficits and public debt levels and large-scale central bank bond purchases would lead to disaster. However, their predictions have been dramatically wrong and provide no meaningful guidance to available fiscal space nor the consequences of these policy extremes for interest rates and inflation. The world is leaving them behind and it is interesting to see how they are trying to reposition themselves.

Olivier Blanchard posted this extraordinary Tweet on December 2, 2020: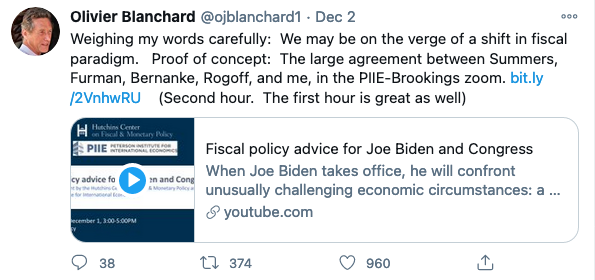 Breathtaking arrogance!
So, ladies and gentlemen, because Jason, Larry, Ben, Ken and Olivier have decided, it means the fiscal paradigm has shifted.
They determine what goes!
That is, in their desperate attempt to remain relevant when the paradigm they have been pushing for decades, which has devastated economies and peoples' lives, is now being exposed as a failure, they are jumping ship and putting themselves at the forefront of the new era.
This summarises what is going on at present among many mainstream economists.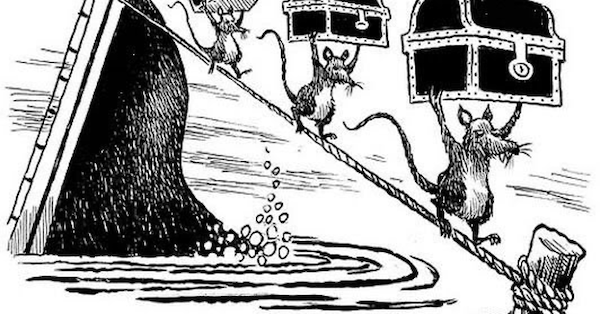 There is a lot of it going on.
There is also a lot of economists trying to stay relevant, but realising that MMT economists have been at the forefront of the fiscal dominance for 25 years now, they somehow have to dissociate themselves from MMT by making out it is something different to what it is.
The 'free lunch' critique has entered the fray in the last week or so.
It is laughable really that they think people are so stupid that they will accept this sort of stuff.
On November 26, 2020, the chief economist at the AMP (Australia), which is a former insurance company in Australia that branched out into broader financial services including banking, attempted to elucidate his clients about MMT.
His attempt at characterising our work – Modern Monetary Theory – can it help with economic problems or is it just another Magic Money Tree? – is a poor reflection on the author rather than MMT.
As background, the company he works for (AMP) has a rather tawdry record.
For example, this ABC report – AMP scandals threaten to break up the company as profit focus backfires (September 9, 2020) – informs us of "the scandal that may prove to be the straw that broke the camel's back for a company which once sat at the pinnacle of the Australian corporate ladder."
It concerns allegations of inside jobs for the boys amidst sexual harassment allegations.
It was the latest scandal in a long list.
During the 2018 Hayne Banking Royal Commission, it became clear that AMP has engaged in misconduct towards its customers – putting profit ahead of ethical trading.
More evidence of the nature of AMP culture is available in this report – AMP Capital sees $2.1 billion outflows as scandal continues to bite (October 22, 2020) and this report – AMP profit crumbles amid royal commission scandals, life insurance sale (February 14, 2020).
Back to the MMT story.
Shane Oliver's article was a briefing to the 'markets'.
I would hope that anyone considering investing funds in AMP would realise that the advice coming from the company's chief economist fails badly.
He makes the introductory error of assuming that MMT is some sort of regime or policy set when he suggests that MMT:
… supporters seem to claim it will solve many of our economic problems.
People who read our work and understand it will know that that characterisation is inaccurate.
MMT is not some sort of regime or a set of policies.
A government does not suddenly 'apply', 'switch to' or 'introduce' MMT.
Rather, MMT is a lens which provides a better understanding of the fiat monetary system and the capacity of the currency-issuer.
By linking institutional reality with behavioural theories, it provides a more coherent framework for assessing the consequences of government policy choices.
MMT allows us to appreciate that most choices that are couched in terms of 'budgets' and 'financial constraints' are, in fact, just political choices.
Given there are no intrinsic financial constraints on a currency-issuing government, we understand that mass unemployment is a political choice.
Imagine if citizens understood that.
An MMT understanding lifts the ideological veil imposed by mainstream economics that relies on the false analogy between an income-constrained household and the currency-issuing government.
People who have read our work know that.
But then Dr Oliver continues by telling his readers that:
Its easy to get bogged down in the details of MMT, so I will keep it simple.
Ah, avoid the detail – and then start inventing stuff.
He then provides his own key MMT propositions.
Fictional representation 1:
The government can just keep spending until it meets its objectives – whether that's traditional macroeconomic objectives like boosting inflation or full employment, or conceivably everything else including reducing inequality, dealing with climate change and more affordable housing.
No MMT economist has ever written or said that the government can solve all desirable objectives by spending alone.
The point is that there is no financial constraint preventing government from spending any amount.
But that doesn't mean there are no constraints.
And dealing with inequality, climate change and affordable housing would surely hit those actual constraints fairly quickly, which means other measures will be required.
I will come back to that.
Fictional representation 2:
Rather than raising taxes or issuing debt, government spending can be financed by the government directing its central bank, eg, the RBA in Australia, to print the money and give it to the government to spend, subsuming monetary policy into fiscal policy.
Taxes and debt-issuance do not 'finance' government spending.
All government spending is facilitated by central banks typing numbers into bank accounts.
There is no spending out of taxes or bond sales or 'printing' going on.
Elaborate accounting and institutional processes, which make it look as though tax revenue and/or debt sales fund spending, are voluntary arrangements that function to impose political discipline on governments.
Taxes and bond-issuance serve other functions.
Fictional representation 3:
Worries about budget deficits and sovereign debt are overblown if the government borrows in its own currency – so the government can just print more money to finance itself and service its debts and there is no risk of a currency crisis.
The government repays its debt by its central bank altering numbers in various bank accounts – marking down the debt account and marking up the reserves account held by the relevant bank of the recipient of the principal repayment.
No 'printing' is involved.
Further, as long as a currency is traded openly on foreign exchange markets, there is always a risk that its value can rise and fall, even sharply and quickly.
However, there has never been a robust statistical relationship established, despite many econometricians trying, between the trajectory of fiscal policy outcomes and the currency fluctuations on the foreign exchange markets.
And, if a currency is facing rather large sell-off pressures which might lead to a 'currency crisis', the national government always has the option of imposing capital controls.
Iceland, most recently during the GFC did exactly that and saved their currency from a large depreciation after enduring one of the largest banking collapses in history.
Fictional representation 4:
… contends that a government that issues its own currency can borrow at any interest rate it wants and that all government spending can be financed by debt or money printing – but these are a bit way too whacky for me!
Of course he would want to say that.
His company relies on bleeding people dry through high interest rates and charges.
It is obvious that central bankers can maintain yields and interest rates at very low levels indefinitely to suit their policy purposes.
Bond markets can only determine yields if governments allow them to.
There is no question that that is a true statement.
Further, MMT economists have never stated that "all government spending can be financed by debt or money printing".
Never!
That is because we do not consider a currency-issuer has any financial constraint, which means it never has to 'finance' the spending of the currency is issues as a monopolist into existence.
Further, this ignores the relationship between taxes and spending.
While tax revenue cannot fund spending – given the logical point that we cannot pay taxes in the currency the government issues until it has been previously spent into existence – it doesn't mean that taxes can be set to zero.
Clearly, all spending carries an inflation risk.
If nominal spending growth outstrips productive capacity, then inflationary pressures emerge. Government spending can always bring idle resources back into use, without generating inflation.
At full employment, a government wishing to increase its resource use has to reduce non-government usage.
By curtailing private purchasing power, taxation, while not required to fund spending, can reduce inflationary pressures.
So in this sense, a larger tax base allows for a larger public share of total spending. This is not about 'financing' though.
It is about what constraints governments actually face.
After telling his readers that the old Classical Quantity Theory of Money is relevant (linking money supply to inflation), which is the basis of Friedman's Monetarism and is why they claim central banks should never buy government bonds (which in his language means directly or otherwise funding government spending), he backtracks and cites:
… the already well-known failings of the quantity theory of money …
So why cite it as if it is knowledge?
Because he had to get in the bit about the "Weimar Republic in 1920s" and hyperinflation and somehow insinuate that MMT economists are discredited by these historical episodes.
Extreme supply shocks explain the hyperinflation of 1920s Germany and modern-day Zimbabwe, both of which are regularly, but erroneously, claimed to demonstrate the danger of fiscal deficits.
The Zimbabwean government's confiscation of highly productive white-run farms to reward soldiers, who had no experience in farming, caused farm output to collapse, which then damaged manufacturing.
Even if the government had have been running fiscal surpluses, the hyperinflation would have occurred such was the depth of the supply contraction.
Please read this blog post – Zimbabwe for hyperventilators 101 (July 29, 2009) – to get straight on that issue.
He then agrees that the recent history has shown the basic claim of mainstream economics that if the central bank just credit bank accounts to facilitate government deficit spending inflation will accelerate is plain wrong.
He also agrees that the manic obsessions about fiscal deficits and public debt (the "budget austerity obsession" in his words):
… are overblown for countries that borrow in their own currency.
Okay.
But then we get punchline 1 – MMT:
… gives the impression there is always some sort of free lunch. That the central bank can just print money – like some sort of Magic Money Tree – and all economic problems can be solved. But as an old friend of mine used to repeatedly remind me, "you can't make something out of nothing."
Which is the grossest misrepresentation of our work you could find.
In 1975, Milton Friedman published his propaganda book – There's No Such Thing as Free Lunch – which is a sort of catch cry of the anti-government lobby.
It was just a compilation of his media articles.
Economics students were forced to read it as their indoctrination proceeded.
But to suggest that MMT proposes no constraints on government spending is malicious and ignorant at the same time.
Come on Shane, cite on article from an academic MMT economist where you were able to conclude (get "the impression") that we think there is a free lunch!
Otherwise, you are guilty of making things up to blacken the reputation of these economists, including me.
At the heart of all the MMT writing is the recognition that at full employment, a government wishing to increase its resource use has to reduce non-government usage.
MMT defines fiscal space in functional terms, in relation to the available real productive resources, rather than focusing on irrelevant questions of government solvency.
An MMT understanding allows us to traverse from obsessing about financial constraints and all the negative narratives about the need to 'fund' government spending, to a focus on real resource constraints.
It focuses on how policy advances desired functional outcomes, rather than the size of the deficit.
To maximise efficiency, government should spend up to full employment.
The fiscal outcome will then be largely determined by non-government saving decisions (via automatic stabilisers).
The only meaningful constraint on government spending is the 'inflationary ceiling' that is reached when all productive resources are fully employed.
That message is central to MMT.
If it was understood it – and it is many of our writings – then one could NEVER get the impression that "there is always some sort of free lunch".
To suggest otherwise, is just craven dishonesty or ignorance. Which one Shane?
Which leads to punchline 2:
Budget deficits and high public debt are not a problem now as there is spare capacity, economies are not overheating and interest rates are low but this won't always be the case.
It might not always be the case.
First, the interest rate position is irrelevant – although even progressives fall into the trap that all is well as long as interest rates are low.
Second, if the non-government sector spending increases, the fiscal deficit reduces automatically.
Third, MMT economists focus strongly on the fiscal position in context with non-government spending and saving decisions.
None of us have ever said the fiscal position is irrelevant and fiscal deficits do not matter.
It is the context that matters.
For Australia, with an external sector deficit draining income from the economy, the only way the private domestic sector can save overall is if the government runs continuous deficits of varying scale depending on the private saving decisions.
For a nation like Norway, with a very strong external position injecting net spending into the economy, the government may have to run surpluses to avoid inflationary pressures, while still 'funding' the private domestic overall saving preferences.
We also get the 'politicians will go crazy' argument that circulates when there is nothing else to say.
Apparently, if the politicians work out that the central bank can just given them money to spend they will become "addicted" and the result will be "wasteful government spending and eventually high inflation or hyperinflation".
He cites the 1970s as an example of the "inflation genie" getting "out of the bottle" and being hard to stop.
Remember the only serious inflation in the post Second World War period that was global had nothing much to do with fiscal policy behaviour.
The 1970s inflation was driven by the politically-motivated supply-shock (oil price hikes by the Arab OPEC nations).
The difficulty was that governments wrongly responded with with contractionary demand policies when they should have fast-tracked energy substitution technologies given the problem came from the supply-side.
Further, the idea there is utility in keeping the wider population uninformed and functioning under the false construction that their taxes pay for government spending and all that sort of lying, because it places a discipline on politicians, who because they are untrustworthy, would otherwise go wild in their spending has a long history.
I discussed these issues in my – My podcast with Alan Kohler (March 30, 2020).
We apparently have reached a point in history where we hate dictators and eulogise the benefits of democracy, but don't want the politicians we elect to have the flexibility to advance our well-being.
Or in simpler language – "because we don't trust politicians".
Remember the famous quote from American economist Paul Samuelson in the interview he did for the film – John Maynard Keynes: Life, Ideas, Legacy – where at the 52:50 mark into the film, he said:
I think there is an element of truth in the view that the … the superstition that the budget must be balanced at all times … aah … Once it is debunked … takes away one of the bulwarks that every society must have against expenditure out of control. There must be discipline in the allocation of resources or you will have … aah … anarchistic chaos and inefficiency. And one of the functions of old fashioned religion was to scare people by … aah … sometimes what might be regarded as myths into behaving in a way that long-run civilised life requires. We have taken away a belief in the intrinsic necessity of balancing the budget if not in every year … in every short period of time. If Prime Minister Gladstone came back to life he would say 'oh, oh what you have done' and James Buchanan argues in those terms. I have to say that I see merit in that view.
This amounts to a world where the elites can manipulate the fiscal capacity of the state to advance their own interests (procurement contracts at will, bailouts when they mess up, etc) but if we want to do something about unemployment or poverty then the rest of us has to be held in this fictional world that appeals to our instincts of fear and uncertainty.
And, of course we then are encouraged to distrust politicians and so it goes.
My view is that once we expose these myths, more sensible political discourse can take place.
And if we do not like our government – that is they go crazy with their spending capacity – then we throw them out of office (in Australia, every three years of so).
They can hardly destroy the nation in three years.
I also think that if the standard of political dialogue was improved, higher quality candidates would seek election and push out the time-serving careerists who dominate all political parties.
It is an extraordinary world where we accept a deception because knowing the truth might require us to act differently (become more politically engaged and demand quality political behaviour).
I don't accept that proposition.
Conclusion
Another rather tawdry attempt at maintaining mainstream thinking when the world has entered a new era of fiscal dominance as policy makers discard their reliance on monetary policy to stabilise economies.
This policy shift is diametric to what mainstream macroeconomists have been advocating for decades as they repeatedly warned that high deficits and public debt levels and large-scale central bank bond purchases would lead to disaster.
However, their predictions have been dramatically wrong and provide no meaningful guidance to available fiscal space nor the consequences of these policy extremes for interest rates and inflation.
Finally, if you have any AMP investments, then I would immediately follow the recent trends and divest them.
That is enough for today!
(c) Copyright 2020 William Mitchell. All Rights Reserved.