Its Wednesday and my blog light day. The Australian Federal government unveiled their grand fiscal statement (aka Budget) last night. I am pretty tied up today and need some time to read the papers and data accompanying the release. As a result I will reserve my commentary until tomorrow. But if one word would suffice then my conclusion is – pathetic. More words would tell you that there is nothing visionary about this statement or strategy. There is lots of cash lollies for people – well not much for the lower-paid and plenty for the top-end-of-town but no longer term investment strategy which would address the other crisis humanity is facing other than the health, unemployment and poverty crises – and I refer to the climate crisis. I also do not support the tax cuts which hand over big increases in disposable income at the top end of the income distribution and very little at the other end. The longer term consequences of that strategy will be to limit the non-inflationary size of government, which, of course, is the conservative strategy. But what will be left of government when things stabilise will not be very progressive. Anyway, I will consider the documents later today and comment tomorrow. Probably.

A conversation with Phil Armstrong – GIMMS event
On September 27, 2020, I recorded a live conversation via Zoom with Dr Phil Armstrong, which was organised by the – GIMMS Team
It was a long session and included questions from the attendees (of which there were about 100).
As usual, with Zoom, the audio quality varies but, in general, the sound is okay.
THe format was that Phil asked questions to provoke discussion and then we talked about the answers.
I enjoyed the interaction, although face-to-face is better by far.
Thanks to the wonderful GIMMs team for their dedication in advancing the MMT education initiative. They are tireless volunteers and I hope more people will see their way to offer support for their efforts.
Music – The Spencer Davis Group
This is what I have been listening to while working this morning. I heard a version of this song by the – Chicago Transit Authority – from 1969 the other day, which was fine.
But then I decided to dig out my old – The Spencer Davis Group – album – I'm a Man (released by Fontana Records in 1967). It was one of four albums they released in that year, which is a testament to their popularity at the time.
Track 1 is the Jimmy Miller and Steve Winwood – song – I'm a Man – which was one of the great songs of that era – beautiful guitar and really magnificent Hammond Organ (with the grunchiest setting on the drawbars that you could imagine).
Here is a snippet from the UK Top 100 for February 9, 1967, which shows the songs that I'm a Man was competing against for attention. It maxed out at number 9.
But look at the other songs – Let's Spend the Night Together, Hey Joe etc. Classics and among the best of all time.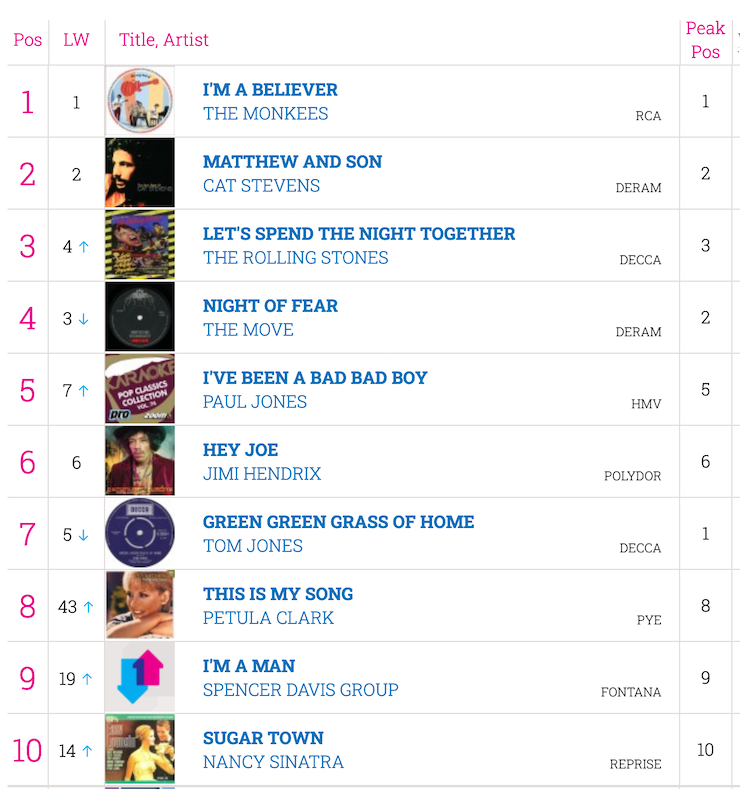 The whole album has some excellent songs. I hadn't listened to it for a while and am now committed to converting it into digital form and putting it on my iPhone.
I was young at the time and just getting my music legs but I think, in retrospect, that I had good taste (-: It still sounds fabulous today.
My schoolboy band used to hammer this song out at parties where we played a bit. We thought we had it down but probably didn't.
That is enough for today!
(c) Copyright 2020 William Mitchell. All Rights Reserved.