Nations heading south as austerity continues
On the back of a decelerating inflation rate, Italy in recession, Germany not far behind, terrible PMI in Europe, Eurostat released the latest retail sales data yesterday (February 5, 2019) – Volume of retail trade down by 1.6% in euro area. Not good news. Remember all those Europhile Left reformers telling us that now was the time to reform the EU while the 'sun was shining'. Well, its black clouds again and they didn't get to first base in the reform basis. Lots of hot air – none of it got near disturbing the neoliberal austerity bias. But this austerity bias is not just a feature of the currency union. Yesterday, the Australian Bureau of Statistics released two data sets – Retail Trade and Balance of International Trade – and they both tell the same story. The interesting thing was that the trade data recorded a "record trade surplus" and I heard commentators actually claiming this was a great result. Wrong. Exports declined, but more slowly than imports. And imports declined because consumer spending and business investment was weak. Not a great result at all. At some point, the austerity bias around the world has to stop. But nations are heading south again in the meanwhile. With all that gloom, the best thing to do is enjoy my regular Wednesday music spot (if you like). And if you don't like it, then maybe, appreciate the artistry of the musicians.

Europe heading south
The Eurostat data shows that retail sales in the EU28 contracted by 1.4 per cent in December and have only grown 7.1 per cent in total since February 2008.
Retail sales in the Eurozone contracted by 1.6 per cent and have only grown by 2.3 per cent in total since February 2008. That is a massive austerity bias.
Even austerity-prone Britain has seen retail sales grow by 15 per cent since February 2008.
The following graph shows the evolution of retail sales since February 2008 for selected European aggregates.
The destruction of Greece is clear – retail sales are now 41 per cent lower than what they were in February 2008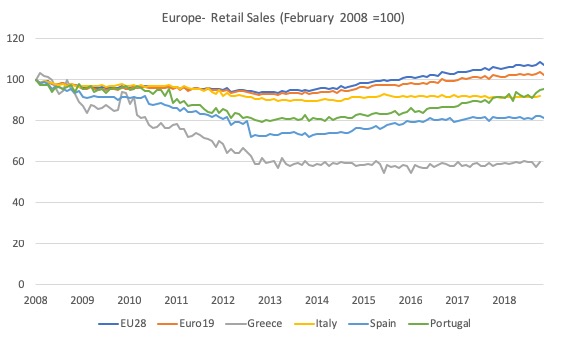 Yesterday's data shows that Belgian retail sales contracted 1.4 per cent (real terms) in December, German retail sales contracted 4.3 per cent, Estonia 2 per cent contraction, Spain 1.2 per cent contraction, France 0.1 per cent contraction, Latvia 1.2 per cent contraction, Lithuania -0.2, Slovenia -0.6, Slovakia -1.7 and Finland -0.3 per cent.
I am not suggesting we should evaluate well-being by retail sales growth although I would be foolish to consider such growth to be irrelevant to the advancement of well-being.
Other factors are clearly relevant including how the retail sales were funded. For example, in Britain's case, household debt has risen sharply over the same period.
Australia heading south too
The ABS released the latest retail sales data for December 2018 yesterday (February 5, 2019) which showed that:
Australian retail turnover fell 0.4 per cent in December 2018,
One of the manifestations of the flat wages growth and the decline in consumption expenditure growth is the flat retail sales environment.
There are all sorts of anecdotal accounts of shopping strips being hollowed out in capital cities as major retails rationalise their exposure to the deteriorating situation.
Large department stores are recording poor results. Major brands (particularly clothing) are registering insolvencies.
The following graph show the quarterly monthly growth (blue bars) compared to the average monthly growth between January 2000 and December 2018 (red line).
The sharp dip in December is surprising (worrying) given this is a typically stronger month (xmas).
The November result was driven by the Black Friday promotion spree.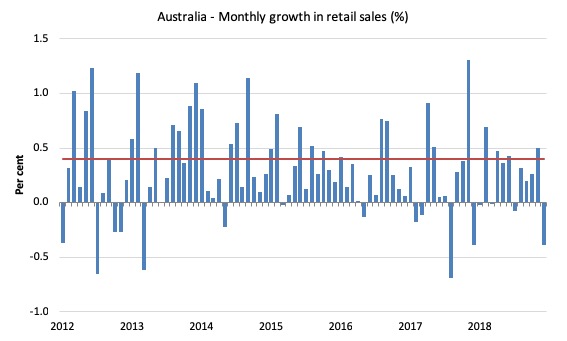 The celebration of the fiscal balance heading to surplus which seems to have blinded the federal government to the reality will be short-lived.
So isn't a record trade surplus good news?
The ABS also released the latest – International Trade in Goods and Services, Australia, Dec 2018 – data yesterday (February 5, 2019) – with the headline:

Hmm, sounds like all systems go for an export-oriented nation.
Wrong.
The following graph tells the story.
Exports fell by less than imports is the reason the surplus rose.
The external environment tightened and exports fell by 1.6 per cent, while imports fell by a sharp 5.6 per cent as a result of harsher domestic conditions (flat wages growth, excessive household debt, savings rundown, etc).
Nothing to celebrate there.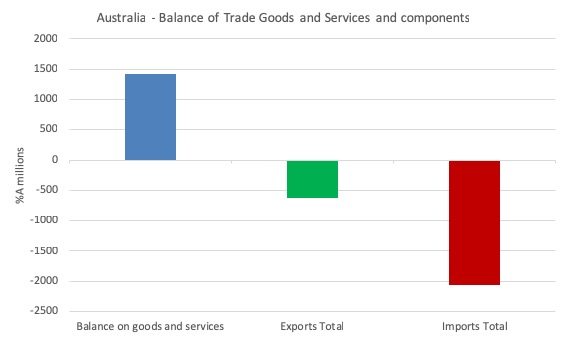 Which is why a currency union such as the Eurozone is crazy hanging out for export-led growth, while at the same time imposing fiscal austerity on the Member States and domestic demand suppression.
According to Eurostat analysis, intra-EU exports comprise around 65 per cent of total exports from the EU (and imports represent a similar proportion).
With that much dependence, austerity that kills domestic demand and import capacity also harms the export capacity of the partner Member States.
Music for today ….
I received an E-mail overnight from a MMT activist who is up against it when talking to his Marxist mates, who pull the usual stuff about the Job Guarantee and related government policy interventions – it is a palliative and just propping up capitalism and delaying the revolution.
I replied to him that for years now when I have spoken about the Job Guarantee proposals and interventions like that to a "Marxist" or "Left" audience I would be pillaried for offering 'palliatives' to capitalism.
How dare I claim to be progressive yet use the state to further prop up capitalism and forestall the revolution.
This type of reaction was usually elicited from audiences that were usually best described as being well-educated, middle class cohort with stable and well-paid jobs (often academics).
For them, it might seem okay to sit around cafes on a Saturday morning plotting the revolution as they sipped their latte and ate almond croissants with jam.
For me, the human costs of unemployment and poverty are NOW and need addressing even if this delays their precious revolution by a few days.
This little reflection motivated me to put on one of my favourite albums – the 1995 album by the American music collective – Brooklyn Funk Essentials – Cool And Steady And Easy – and it is called The Revolution Was Postponed Because of Rain.
It is a great album overall and this song is typical of the acid-jazz poetry that BFE is renowned for.
It is about Black American activism in the face of mass consumerism and the way in which individualism undermines collective, revolutionary zeal.
But it could easily be about all the left-wing progressive coffee shop plots, where left-wingers with protected jobs and stable salaries discuss tactics relating to overthrowing the capitalist system in between sipping their cafe latte.
As these characters order another croissant and stir the cream at the top of their coffee, they wheel abuse with some disdain to those who would dare to forestall the revolution.
I often think about this song when that sort of criticism arises.
The lyrics are as follows:
The underlying
immediate
political
socio-economic
and trigger mechanism causes
were all in place when
some nee-gro or the other got hungry
had to stop at the McDonald's
had to get on the line
with the new trainee cashier
"uhh, where's the button for the fries?"
so we missed the bus…

Then the leader couldn't find his keys
didn't want some poor ass moving
his brand new 20″ and VCR
out his living room on the shoulders.
It was too late when the locksmith came

Then our demo expert Willie Blew got arrested
came out with his head hanging under his hoody
"Didn't know they started doing that
for jumping the turnstiles," he said.
"How many times must we tell you –
Don't.. get.. caught."
We voted against shootin' him on the spot
In the winter we were all depressed
so we leaned our guns against the sofas
and listened instead to Tim Tim Tiree
singing about his dysfunctions:

Cool and steady and easy
It makes them like it
What?

"Sometimes I wonder if ah'll ever be free
free of the sins of my brutish daddee
Like the cheating, the stealing, the drinking, and the beating". . .

The weatherman said the 17th would be sunshine
and it wouldn't be too hot –
Tim Tim Tiree doesn't like sweatin'
but that night the weatherman came on crying
saying he didn't control the weather
that God was real
that he's lucky He, God, didn't strike him, the weatherman, with lightning
for taking the credit sometimes
and that he, the weatherman, was in no way responsible
for the hurricane coming
and that we, the viewers, should
pray Jesus into our hearts
before it was too late.

Superbowl Sunday was out
all the women wanted
to see the game
and the men were pissed
at their insensitivity

The 20th was supposed to be a definite
we looked for some Bastille to storm
didn't find any
settled on the armory instead
before they moved the homeless in…
"We'll bum-rush it anyway," I said
"It smells like a collection
of a thousand farts in there," they said
So we waited for the approval of the city
contract to build a Bastille
which set the revolution back five years.

Cool and steady and easy
It makes them like it
What?

Peace wanted to start the revolution on Tuesday
She was in a pissed-off mood
her tax return didn't come in time for the rent
But they showed the We Are the World video
on cable that evening
and we all held hands
and cried to stop from laughing
and our anger subsided
Looking back, it could've been a plot
but there are more substantive plots to expose
than the We Are the World conspiracy

Now we wait for the rain to stop
All forces on the alert
some in Brooklyn basements
packed in between booming speakers
listening to Shabba Ranks and Arrested Development
bogling and doing the east coast stomp
gargling with Bacardi and Brown Cow
breaking that monotony with slow movements –
slow, hip-grinding movements
with the men breathing in the women's ears to
Earth Wind & Fire's Reasons
and wondering what the weather will be like
next weekend.
And while we are still funking, here is a double BFE treat from the same album. This is one of my all time favourite tracks (it is a long list, I know).
Take the L Train (To Brooklyn)
Lawyer needed
I am part of a local community group that is trying to stop or modify a massive overdevelopment in our local area.
The development process in NSW is stacked heavily in favour of the property developers and local councils often do not defend local community interests but favour prioritise development.
The Newcastle City Council is particularly bad in this respect and regularly trample over the rights of the citizens.
We need some expert advice on planning rules etc from someone who is familiar with NSW planning laws and Land and Environment Court processes.
The community group has no funds.
The urgency is that a huge DA is on show now and we have until next Wednesday to comment.
If you can help please contact me. It would be appreciated.
Call for financial assistance to make the MMT University project a reality
I am in the process of setting up a 501(c)(3) organisation under US law, which will serve as a funding vehicle for the MMT Education project – MMT University – that I hope to launch early-to-mid 2019.
For equity reasons, I plan to offer all the tuition and material (bar the texts) for free to ensure everyone can participate irrespective of personal financial circumstance.
Even if I was to charge some fees the project would need additional financial support to ensure it will be sustainable.
So to make it work I am currently seeking sponsors for this venture.
The 501(c)(3) funding structure means you can contribute to the not-for-profit organisation (which will be at arm's length to the not-for-profit educational venture) in the knowledge that your support will not be publicly known.
Alternatively, if you wish to have your support for the venture publicly acknowledged there will information presented on the Home Page of the MMT University to acknowledge that funding.
To ensure the project has longevity I am hoping to obtain some long-term support proposals.
At present, I estimate I will need about AUD 150k per year.
Note that most of these funds will support an administrative support staff (1 person fractional), data charges, and video editing and design staff (as needed).
I will personally take no payment for the work I am putting into the project nor will other key Modern Monetary Theory (MMT) academics, who have agreed to help in the educational program.
So I cannot do this without sufficient support. My research group does not have the financial capacity to support this venture.
I also do not wish to place advertisements on my blog posts.
You will be contributing to a progressive venture.
Please E-mail me if you can help.
I have some funding pledges already but I am not near the target yet.
Thanks to all who have so far offered support.
But the venture cannot go ahead if I cannot make it financially sustainable.
That is enough for today!
(c) Copyright 2019 William Mitchell. All Rights Reserved.