British labour market – rise in self-employment driving growth
The British Office of National Statistics (ONS) published its latest labour market data last week (January 22, 2019) – UK labour market: January 2019. Employment continues to increase, unemployment is steady and inactivity is falling (participation is rising). Real wages are also finally starting to rise (average weekly earnings rose by 3.3 per cent over the last 12 months) after a decade of flat wages growth. The ONS say that the 4 per cent unemployment rate "has not been lower since December 1974 to February 1975". But the labour market of 2019 is very different to that of late 1974. While the growth in real wages is a positive development, the large negative is that employment for employees fall in the three months to November 2018 and all the employment growth was taken by self-employed. The other disturbing statistic is that if we considered the involuntary part-time workers to be equivalent to the unemployed, then the adjusted unemployment rate would be around 6.6 per cent, a far cry from full employment.

Employment – at record levels
The data covers the three months to November 2018 (so it is not the 4th quarter). I will refer to it as the November-quarter.
The heading reflects the sort of statements that politicians make. In this case it is true. Total employment in the November-quarter was 32,535 thousand and it has never been higher.
But then the total working age population (above 16 years) was 53,169 thousand and that has never been higher.
So the statement "employment at record levels" is somewhat vacuous no matter how good it sounds.
We are better off considering rates and the Employment to Population ratio shown in the next graph is at levels not witnessed since the November-quarter 1973, just before the OPEC oil crises hit.
The ratio is now at 61.2 per cent and was at 61.1 per cent in June 1973.
So relative to the working age population, employment is now at record levels.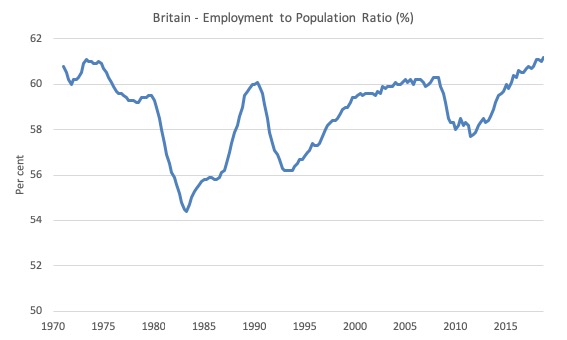 Part-time, self-employed and temporary workers
The data also shows that the proportion of workers who are now in part-time positions has risen from 23.5 per cent in the June-quarter 1992 to 26.2 per cent in the November-quarter 2018 – not a significant shift.
There has also not been much change in the proportion of workers working second jobs over that period (3.72 per cent down to 3.42 per cent) and there has been a decline in the proportion of temporary employees as a percent of all employees (5.9 per cent down to 5.7 per cent).
Further, contrary to popular perception, the proportion of total workers who are self-employed has only marginally increased over this 26 year period – 13.6 per cent in the June-quarter 1992 to 14.9 per cent in the November-quarter 2018. This ratio has actually fallen since mid-2016.
But of those, the proportion of self-employed who are working part-time has risen from 17.6 per cent in the June-quarter 1992 to 30.1 per cent in the November-quarter 2018 – a large shift and likely to be hiding a significant shortfall in labour demand as people eke out a working life as best they can.
Moreover, the recent employment gains in Britain are overwhelmingly accounted for by a rise in self-employment.
The following graph shows the proportions of total employment change accounted for by the four categories for which ONS provide data (employees, self-employed, unpaid family workers, and those on government supported training programs).
Over the last 12 months, total employment has risen by 327.7 thousand and 89.2 per cent of that has been accounted for by jobs for employees (24.6 per cent to the self-employed).
However, over the last 6 months, total employment has risen by 136 thousand and 66 per cent of that has been accounted for by jobs for employees (46.7 per cent to the self-employed).
The stark shift that is going on is highlighted in shifts in the last month.
Total employment rose by 58.9 thousand and employees lost 12.1 thousand jobs while the self-employed added 80.5 thousand jobs.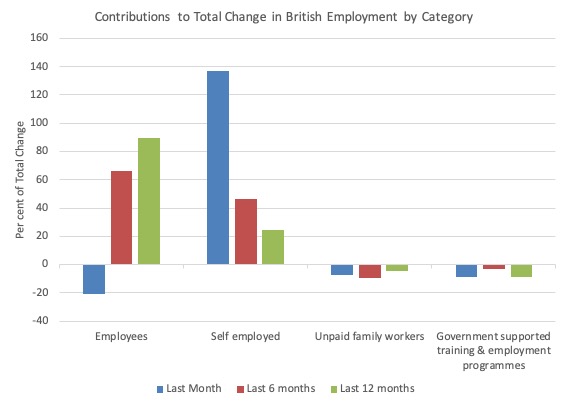 Of those changes, the following Table provides more insights.
It shows that overall, part-time employment has fallen over the last 12 months. The falls have been confined to employees who have overwhelmingly been able to gain full-time work.
For self-employed workers, there also has been a bias towards full-time work accession.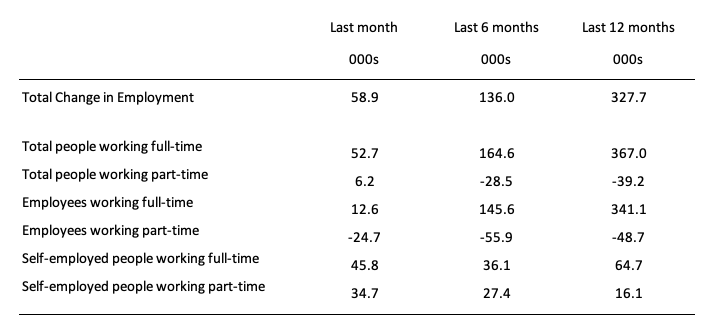 Zero hour contracts
The ONS data – EMP17: People in employment on zero hours contracts (Last updated: August 14, 2018) shows that the proportion of workers in this state has risen from 0.8 per cent of all workers in the December-quarter 2000 to a peak of 2.8 per cent in the December-quarter 2017.
In the first six months of 2018, the proportion has dropped to 2.4 per cent.
The following graph shows the history.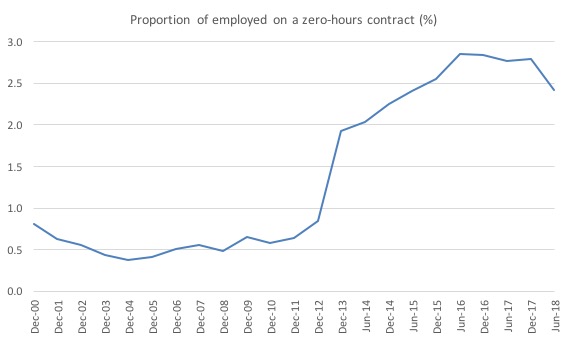 Unemployment rate down to early 1970 levels
The next graph shows the official unemployment rate from the first-quarter 1971 to the November-quarter 2018. It was 4 per cent in the most recent quarter (down from 4.1 per cent in the September-quarter).
It was last at that level in the March-quarter 1975, just before the then Labour government declared Keynesian economics was dead!
So on this aggregate Britain is performing well and there are no hints that the Brexit referendum has altered the steady fall in official unemployment since the most recent peak in the December-quarter 2011.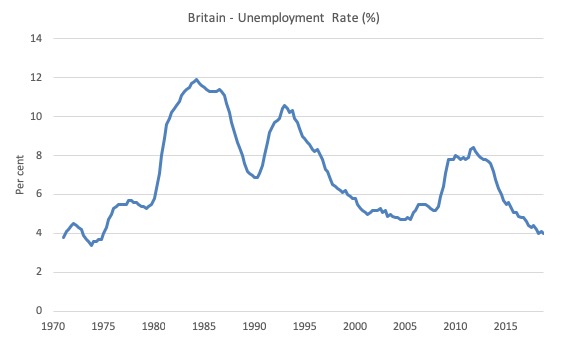 Hours worked – steady
The next graph shows the total weekly hours worked in Britain (in millions of hours) from the March-quarter 2005 to the November-quarter 2018.
Since the pre-GFC peak, hours worked have only grown by a total of 9 per cent overall and only 1 per cent since the end of 2016.
In the November-quarter 2018, there was a 0.2 point decline in hours worked recorded.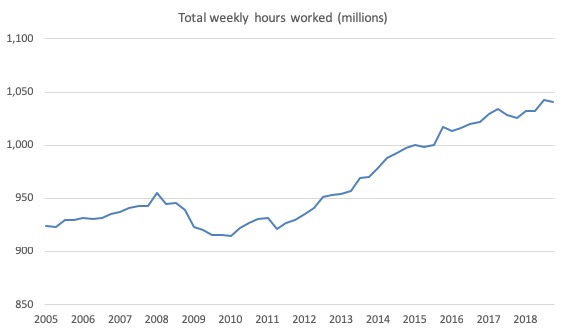 Real earnings now growing
Up until recent months, the earnings statistics were telling us that the labour market was not as strong as the narrow aggregates (such as the official unemployment rate and total employment) might suggest.
However, since July 2018, average weekly earnings have grown at an annual rate faster than the CPI inflation, resulting in real earnings growth.
In November, total average weekly earnings (excluding bonuses) grew at an annual rate of 3.2 per cent whereas the annual CPI inflation rate was 2.2 per cent.
Adding in bonuses shows that the real pay of workers rose by 1.1 per cent in November.
The next graph shows the annual growth in average weekly earnings and the CPI inflation rate from March 2001 to November 2018.
There are some positive signs emerging that workers are now gaining some of the productivity growth in Britain for the first time in a while.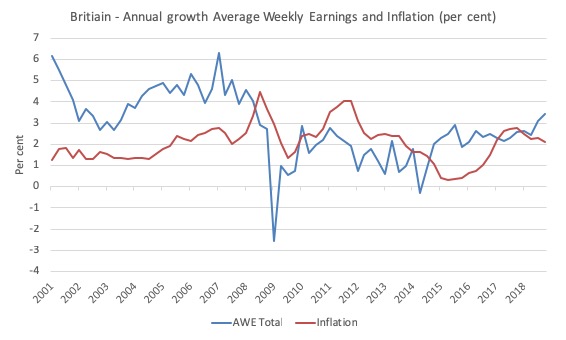 Underemployment
The latest ONS estimates of – EMP16: Underemployment and overemployment – were published on November 13, 2018.
Underemployment refers to part-time workers who desire more hours of work.
Remember, that to be classified as officially employment, a person only has to work 1 or more hours a week.
The following graph shows the evolution of the underemployment rate from the March-quarter 2002 to the November-quarter2018.
While its trajectory is downwards, the current rate of 7.7 per cent remains well above the pre-GFC level of 7 per cent (November-quarter 2008).
In the three months to September 2018, underemployment rose by 0.3 points.
But we have to see this in a longer-term perspective.
The following graph shows that the rate of involuntary part-time work has risen significantly since before the GFC.
In the June-quarter 2004, this proportion (involuntary part-time to total part-time workers) was 7.4 per cent (533 thousand).
By the November-quarter 2018, the proportion remains at 10.5 per cent (881 thousand), which indicates that the labour market still is some distance from full employment.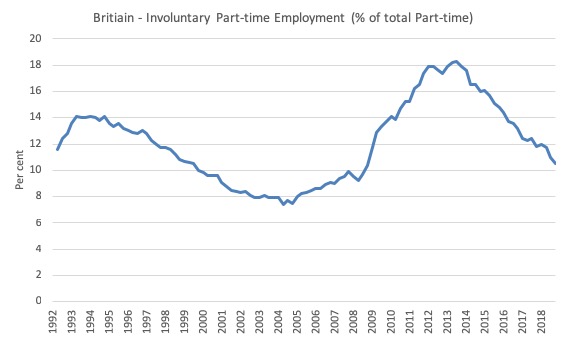 This means that there are still 881 thousand British workers who desire full-time work but cannot find it.
If we consider that in hours-terms, the amount of labour wastage is quite stark.
The data shows that part-time workers are working on average 16.3 hours per week.
Full-time workers are on average working 37.1 hours per week.
So if those 881 thousand workers were to gain full-time employment at average hours, there would be an additional 494 thousand full-time equivalent jobs in Britain.
At the current labour force level, that would generate an unemployment rate of 2.6 per cent.
The alternative way of thinking about that is to consider the wasted hours as being commensurate with unemployment.
If we then adjusted the unemployment rate to include that component of part-time work that is involuntary we would get an unemployment rate of 6.6 per cent rather than 4 per cent.
That should present a more sober picture of the British labour market.
Conclusion
The evidence is fairly consistent across a range of measures that, in aggregate terms, the British labour has improved markedly over the last 5 years.
Employment growth is strong and has accelerated since mid-2016.
But underlying that growth are some disturbing trends – like the rise in zero hours contracts and the increasing proportion of self-employed who are working part-time and likely to be underemployed.
More recently, the growth in employment has been marked by an absolute decline in employee jobs and a total dominance of self-employment growth.
The one bright sign is that real wages have started to grow after a period of cuts.
Whether that positive trend is maintained into the Northern winter remains to be seen.
That is enough for today!
(c) Copyright 2018 William Mitchell. All Rights Reserved.