Sleep and reading – Australia bound
Today's blog post is about sleep and reading. I am travelling from London to Sydney today via Hong Kong so I will not write anything more than a few lines. I will be back in writing mode on Tuesday I should think. For the next 24 hours I have a lot of reading to do. I also provide some advice for those who pack running shoes when travelling.

It has been a really busy, if not torrid speaking tour this time around – lots of in and out of my least favourite airport London Heathrow and a lot of talk.
I now get a more measured period of writing.
Thomas Fazi and I met in Germany over the weekend just gone and are now fully working on our followup book to – Reclaiming the State: A Progressive Vision of Sovereignty for a Post-Neoliberal World (Pluto Books, September 2017).
I will provide a rough guide to what we are up to soon – I might have said 'when we know' – but it is more accurate to say when the approach is more fully articulated.
I think it will be a little of a surprise and as a clue we are going to provide a comprehensive critique of 'Western' concepts of democracy and economy to allow us to break out of the usual frames that bind, even our thinking.
It might not work but it will be fun finding out.
More on that later.
Over the next 24 hours or so, if you are worried about comments that are held in the moderation queue it is because I am some kms in the sky and refuse to pay the ridiculous fees that airlines demand for wi-fi connection.
For those who pack running shoes when travelling …
More important than learning or writing about Modern Monetary Theory (MMT) is finding good running routes when travelling.
Here are some of the routes I have been traversing over the last few weeks in New York City and then in Europe.
NYC – Hudson River Park
I was staying in Jane Street, adjacient to the Hudson River. The choice of Hotel was deliberate because I had only one crossing before I was on the fabulous running track along the river.
You can go south for further than I run – I went around 5 kms down and 5kms back. There are various piers that you can run out and around if you like.
Surface is excellent (paving mostly).
There are a lot of runners but it is not crowded.
Highly recommended.
The route in the map is not my turnaround point on the days I ran it – I just couldn't fit it all on the screen and make it meaningful.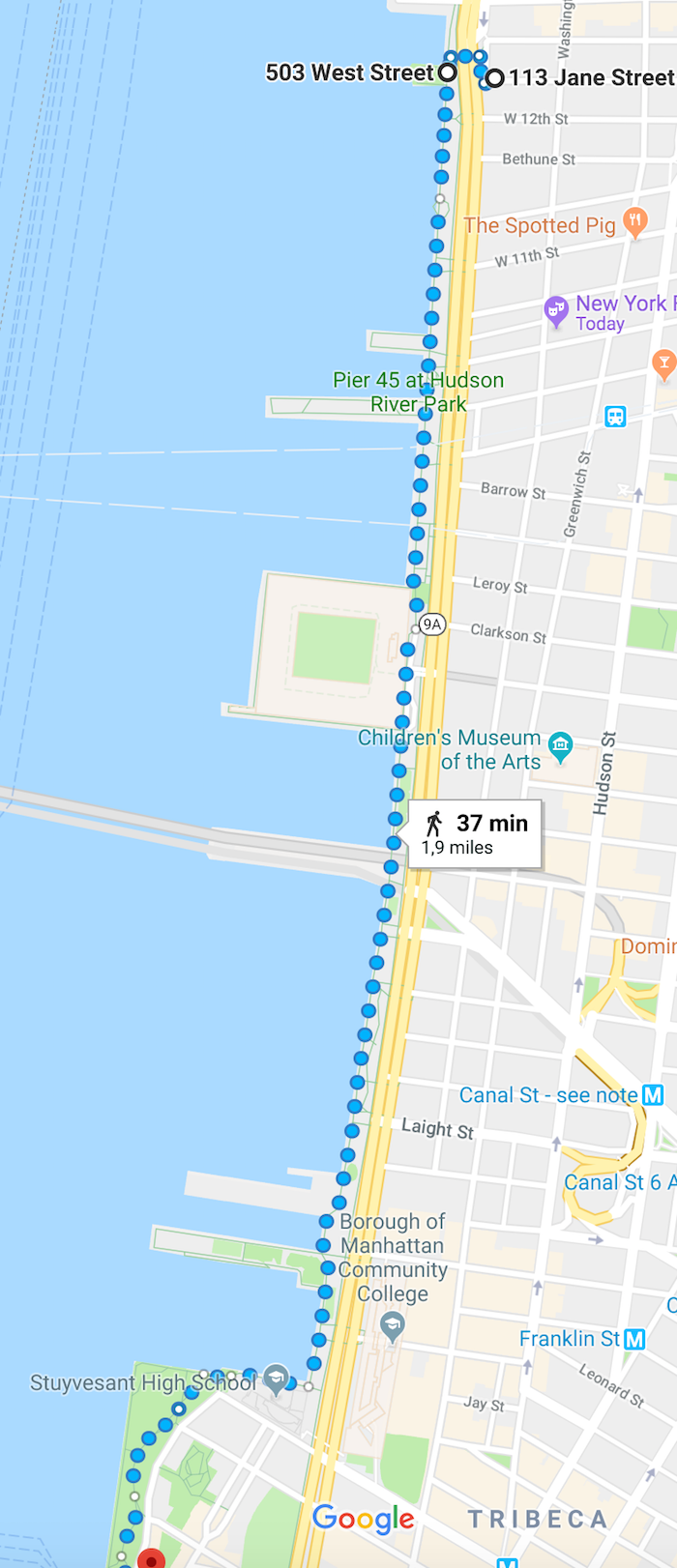 On another day, I ran north along the River Park and the route is less preferred to going south.
An attraction on the Chelsea Pier is you run out and around a golf driving range and there were stacks of golfers trying to groove their swings early in the morning.
I turned around at the 4 kms mark on that day.
Dublin, Ireland
I was staying at the Wynns Hotel in Abbey Street, just off the famous O'Connell Street.
This run takes you over the river, past Trinity College, up Grafton Street to the corner of St Stephen's Green (1 km exactly).
Then I did 8 laps of St. Stephen's Green – each on nearly exactly 1 km around.
Then back to the city.
Perfect symmetry really – 1km, loops of 1 km, then 1 km.
St Stephen's Green is beautiful and in the early morning the wind was blowing the Autumn leaves into my face, which was nice.
Surface excellent.
Hassle: getting out to the Green – lots of intersections. Grafton Street though is closed to traffic.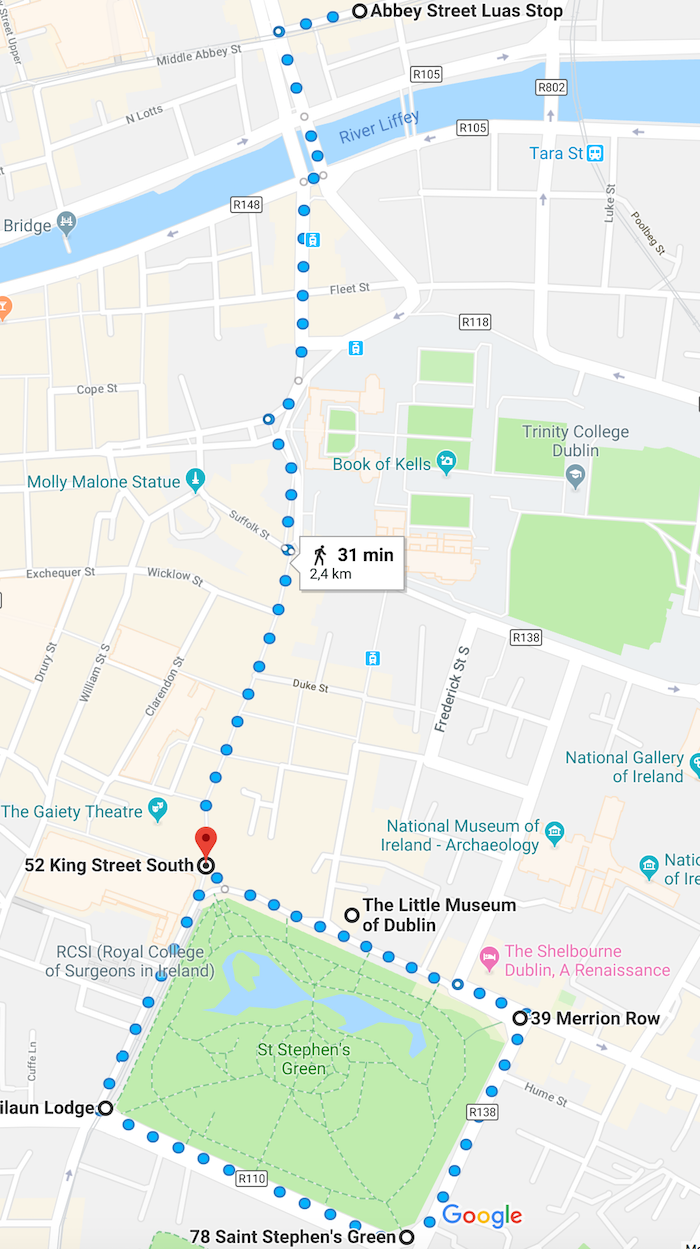 Out the back of Galway, Ireland
This was a fabulous run. I was staying in a rural house with friends (near Aphouleen) and this run wound down little farm tracks (surface okay) to one of the bays, along through Ballymanagh, and out to Knockayncarragh near the sea.
Then I came back.
Early morning – cool, atmospheric and any of the routes around this area are great.
London – Russell Square
On several days while I was in London I ran my Russell Square route.
I prefer to stay up around the Brunswick Centre and I can get to the Square quickly. Then I do about 20 laps – sometimes 18. It is not as good as going out to Regent's Park but it avoids all the traffic.
Each lap is just over 540 metres. You might get dizzy if you run fast! Surface is excellent and while the thought of running continuous laps might deter you, the reality of no traffic and nice trees should attract.
I have spent many an early morning making myself dizzy at the Square.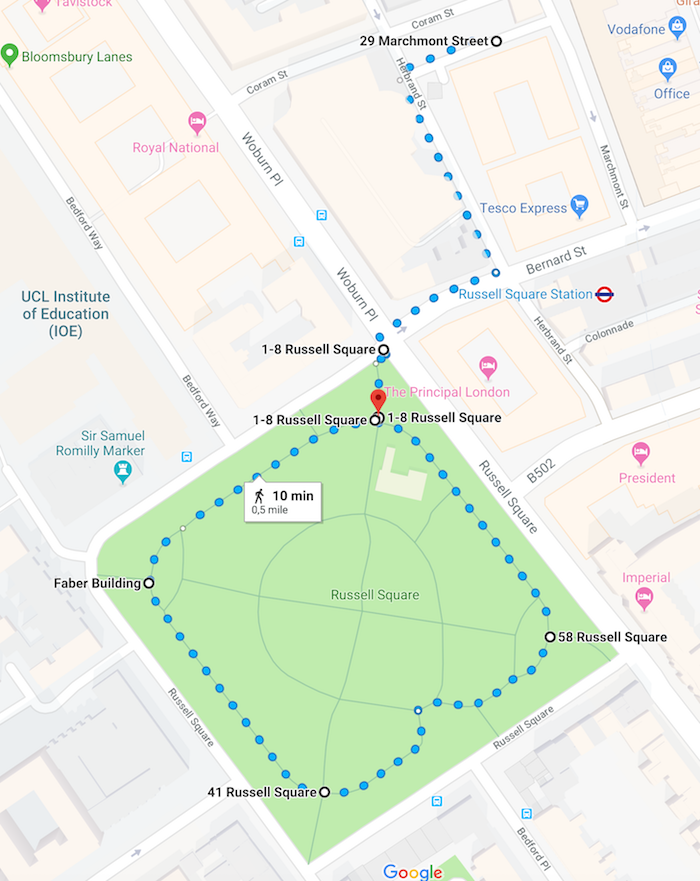 Lisbon – Portugal
I ran two routes in Lisbon. I was staying down in the Baixa district, chosen to be close to the water edge and easy to get to running routes.
The first route goes out to the historic port of Belém on the Tagus River. This is where Vasco de Gama set off in 1497 and was the first to find the sea route to India.
The run takes you down to the main square (Praça do Comércio), turn right and run along the river path.
In the early morning it is not crowded but later it would be unbearable.
The surface is small paving stones and not great for feet (constantly adjusting).
There are some beautiful sights and some really seedy parts – ephemeral population, some 'dealers' and homeless.
Belém is a nice place to run around.

The second route turned left at the Praça do Comércio and goes past the Cruise ship terminal and along the port area. After some kms you come to a major overpass and under the road there is a tent city of homeless people. A large population it seems.
The surface is better this way but the views are less attractive.
Lisbon, in general is not my favourite place to run. But the route to Belém is okay.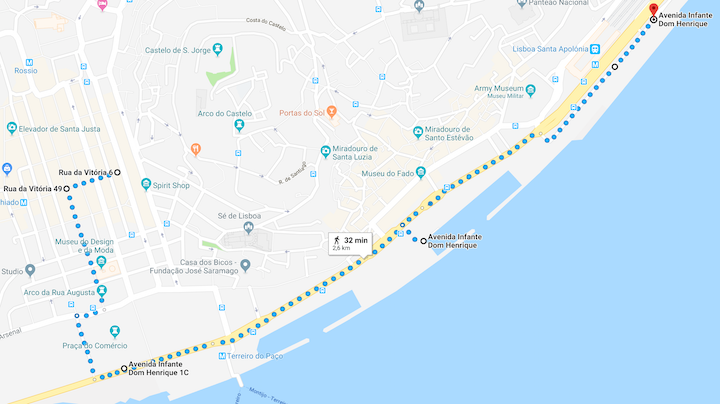 Würzburg, Germany
For the last two days of this speaking tour I have been in Würzburg, Germany. This run is exceptional. The city has a ring road and on the eastern side you can access the RingPark, which is a beautiful route through parkland (with occasional road crossing) with soft gravel surfaces.
It goes up and down gently and when you get down to the Main River, I turned left and ran along the quay for some distance (off the map shown) and turned around at the 5 kms mark and traced my route back.
There are lots of variations but this was my favourite run of this tour.
Virtually no-one around in the early morning and not much traffic to impede crossing roads without having to stop.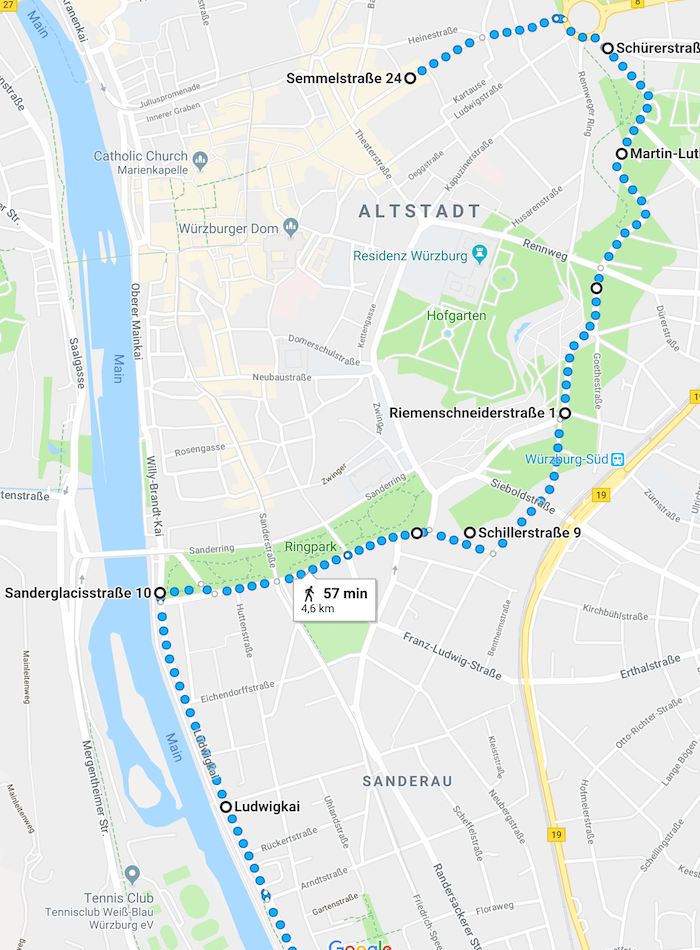 Travel Sounds
Here is some lovely music from one of my favourite post-minimalist composers Max Richter.
It is off the re-released album (May 2018)- The Blue Notebooks – which was originally released on February 26, 2004 on Fat Cat Records.
It was originally recorded as a protest by Max Richter to the Iraq invasion in 2003.
This track On the Nature of Daylight was re-recorded for the new release, with different musicians. The new album is called The Blue Notebooks – 15 Years Edition.
It still resonates after first hearing it in 2004.
So Bill, put your feet up boy, open a novel, and in about a day you will be back on the ground in warm, springtime Australia.
And with that I may resurface tomorrow.
That is enough for today!
(c) Copyright 2018 William Mitchell. All Rights Reserved.