The fundamental realignment of British society via fiscal austerity
In my analysis of the UK fiscal statement that George Osborne released on March 23, 2011 – I don't wanna know one thing about evil (April 29, 2011) – I noted that the imposition of fiscal austerity in Britain meant that any hope of growth was really dependent on a combination of export growth and household consumption growth. With the former source unlikely and household income growth sluggish (and falling in real terms), households would have to run deficits, which necessitated running down savings and/or increasing borrowing. British households were already overloaded with debt at the time. The New Keynesian economic orthodoxy claimed that my concerns about a growth strategy that was ultimately reliant on increasing household indebtedness were misplaced because the debt would be accompanied by increased wealth via rising house prices. Well the most recent data available from the British Office of National Statistics and other sources (house prices) shows that my concerns were real. Real housing prices have been falling for the last few years in Britain and are now growing at their slowest pace since 2013. Further, ONS data shows that "UK households have seen their outgoings surpass their income for the first time in nearly 30 years" and they "are borrowing more and saving less". At the same time, households are accumulating more debt than assets and borrowing more by way of non-mortgage loans to cover the squeeze on disposable incomes. Also, it is not just mortgage debt that has been rising. The real burden of short-term household debt (credit cards etc) in Britain has risen dramatically over the last 20 years. The rising debt and household deficits are also concentrated at the lower end of the income distribution and wealth inequality is rising significantly. Then we learn that in excess of 30 per cent of British children are living in poverty. So in the face of withering fiscal austerity that is impacting severely on the prosperity of the current generation of adults, the policy failure is also ensuring that the disadvantage will be taken into the next generation of adults and their children. Deprivation breeds deprivation. This is a fundamental realignment of British society that will take it back to C19th-type relativities.

In the 2011 blog post – I don't wanna know one thing about evil (April 29, 2011) – I considered the – 2011 British Fiscal Statement – specifically in terms of how the Government thought that growth would unfold over the next years.
In my blog post – Household debt in Britain on the rise – lessons not learned (April 17, 2017) – I reiterated my 2011 analysis that trends in household debt in Britain showed that British GDP growth was reliant on the private domestic growth in credit and indebtedness and that the British government was repeating the mistakes it made before the GFC.
I assessed that these trends were unsustainable.
In that blog post, I traced the various, not so transparent, statements in the official documentation from the Treasury and the British Office for Budget Responsibility (OBR), which demonstrated that the Government's economic strategy was built on very optimistic projections of growth in exports and household consumption between 2011 and 2015, given the fiscal retreat that was being proposed.
The detail was submerged in Table C.1 in the 2011 Fiscal paper (Annexe C).
On Page 89 of Annexe C, the OBR presented their "key projections for the economy and public finances". It took me a long time to actually find the detail in the fiscal papers released by the Government.
That detail was well hidden and for good reason. It was not an exercise in transparency at all.
The subsequent data for that period (2011-2015) revealed that net exports didn't come close their the forward estimates. But even if they had have come in at forecast, the real GDP growth forecasts provided would also have requred a very strong recovery in household consumption.
At the time, I considered the projections to be interesting, given that growth in real household disposable income was forecast to be negative that year and then sluggish in the following years of the forecast horizon.
Household consumption was relatively strong during the period despite the sluggish growth in real household disposable income.
The reason was that British households were taking on more debt and/or running down their savings.
The fact of the matter was that at a time that George Osborne was hacking into public spending and derailing growth through fiscal drag, he was in full knowledge that increased private domestic debt levels would drive any growth.
The OBR said at the time that "net worth is forecast to decline as a percentage of income as the household debt ratio is expected to rise and the household assets ratio is expected to fall".
It was this small-print analysis that the major UK newspapers missed altogether in their presentation of the British fiscal strategy.
But it told us that while the British government was making a fuss about the debt levels – both public and private – its own growth strategy was contingent on the private domestic sector taking on a rising debt burden over the forecast period and becoming relatively poorer?
The political class didn't make a song and dance about that, preferring to extol the supposed virtues of austerity.
What the British Conservative government's strategy amounted to was reducing public debt at the expense of more private debt – at a time that private domestic debt was at unsustainably high levels.
I noted at the time that prudent fiscal management requires exactly the opposite strategy when the economy is floundering.
That was 7 years ago.
The strategy was also setting up fundamental changes in the nature of life in Britain, which the mainstream press also failed to understand.
I don't think I would be exaggerating to say that it was really only the Modern Monetary Theory (MMT) commentators who were emphasising these trends at the times.
For example, the New Keynesian commentators (for example), who like to think of themselves as being on the ball, were claiming that the concerns about the growth of private debt and the reliance on private credit were overstated because of the growth in debt was being mirrored by growth in house prices – rising debt, rising wealth – ergo, no problem.
This sort of myopia was redolent of the period before the GFC and failed to anticipate that house prices can crash while nominal debt commitments stay as they are.
As a relevant aside to my discussion today, the data is now showing that the growth in both nominal and real house prices have fallen consistently since 2014 and real house prices have fallen in absolute terms since June 2016.
The following graph shows the annual growth in British House Prices (nominal and adjusted for inflation – that is, real) since the March-quarter 2015 to the June-quarter 2018.
While there was some recovery in house prices in 2013 and up until the June-quarter 2014, it has been all down hill since then as household debt has continued to grow and is now at record levels (see below).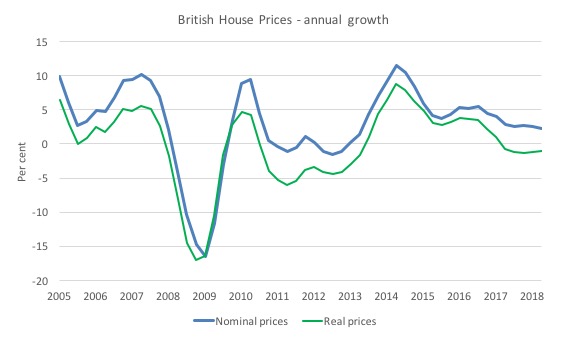 The British building society, Nationwide, publishes a monthly – House Price Index – and its – June Press Release – stated that:
Annual house price growth fell to its slowest pace for five years in June … Surveyors continue to report subdued levels of new buyer enquiries, while the supply of properties on the market remains more of a trickle than a torrent.
Last week (July 26, 2018), the British Office of National Statistics (ONS) published an article – Making ends meet: are households living beyond their means? – which draws on analysis of the most recent national accounts data, and, which bears on my assessment in 2011.
The article sets out to "Explore how UK household finances have changed in the last 30 years".
The conclusion is that that Britain is undergoing major changes that are moving it more in the direction of the US, with increased household poverty and precariousness and away from the Welfare State of the past.
There was an interesting article on June 2, 2018 in the UK Independent – The big squeeze: In slow-bleed Britain, austerity is changing everything – which presented a consistent view of these changes.
That article noted that:
After eight years of budget cutting, too many communities are looking less like the rest of Europe and more like the United States, with a shrinking welfare state and spreading poverty.
It reports on what is happening in British towns and communities and presents a harrowing picture.
We read that:
For a nation with a storied history of public largesse, the protracted campaign of budget cutting, started in 2010 by the coalition government led by the Conservatives, has delivered a monumental shift in British life. A wave of austerity has yielded a country that has grown accustomed to living with less, even as many measures of social wellbeing – crime rates, opioid addiction, infant mortality, childhood poverty and homelessness – point to a deteriorating quality of life.
A far cry from the New Keynesian vision of increased wealth supported by increased indebtedness.
A far cry from the Tory claims that its austerity strategy would liberate households and firms from onerous tax burdens and create a new prosperity based on private spending and export growth.
Remember David Cameron's 'Big Society'?
I wrote about that con job in this blog post – The Big Society aka BS (January 3, 2011).
What the Tories were really on about was trying to fundamentally change British society – by creating an increasing buffer of desperates and allow the top-end-of-town to maintain dominance while accumulating ever-increasing wealth.
The strategy is to wipe out the middle class – and so far it is showing success.
As the Independent notes, a conservative MP said in 2011 that:
We are making cuts that I think Margaret Thatcher, back in the 1980s, could only have dreamt of …
And the "slow bleed" cuts are now showing up in degraded public services and deteriorating household finances.
This has nothing to do with Brexit. The Remainers that point out these ills and claim they are the results of the Referendum outcome are being as disengenous as the Tories who savoured the austerity.
This is about an ideological shift designed to retrench any social democratic elements that might remain in Britain.
The Independent article reported, among other things, that:
1. "Local governments have suffered a roughly 20 per cent plunge in revenue since 2010".
2. "Nationally, spending on police forces has dropped 17 per cent since 2010, while the number of police officers has dropped 14 per cent".
3. "Spending on road maintenance has shrunk by over a quarter, while support for libraries has fallen nearly a third".
4. "The national court system has eliminated nearly a third of its staff."
5. "Spending on prisons has plunged more than 20 per cent, with violent assaults on prison guards more than doubling."
6. "The number of elderly people receiving government-furnished care that enables them to remain in their homes has fallen by roughly a quarter."
7. "more than a quarter of Liverpool's roughly 460,000 residents are officially poor".
8. "Over the past eight years, the Merseyside Fire and Rescue Service, which serves greater Liverpool, has closed five fire stations while cutting the force to 620 firefighters from about 1,000".
While the human tragedy as a result of the Greek fires last week is not a time to score political points – the Troika forced the Greek government to cut something like 38 million euros from the firefighting service, which warned at the time it would significantly deplete its capacity to deal with a fire crisis.
And, in Britain, the austerity is destroying the capacity of local governments to meet their obligations while the policy settings favour the wealthiest:
Wealthy Britons remain among the world's most comfortable people, enjoying lavish homes, private medical care, top-notch schools and restaurants run by chefs from Paris and Tokyo. The poor, the elderly, the disabled and the jobless are increasingly prone to Kafkaesque tangles with the bureaucracy to keep public support.
That is what the austerity agenda was all about.
There was an iNews article last week (July 24, 2018) – The UK experiencing the biggest rise in poverty since Margaret Thatcher was in power – that reported that "More than a third of UK children are now living in poverty".
Austerity not only impacts severely on the prosperity of the current generation of adults but also ensures through its effects on their children that the disadvantage is taken into the next generation of adults and their children.
Deprivation breeds deprivation.
The social democratic approach was to break that vicious cycle and allow children from disadvantages backgrounds to enjoy upward mobility via welfare support, improved access to public health and education.
That approach is being systematically dismantled.
Born poor, stay poor is now the agenda.
This is no short-term fix the neoliberals are working towards.
This is a fundamental realignment of societies that will take us back to C19th-type relativities.
Which makes the latest economic data from ONS on household indebtedness (cited above), though not about poverty directly, very disturbing.
The data shows that:
1. "UK households have seen their outgoings surpass their income for the first time in nearly 30 years".
2. "On average, each UK household spent or invested around £900 more than they received in income in 2017".
3. "Even in the run-up to the financial crisis of 2008 and 2009 – when 100% (and more) mortgages were offered to home buyers without a deposit – the country did not reach a point where the average household was a net borrower".
The following chart shows the Household Net lending (positive) or borrowing (negative) position from 1988 to 2017.
The household spending over income deficit in 2017 was estimated to be £24.7 billion. When it was last in deficit (1988) it was £0.3 billion.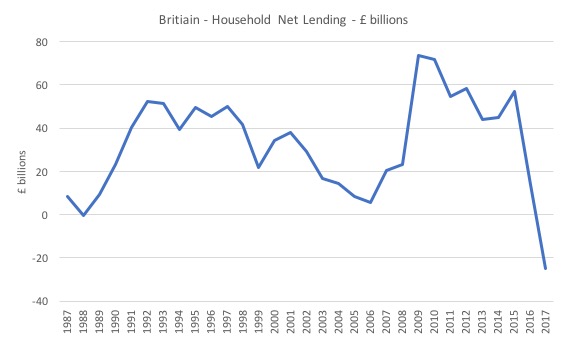 ONS note that the deficit can be funded in two ways:
1. By running down savings.
2. Increasing borrowing.
They conclude that the data shows that British households:
… are borrowing more and saving less.

Households took out nearly £80 billion in loans last year, the most in a decade; but they deposited just £37 billion with UK banks, the least since 2011.
Which is exactly what the 2011 Fiscal strategy laid out by George Osborne and implemented ever since desired and depended upon.
And what about the claims by the New Keynesians that there was no problem – that wealth would rise with the indebtedness because most of the borrowing was for home mortages.
Well the ONS data now shows that:
In total, households accumulated more debt (due mainly to loans) than assets (such as deposits, bonds, shares and pensions) in 2017 for the first time since records began in 1987. If this were to continue, households could risk lacking enough collateral to cover their debts.
And, it is clear, as it was back in 2011, that British households were increasingly borrowing more by way of non-mortgage loans to cover the squeeze on disposable incomes.
The ONS data shows that:
The stock of consumer credit – including credit cards, car finance plans and payday loans – has risen by nearly one-third in the last five years. Car finance is comfortably the fastest growing type of credit, with nearly 90% of new car purchases now funded this way.
Since 1993, the stock of consumer debt has risen from £52.8 billion to £207.1 billion, an increase of 292 per cent. The price level has risen by around 56 per cent.
In other words, the real burden of short-term household debt in Britain has risen dramatically.
The household saving ratio has also fallen to 4.1 per cent in 2017, which is the lowest level since the data was collected (1987).
And it won't surprise you to learn that the ONS data shows that the distributional consequences of the rising debt and household deficits are being borne at the lower end of the income distribution.
ONS report that:
… the poorest 10% of households spent two-and-a-half times their disposable income, on average, in the financial year ending 2017. In contrast, the richest 10% spent less than half of their available income during the same period.
The recipe for disaster.
And in terms of wealth:
The wealthiest 10% of households were five times wealthier – and therefore much less likely to live beyond their means – than the bottom 50% of households in July 2014 to June 2016.
The neoliberal agenda is thus on track.
And, relating back to the statement published in the Independent (quoted and cited above), the ONS find that the trend towards "Households living beyond their means" in Britain, while historically "unusual" is now replicating trends in other Anglo countries.
We read:
For a long time, the average UK household was in a similar position to those in France and Germany. However, we're now much closer to Canada and the US than our European neighbours.
And, the UK is looking more like Australia in this regard.
Should we be surprised by any of this?
Not at all.
MMT commentators have been predicting these sorts of trends since the 1990s.
In the UK, it was always obvious that household finances would deteriorate under the double whammy of a relatively weak labour market (suppressing disposable income growth) and fiscal austerity.
The following graph shows the annual sectoral balances for the UK from 1948 to 2017.
The UK is currently running a Current Account deficit of around 4 per cent of GDP and the fiscal balance is close to zero (now in surplus).
That means that the private domestic sector has to run a deficit around the same size as the external deficit – that is, as a sector, spend more than it is earning.
The swing back into private domestic deficit after the recovery from the GFC began is noticeable.
Running down savings is a finite strategy to fund a spending deficit by private households.
Earlier this year, a study found that (Source):
More than one in four households have no emergency savings pot …
To sustain a private domestic spending deficit, the sector has to accumulate more debt. And in Britain, this is from an already, relatively high base.
That situation is not sustainable as a growth strategy in the long run.
With GDP growth slowing quite substantially as the fiscal drag starts to bite and with inflation falling to a yearly low in the latest data released from the Office of National Statistics, one can conclude that the fiscal deficit is now too low.
There is substantial scope for a widening fiscal deficit.
All the indicators are pointing in that direction except the ideological bias of the neoliberal Tories.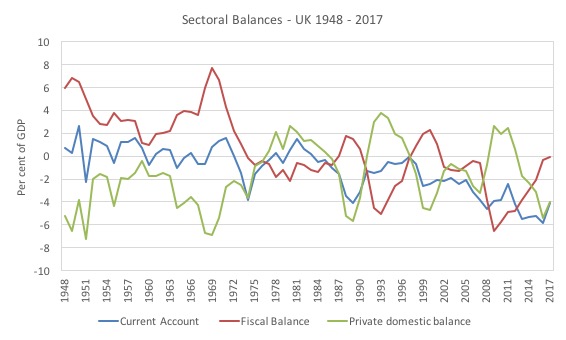 And the sustainability of the growth strategy will be exposed as household consumption expenditure slows as its debt burden rises.
The following graph shows the annualised growth in household consumption expenditure from the March-quarter 2011 to the June-quarter 2018.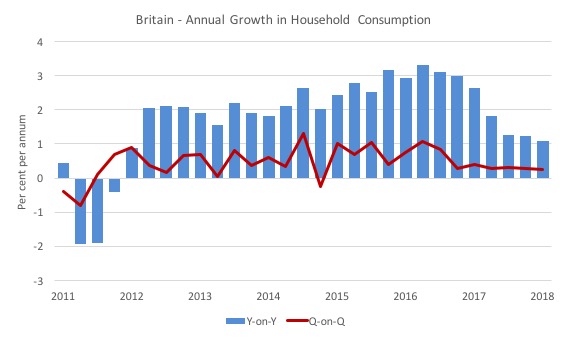 Conclusion
It is almost inconceivable that an advanced nation could tolerate the sort of changes that have been occurring in Britain over the last 8 years or so.
The fiscal strategy is deeply flawed and has hollowed out the capacity of the state (centre down to local government level) to protect the most disadvantaged citizens from the ravages of sickness and poverty.
I judge the success of a fiscal strategy by how 'rich it makes the poorest members of society'. Using that criteria, the current British government is a total failure.
It is clear that the strategy that George Osborne laid out in 2011 is having the predictable consequences.
Household debt is rising while real incomes at the lower to middle range are in retreat.
Household consumption is only growing as a result of increased borrowings and running down of savings.
Meanwhile, the dominant New Keynesians are witless in the face of these trends.
What is going on in Britain is a fund shift in British society with rising poverty and income and wealth inequality and precarious household balance sheets becoming the norm.
There is a major assault on the middle class going on as the lowest income cohorts fall even further behind.
In in the face of withering fiscal austerity that is impacting severely on the prosperity of the current generation of adults, the policy failure is also ensuring that the disadvantage will be taken into the next generation of adults and their children.
Deprivation breeds deprivation.
This is a fundamental realignment of British society that will take it back to C19th-type relativities.
Event – Launch of Anti-Privatisation Book – Sold Off Sold Out, Sydney, August 2
I will be speaking in Sydney on August 2, 2018 to launch the new edition of Sold Off Sold Out – which exposes the costs of privatisation in Australia.
The event will run from 18:30 to 20:00 and will be held at the Information and Cultural Exchange (ICE) centre located at 8 Victoria Road, Parramatta, NSW 2150.
The promotion page says:
Over the past 30 years, there has been a massive sell-off of public assets to private corporations right across Australia. For the public there is no upside. We have been robbed in multiple ways by privatisations.
You can find details – HERE.
I look forward to seeing Sydney readers at the event.
Event – The second international MMT Conference in New York – September 28-30, 2018
The second international MMT Conference will be held in New York between September 28-30, 2018.
I will be speaking and most (if not all) the founding MMT group will be in attendance, contributing in one way or another.
The Conference Home Page has been launched and you can register for the conference through that page.
It will be great to see as many of you as possible at that event.
In the two weeks following, I will be giving talks in:
1. Galway – Wednesday, October 3, 2018.
2. Dublin – Thursday, October 4, 2018.
3. London – Friday, October 5, 2018 – Launch of the new Gower Initiative for Monetary Studies.
4. Lisbon – Sunday, October 7, 2018.
5. Glasgow – Wednesday, October 10, 2018.
6. Wurzburg – Saturday, October 13, 2018.
I will have more details of that lecture tour in due course. More dates might be added once confirmations are made.
That is enough for today!
(c) Copyright 2018 William Mitchell. All Rights Reserved.