I am now in Europe (just) and will be here for the next two weeks. Next weekend, I will be speaking at some events in Barcelona and I will circulate details when I know more. This week I am giving three lectures at the University of Helsinki as part of a new postgraduate course they are offering. Tomorrow through Thursday, I will publish a three-part blog post series on The New Keynesian fiscal rules that mislead British Labour. I am examining the input from the academy that has clearly influenced decisions taken by the British Labour Party leadership in recent years. It is influence that they should have ignored. The fundamental principles that underpin the New Keynesian approach to macroeconomics do not form a suitable basis for a progressive socio-economic policy agenda. While that approach concedes that in the short-run fiscal policy can be used to 'stabilise' a recessionary situation, the overall advice is that austerity then has to be imposed to 'smooth' tax burdens on future generations and minimise public debt. The tax burdens arise because they claim taxes fund government spending and the public debt oscillations arise because they claim the government relies on debt issuance to fund the deficits that are required to meet short-term emergencies (war, recession etc). It is a jumble of gobbledygook hiding behind the precision of some simple mathematics. The latter, though, while held out as a rigourous 'authority' to back up the policy claims, is, in fact, incapable of providing definitive determinations of what is best for Society. It is an elaborate sham my profession inflicts on the debate. Anyway, a three-part series is coming up.

Anyway, time is tight for the rest of today.
I have been rereading John Le Carré novels lately (from start to finish) and the images conjured up in some of the books were brought into reality yesterday afternoon when I arrived in Helsinki with snow everywhere.
Here is a view from the airport terminal, which could have come out of The Spy Who Came In From the Cold, the third book in the George Smiley series.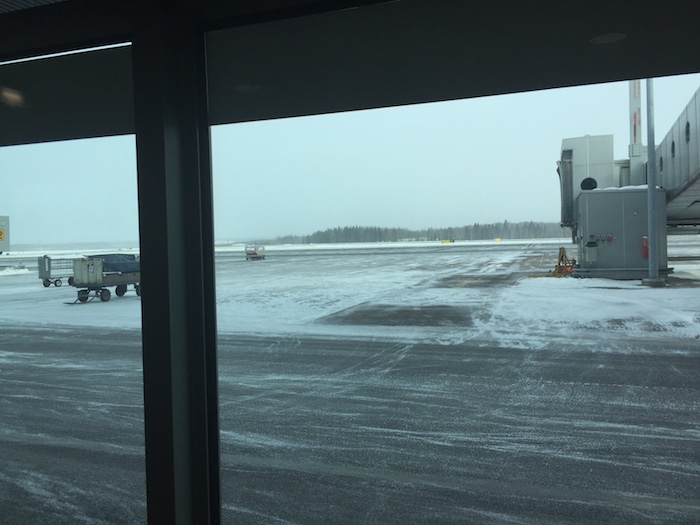 And here is the view from my apartment window in Helsinki (this morning – Monday). In the distance is normally a sea of water, now a sea of ice and snow and people have been skiing on it. You cannot see it just now as I type because the next wave of snow storms has arrived.
I plan to go skating on the many skating rinks that are available this time of the year in the inner city parks. But now I am off running – on a running machine in a gym, given how slippery the paths are.
It is all quite surreal given it was around +32 degrees Celsius when I left Sydney on Saturday and it was about -12 degrees Celsius when I arrived here. I appreciate that all this snow and freezing weather is not a big deal to those who live in the Northern Hemisphere. But where I mostly hang out, the main issue is whether the water temperature in the ocean is above or just below 20 degrees Celsius!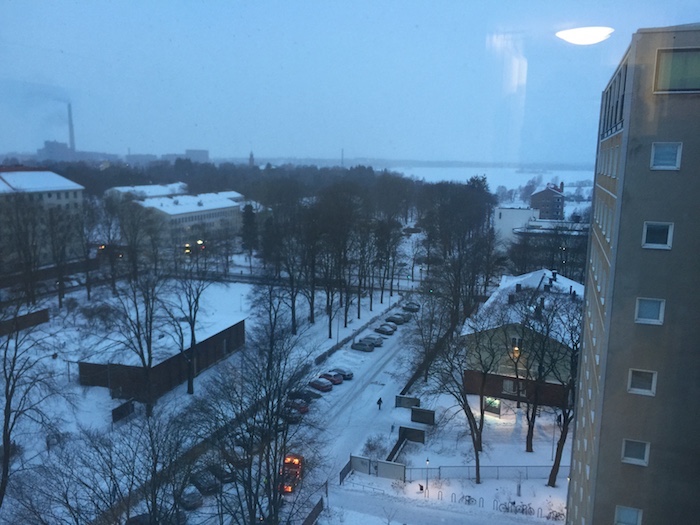 OECD Report
I also have a blog coming on the latest OECD report on the "rising tide of sovereign debt" across OECD members, which they claim is representing a "significant challenge" to the capacity of governments to fund themselves.
Like the IMF, the OECD is an organisation that has little role to play. Its initial role in the Post World War 2 period was to help macroeconomic development following the damage to Europe from the War. It was a Keynesian-focused organisation.
Now, it is a confused neoliberal attack dog and should be defunded.
Late last week (February 22, 2018), the OECD released their latest travesty of knowledge – OECD Sovereign Borrowing Outlook 2018.
The theme this time is that central banks and bond markets are pushing up yields (the former to 'normalise' bank reserves – whatever that means – the 'normal' bit, and the latter due to ian alleged ncreased perception of risk), which will end the party for governments that have been continuing to stimulate growth via fiscal deficits.
Up until now the OECD claim that:
The funding environment has been relatively favourable in major OECD countries, enabling governments to finance borrowing requirements at low cost.
You see their drift.
First, "borrowing requirements" implies necessity. Well only as long as the currency-issuing governments in the OECD restrict themselves by matching public debt issuance with their fiscal deficits.
If it really became a problem – say the implied interest servicing on new debt issued became so large and the economy was booming into an inflationary spiral which would necessitate discretionary cuts in public spending (not interest servicing) if the tax structure could not be adjusted – then a sensible government would just stop issuing new debt altogher.
Then rising interest rates would have no effect on their servicing obligations for the debt that had already been issued.
The interest-servicing obligations on debt already issued are set at the time of the auction and the only losers or winners when yields change are the non-government holders of the paper in the secondary bond markets.
A sensible government would be one that is not held in the spell of the neoliberal corporate welfare machine that pressures them into issuing debt to satisfy the cravings of the investment bankers for risk-free debt.
It is a sort of beat-up emergency.
I will have more on that another day.
Event: Helsinki, Tuesday, February 27, 2018
I am giving a talk in Helsinki on Tuesday, February 27 (one of six over the next two weeks) on the topic Think our Governments can no longer control capitalism? Think again!.
The first in the series of six lectures which forms part of the MA course "GPC-E313, From Modern Money Theory to Global Political Economy and Revival of Classical Political Economy".
My other lectures are February 28 (although there is a strike by academics at the University on this day and so things are uncertain), March 1, 6, 7 an 8.
All lectures are open to the general public. Please contact Heikki Patomäki for details.
The first lecture will start at 16:15 and will be held in the main building of the University of Helsinki, Lecture Hall 5 (Fabianinkatu 33, 00170 Helsinki, Finland).
Location map: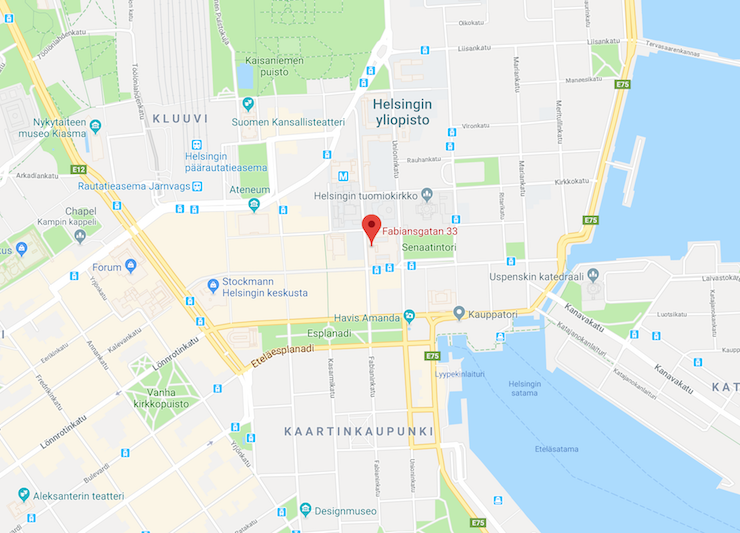 I will post details of the other talks tomorrow.
The title of the first lecture is borrowed (modified) from the UK Guardian article (December 14, 2017) by Larry Elliot – Think our governments can no longer control capitalism? You've been duped – which reviewed my new book with Thomas Fazi (published September 20, 2017) – Reclaiming the State: A Progressive Vision of Sovereignty for a Post-Neoliberal World.
The lecture will rehearse some of the major themes in that book and more generally accessible and set the scene for the next five lectures at the University, which will be of a more technical nature building the principles of Modern Monetary Theory (MMT) in a rather academic manner.
Some of this material will seep into the curriculum that will be available later in 2018 via the MMT University initiative.
Music to travel with …
I unearthed this gem from my collection to keep me company for the long flight to Europe from Sydney.
It is from the great Nigerian Afrobeat musician and political activist – Fela Kuti – and his band The Africa '70.
The track is Water No Get Enemy and is from the 1975 release – Expensive Shit – his twelth record. The album only has two tracks and is 24 minutes or so long, but is still magnificant.
His saxophone playing is exceptional.
As the Wiki page relates, the title of the album relates to:
… an incident in which the Nigerian police tried to arrest Kuti by planting a joint on him. Kuti managed to eat the joint, prompting police to bring him into custody and wait for him to produce the excrement. According to legend he managed to use another inmate's feces and was eventually released.
This review (March 21, 2000) – Fela Kuti: Expensive Shit/He Miss Road – is interesting.
If you are unfamiliar with the founder of Afrobeat, then the book by Michael E. Veal, published in 2000 – Fela: The Life & Times of an African Musical Icon – is a must read.
Here is some Fela Kuti philosophy:
The lyrics:
T'o ba fe lo we omi l'o ma'lo
If you wan' go wash, na water you go use
T'o ba fe se'be omi l'o ma'lo
If you want cook soup, na water you go use
T'o ri ba n'gbona o omi l'ero re
If your head dey hot, na water go cool am
T'omo ba n'dagba omi l'o ma'lo
If your child dey grow, na water he go use
If water kill your child, na water you go use
T'omi ba p'omo e o omi na lo ma'lo
Ko s'ohun to'le se k'o ma lo'mi o
Nothing without water
Ko s'ohun to'le se k'o ma lo'mi o
Omi o l'ota o
Water, him not get enemy!
Omi o l'ota o
Water, him not get enemy!
If you fight am, unless you wan die
Water, him not get enemy!
I say water no get enemy
Water, him not get enemy!
If you fight am, unless you wan die
Water, him not get enemy!
Omi o l'ota o
Water, him not get enemy!
I dey talk of Black man power
Water, him not get enemy!
I dey talk of Black power, I say
Water, him not get enemy!
I say water no get enemy
Water, him not get enemy!
If you fight am, unless you wan die
Water, him not get enemy!
I say water no get enemy
Water, him not get enemy!
I say water no get enemy
Water, him not get enemy!
Omi o l'ota o
Water, him not get enemy!
Omi o l'ota o
Water, him not get enemy!
Great for a long flight!
That is enough for today!
(c) Copyright 2018 William Mitchell. All Rights Reserved.