A basic income guarantee is a neo-liberal strategy for serfdom without the work
A reader pointed out the other day that a good idea remains a good idea even if bad people advocate it. This was in relation to my blog – Why are CEOs now supporting basic income guarantees?. It reprised an issue that has a long history in culture and the arts. Should we hate Wagner because it was symbolic for the Nazis? What about the work of Budd Schulberg who produced the screenplay for 'On the Waterfront' but was simultaneously dobbing people into the House Un-American Activities Committee? There are countless examples of this sort of quandary, or not, depending on your viewpoint. As I wrote in the earlier blog (cited abive), I am always suspicious when the elites advocate something. It is not just a taste for Wagner they are articulating. Generally, they are advocating further pathways that they can shore up their control and power. Which means bad things for the rest of us! The BIG is one of those pathways and it leads to impoverishment and an on-going capitalist domination. A basic income guarantee is not a path to nirvana – I see it as just a neo-liberal strategy for serfdom without the work.

A good article on the art-artist topic was written by Randy Cohen (August 10, 2009) –
Can You Hate the Artist but Love the Art?.
Cohen asks:
Does rejecting the artist mean rejecting the art?
In our context, is the concept of a Basic Income Guarantee (BIG) undesirable as a progressive strategy because some of the most rapacious and greedy CEOs, who represent the anathema of progressive values, advocate its introduction?
My blog said yes! The reader said that was ridiculous.
Just as the argument goes that "The work stands alone" – whatever the author, artist etc has done, or does, "not a word of 'Middlemarch' would be altered" (as an example) – the BIG should stand separate from those advocating it.
For all my blogs on the Job Guarantee.
Okay, lets explore that a little further. Whatever the balance is in the art-artist debate, and I admit, I have mixed views on the issue, the CEO-BIG nexus is more than evil advocacy.
There is deterministic causality involved that cannot be disregarded.
Neo-liberal economists have long endorsed a BIG as a way of avoiding starvation in a world where they want charitable services to be privately supplied.
These economists hate collective solutions to social problems. Just read Milton Friedman's 1994 Introduction to F.A. Hayek's 50 Anniversary edition of The Road to Serfdom where he expressed disdain for the "growing intellectual support of collectivism" and suggests that the main game is to defeat any semblance of collective action (which he considers tantamount to socialism).
In his own 1962 book – Capitalism and Freedom – he rehearsed the same theme. In his discussion on "The Alleviation of Poverty", he wrote (pp 190-91):
One recourse, an in many ways the most desirable, is private charity. It is noteworthy that the heyday of lassez-faire, the middle and late nineteenth century in Britain and the United States, saw an extraordinary proliferation of private eleemosynary organsizations and institutions. One of the major costs of the extension of government welfare activities has been the corresponding decline in private charitable activities.
When I was a student, I must have considered that an important statement because I underlined the section in the book. I dug it out just now to check the quote and found the pages (see photo).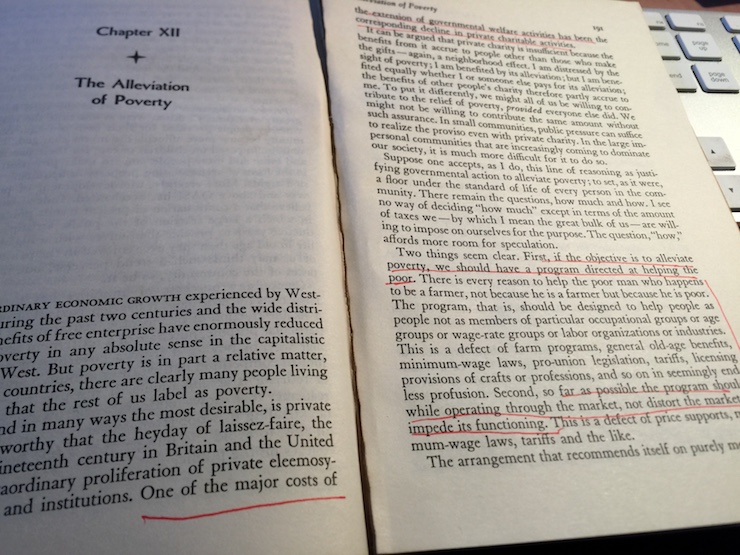 I soon after abandoned the underline approach in favour of typing out the quotes (I was always uncomfortable 'defacing' books), which I have subsequently scanned into databases – the march of technology.
This preference for private charity was followed by his discussion of the negative income tax (or BIG). He saw the Negative Income Tax as a way the government could provide a bare existence to the recipients and the would be "far less costly in money, let alone in the degree of government intervention involved, that our present collection of welfare measures".
I was reminded of that quote after reading this article from Dymtri Kleiner (August 8, 2016) – Universal Basic Income Is a Neoliberal Plot To Make You Poorer.
He argues that the introduction of a BIG would:
… aggravate inequality and reduce social programs that benefit the majority of people … a closer look at how UBI is expected to work reveals that it is intended to provide political cover for the elimination of social programs and the privatization of social services.
In his exposition of the negative income tax, Friedman argued:
More important, if enacted as a substitute for the present rag bag of measures directed at the same end, the total administrative burden would surely be reduced.
This "rag bag" included (as Dymtri Kleiner also notes):
… direct welfare payments and programs of all kinds, old age assistance, social security, aid to dependent children, public housing, veterans' benefits, minimum-wage laws, and public health programs, hospitals and mental institutions.
On April 10, 2014, Friedman acolyte, Charles Murray was interviewed by the US PBS Newshour program – Libertarian Charles Murray: The welfare state has denuded our civic culture.
He constructs welfare cheques as inducing a dependence and irresponsibility, whereas:
under a guaranteed basic income, he can no longer portray himself as a victim who's helpless to do anything about it … The first rule is that the basic guaranteed income has to replace everything else – it's not an add-on. So there's no more food stamps; there's no more Medicaid; you just go down the whole list. None of that's left. The government gives money; other human needs are dealt with by other human beings in the neighborhood, in the community, in the organizations. I think that's great.
Progressives be warned!
I know that BIG-toting progressives will respond and say their intent is different to Friedman's. Sure enough. But structures are structures.
The BIG is very susceptible to neo-liberal manipulation. Once you abandon the narrative that it is the government's responsibility to ensure full employment and agree that all the government is required to do is guarantee a bare existence then the slippery slope has been erected.
A moment's reflection tells us that the CEOs and their lobbying organisations typically oppose any form of social assistance being provided by governments, in the same way, they tend to oppose wage rises.
Capital-labour conflict remains a central dynamic in our societies and only naivety would lead one to conclude it will go away, or rather, be 'outside' this dynamic by giving the unemployed a bare minimum BIG.
Once those who were formerly workers – in direct opposition to capital – become meagre consumption units, then the balance of power is tilted further towards capital.
As Kleiner writes:
The conflict between the worker and the capitalist, or between the rich and the poor, can not be sidestepped simply by giving people money, if capitalists are allowed to continue to monopolize the supply of goods. Such a notion ignores the political struggle between the workers to maintain (or extend) the "basic income" and the capitalists to lower or eliminate it in order to strengthen their social position over the worker and to protect the power of "the sack."

Business leaders fight tooth and nail against any increase of social benefits for workers. Under their dominion, only one kind of UBI is possible: the one supported by Friedman and Murray … The UBI will be under constant attack, and unlike established social programs with planned outcomes that are socially entrenched and difficult to eliminate, UBI is just a number, one that can be reduced, eliminated, or simply allowed to fall behind inflation.
That is why it is important to understand why CEOs support the BIG proposal.
They want to avoid attacks on their power as they kill off jobs in swathes. But they also will continue to work out ways to maintain control over workers and what better way than dishing out a little consumption bundle and keeping them out of the workplace.
The BIG segments the working class – into those who remain in the workplace and those who are prohibited by the lack of jobs – the problem in the first place- from confronting capitalists directly in the struggle for national income shares.
The voiceless BIG consumers then are easily sidelined.
As Dymtry Kleiner recognises:
Many people … imagine that another kind of basic income is possible. They call for a basic income that disregards the "deal" that Charles Murray advocates, but want UBI in addition to other social program, including means-tested benefits, protections for housing, guarantees of education and child care, and so on.This view ignores the political dimension of the question. Proposing UBI in addition to existing program mistakes, a general consensus for replacing social programs with a guaranteed income for a broad base of support for increasing social programs. But, no such broad base exists.
Under a Job Guarantee approach, the capitalist has to contend with the fact that government jobs may become attractive and be used to pursue community development and green-type ventures and still provide unions with the capacity to develop their memberships.
The capitalist also has to face the fact that their propensity to create underemployment (to increase profits at a time of deficient total spending) will be severely restricted by the introduction of a Job Guarantee where workers would be able to work full-time (if desired).
Who would work for a poverty wage in a forced casual job when they can work full-time in a secure job (under the Job Guarantee)? Not to many I would think.
This is why CEOs and those who favour capitalism and markets want to divert the discussion away from guaranteed employment to BIGs. It is clear as day.
Which means the agenda is causal and goes to the heart of power relations in the society.
Which brings me to the question of what should be part of a social guarantee that citizens receive from their agents – the government.
Remember, the government is us and we should use its agency and capacity to advance our well-being not undermine it.
A Financial Times article (April 4, 2017) by Diane Coyle – Universal basic services are more important than income – was spot on.
Coyle argues that "Simply paying people will not help if the fabric of a thriving economy is lacking".
She points out that all the forces that lead progressives to advocate for a BIG – "deindustrialisation (thanks to automation) of large areas, and the loss of millions of jobs" – are hollowing out regions and "it is hard to see why … [a BIG] … would do better at addressing the economic and social costs of large-scale redundancy than the previous policy of making payments to those who lost their jobs. The problem is a hole torn in the fabric of a local or regional economy and society; giving people money is a temporary patch."
This is a significant issue – in regions that are hit by industrial change. Not only do the jobs disappear but a raft of services go as income levels decline.
A bare minimum BIG will not arrest that broader malaise.
Diane Coyle says that in this context:
Part of the answer must be the simpler one of giving people jobs. If the state is going to have to spend money, it ought to do so through a jobs guarantee, so the people affected have an alternative to the dole. Even if this only pays slightly more, it sustains the benefits of continuing attachment to the job market.
Exactly.
And then:
Another part of the policy mix is tackling the wider impact of this kind of economic shock on local areas. The decline of the "left behind" regions of developed economies has snowballed as shops close, people who can move away leave, the quality of schools and public services deteriorates, and infrastructure investment gets low priority because the economic returns to projects look underwhelming.
Once you accept a government's austerity drive is acceptable – which is implied in the surrender to the neo-liberal narrative that the government is not responsible for maintaining full employment – then the next cab off the rank is the array of services that high quality public infrastructure delivers.
If the government isn't responsible for job creation any longer, why isn't the market also responsible for service delivery? If the bare existence provided for by the BIG isn't enough then the 'market' will step in to create a charity sector.
As sense of the collective disappears and we become Margaret Thatcher's collection of individuals – and the game is over for fairness, equality and progressiveness.
Diane Coyle sees this too:
So more important that UBI – whose focus is the individual – is a commitment to universal basic service, with a focus on the community or the natural economic region. If teachers or nurses do not want to move to Detroit and West Virginia, or Burnley and Grimsby, then there should be a pay premium large enough to overcome their reluctance. And the quality of service in local transport networks should be as good in declining as in wealthy areas.
So, in addition to a Job Guarantee we also demand a Services Guarantee.
It is no good having a bare minimum income if the dentists and doctors and shops in your town are closed and the public transport system is deficient.
And in this regard, the UNICEF Press Release last week (March 29, 2017) – 27 million people lack safe water in countries facing or at risk of famine – also bears on this topic.
It discusses the failure of basic infrastructure in northern Africa. These types of developments are perfect for Job Guarantee schemes in poorer countries.
The Job Guarantee workers become the infrastructure development workforce. Handing out a BIG in this context, where basic sanitation is missing, would be a venal irresponsibility.
The linked evils – poverty, poor housing and sanitation, poor water supply, and unemployment – are all attenuated through targetted employment programs. I have first hand professional experience of that fact.
Conclusion
As I wrote in the earlier blog (cited in the introduction), I am always suspicious when the elites advocate something.
It is not just a taste for Wagner they are articulating. Generally, they are advocating further pathways that they can shore up their control and power.
Which means bad things for the rest of us! The BIG is one of those pathways and it leads to impoverishment and an on-going capitalist domination.
That is enough for today!
(c) Copyright 2017 William Mitchell. All Rights Reserved.