The 'post-truth' era – nothing new in mainstream economics
The dictionary says Post Truth is the "fact or state of being post-truth; a time period or situation in which facts have become less important than emotional persuasion". But I prefer to be direct – not to mince words – Post Truth is lying, plain and simple. It is making stuff up that is untrue, in denial of the facts, and, in cases where volition drives the lying, using strategic and well-thought out tools of psychological persuasion, fear, threats etc to make it look as though the statements are factual rather than lies. The interesting thing for me at the moment in this respect is that we are increasingly being told we are now in this Post Truth era. That social media has created this Post Truth era and that something should be done about it. Oxford English Dictionary announced recently that the Word of the Year 2016 is…, you got it, "post-truth" which they claim is a "concept … [which] … has been in existence for the past decade". Its use has apparently "spiked in frequency this year" as a result of the Brexit referendum and the US election. Two things then are worth noting. First, there is nothing new about the idea of lying to influence public opinion. Indeed, as I will explain (briefly) the whole edifice of mainstream economics, including New Keynesian economics has been 'post-truth' since its inception. Second, the fact that it is getting attention now is because the establishment are starting to feel the pinch – their usual media power is losing traction with the democratising influences of the Internet – and their cosy worlds of influence are under threat from a rabble. And this applies to so-called progressive Left (the socialist politicians in Europe, the Labour politicians in Australia, Britain and elsewhere) who have so bought into the neo-liberal myth machine that they cannot understand why they are now losing support from their traditional sources (working class people). The 'post-truth' era is apparently upon us. But the reality is that there is nothing new about lying in mainstream economics. It is built upon a lie. It is just that the lying that is spreading on the Internet ('fake news sites') are damaging the establishment. That is why they are now complaining. They have never complained about the incessant lying from the economics profession.

The Oxford Dictionary announcement has a neat graph which traces the Frequency of Word Use. I reproduce it here.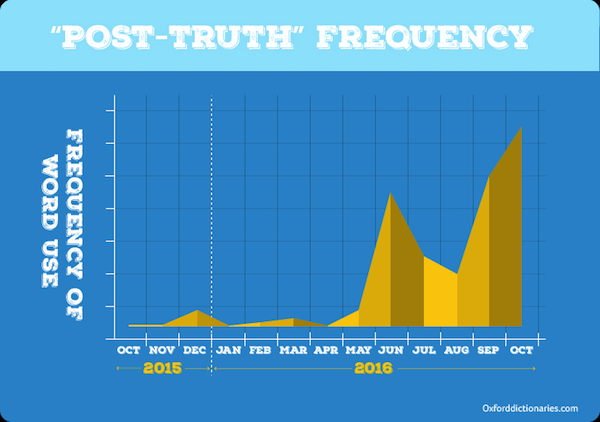 Clearly the spikes are aligned with the British EU vote in June 2016 and then the Presidential campaign in the US. Probably also, the latter spike is associated somewhat with the Italian referendum.
All three events were direct and significant defeats for the establishment – both the Right and Left segments of that elite group.
These defeats came after massive onslaughts in the conventional media, controlled by that establishment, where all manner of disaster was predicted to follow the Yes Brexit, Trump US, No Italy votes.
As the voting day approached the hysteria from the mainstream media reached fever pitch.
We were told that Premier League soccer teams would be significantly damaged if Britain left the EU (for example, HERE).
We were told that Brexit would be bad news for cancer patients (Source).
These dire warnings were just part of the litany of claims that were made by those who wanted to maintain the cosy relationship with the EU that worked to the favour of the elites and against what I would consider to be the interests of the hoy polloi.
That bastion of the elite, the UK Guardian wrote on May 29, 2016, as the polls were suggesting a Brexit YES was possible, claimed that Economists overwhelmingly reject Brexit in boost for Cameron.
The UK Guardian had been running a feverish campaign to scare the wits out of the voters who were considering voting yes.
Apparently, "Nine out of 10 of the country's top economists working across academia, the City, industry, small businesses and the public sector believe the British economy will be harmed by Brexit".
And the same 9 of 10 think that fiscal deficits push up interest rates and create accelerating inflation; that governments such as Britain can run out of money; that fiscal surpluses should be achieved to offset any deficits over some economic cycle; and, that free trade is essential to advance the well-being of all.
The UK Guardian article actually quoted some economist claiming that the anti-Yes sentiment among these economists "no doubt reflects the level of agreement among many economists about the benefits of free trade".
The organisation the economist represents (Institute of FIscal Studies) also talked about a "£40bn hole in the public finances" as a result of a Brexit Yes vote being activated. Any economist who talks about fiscal holes – as dangerous black hole-type voids where government services have to be abandoned to meet the loss of revenue doesn't know what they are talking about. They are part of the problem.
We can debate the difference between the concept of 'post-truth' and lying. A debate can be had about anything if we want. I also don't intend to go into etymology either. That is laid out elsewhere.
There was a recent article in Nature (November 28, 2016) – Post-truth: a guide for the perplexed – which nuances the difference between 'post-truth' and lying:
Post-truth refers to blatant lies being routine across society, and it means that politicians can lie without condemnation. This is different from the cliché that all politicians lie and make promises they have no intention of keeping – this still expects honesty to be the default position. In a post-truth world, this expectation no longer holds.
To some extent, 'post-truth' has become fashionable as a result of post modernist deconstruction – everything is relative – or so we are told.
There is no 'truth' anyway – apparently.
I know all the arguments about cultural relativism and the rest of them.
But there are some things that are not relative. Such as, a currency-issuing government is never intrinsically revenue constrained because it is the monopoly issuer of the currency. It might choose to place fiscal restrictions on its intrinsic capacities. But that doesn't negate the underlying reality or fact or truth about that capacity.
The concept is mostly applied these days to the media and to politicians and is one of those trendy, buzz-type words that emerge from time to time, which usually offer nothing new.
My contention is that we have been living in a 'post-truth' era for decades but it is only now that the establishment is feeling the pinch from it rather than using 'post-truth' (mass deception) to advance their own interests at the expense of the rest of us.
Just this week, the Washington Post carried an opinion piece (December 6, 2016) – How cartoonists are skewering fake news and the 'post-truth era' – which talked about the so-called "post-truth era" where Internet sites are "set up largely to spread invented stories and cockeyed conspiracy theories".
Apparently we are living:
In these times of mass reality-distortion fields surrounding opinion echo-chambers tucked beneath big partisan bubbles, , the environment is prime for fake news to gain traction. Social media help lies travel halfway around the world while the truth is putting on its shoes …
The Washington Post should know about 'post-truth'. It sacrificed all journalistic standards when it published a so-called 'news story' on December 31, 2009 – Support grows for tackling nation's debt.
It was apparently produced by "Fiscal Times, an independent digital news publication" rather than Post journalists. Who might you ask the 'Fiscal Times'?
None other than Peter G. Peterson, long-time Wall Streeter, with a penchant for cutting government spending that doesn't advance the interests of the elites.
The decision to publish this article masquerading as 'news' meant the Post had become just another "fake news source" (Source), no different to those sites that claimed during the US Presidential campaign that "Hillary Clinton and her gang were running a child trafficking ring out of a pizzeria in Washington DC" (Source).
The Post didn't disclose the fact that Peterson – a hard-line anti-government ideologue – had funded the article's production.
Increasingly, we are seeing these 'sponsored news' stories in the mainstream press – which, when the truth is out, are not news at all – just opinion and the mainstream media has become co-opted to transmit these partisan views (masquerading as 'news') in return for profit.
So there is very few that can claim the higher ground here. The mainstream media like to pillory the 'fake news' sites in the various social media platforms, but increasingly they are engaged in the same practice.
As the reality of a Donald Trump presidency became closer, the UK Guardian article (September 9, 2016) – Broadcast news is losing its balance in the post-truth era – impugned the Republican (well it wasn't really a GOP) campaign for championing "post-truth politics".
It said that 'post-truth' was when politicians and their retinues use the tactic of repetitive mantras (speaking points) even when fact checks demonstrate, categorically, that the components of the mantras are untrue.
The Wikileaks site cited above uses examples of Brexit 'post-truth' practice from the Leave side only. The establishment was hurt by the Yes vote, but the impression is given that they were victims of lies from the Yes campaign.
That is a lie in itself. The establishment was out there in full force pushing the No vote with all sorts of spurious and non-factual claims – many of which have already been demonstrated to be just made up.
In the recent Italian referendum, the two largest mainstream media papers, the Centre-right (Corriere della Sera) and Centre-left (la Repubblica) both supported Renzi and his quest for a Yes vote. They both ran increasingly hysterical articles masquerading as news to defend the establishment interests.
They knew that a successful No vote could open up anti-euro forces and push Italy out of the monetary union. The monetary union has served the interests of the well-to-do with disastrous consequences for the poor citizens.
The trend that Brexit Yes, Trump Yes, Italy No is pointing to is the increasingly loss of power of the entrenched media interests which typically support the establishment.
The Internet has been a source of democratisation where anyone (almost anyway) can get a voice and get around the normal elitism of the mainstream media and publishing industry.
The Internet has clearly unleashed the conspiracy theorists, the mentally-deranged, the liars and all the rest of the 'fake news' presenters.
But there is nothing new about lying to influence opinion. It is just easier to check up.
As the New Scientist Magazine article (June 1, 2016) – Free speech has met social media, with revolutionary results – also only suggests Donald Trump was guilty of lying to gain office. No mention of Hillary Clinton's claim she landed in Bosnia "under sniper fire", for example.
But the point the New Scientist makes which I agree with is that:
… the right to free speech has morphed into the ability to say and spread anything, no matter how daft or dangerous. Hence the buzz around the idea of "post-truth politics" – although a cynic might wonder if politicians are actually any more dishonest than they used to be. Perhaps it's just that fibs once whispered into select ears are now overheard by everyone.
The Internet has unleashed a massive torrent of information that now allows us to check things more quickly. In the past, I would go to the library, photocopy articles, clip them into shape (trim excess) and store them in filing boxes. It was time consuming and rather selective, given the libraries did not subscribe to all the available media or reports etc.
It is much easier now. I have electronic databases that I can add too easily from the widest source of information ever available in history.
The reason that the mainstream media are now talking about a 'post-truth' era is because their interests and the interests of the establishment they serve are being damaged by the crazies out there.
But while the sensationalist sights out in the ether are clearly multiplying and influencing public opinion and decision-making, the fact is that the mainstream media has been peddling 'post-truth', that is, lies in the area of economic debate for years and parading the sort of articles and news as authority.
Mainstream economics has always been 'post-truth', which makes the post bit redundant.
The Nature article (cited above) says that:
Scientists and philosophers should be shocked by the idea of post-truth, and they should speak up when scientific findings are ignored by those in power or treated as mere matters of faith. Scientists must keep reminding society of the importance of the social mission of science – to provide the best information possible as the basis for public policy. And they should publicly affirm the intellectual virtues that they so effectively model: critical thinking, sustained inquiry and revision of beliefs on the basis of evidence.
The problem in economics is the so-called 'scientists' (the academic professors and economists working elsewhere), are themselves, the vehicles of the 'post-truth' (lying).
Mainstream economics likes to hold itself out as a science – akin to a physical or natural science. This gives it an authority that it doesn't deserve.
A social science, such as economics, is nothing like the hard-core physical sciences, if only because our research cannot be conditioned by controlled laboratory experiments governed by the laws of the universe.
We deal with the vagaries of people, societies and communities. That is a different world to operate in.
The entire edifice of mainstream economics is built on a series of lies and myths.
Remember when President Obama announced in December 2009 that "We don't have enough public dollars to fill the hole of private dollars that was created as a consequence of the crisis.
The leader of the largest economy in the world, briefed by his economics team was lying.
The GFC was a problem of unsustainable private debt growth, driven by an out-of-control financial sector aided and abetted by government deregulation.
It mysteriously morphed into an alleged sovereign debt crisis.
As private spending collapsed in 2007-08, fiscal deficits (public spending minus taxes) rose to bridge the gap.
Soon after, conservatives, some of whom were direct beneficiaries of bailout packages in the early days of the crisis, used the tenets of mainstream economics to announce that our governments were bankrupt, that our grandchildren were being enslaved by rising public debt burdens and that hyperinflation was imminent.
Governments were being pressured to cut deficits despite strong evidence that public stimulus has been the major source of economic growth during the crisis and that private spending remained subdued.
Not much has changed.
Despite the IMF, leading practictioners of 'post-truth' narratives claiming that austerity would be good for growth (using the Ricardian Equivalence lie), the austerity imposed worsened the crisis.
Why? Because it is built on a lie.
The facts are that public deficits do not cause inevitably lead to inflation, nor do they impose crippling debt burdens on our children and grandchildren.
Deficits do not cause interest rates to rise, choking private spending.
Governments cannot run out of money.
The greatest lie – endlessly repeated by neoliberal economists and uncritically echoed by the mainstream media – is the claim that if governments cut their spending, the private sector will 'crowd in' to fill the gap (the Ricardian Equivalence lie).
British Prime Minister David Cameron's austerity campaign and President Obama's foreshadowed budget cuts are built around these lies.
The IMF and the OECD intoned, relentlessly, about 'growth-friendly austerity'. There is no such thing. Spending cuts are not growth friendly. Quite the opposite.
During the Great Depression, when upwards of 30 per cent of the willing labour force were without work, mainstream economics led us to believe there had been a sudden outbreak of preference for leisure.
After all, the textbooks are full of 'models' that purport to show that individuals make rational, maximising choices based on the information at hand that advance their self-interest. The choice is between work for a wage or leisure. Not working must be the choice of leisure over a wage. Students learn that sort of tripe!
The 'post-truth' macroeconomics that mainstream economists teach and advocate is based on the myth that governments, like households, have to live within their means.
They say fiscal deficits have to be repaid and this requires onerous future tax burdens, which force our children and their children to pay for our profligacy.
They argue that government borrowing (to 'fund' the deficits) competes with the private sector for scarce available funds and thus drives up interest rates, which reduces private investment-the 'crowding out' hypothesis.
And because governments are not subject to market discipline, neoliberals claim, public use of scarce resources is wasteful.
Finally, they assert that deficits require printing money, which is inflationary.
But they go further than this. They claim that quite apart from these alleged negative impacts, deficits are not required to achieve full employment.
It used to be considered noncontroversial that government deficits could stimulate production by increasing overall spending when households and firms were reluctant to spend.
In a bizarre reversal of logic, neoliberals talk about an 'expansionary fiscal contraction' – that is, by cutting public spending, more private spending will occur.
This assertion comes with the fancy name of 'Ricardian Equivalence', but the idea is simple: consumers and firms are allegedly so terrified of higher future tax burdens (needed, the argument goes, to pay off those massive deficits) that they increase saving now so they can meet their future tax obligations.
Increased government spending is therefore met by reductions in private spending-stalemate.
But, neoliberals argue, if governments announce austerity measures, private spending will increase because of the collective relief that future tax obligations will be lower and economic growth will return.
Economic policy is now clearly being driven by this idea that austerity is good. The only problem is that none of the propositions that support austerity are true.
This is the ultimate 'post-truth' distortion and much more damaging that the spurious stuff that comes out of manic conspiracy sites in the corners of the Internet.
It is difficult to expose the underlying myths in mainstream economics because the assertions are framed in an opaque jargon.
Further, the language of austerity has become ingrained in public debate by decades of miseducation and daily onslaughts from the mainstream media.
Anyone who dares advocate larger deficits is shunned as being incompetent and/or a dangerous socialist. However, constantly shouting that government deficits are bad doesn't make them so.
When British Prime Minister David Cameron said that the government deficit is just like credit-card debt and that Britain was facing bankruptcy, he was invoking the false neoliberal analogy between national budgets and household budgets.
This analogy resonates strongly with voters because it attempts to relate the more amorphous finances of a government with our daily household finances.
We know that we cannot run up our household debt forever and that we have to tighten our belts when our credit cards are maxed out.
We can borrow to enhance current spending, but eventually we have to sacrifice spending to pay the debts back. We intuitively understand that we cannot indefinitely live beyond our means.
Neoliberals draw an analogy between the two, because they know we will judge government deficits as reckless. But the government is not a big household.
It can consistently spend more than its revenue because it creates the currency. Whereas households have to save (spend less than they earn) to spend more in the future, governments can purchase whatever they like whenever there are goods and services for sale in the currency they issue.
Fiscal surpluses provide no greater capacity to governments to meet future needs, nor do fiscal deficits erode that capacity.
Governments always have the capacity to spend in their own currencies.
Why? Because they are the issuers of their own currencies, governments like Britain, the United States, Japan and Australia can never run out of money.
Why, then, do governments borrow? Under the gold standard governments had to borrow to spend more than their tax revenue. But since 1971 that necessity has lapsed. Now governments issue debt to match their deficits only as a result of pressure placed on them by neoliberals to restrict their spending.
Conservatives know that rising public debt can be politically manipulated and demonized, and they do this to put a brake on government spending.
But there is no operational necessity to issue debt in a fiat monetary system. Interestingly, conservatives are schizoid on the question of public debt: public borrowing provides corporate welfare in the form of risk-free income flows to the rich because it allows them to safely park funds in bonds during uncertain times and provides a risk-free benchmark on which to price other, riskier financial products.
The fact that bond yields have remained low throughout the latest economic crisis (reflecting strong demand for public debt) tells you that the parasitic bond markets do not buy the neoliberal rhetoric. They know that national governments (outside the Eurozone) have no solvency risk.
Zimbabwe! has also become the one-word response conservatives use to scare us into believing that deficits cause hyperinflation (the cry used to be Weimar!).
The reality is this: if the economy is operating at full capacity-which means it cannot produce any more new products-then attempts by the government to expand spending will cause inflation.
But up to that point, governments can run deficits forever without causing inflation. By supporting spending in an economy not at capacity, deficits induce more production rather than higher prices, since companies will be happy to supply the growing demand.
Deficits will drive up interest rates! Another part of the 'post-truth' mainstream economics world.
That's funny, since deficits have rose sharply in recent years but interest rates have remained close to zero. Japan has been running large deficits since its property market collapsed in the early 1990s and has maintained zero interest rates and low inflation ever since.
The neoliberal lie forgets to mention that the central bank sets interest rates, not the market.
What neoliberals don't tell you is that when government deficits stimulate growth, savings also grow as a result of higher incomes.
So the claim that private and public borrowers compete for a finite pool of savings is a lie. Far from taking funds away from private investors, deficits expand the pool of available savings.
Neoliberals also lie about the way banks work. Any credit-worthy private borrower can get credit from banks. Bank loans create deposits, which can be drawn down when banks make loans to borrowers.
Yes, banks need reserves to back their loans, but they also know that the central bank will always supply those reserves should the banks fail to attract the necessary funds from other sources.
So private borrowing is not constrained by existing savings. Borrowing typically increases income, which increases savings.
What about the central claim that private sector spending will increase if deficits are cut?
All the evidence shows that when firms are very pessimistic they will not expand employment and production until they see stronger growth in demand for their products.
Consumers also become pessimistic when they fear they might lose their jobs.
At present, consumers are also heavily in debt and are trying to save to reduce risks should they become unemployed.
Cutting public spending in that environment would only deepen this pessimism. The greatest neoliberal lie denies human psychology.
When private demand is subdued, the only way to increase growth is for government to spend, via deficits. Austerity just withdraws the lifeline that keeps our economies growing.
And so it has been in the aftermath of the GFC.
Finally, the size of the deficit should never be the concern of policy. Fiscal sustainability is being defined by the austerity myth in terms of some arbitrary financial ratio (public debt to GDP, etc.).
But actually deficits should be whatever is required to maintain overall spending at the level consistent with full employment.
No more, no less. Fiscal sustainability is about fulfilling the government's responsibility to maintain an inclusive society in which everyone who wants to work can.
Conclusion
The 'post-truth' era. It has lasted for decades in economics already. But then the lying has advanced the interests of the elites.
Now the chaos of the Internet has unleashed liars who help populists undermine the elites. At that point, 'post-truth' becomes a problem, doesn't it.
As an aside, the other night (November 30, 2010), Australia's public broadcasters Radio National radio program Late Night Live (I heard the podcast next day) ran a segment – The richest professors in the world.
It documented the workings of a US consulting company that is run by "economics professors" who work as lobbyists (at $US1000 an hour) to advance the interests of the big corporate firms to get official approvals for mergers, which reduce competition. The same professors extol the virtues of competititon to their students in the class room. Anything neo-liberal is good for this outfit, it seems.
That is enough for today!
(c) Copyright 2016 William Mitchell. All Rights Reserved.