Benefit tourism – another neo-liberal fallacy
One of the tools that right-wing elements use to control the public debate about government spending and to justify their attack on public deficits is migration. There are many aspects to this public manipulation that invokes raw fear, ignorance and prejudice among the population. One of the elements, which plays on job insecurity and the range of fiscal myths that characterise the neoliberal era, is the claim that so-called 'benefit tourism' is rife and if left unchecked will bankrupt national governments and lead to higher burdens on 'taxpayers'. So we are often told that migrants from poorer nations move to access welfare benefits that are superior to those offered by their own nations and that these movements are parasitic in nature and do not advance the interests of the host country citizens. Last week (December 10, 2015), the Irish-based EU organisation, the European Foundation for the Improvement of Living and Working Conditions (Eurofound) released a report – Social dimension of intra-EU mobility: Impact on public services – which examines "the extent to which mobile citizens from central and eastern European Member States … take up benefits and services in nine host countries" by "mobile citizens from 10 central and eastern European Member States" (the so-called EU10 mobile citizens). The Report should be read by all those who wish to contribute to this debate or understand what the facts are. Essentially, the Report finds that mobile citizens from poorer nations have lower take-up rates of welfare support in host countries than natives. That really should be the end of the 'benefit tourist' assertions. But then most of these public debates are not based on evidence or logic.

In response to data released by the British Department for Work and Pensions, the British tabloid Daily Mail published an astounding headline (August 29, 2013) – Number of foreigners claiming UK benefits leaps 41% in 5 years: More than 400,000 now handed payouts that cost taxpayers billions each year – which culminated in the conclusion that migration from Eastern Europe, Asia and the Middle East to Britain was "costing taxpayers billions of pounds a year".
The article then went on to articulate the so-called "concerns about benefit tourism".
The conservative and the right-wing elements in most countries whip up this notion of 'benefit tourism' to stir up the emotions of the public and turn them against supporting new entrants to their nations.
The debate is particularly rife in Europe, given the scale of the current refugee disaster, which has been created by misguided policies adopted by the US and other Western governments in relation to so-called terrorist threats.
In April 2013, government ministers from Austria, Germany, the Netherlands, and Britain wrote a – letter – to the president of the European Counsel for Justice and homeAffairs about "freedom of movement in Europe".
They noted that under current rules, which impose conditions under the Treaty on the Functioning of the European Union to freedom of movement, that:
Currently, a number of municipalities, towns and cities in various Member States are under a considerable strain by certain immigrants from other Member States. These immigrants avail themselves of the opportunities that freedom of movement provides, without, however, fulfilling the requirements for exercising this right.

This type of immigration burdens the host societies with considerable additional costs, in particular caused by the provision of schooling, health care and adequate accommodation. On top of this strain on vital local services, a significant number of new immigrants draw so- cial assistance in the host countries, frequently without a genuine entitlement, burdening the host countries' social welfare systems.
The letter demanded that "all necessary measures need to be taken to deal with the consequences of this type of immigration and to fight its causes".
On November 28, 2014, British Prime Minister stirred the pot some more in a speech on – Immigration and borders – when he criticised the previous Labour government for allowing migrants "from outside the European Union with no skills at all to come to the United Kingdom" and for allowing asylum seekers to immediately claim welfare benefits.
He then outlined a series of new policies that the government was proposing at the time to introduce, including denying access to so-called EU jobseekers to income support while unemployed and forcing the same cohort to leave the UK if after six months they had not found work.
He said:
EU jobseekers who don't pay in will no longer get anything out, and those who do come will no longer be able to stay if they can't find work.
A number of other changes were proposed to stop so-called 'benefit tourists'. He said " It cannot be right that migrants can turn up and claim full rights to this club straight away", the club being the British welfare system, allegedly supported by "the contributions of hardworking British taxpayers".
The speech was part of his campaign to change the way in which Britain interacted within the European Union and the results of that are yet to play out fully.
The British Labour Party, is in fact, no better.
The irony of Cameron speech was that it was hugging on the 'benefit tourism' heartstrings but most of the policy changes signalled worried relation to genuine jobseekers from other countries where unemployment was rife. In other words, these people were seeking work not benefits.
The Eurofound study provided a summary of the 'welfare tourism' debate in the various countries within Europe that they studied for the Report (as Table A1 in the Annex). I reproduce it here.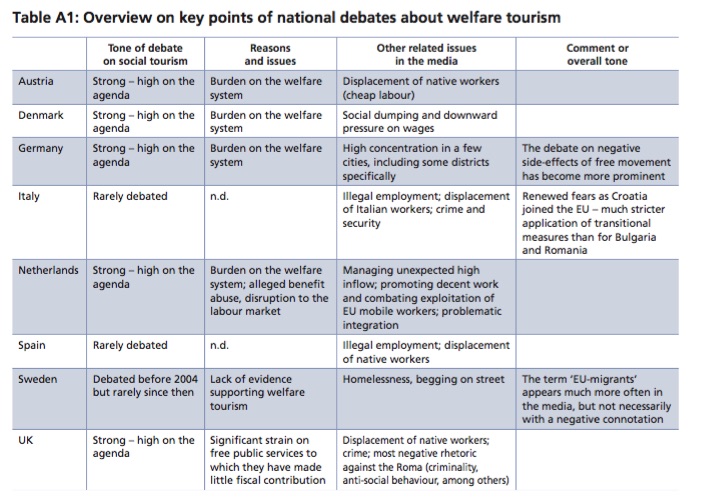 A common theme is the "burden on the welfare system" and "displacement of native workers".
In the Eurofound study we have fairly comprehensive evidence to refute the benefit tourism case against migration.
The key conclusions are:
1. "EU10 mobile citizens' take-up of welfare benefits and public services in host countries is lower overall than that of the native population, and significantly so in the case of social housing and pensions."
2. "there are certain benefits, mainly employment-related benefits (unemployment and in-work benefit), that EU10 citizens claim more than the native population", which is consistent with the observation that people want to work and are not moving nations just to arbitrage more generous welfare payments.
3. "EU10 citizens tend to use health services less than native populations".
4. "Take-up of social housing by EU10 mobile citizens is lower than that of native populations".
5. In "some countries, such as the UK" there are "high concentrations of mobile citizens in certain geographical areas" and the "increasing pressure this puts on schools could cause tension, especially in rural areas that have no previous experience of immigration".
Overwhelmingly, the evidence does not support the so-called 'benefit tourism' notion.
The study also suggests that accessing benefits in host countries is difficult for "eligible EU10 citizens" because of "complicated social welfare systems, and partly because they often lack information and language skills".
New entrants also do not receive adequate assistance "with recognition of diplomas', which means that many migrants work in jobs for which they are grossly over-qualified for.
The study concludes that there "is a need for greater employment support for EU mobile citizens because of the disadvantages they face in the labour market and integrating into society".
Chapter 2 of this study considers the "Take-up of benefits and social services" and provides detailed information of the access rates by mobile citizens of host country welfare systems.
It is a chapter that anybody who wants to comment publicly on this issue should read. Unfortunately, the mainstream media journalists who gain sales by beating up raw prejudice among their readership will probably not avail themselves of the knowledge presented.
The take-up of unemployment benefits in host countries is critically dependent on the state of the labour markets in those countries.
The Report says that it is "not surprising … that since 2008 the number of the EU10 nationals receiving unemployment benefit has increased to a larger extent that that of either natives or EU15 mobile citizens".
But for Britain "where the employment rate of EU10 citizens remain higher than that of UK citizens even after the crisis, the share of EU10 citizens receiving unemployment benefits is still the lowest compared with the other nationality groups".
Further, in Britain, "the take-up of income support by EU10 citizens is actually the lowest compared not only to natives, but to other EU mobile citizens … and third-country nationals".
Also, the take-up of sickness and disability benefits is lower for EU10 citizens than natives in most of the nations studied.
The report considers other welfare payments including family benefits, housing benefit and the use of health services, education, social housing and homelessness services.
The "main conclusion of the study":
… is that, although there are certain social benefits where the take-up by EU10 citizens is higher than that of natives, mainly employment-related benefit, overall their take-up of benefits and social services is lower, and significantly so in most countries for benefits such as disability and sickness benefits, social housing and pensions.
A few reflections are in order.
First, the entire debate about 'benefit tourism' is largely conducted on the false premise that governments in host countries such as Britain face financial constraints on their spending, which means that a pound allocated to one purpose is always at the expense of a pound allocated to another.
Clearly, the Eurozone Member States are financially constrained because they gave up their currency sovereignty and now use a foreign currency that is issued by the ECB, which they have no direct legislative control over (unlike sovereign nations such as Britain).
The constraint facing the British government in determining its spending priorities is fundamentally related to the availability of real resources that are for sale in British pounds.
Ultimately, the limiting factor for any nation is its real resource availability.
The question of population policy then has to be debated within the context of those factors rather than whether the national government will run out of money if swamped by immigrants who want benefits.
I would qualify that statement by noting that real resource availability also extends to environmental sustainability considerations. So for example, in Australia it is often claimed that we have a low population in relation to our landmass, which is true when judged by, say, European standards.
But what is often not equally stated is that most of the land in Australia is incapable of supporting population growth because of our lack of water.
Second, a national government, which issues its own currency and floats it on international markets, can always use that currency capacity to ensure that all available real resources are fully and productively employed.
So reflecting on the Report's findings that migrants do take up employment-related benefits at greater rates than the natives as a result of their labour market disadvantage, if the government was worried about that then it could always provide work for the unemployed citizens.
This raises questions about how a Job Guarantee might be compatible or not with a relatively open borders policy. I won't address that issue here for lack of time today.
I would suggest, however, that it is highly unlikely that a nation offering a JG will be swamped with migrants at higher rates than already exist as a result of their relatively stronger labour markets.
Conclusion
The Eurofound report is a welcome intrusion into the debate about migration, which is typically based upon emotion rather than evidence.
The evidence-based nature of the report is powerful and should be used by progressive journalists to disabuse people of their blind prejudice in this regard.
That is enough for today!
(c) Copyright 2015 William Mitchell. All Rights Reserved.