Greece goes back into depression – having never left it
Last Friday (March 6, 2015), Eurostat unveiled the latest – National Accounts estimates for the fourth-quarter 2014. All the Greek news this week will be about the – Letter – that the Greek Finance Minister sent to the president of the Eurogroup, in which he outlined 7 reform proposals. But it should be firmly focused on the fact that the Greek economy is back into depression having recorded two successive quarters of negative real GDP growth (despite the September-quarter data suggesting otherwise). The latest National Accounts data for Greece shows it contracted in the December-quarter 2012 significantly and the accompanying Labour Force data confirms that the unemployment rate is rising again and participation is falling. That is the disaster that the Eurogroup should be addressing. While they claim that internal devaluation will spawn growth through a burgeoning exports sector, the December-quarter 2014 data shows that exports contracted over the last three months of 2014. How long do the Greek people have to wait before the trade-led recovery nonsense is consigned to the nonsense bin?
The Greek letter to the Eurogroup was intended to be input into the on-going struggle between Greece and the rest of the Eurozone about the conditions that are to be attached to further bailout payments. It contains some rather odd proposals including one where various "non-professional" sleuths ("inspectors") on a casual, never-to-be-rehired basis who will pose as "customers, on behalf of the tax authorities, while 'wired' for sound and video" to create an environment of fear among VAT tax dodgers.
The Greek government is hoping its Eurozone partners will provide them with some video cameras and training to make this possible.
It will then hire "students, housekeepers, even tourists in popular areas ripe with tax evasion" to send the fear of the tax authorities.
So if you see some fat German in bermuda shorts with a Head Cam wandering around shops in Greece and emitting strange clicking sounds (on and off) then he/she might be one of the Greek government's new tax enforcers, defraying some of the holiday costs with a bit of casual work.
I wondered who the joke was on!
But lets be kind today and focus on data rather than the political tactics and imbroglios.
The Greek news really should be about its deteriorating economy. Even the hype about its return to growth has been wiped out by the December-quarter data release from Eurostat.
I last addressed this issue in this blog (December 17, 2014) – Alleged Greek growth could be an illusion. The point remains but it gets mirkier.
The day before the National Accounts data was published, the Hellenic Statistical Authority (EL.STAT) published the latest – Labour Force estimates – for December 2014, which showed:
The seasonally adjusted unemployment rate in December 2014 was 26.0% compared to 27.3% in December 2013 and 25.9% in November 2014 … The number of employed … decreased by 24,453 persons compared with November 2014 (a 0,7% rate of decrease).
The labour participation rate fell sharply in December 2014 such that the number of:
Inactive persons -that is, persons that neither worked neither looked for a job- increased … by 20,425 persons compared with November 2014 (a 0,6% rate of increase).
The rise in the unemployment rate would have been much worse had not the inactivity rate increased so much. For example, the unemployment rate would have risen from 25.9 per cent in November 2014 to 26.4 per cent in December 2014, had not the participation rate dropped by 0.3 percentage points.
Further, the peak participation rate was 60.2 per cent in April 2010. It is now at 58.4 per cent. Had the participation rate remained at that peak, then the unemployment rate would be somewhere around 28.2 per cent in December 2014, rather than 26 per cent that is much higher than it was in December 2013.
It is hard to see this as an improving situation.
The following graph shows the official unemployment rate (blue line) using seasonally-adjusted monthly data from January 2004 to December 2014. The red line is the participation effect from April 2010.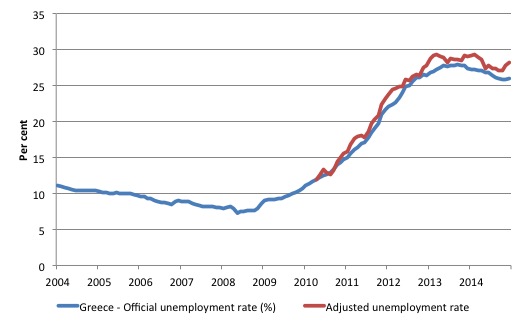 Greek employment peaked in October 2008 (4,630.4 thousand) and in December 2014 it was 3505.6 thousand, a loss of 1,124.8 jobs in net terms or a decline of 24.3 per cent.
The decline is worse given where the Greek economy might have been had employment growth averaging around 0.12 per cent per month since January 2004 up to the peak (October 2008).
Had that monthly growth rate been maintained then total Greek employment would be 5,044.3 thousand, or, in other words, there would have been 1,538.8 thousand more (net) jobs on offer. A difference of 30.5 per cent on the actual situation in December 2014.
Remember the analysis I did in this blog – Greece – return to growth demonstrates the role of substantial fiscal deficits?
I calculated that if we conducted a mental exercise to see what would happen if total employment in Greece started to grow steadily from now at the average quarterly rate of growth that was achieved between the March-quarter 2001 and the peak September-quarter 2008.
That average was 0.3 per cent per quarter. I extrapolated that scenario out to the June-quarter 2034. Why did I choose that end-point? Simple: it is the point where total employment would once again equal the September-quarter 2008 peak.
It means that even under favourable growth conditions (which were evident before the crisis), it would take Greece another 20 years from now to regain the employment lost by the imposed policy austerity.
But last week's Labour Force data shows that things are still going backwards and that 'break-even' year will now be even further into the future.
That sort of exercise demonstrates how catastrophic the situation is in Greece and how culpable the Eurogroup is when it forces the Greek government to go cap in hand with a range of what can only be described as 'lateral' reform proposals while the elephant – the dramatic shortfall in required aggregate spending – is ignored – more about which later.
So when the Finance Minister writes about various plans, including the amateur Head Cam tax sleuths wandering around Greek tourist areas scaring the be-jesus out of the shopkeepers intent on evading tax, it would be better if the Eurogroup focused their minds on the big-bang-for-bucks – the massive employment loss since 2008.
If all those lost jobs were stimulated back into productive activities, then the tax take would rise dramatically.
It is always better to stimulate a depressed economy if you want the fiscal deficit to GDP ratio to fall. It brings both increased prosperity and the drop in the fiscal balance as a percent of GDP.
The day after all that poor Labour Force news became public we learned that real GDP growth in the December-quarter 2014 was once again negative.
The following graph shows real GDP growth and nominal GDP growth over the four quarters of 2014. In the December-quarter 2014, nominal growth fell by 2.2 per cent and real GDP growth fell by 0.4 per cent, after both recorded rises in the September-quarter.
The contributing factors to the decline in real GDP in the December-quarter was according to – EL.STAT data:
1. Household consumption was flat.
2. Government consumption spending fell by 1.1 per cent after falling by 3.6 per cent in the September-quarter. The fiscal austerity effect biting.
3. Exports fell by 1.3 per cent.
In terms of sectoral shifts, there was a dramatic contraction in 'Wholesale and retail trade; repair of motor vehicles and motorcycles; transportation and storage; accommodation and food service activities' – it declined by 25 per cent in the December-quarter 2014 in real terms.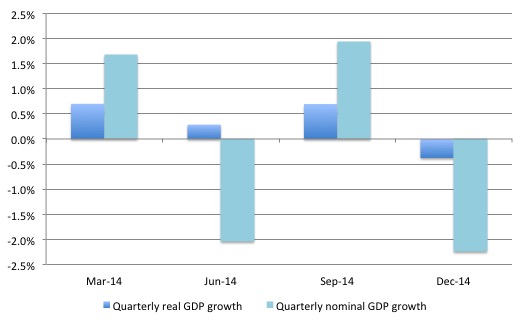 But read this blog – Alleged Greek growth could be an illusion – for analysis of how the September-quarter result could be misleading.
In that blog, you will also learn about the difference between three important concepts (among others) that allow you to understand national accounts data:
1. Nominal or current-price Gross Domestic Product (GDP).
2. Volume measures of GDP.
3. The implicit GDP deflator.
I won't repeat the discussion here – but rather, just summarise the main points.
The summary result for our purposes is that the expenditure version of Gross Domestic Product – GDP(E) = Final Consumption Expenditure by Households (C) and Government (G) + Gross Capital Formation + Exports of goods and services (X) – Imports of goods and services (M).
That is total spending in the economy from the three major sectors – government, private domestic and external.
It is a measure of all the goods and services produced in some year valued at the prices they sell at and aggregated into a single monetary measure of overall economic activity.
The current-price measure of GDP or nominal GDP is computed by using the prices of goods and services that prevail in each period.
That measure declined by 2.2 per cent in the December-quarter 2014.
However, a rising nominal GDP measure does not necessarily signal that real output is increasing in volume (that is, more goods and services are being produced).
Let's say that current-price GDP increases over a year by 3 per cent, but over that same period prices have risen by 3 per cent.
So total production was say $100 and grew to $103 but all the change would in this case be due to the rise in the price level – that is, a pure valuation effect. The total real quantity of goods and services produced would not have changed, just their monetary value due to inflation.
To net out the price or valuation effect, statisticians produce constant-price or volume estimates of GDP, which I refer to as real GDP.
The way they have produced these estimates has varied over the years. They are currently produced using so-called "Chain volume measures", which use the prices from the immediate past period to measure the change in the next period and net them out.
So for our purposes, real GDP (or chain volume measures) purge the impact of current price changes (from the last period) and tell us how much real production has increased in the period under scrutiny.
So real GDP plus the inflation rate (however measured) should be equal (more or less) to nominal or current-price GDP, if the accounting structures are sound.
Alternatively, Real GDP = Nominal GDP – Inflation rate.
The inflation rate can be measured in a number of ways (Consumer Price Index, GDP price deflator etc). I discuss that in some detail in the previously linked blog.
EL.STAT published its latest – Consumer Price Index data – on February 17, 2015, which shows that in the December-quarter 2014, the Consumer Price Index declined by 2.3 per cent (September index number = 108.29 and December = 105.79)
So if the real GDP growth rate was -0.4 per cent in the December-quarter 2014 and the approximate inflation rate was -2.3 per cent then the nominal GDP growth rate should be the sum of the two:
% growth in Nominal (current-price) GDP = % growth in real GDP plus the % inflation rate
Putting the numbers we know into the equation we get:
% growth in Nominal (current-price) GDP = -0.4 + (-2.3) = -0.4 – 2.3 = -2.7 per cent, which compares to the reported result of -2.2 per cent.
The difference will be in the inflation rate measure I have used. The GDP deflator (not available as I write this) would probably be around -1.8 per cent.
But it confirms that Greece's nominal GDP contracted in the fourth-quarter 2014 as did the volume measure of GDP.
If the analysis in the blog – Alleged Greek growth could be an illusion – is correct (and no-one has found an error – and I know it has been read by Greek statisticians) – then Greece lapsed back into recession in the second-half of 2014.
The message to the Eurogroup is:
1. The current policies are not working and are causing further damage.
2. How long do they have to wait to understand that the so-called internal devaluation measures – cutting wages, pensions etc has only engineered a damaging deflationary spiral with entrenched depression and has done little to improve export competitiveness.
Note that exports went backwards in real terms in the December-quarter 2014.
So when is this cruel hoax going to end? It certainly will not end if the Greek government agrees to any more austerity.
Conclusion
I note that some of the Greek government politicians are now talking about holding some sort of vote (referendum) on what to do next should the negotiations with the Eurogroup fail.
Before they do that they should provide a public education campaign informing the Greek people that their penchant for remaining in the Eurozone is:
1. Inconsistent with their desire for a return to prosperity.
2. Not necessary for them to remain a part of the greater European narrative and all that that brings (relative to military coups etc).
The problem is that the Syriza leadership doesn't even accept 1. and 2. so what hope is there?
That is enough for today!
(c) Copyright 2015 William Mitchell. All Rights Reserved.