The Job Guarantee is a progressive vehicle for change
In my search for new terminology and descriptors I am no longer going to use "minimum wage" to describe the wage that a currency-issuing government should pay when implementing a Job Guarantee (JG). In the past I have written that to avoid disturbing private sector wage structure and to ensure the JG is consistent with stable inflation, the JG wage rate is best set at the minimum wage level. I have also indicated that the minimum wage should not be determined by the capacity to pay of the private sector, but should, rather be an expression of the aspiration of the society of the lowest acceptable standard of living. My view is that any private operators who cannot "afford" to pay the minimum should exit the economy. I also have proposed that the JG wage should be supplemented with a wide range of social wage expenditures, including adequate levels of public education, health, child care, and access to legal aid. Finally, I have stressed for many years that the JG does not replace conventional use of fiscal policy to achieve appropriate social and economic outcomes. In general, the JG would be accompanied by higher levels of public sector spending on public goods and infrastructure. I have written several times, in various outlets (academic, Op Ed, blog), that I see the JG as part of a fundamental transformative agenda to broaden the concept of work and to allow all people to receive a dignified and appropriate access to the distribution system. That message doesn't seem to get through. So from now on the JG wage will be referred to as the living wage. Further, recent discussions of the JG reveal that commentators who criticise it do so from a standpoint of ignorance – a problem that is engendered by the blogosphere, which should be a liberating force, but in my view seems to unfortunately spawn narrow-mindedness and an anti-intellectual approach to policy debates.

For all my JG blogs go to the articles that appear under the – Job Guarantee Category. Bear in mind that these are more specific blogs about the JG and are supported by many other articles, which outline theory, data etc. You can start to learn the macroeconomic essentials by accessing the blogs under the – Debriefing 101 Category – of my blog.
These blogs, however, are just an entree into my work on the topic. The substantive literature is in the academic domain, which has been developed over many years. I decided to start a blog in 2004 to provide a more public focus for some of this literature in terms of summary points and ease of exposition. But one should not assess the concept of a JG by only considering the blogs, or a subset of them, perhaps the latest blog on the topic.
I think the blog platform is a potentially liberating force in society as it breaks the hold that the publishing companies (whether they be academic or media) have on the dissemination of information and argument.
However, I have observed a tendency in the blogosphere for participants (particularly commentators) to see it as a platform for the knee-jerk venting of raw prejudice. I read statements such as "Bill Mitchell wants everyone to be enslaved in a low wage job", and comments such as that, which then leads the commentator to wax lyrical about how stupid or oppressive or part of the system I am.
It is clear that these commentators haven't read very much of my work; have never considered the nuance that you will find in it; and haven't considered that I (and the rest of the original MMT proponents) might have anticipated and addressed all of the likely criticisms of an employment guarantee that could be raised in the long literature that we have constructed on the topic.
Each new commentator – seems to think they have a privileged position to rant about our work without any knowledge of the long-history of that work.
While it is clear – if you read the many articles, books etc that I have published in the academic literature – that I consider the JG to be part of a liberal and radical agenda to transform the way we use the economy to advance a very broad and egalitarian conception of public purpose, the blogosphere commentators still seem content to conduct their attacks on spurious grounds.
The critics on both sides of the political divide conservative and progressive, still cannot seem to get all that. Progressives, for example, claim the JG is akin to slavery or servitude and a vehicle for defending the status quo of industrial capital.
I think that the JG is difficult for Americans to understand in its complexity, in part, because the term "minimum wage" carries such stigma there, given that nation's appalling history of minimum wage setting. So consistent with the points made in our paper – Framing Modern Monetary Theory – the use of language to frame responses to ideas that are not part of the mainstream is important.
It clearly goes beyond language though. An educated debate considers all possible angles. Curiosity leads one to dig as deeply as they can into the extant literature to see where ideas have come from and to trace the "struggle" that the proponents of the ideas have had in coming to their positions. I use struggle in the intellectual sense – as the working out of ideas and the complexity of the internal debates that a researcher has as they put together what they consider to be a coherent world view based on the conceptual framework and evidence-base that they assemble.
I always ask the questions – why? (does writer make a claim), how? (did they arrive at that), what? (are the nuances, qualifications, meanings, historical evolution, etc) – when I read something as I am making an assessment about whether the ideas constitute knowledge or should rather be considered statements of religious faith (ideology).
There was a response to our paper – Framing Modern Monetary Theory – on Naked Capitalism over the weekend (December 8, 2013) – Modern Monetary Theory Meets George Lakoff – which attracted many comments.
I don't want to discuss each comment or any particular comment but rather reiterate my view that the JG provides a path to a liberating progressive alternative and is not akin to accepting the status quo.
I consider the JG to be superior in this regard – as part of an overall progressive socio-economic strategy aimed at achieving fundamental social change away from individualism towards a caring collectivism where the economy is driven by us to deliver benefits to the planet and the people who occupy it – than the options proposed by the proponents of a basic income guarantee.
I did some updating of the data covering the US minimum wage today. The US Department of Labor provides a well documented site outlining – US Minimum wage rules.
The following graph shows the movement in real federal minimum wages (deflated by CPI-1) from 1968 to 2013 where I indexed the series to be 100 in 1968.
It shows the – Real National Average Wage Index – provided by the US Social Security Administration over the same period (also deflated by the CPI-W series).
The red line is the labour productivity per hour (indexed to 100 in 1968), which is available from the – US Bureau of Labor Statistics.
Labour productivity growth provides the "space" for non-inflationary growth in nominal wages because proportional growth in both leaves unit costs unchanged. Another way of saying this is that non-inflationary real wages growth is provided for by productivity growth. There is a very detailed literature on all of this.
I could have used a number of comparative wage series and the result would have been the same. Overall, real wages growth in the US has been very modest indeed and have trailed labour productivity growth by an almost unbelievable margin.
The real average wage index grew by 23 per cent between 1968 and 2012 while the labour productivity index grew by 133 per cent.
The gap between real wages growth and labour productivity growth broadly represents the change in distribution of national income away from wages towards profits over this period.
The lot of the federal minimum wage workers, however, is even more dire. They have experienced a cut in real wages of around 30 per cent since 1968. So none of the productivity growth in the US has been to the benefit of this group.
I realise there are other real income sources for low wage workers (food stamps etc) but these non-wage benefits do not go anywhere near providing for growth in real living standards for workers locked into minimum wage jobs.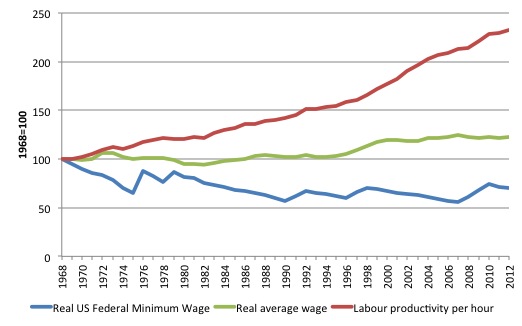 The US Bureau of Labour Statistics – TED: The Editor's Desk – has estimated that "In 2012, there were 3.6 million hourly paid workers in the United States with wages at or below the federal minimum wage of $7.25 per hour. These workers made up 4.7 percent of the 75.3 million workers age 16 and over who were paid at hourly rates".
These workers were concentrated in "leisure and hospitality (about 19 percent)".
The proportion of minimum wage workers in the US is declining (the figure was close to 9 per cent in 1980 for example).
The US Congressional Budget Office produced this report in 2011 – Changes in the Distribution of Workers' Hourly Wages Between 1979 and 2009 – which analyses the shifts in the wage distribution in the US.
The wage distribution in the US has become more dispersed in this period with the top 10 per cent experiencing significantly stronger growth in real hourly wages than the 50th percentile and the 10th percentile. The gap between the 50th percentile and the 10th percentile remained stable over the last 20 years.
While 4.7 per cent of workers in the US received the minimum wage (as noted above), the 10th percentile only received $US8 per hour in real terms in 2009, which was equivalent to a real minimum wage (in 2009 dollars) of $US6.25.
So a considerable number of workers are receiving hourly pay that is close to the federal minimum.
The point of all this is that the US has a very blighted history of minimum wages growth. It is no wonder progressive thinkers consider it an outrage and jump on suggestions that a comprehensive job creation program might be based on "minimum wage jobs".
It would be reasonable to heap scorn on me if I was proposing a "progressive solution" that made the current US minimum wage the wage norm for the job creation program.
And to some extent, the use of the term "minimum wage" in the JG literature by myself and others invites that sort of response. Language matters.
But having said that, it is also beholden on any progressive to consider the broader context of proposals. As a minimum, the enquiry should include the literature trail that supports the proposal.
If one takes the time to fully document the JG proposal they would find – as above – that I consider the current US minimum wage to be an outrage, especially when you also consider the dearth of social wage accompaniments such as the quality of health care and public education in the US.
It is in that context that I am now eschewing the use of the term minimum wage in favour of living wage, which dissociates the JG proposal from current US minimum wage settings. I should note that the federal minimum wage in Australia is also outrageously low and should be increased considerably and accompanied by a fundamental review of public provision of education, health care, child care etc (in favour of more)!
Using the term "living wage" forces the reader to ask further questions, such as, what is the "living wage"? How might we calculate that? Who is responsible for its maintenance and enforcement? What is the logic of such a concept?
Then the reader will be forced to read the broader literature and not jump to spurious conclusions about the proposal.
But I want to go further than this.
Work is intrinsic to human existence. We seek to transform nature to live. Certainly, history has evolved to the stage where the organisation of that effort – Capitalism – is oppressive and the anathema of liberation, despite the wage form making it look as though we have freedom to choose.
But we need to separate the specific form of work organisation from the intrinsic meaning of work for people. People will still seek ways to "work" and will have to work, even if we liberate ourselves from the specific yoke of Capitalism.
In the commentary of the Naked Capitalism piece noted above we see that a JG is "silly and backward" and would create "drone factories" or an "army of shoe-shine boys", etc
Apparently, "MMT isn't a program for social change" and "On most of the major economic challenges facing our society, MMT has no specific proposal on offer".
When we wrote that a call for "Jobs for all" is broadly acceptable, the response was "This is not "radical", it's called slavery"
And further, "MMT is still contained within an existing conceptual framework that Mitchell does not yet seem to see or question".
These are representative of many comments we read about MMT around the Internet.
None of those comments provides an accurate description or assessment of my work on MMT or the JG.
First, as Louisa Connors and I wrote in our recent paper "Framing Modern Monetary Theory":
While MMT provides an accurate description of how the capitalist monetary system operates and can support policies prescriptions consistent with either the individualistic or collective value systems, we prefer to situate this challenge within a collective vision of public purpose.

A related advantage for progressives of promoting public awareness in MMT is that the ideological basis of conservative policy agendas would become more transparent. It could no longer be said that fiscal austerity needs to be imposed because the government has run out of money. It is anticipated that if the public were to have a better understanding of how the system actually works and could correctly distinguish between fiscal space constraints and ideological constraints, we would end austerity and demand policy responses that enhanced our collective and individual wellbeing.
In my own writing, I have sought to separate the conceptual nature of Modern Monetary Theory (MMT) from the value system that we might overlay that conceptual structure.
The combination of the two "layers" then define the "program" that one would propose. I think in my writing there is a very detailed "program" advocated that is supported in terms of macroeconomic sustainability by the MMT propositions that we have articulated.
Second, I have written extensively (alone and with others) on the superiority of employment guarantees over income guarantees. Please read my blog – Employment guarantees are better than income guarantees – for more discussion on this point.
But if you want a deeper, academic discussion, then we have published several peer-reviewed articles on the topic that the above blog merely summarises.
In summary, I don't think humans should be treated as meagre "consumption units" and I oppose the use of a Basic Income Guarantees as the primary means of poverty reduction for the following reasons:
It creates a dependency on passive welfare payments.
It creates a stigmatised cohort.
It does not provide any inflation buffer and is inconsistent with the macroeconomic principles spelt out by MMT.
It does not provide any capacity building. A BIG treats people who are unable to find adequate market-based work as "consumption" entities and attempts to meet their consumption needs. However, the intrinsic social and capacity building role of participating in paid work is ignored and hence undervalued. It is sometimes said that beyond all the benefits in terms of self-esteem, social inclusion, confidence-building, skill augmentation and the like, a priceless benefit of creating full employment is that the "children see at least one parent going to work each morning". In other words, it creates an intergenerational stimulus that the BIG approach can never create.
Unlike the BIG model, the Job Guarantee model meets these conditions within the constraints of a monetary capitalist system.
The JG is a far better vehicle to rebuild a sense of community and the purposeful nature of work. It is the only real alternative if intergenerational disadvantage is to be avoided.
It also provides the framework whereby the concept of work itself can be broadened to include activities that many would currently dismiss as being leisure, which is consistent with the aspirations of some BIG advocates.
And that takes me to the third point of today's blog.
There has been considerable research done by social scientists which suggests that people still consider work to be a central aspect of life and there are deep-seated views about deservingness and responsibility for one's circumstances. These views translate into very firm attitudes about mutual obligation and how much support should be provided to the unemployed.
These attitudes while mostly unhelpful are ingrained and will take time to shift. Further, most unemployed workers indicate in surveys that they prefer to work rather than be provided with income support.
If the vast majority of workers prefer to work then the systemic failure to provide a sufficient quantum of jobs imposes harsh costs that can be alleviated by the introduction of a Job Guarantee. In this regard, the Job Guarantee is a source of freedom – the capitalist property relations notwithstanding.
I accept that some people – the so-called "sea-changers" – do not value work in any intrinsic sense and if confronted with the choice between the Job Guarantee and a Basic Income would take the latter option every time. A blanket Job Guarantee is coercive in its impact on this particular group.
Please read my blog – Would the Job Guarantee be coercive? – for more discussion on this point.
The future of paid work is clearly an important debate. The traditional moral views about the virtues of work – which are exploited by the capitalist class – need to be recast.
Clearly, social policy can play a part in engendering this debate and help establish transition dynamics. However, it is likely that a non-capitalist system of work and income generation is needed before the yoke of the work ethic and the stigmatisation of non-work is fully expunged.
The question is how to make this transition in light of the constraints that capital places on the working class and the State. BI advocates think that their approach provides exactly this dynamic.
Clearly, there is a need to embrace a broader concept of work in the first phase of decoupling work and income. However, to impose this new culture of non-work on to society as it currently exists is unlikely to be a constructive approach. The patent resentment of the unemployed will only be transferred to the "surfers on Malibu" (using Van Parijs' conception of life on the Basic Income)!
The Job Guarantee in fact provides a vehicle to establish a new employment paradigm where community development jobs become valued. Over time and within this new Job Guarantee employment paradigm, public debate and education can help broaden the concept of valuable work until activities which we might construe today as being "leisure" would become considered to be "gainful" employment.
So I would allow struggling musicians, artists, surfers, Thespians, etc to be working within the Job Guarantee. In return for the income security, the surfer might be required to conduct water safety awareness for school children; and musicians might be required to rehearse some days a week in school and thus impart knowledge about band dynamics and increase the appreciation of music etc.
Further, relating to my earlier remarks – community activism could become a Job Guarantee job. For example, organising and managing a community garden to provide food for the poor could be a paid job.
We would see more of that activity if it was rewarded in this way.
Start to get the picture – we can re-define the concept of productive work well beyond the realms of "gainful work" which specifically related to activities that generated private profits for firms.
My conception of productivity is social, shared, public … and only limited by one's imagination.
In this way, the Job Guarantee becomes an evolutionary force – providing income security to those who want it but also the platform for wider definitions of what we mean by work!
Further, at present, the private sector in some capitalist economies (notably, the English-speaking ones) has reduced unemployment but this has come at the expense of creating increasing time-related underemployment (with implied inadequacy of employment situations).
It is highly likely that the introduction of the Job Guarantee will place pressure on private employers, particularly in the low-skill service sectors to restructure their workplaces to overcome the discontent that their underemployed workers feel.
A full-time Job Guarantee position at wages not significantly different from the low pay in the private sector service industries would appear attractive relative to a private job that rations the worker hours.
In this regard, the Job Guarantee would offer flexibility to workers. Some would prefer part-time jobs while others would require full-time jobs within the Job Guarantee.
It should be obvious this flexibility can accommodate virtually any requirement of workers. Further, it is very easy to design the program in such a way that child care services will be provided by Job Guarantee workers, to accommodate parental needs.
Anyway, social attitudes take time to evolve and are best reinforced by changes in the educational system. The social fabric must be rebuilt over time. The change in the mode of production through evolutionary means will not happen overnight, and concepts of community wealth and civic responsibility that have been eroded over time, by the divide and conquer individualism of the neo-liberal era, have to be restored.
Conclusion
That seems like a very progressive view of the future than is indicated by the often-read blogosphere commentary about the JG and MMT.
And I have only just touched on how the JG fits into a transformative vehicle in this blog. I have written millions of other words in other places.
That is enough for today!
(c) Copyright 2013 Bill Mitchell. All Rights Reserved.