A lot to write about today
It is a holiday in Australia today and the sun is shining and so this blog will be very short. There are so many issues going on at present that it is hard to know which one to prioritise. Anyway …

I could have written about yesterday's data release (April 5, 2012) from the British Office of National Statistics released its latest – Index of Production, February 2012. This data has confounded the commentators who have been relying on more optimistic survey data from the industry lobby groups such as the Confederation of British Industry.
The following graph show the annual growth in real production in Britain since December 2009 and the pattern is clear.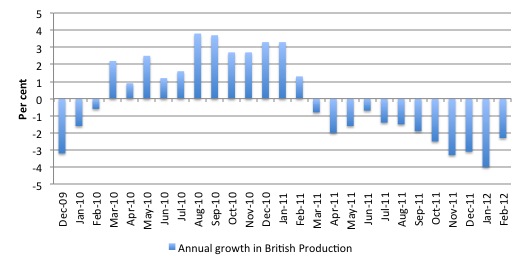 In terms of manufacturing, recent survey data has held out hope that British manufacturing would escape the worst of the Eurocrisis and the domestic austerity.
Economists had been predicting annual growth in output (of 0.1 per cent) but the reality was very different – an annual contraction of 1.4 per cent.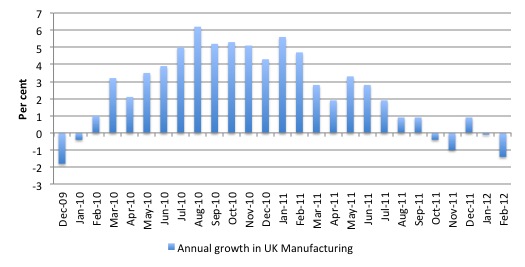 The UK Guardian article (April 5, 2012) – UK economy grew 0.1% to avoid recession, says NIESR reported that:
The UK economy has avoided a double-dip recession by the narrowest of margins, a leading thinktank predicted after a manufacturing slump underscored the fragile nature of Britain's recovery.
The growth prediction was for 0.1 per cent in the first quarter 2012 (to be revealed when the official national accounts data comes out later) which was almost held out as a celebration. In normal times – that is, when the public debate has not been so tainted with the fiscal austerity nonsense – this outcome and outlook would rightly be seen as disastrous.
Short of a major drop in labour force participation, the unemployment rate will continue to rise with growth as poor as this.
The Guardian quoted a bank economist as saying:
February's terrible industrial production figures put something of a dent in hopes of a decent increase in GDP in the first quarter
An understatement.
The Brits are still hanging out for an export-led recovery. It is unlikely to happen given the appalling state of Europe at present – driven back into recession by faulty policy.
Please read my blog – Fiscal austerity – the newest fallacy of composition – for more discussion on this point.
I could have written today about the statements made earlier this week, by the CBI deputy director-general had claimed that "there was cause for optimism" in Britain although UK is enduring a period of "economic detox" at present.
The CBI deputy director-general's was appearing on Sky News, the same organisation that has now admitted it engaged in illegal conduct (hacking) to further its commercial interests (they claimed it was to further "public interest" – see UK's Sky News hacked 'in public interest').
A process of Detoxification typically involves the "removal of toxic substances from a living organism, including, but not limited to, the human body and additionally can refer to the period of withdrawal during which an organism returns to homeostasis after long-term use of an addictive substance".
The analogy that the CBI official wanted to make was that austerity was purging the British economy of excessive government deficits, which will see it better off in the medium- to long-term.
The problem with this view is that the detox that is needed in the UK and elsewhere is in the private sector which is carrying unsustainable levels of debt as a result of the credit binge leading up to the crisis.
This is a balance sheet recession and policy makers need to understand what happened and why and what the "cure" has to be.
An ordinary recession – typically the result of growing pessimism among firms which then cut back investment – is usually short and sharp and recovery returns with a burst. That doesn't mean they are not damaging events. The principal role of government, in this context, is to ensure that the variations in aggregate demand are much lower than the variability of private capital formation (investment).
However, when the collapse in private spending occurs because the "private balance sheet" is way out of whack then the situation is very different.
The process of balance sheet adjustment in the private sector is very slow – perhaps up to 15 years will be required to work this out.
Thinking that the crisis is over once economic growth resumes is poor reasoning. Growth helps the private sector restructure its balance sheet but must be continually supported by budget deficits.
The policy debate is being conducted as if the slightest sign of growth is the time for a major fiscal contraction. What our governments should be doing is educating the public about what is going on and how long it will take to remedy.
In the meantime, we will have to get used to on-going budget deficits – one way or another.
Please read my blogs – Balance sheet recessions and democracy and Budget deficits are part of "new" normal private sector behaviour and Historically high budget deficits will be required for the next decade – for more information about balance sheet recessions.
I could have also written about how pervasive the corruption in News Corporation appears to be.
I could have written today about the report that has been released by the Californian Association of Scholars – A Crisis of Competence – which allegedly provides an unbiased account of "The Corrupting Effect of Political Activism in the University of California".
The CAS is a division of the National Association of Scholars which claims it is independent – apparently we should consider that an appeal to authority.
In fact, it is full of conservatives and is funded by some of the big conservative money interests. It tries to be an attack dog against "liberal bias" in the US Academy.
You might waste time scouring the NAS publication list – but if you do you will not find a single investigation into the right-wing bias of almost every economics department in the US (and beyond). They choose to attack the arts faculties and hate gender and race studies and anything else that might broaden the minds of students.
In short, the NAS opposes almost everything I find good about academic institutions and supports everything I find bad about them.
One leading academic, Stanley Fish, said that the National Association of Scholars (see this 1990 New York Times article – Campus Life: Duke; Scholars' Group, Accused of Bias, Divides Faculty):
… is widely known to be racist, sexist and homophobic
I discussed Stanley Fish in this blog – I feel good knowing there are libraries full of books – and you will see that he is hardly a gung-ho progressive.
I could have written at length about this but it is a holiday.
I could have written about the failed Spanish bond issue which forced the Banco de España, which handles the "financial services for government debt" to offer higher than expected yields at the latest auction as demand for 10-year bonds fell dramatically. Yields are now rising again.
You can access the latest data from the Banco de España – Public Debt Market Bulletin – which gives you all the price and volume information that you will need to form a view. It is in Spanish but the numbers don't lie.
This is the first auction since the Spanish government announced it would cut a further 16.9 per cent of government spending in the coming year,. which they claim will reduce the budget deficit by €27.3 billion. They are also increasing corporate taxes and cutting welfare benefits at a time when unemployment is approaching 25 per cent and youth unemployment is already spiralling beyond 50 per cent.
This is the largest budget "consolidation" in the post-Franco era in Spain and will fail badly.
It is clear that the bond markets (flushed with LTRO funds from the ECB) are now forming a view that the bailout train is heading west from Greece to Spain on its way to Portugal. Another train is heading for Italy.
The combination of harsh fiscal austerity and a continued belief that the government has to seek funds from the private bond markets is unsustainable. The ECB has to step up its SMP purchases and allow fiscal expansion.
Finally, on my sociopath theme yesterday – Sociopaths, closed minds and a bit of Mayan cosmology – I could have written about the Pastygate affair in Britain.
When an opposition MP challenged the Chancellor for increasing the VAT on pastries in the recent Budget, the Chancellor said:
If it's cold when you buy it, it will not be VAT-able.
The UK Sun chose to beat up the story – Let them eat cold pasty.
Another view was expressed in this article – Let Them Eat Cold Pasties! .
The Sun said that the Chancellor was branded a:
… modern-day Marie Antoinette for suggesting broke Brits could dodge the 20 per cent price hike by buying cold pasties, pies and sausage rolls.
True progressives will realise that the policy change will improve health and make the hot food industry more equitable (fish and chip shops have always paid the VAT).
They will also note that this is an arrogant government bent on wrecking the British economy and unable to respond to issues in an empathetic manner.
Conclusion
So a lot to write about – but I decided to be on holidays and enjoy the peace.
Saturday Quiz
A special holiday edition of the Saturday Quiz will appear tomorrow sometime. Look out for the trick question.
That is enough for today!