Martin Feldstein should be ignored
I am still away from my office and have had a full-day of meetings today – so very little time to write. But earlier today I read another one of those articles from a senior US academic economist about the need to cut aged pensions in the US because the government is running out of money. Martin Feldstein – a Harvard professor – has been found to have engaged in highly questionable conduct (to say the least) by investigations into the causes of the financial crisis. Feldstein must surely know that the government cannot run out of money. Which brings into question his motivation for providing misleading interventions into the policy debate. He has demonstrated over a long period his willingness to hide behind the "authority" of economic theory in order to pursue an ideological obsession with privatisation and deregulation. When writing what seemed to be academic papers or opinion pieces supporting financial deregulation, for example, he didn't at the same time declare that he was personally gaining from such a policy push. His subsequent track record as a board member of companies, some of which collapsed in the crisis (AIG) or triggered the collapse has been appalling. Feldstein is not the sort of person anyone should take advice from much less pay for it.

I read the statement made by the President of the US yesterday where he said:
The cause of securing our country is not complete. But tonight, we are once again reminded that America can do whatever we set our mind to. That is the story of our history, whether it's the pursuit of prosperity for our people, or the struggle for equality for all our citizens; our commitment to stand up for our values abroad, and our sacrifices to make the world a safer place.
I thought – yes America can do whatever it sets it mind to – except create enough jobs to ensure that families have secure incomes and children have a secure future. That relatively simple task seems to escape them. But then I thought about the wording more carefully and "whatever we set our mind to" became the focus.
There are millions of Americans unemployed including nearly one-quarter of 16-19 years old who desire to work – and the American government clearly "hasn't set its mind to" providing them with opportunities to work.
The world is certainly not a safer place for the unemployed.
It comes as no surprise though given the type of economist that provides the US government with advice – Summers, Rubin, etc – a long line of deregulating, in-it-for-themselves advisers. On February 9, 2009 Harvard professor joined a long line of such characters accepting official appointments. He was appointed to the US President's Economic Recovery Advisory Board which was formed top advise him on appropriate remedies to the crisis.
Feldstein would have been one of the last people I would have appointed to such a role given his background. You only have to read this Wall Street Journal article (May 2, 2011) – Private Accounts Can Save Social Security – where Feldstein advocates cutting public pensions for the aged because the US government cannot afford to pay such entitlements. He promotes the privatisation of the pension scheme.
By way of background, Feldstein was one of the economists named in the recent investigative movie – Inside Job – which the Director Charles Ferguson said was about "the systemic corruption of the United States by the financial services industry and the consequences of that systemic corruption."
Feldstein ran the Boston-based private organisation National Bureau of Economic Research for nearly 3 decades. The NBER provides an avenue for the mainstream economists to build national prestige and a range of influential appointments. If you examine the research and publication agenda of the NBER you will appreciate that under Feldstein's direction various mainstream economic policies were promoted – including his Wall Street Journal topic – privatising the US pension and the health systems.
They also pushed economic analysis claiming to justify the optimality of deregulating the financial sector.
Charles Ferguson wrote in The Chronicle Review (Chronicle of Higher Education):
Martin Feldstein, a Harvard professor, a major architect of deregulation in the Reagan administration, president for 30 years of the National Bureau of Economic Research, and for 20 years on the boards of directors of both AIG, which paid him more than $6-million, and AIG Financial Products, whose derivatives deals destroyed the company. Feldstein has written several hundred papers, on many subjects; none of them address the dangers of unregulated financial derivatives or financial-industry compensation.
For those who haven't seen the movie, here is a transcript of the segments with Feldstein. Arrogance understates his contribution to the movie.
Ferguson: Over the last decade, the financial services industry has made about 5 billion dollars' worth of political contributions in the United States. Um; that's kind of a lot of money.That doesn't bother you?

Feldstein: No.

Narrator: Martin Feldstein is a professor at Harvard, and one of the world's most prominent economists. As President Reagan's chief economic advisor, he was a major architect of deregulation. And from 1988 until 2009, he was on the board of directors of both AIG and AIG Financial Products, which paid him millions of dollars.

Ferguson: You have any regrets about having been on AIG's board?

Feldstein: I have no comments. No, I have no regrets about being on AIG's board.

Ferguson: None.

Feldstein: That I can s-, absolutely none. Absolutely none.

Ferguson: Okay. Um – you have any regrets about, uh, AIG's decisions?

Feldstein: I cannot say anything more about AIG
Later in the movie Ferguson re-engages with Feldstein:
Ferguson: You've written a very large number of articles, about a very wide array of subjects. You never saw fit to investigate the risks of unregulated credit default swaps?

Feldstein: I never did.

Ferguson: Same question with regard to executive compensation; uh, the regulation of corporate governance; the effect of political contributions –

Feldstein: What, uh, what, uh, w-, I don't know that I would have anything to add to those discussions.
Feldstein is not the sort of person anyone should take advice from much less pay for it.
In his Wall Street Journal article he exercised all the mainstream myths about pensions and claimed that "(e)ven Mr. Obama accepts the inevitability of lower future Social Security benefits". Which doesn't sit well with his speech yesterday which claimed that America was about "the pursuit of prosperity for our people".
Feldstein claims that the American pension system is collapsing because the dependency ratio is rising or in his words:
There are now three employees paying Social Security taxes to finance the benefit of each retiree. That number will fall over the next three decades to only two employees per retiree. This would require either a 50% rise in the Social Security tax rate to maintain the existing benefit rules, or a one-third cut in projected benefits to maintain the existing tax rate.
The correct statement is that the employees produce real goods and services which define the material standard of living for those who do not produce real goods and services (but may have in the past). The taxpayers only look as if they finance social security in the US because of the accounting arrangements that are in place to account for the tax receipts.
The reality is that the public pension scheme does not require any funding at all – as a branch of government it can always pay the pensions as long as they are denominated in US dollars.
So Feldstein is lying by claiming that tax rates have to rise or benefits fall. Neither is required when you understand the intrinsic financial issues involved.
So his claim that "(t)hat's why every serious budget analysis calls for reducing the growth of Social Security benefits" is spurious and just rehearses his regular calls to private social security and deregulate markets in general. He has no credibility at all on this position.
A serious budget analysis would suggest that health care costs are rising because the American government is too scared to introduce a competitive insurance scheme and the private insurance industry has excessive market power. In making that statement I am not acknowledging that there is a budget blowout issue. It is merely a reflection that Americans spend more on health per capita than anyone and are among the least healthy. Something is wrong and it is not an impending budget collapse.
All the tinkering with the US pension scheme such as that proposed by (as Feldstein says) "(t)he bipartisan Simpson-Bowles Fiscal Commission appointed by President Barack Obama" – like "slowing the rise in Social Security benefits by increasing the age at which full benefits would be payable, and by changing the benefit formula so that the ratio of benefits to previous wages gradually declines for most future retirees" – completely misrepresent the true nature of the problem facing a nation with a rising dependency ratio.
Feldstein chooses to perpetuate that ignorance presumably because he senses some personal gain in do so – given his track record that was exposed in the Inside Job.
What is the problem with a rising dependency ratio?
First of all, what is a dependency ratio?
The standard dependency ratio is normally defined as 100*(population 0-15 years) + (population over 65 years) all divided by the (population between 15-64 years). Historically, people retired after 64 years and so this was considered reasonable. The working age population (15-64 year olds) then were seen to be supporting the young and the old.
The aged dependency ratio is calculated as:
100*Number of persons over 65 years of age divided by the number of persons of working age (15-65 years).
The child dependency ratio is calculated as:
100*Number of persons under 15 years of age divided by the number of persons of working age (15-65 years).
The total dependency ratio is the sum of the two. You can clearly manipulate the "retirement age" and add workers older than 65 into the denominator and subtract them from the numerator.
In the US Bureau of Labor Statistics publication – Monthly Labor Review (November 2009) – there was an article Labor force projections to 2018: older workers staying more active, which provided information about the dependency ratio in the US.
The publication defined the "economic dependency ratio" as:
… a measure of the number of persons in the total population (including the Armed Forces overseas and children) who are not in the labor force, per hundred of those who are.
The following graph (taken from BLS data) projects the economic dependency ratio out to 2018. No particular issues are noted.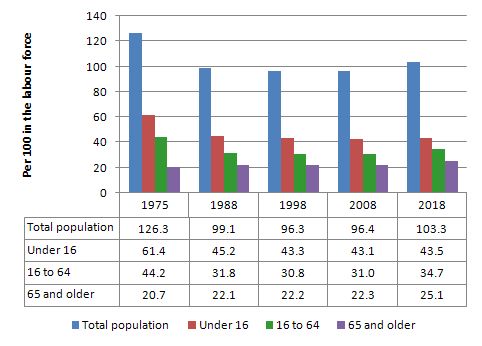 In this paper – Age Dependency Ratios and Social Security Solvency – which was prepared by the US Congressional Research Service at The Library of Congress is interesting because it considers dependency ratio projections out to 2018. It doesn't get the economics correct (presuming there might be a social security funding problem should thedependency ratio worsen) but it seems to get the demographics correct. It concludes:
If one considers the 130 year period from 1950-2080, the greatest demographic "burden" – when the number of dependents (children plus the elderly) most exceeds persons in the working-age population – is already in the past
Anyway my point isn't to argue whether the dependency ratio as traditionally defined is rising or falling. I do not consider that to be an issue of social security solvency. However, I do see it as an issue in terms of the provision of real goods and services.
Interestingly, the BLS Monthly Review noted above also highlights the dramatic decline in participation rates particularly among males in the US.
The standard measures of dependency are partial at best. If we want to actually understand the changes in active workers relative to inactive persons (measured by not producing national income) over time then the raw computations are inadequate.
To get a more detailed view of "dependency" we consider the so-called effective dependency ratio which is the ratio of economically active workers to inactive persons, where activity is defined in relation to paid work. So like all measures that count people in terms of so-called gainful employment they ignore major productive activity like housework and child-rearing. The latter omission understates the female contribution to economic growth.
Given those biases, the effective dependency ratio recognises that not everyone of working age (15-64 or whatever) are actually producing. There are many people in this age group who are also "dependent". For example, full-time students, house parents, sick or disabled, the hidden unemployed, and early retirees fit this description.
However, usually the unemployed and undereemployed are not included in this category because the statistician counts them as being economically active. But clearly in terms of defining the problem as being one of ensuring their is enough real output available for each of the future generations to enjoy they should be included. Not only for the dramatic loss of current output that mass unemployment creates but also the dynamic intergenerational impacts that unemployment delivers.
For example, teenagers who endure entrenched unemployment are typically not able to acquire the necessary skills which maximise their potential productivity in adult life. So the "dependency" is magnified across time even if they subsequently gain work.
If we then consider the way the neo-liberal era has allowed mass unemployment to persist and rising underemployment to occur you get a different picture of the dependency ratios. The adjusted ratio for the US at present and into the future is much worse than the official estimates would suggest.
I do not have time to day to make those calculations but the point is important.
The reason that mainstream economists believe the dependency ratio is important is typically based on false notions of the government budget constraint. So a rising dependency ratio suggests that there will be a reduced tax base and hence an increasing fiscal crisis given that public spending is alleged to rise as the ratio rises as well. So if the ratio of economically inactive rises compared to economically active, then the economically active will have to pay much higher taxes to support the increased spending. So an increasing dependency ratio is meant to blow the deficit out and lead to escalating debt.
These myths have also encouraged the rise of the financial planning industry and private superannuation funds which blew up during the recent crisis losing millions for older workers and retirees. The less funding that is channelled into the hands of the investment banks the better is a good general rule.
But all of these claims are not in the slightest bit true and should be rejected out of hand. It is not a financial crisis that beckons but a real one. Are we really saying that there will not be enough real resources available to provide aged-care at an increasing level? That is never the statement made.
The actual challenge of an ageing population is that more real resources will be required "in the public sector" than previously. But as long as these real resources are available there will be no problem. In this context, the type of policy strategy that is being driven by these myths will probably undermine the future productivity and provision of real goods and services in the future.
The irony is that the pursuit of budget austerity will undermine the ability of nations to provide these required flows of real goods and services. Fiscal austerity entrenches unemployment and usually leads governments to target public education almost universally as one of the first expenditures to be reduced.
Most importantly, maximising employment and output in each period is a necessary condition for long-term growth. The emphasis in mainstream integenerational debate that we have to lift labour force participation by older workers is sound but contrary to current government policies which reduces job opportunities for older male workers by refusing to deal with the rising unemployment.
Consider the state of the teenage labour market in the US – these are the workers of the future. The more productive they are the more likely that the US will be able to continue to provide high material standards of living to its citizens over the next 40-50 years.
If you wanted to see the real dependency problem in the US you might start with this graph which is taken from US Bureau of Labor Statistics data (Labour Force Survey) and shows the teenage (16-19 years) unemployment rate. It currently stands at 24.5 per cent.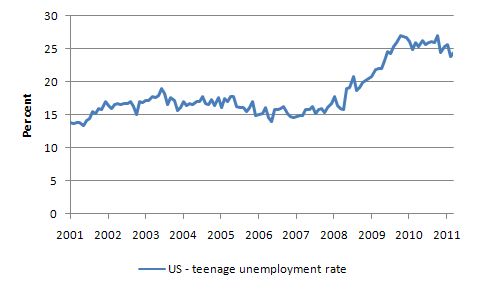 Making a job available to all those who desire to work will have a positive impact on the true dependency ratio is desirable. But policies which entrench unemployment and encourage increased casualisation which allows underemployment to rise are not a sensible strategy for the future. The incentive to invest in one's human capital is reduced if people expect to have part-time work opportunities increasingly made available to them.
These issues are about political choices rather than government finances. The ability of government to provide necessary goods and services to the non-government sector, in particular, those goods that the private sector may under-provide is independent of government finance.
Any attempt to link the two via fiscal policy "discipline:, will not increase per capita GDP growth in the longer term. The reality is that fiscal drag that accompanies such "discipline" reduces growth in aggregate demand and private disposable incomes, which can be measured by the foregone output that results.
Clearly surpluses helps control inflation because they act as a deflationary force relying on sustained excess capacity and unemployment to keep prices under control. This type of fiscal "discipline" is also claimed to increase national savings but this equals reduced non-government savings, which arguably is the relevant measure to focus upon.
Feldstein is among the senior economists who choose to ignore these realities. He is obsessed with privatisation and deregulation and so constructs everything within that lens. So his solution to the "impending fiscal crisis" is to propose a private "investment based accounts" as the basis for future Social Security in the US.
He claims that:
The challenge is how to assure that future retirees have accumulated adequate investment-based accounts to supplement Social Security and Medicare. Experience in a wide range of companies shows that a voluntary system can work if employees are automatically enrolled to have payroll deductions deposited into such accounts. Even though employees have the option to stop depositing, they do not do so. Inertia is a powerful force.
No, the challenge is to assure that future retirees have access to the desired level of real goods and services. The pension payments from government should be pitched at a level that provides an adequate access. That is not a challenge at all for a sovereign government. The challenge is ensuring there are the real goods and services available.
It might be politically determined that the society does not want the aged to have such access and future governments would have to deal with that political mandate and presumably cut aged pensions. But that would not be driven by any fiscal issue. As long as there is a mandate to provide a certain level of pension support and that level was backed by the availability of real goods and services then the US government will be able to honour that provision.
Feldstein knows that. But he wants a greater access to real goods and services for himself and his ilk and that can be more easily accomplished by denying access to others via spurious arguments about affordability.
Conclusion
The idea that it is necessary for a sovereign government to stockpile financial resources to ensure it can provide services required for an ageing population in the years to come has no application. It is not only invalid to construct the problem as one being the subject of a financial constraint but even if such a stockpile was successfully stored away in a vault somewhere there would be still no guarantee that there would be available real resources in the future.
The best thing to do when faced with an ageing population is to maximise incomes in the economy by ensuring there is full employment. This requires a vastly different approach to fiscal and monetary policy than is currently being practiced.
This should be accompanied by a strong commitment to public education to ensure that the potential of all citizens irrespective of private means or background is maximised.
If there are sufficient real resources available in the future then their distribution between competing needs will become a political decision. Economists have nothing to say about that.
Long-run economic growth that is also environmentally sustainable will be the single most important determinant of sustaining real goods and services for the population in the future. Principal determinants of long-term growth include the quality and quantity of capital (which increases productivity and allows for higher incomes to be paid) that workers operate with. Strong investment underpins capital formation and depends on the amount of real GDP that is privately saved and ploughed back into infrastructure and capital equipment. Public investment is very significant in establishing complementary infrastructure upon which private investment can deliver returns. A policy environment that stimulates high levels of real capital formation in both the public and private sectors will engender strong economic growth.
The worst thing for a government to do is oversee persistent unemployment and rising underemployment. The next worst thing they can do is hire lackeys like Feldstein to misrepresent the worst thing they are doing!
Postscript
Since when do people who end speeches with God Bless and all others who profess a love for humanity and forgiveness find it acceptable to publicly express satisfaction that another human being is dead No matter what that person did an eye for an eye is a poor basis for justice. Please don't assume I support anybody or any cause – I just prefer consistency.
That is enough for today!
]]>