We're sticking to our strict fiscal rules
I am travelling today and have commitments which will take me into the night. So I have limited blog time. But there is always something to say and while I might say the same thing often I figure that there are thousands of commentators to my one who all say the same (different) thing every day. Anyway today you will learn that the Japanese government can call on the central bank to buy its bonds whenever it wants. You will also learn how crazy the British government is and how obsessive compulsive behaviour locks a nation into slow growth and entrenched unemployment. We're sticking to our strict fiscal rules – no matter what! Simple conclusion for today – the budget madness continues.

There have been a bevy of commentators recently saying that Japan's central bank is barred by law from directly purchasing primary issue bonds of the Japanese government. The insinuation is that the Japanese government is truly at the mercy of bond markets who will eventually foreclose on them and refuse to lend any money.
The reality is different. The Japanese government is only "at the mercy" of the bond markets if it wants to be – just like all governments which issue their own currency. The intrinsic characteristics of the fiat monetary system make it possible for the government to spend whenever it chooses without recourse to finance. That is the basis status of a sovereign government.
Under pressure from conservatives etc, governments erect an array of voluntary constraints to make it politically harder for them to run deficits. Please read my blog – On voluntary constraints that undermine public purpose – for more discussion on this point.
These constraints work to limit government net spending as we have seen over the last 40 years since the Bretton Woods system collapsed and governments were free to spend what they liked (courtesy of the fiat monetary system). In the current recession, while governments responded with fiscal stimulus packages they have been only just enough to stop the world from slipping into depression.
At a time when governments should be increasing their discretionary net spending they are now moving to cut. The legacy of that madness is the persistently high unemployment and the growing numbers of long-term unemployed.
Anyway in a statement made by the Bank of Japan Governor Masaaki Shirakawa to the Japanese Diet (Parliament) yesterday (March 23, 2011) we learned that under Japanese law, the central bank only needs the permission of the Diet to push Japanese government bonds directly. That is the Ministry of Finance spends and the central bank credits relevant bank accounts. Bond markets – cold-shouldered.
The law allows for this under "extraordinary circumstances but this is determined by the Diet.
And perhaps that is why the bond markets are happy to buy Japanese government debt at low yields – they know that if they don't the central bank will!
But in that context, the statement from the BOJ Governor that Japan's "fiscal situation is very severe" and that the "investors' trust in the country's policy makers is keeping bond yields low" doesn't make much sense to me – other than being a conservative political statement aiming to advance ideological ambitions.
He was quoted by Bloomberg as saying:
If a central bank starts to underwrite government bonds, there may be no problems at first, but it would lead to a limitless expansion of currency issuance, spur sharp inflation and yield a big blow to people's lives and economic activities.
Limitless in relation to what?
As long as the budget deficits are filling the spending gap left by external deficits and private domestic saving (as a sector) and the economy is not over-stretching the real capacity of the resource base to respond to this nominal demand in real terms (that is, by producing output) the statement by the BOJ Governor is to be interpreted as conservative ideological rhetoric.
There is no problem … at first … at second … and forever … if government deficits (facilitated by the central bank crediting bank accounts on behalf of the treasury and accepting some treasury paper for accounting purposes) continue to fill spending gaps in this manner.
So all those commentators who think the earthquake and tsunami has presented the Japanese fiscal crisis – by which they mean – the government cannot afford to pay for the reconstruction – should now desist. The "problem" that has been keeping them awake at nights is solved.
If the bond markets are sick of the corporate welfare that the issuance of government bonds provides them (that is, a risk-free annuity), then the Diet just rings up the BOJ and tells them to keep crediting those bank accounts.
The real problem for Japan will be the lost capacity that has resulted from the damage. This might limit the speed in which the economy can grow for a while. It is unlikely that there will not be enough real resources available to actually facilitate the reconstruction. If there are then the Government will free to purchase and mobilise them.
End of story!
Please read my blog – Earthquake lies – for more discussion on this point.
My mate Warren Mosler has a tag on his E-mail signature line about the US that goes like this:
Because we believe we can be the next Greece, we continue to work to turn ourselves into the next Japan.
Today his comment on the Bank of Japan governor's statements were:
Because they think they could be the next Greece they *are* Japan.
Comedy segment over! (I laughed).
But while we might laugh the actual reality is tragic. In response to the BOJ governor's admission that the central bank could directly by government debt the Vice Finance Minister Fumihiko Igarashi told the Diet that the government:
… needed to be "cautious" in considering whether to have the BOJ make direct purchases.
He said that the Government is instead considering a mix of "Bond sales, cuts to other spending and tax measures" to pay for reconstruction. This is in the context of an economy with very significant non-government savings and stagnant growth and an expectation that its export performance will plunge in the coming year because factories are closed and infrastructure damaged.
I guess that is why they *are* Japan.
British budget 2011
Which brings me to my one word analysis of the UK budget – appalling.
And then a few more words … Looking through the Budget documents – you soon get drowned in neo-liberal terminology.
We read that an aim is to "keep debt and debt interest paid by the Government – and ultimately the taxpayer – lower than would otherwise have been the case".
When I would say that the "taxpayer" never pays for this interest but some taxpayers receive it as income!
Again, the UK Treasury doesn't seem to understand the monetary system it operates within. Consider this example:
Events in the euro area periphery illustrate the problems that can be caused by heightened market concerns regarding fiscal sustainability. A key lesson from recent events is that once market sentiment turns against a sovereign issuer, it is extremely difficult to regain. Retaining fiscal credibility is therefore critical.
There is no "key" lesson here for anyone. Britain rejected an invitation to join the Eurozone (a wise decision) so it retained its currency sovereignty. The problems that "non-sovereign" Eurozone governments are having raising funds has no relevance for Britain.
Market sentiment cannot dominate the fiscal capacity of a sovereign government.
So the above statement is not only inapplicable but also plain wrong.
It is also clear that the whole UK Government strategy is based on very optimistic (unreal) estimates of real growth. Even with those pie-in-the-sky estimates out to 2015, here is a chart I created from their unemployment rate estimates. So they are predicting the official unemployment rate will stay above 8 per cent through 2012 and drop to 7.6 per cent through 2013.
The Budget papers don't show the data before the crisis. This graph is from 2000 to 2015 and includes the data included in the budget estimates (green segment). Even after five years of the Government's so-called "growth" strategy (joke!) the unemployment rate would still be around 2 percentage points above the pre-crisis level.
So the Government is abandoning its responsibility (under ILO and UN human rights treaties to which it is a signatory) for providing jobs for all. It is allowing millions to wallow in joblessness for years.
The problem is that the progressive voice is mired in contests with the conservatives about making "fiscal consolidation" fairer.
Dear Progressives,
The British economy needs further fiscal stimulus. Without it, millions will remain jobless. Go figure.
best wishes
bill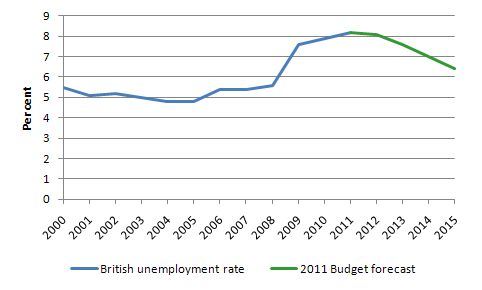 I could go on analysing the UK Budget but time isn't in my favour today. The message should be clear.
And if you thought Australia was ahead of the pack …
Think again.
As background, the latest Australian Labour Force data was not encouraging. Here is my blog on that data release – Australian labour market – mixed signals – but subdued overall.
The December quarter National Accounts were also not very encouraging. Here is my blog on that data release – Australian National Accounts – I wouldn't say the economy is great.
There is an array of other economic data which indicates the Australian economy is slowing to a crawl and unemployment and underemployment will remain high for the foreseeable future.
The mining sector is booming because our terms of trade (export prices relative to import prices) are booming. But that sector is not adding to overall real economic growth (given net exports are still negative).
The withdrawal of the fiscal stimulus is exposing how weak private spending is at present. Households are carrying record levels of debt (relative to disposable income) and are trying to increase their saving ratio to provide some risk management.
Private capital formation (investment) is mixed but overall weak.
So growth is slowing …
Then we read a – Ministerial statement to the Australian Parliament from yesterday (March 24, 2011) where the Treasurer outlined the following extraordinary logic:
Mr Speaker, it is against the backdrop of these natural disasters that we will spend the coming weeks putting the final touches on our fourth budget.

Recent events – both here and abroad – will make a difficult task even more difficult. The early years of the budget estimates will bear the brunt of the rebuilding and recovery costs, and Government revenue will also take a hit from weaker growth in the short term.

But keeping our budget on track to return to surplus by 2012-13 is the right economic strategy for an economy which is expected to be pushing up against its capacity over the coming years. Just as it was the right thing to step in and support demand during the global recession, it is the right thing to do to step back when private demand is strengthening.

We've already put in place around five and a half billion dollars in savings to meet the cost of rebuilding from the floods and cyclone. And we're sticking to our strict fiscal rules, including our cap on real spending of 2 per cent or less in above trend growth years. We understand that this will mean that we need to do a lot of things in this Budget that won't be popular, but they'll be the right thing to do.
That is how far askew things have become in the public debate. This statement is from one of the most senior politicians in our land. It was an amazing example of budget lunacy. He is exhibiting obsessive compulsive behaviour which will damage our nation.
First, there has never been any economic or financial logic in pursuing a budget surplus by 2012-13. That was just a political imposition so the government could ward off the conservative claims that it was reckless in introducing the stimulus packages.
The facts are clear:
the external sector is rarely in surplus – so typically drains expenditure.
the private domestic sector is carrying too much debt which has to be divested through saving.
the labour underutilisation rate (fancy name for wasted available labour) is 12.2 per cent at present.
core inflation has been falling and at any rate the current cost pressures (energy and food) are not sensitive to monetary policy.
Taken together, the import of these facts is obvious.
For growth to continue at a pace that is sufficient to reduce the appalling wastage rate of our precious labour resources, net public spending has to be positive and larger than what it currently is.
Net public spending … is the same thing as … the … budget deficit (lets not say it aloud)!
The government is claiming that we will be at full employment and capacity by 2012-13. From what means? Not at the rate we are going at present. Growth is well below trend at present and private spending remains subdued.
The idea that you would move to achieve a surplus by 2012-13 by cutting net public spending now is irresponsible given the context of the economy.
The Government should have maintained the stimulus with appropriate design to allow the spending to decline as privately-motivated growth picked up. Then if by 2012-13 we were getting a net positive contribution to growth from the mining sector and/or private domestic spending sufficient to drive growth and reduce unemployment and underemployment – the Government might be justified in saying a budget withdrawal is necessary.
I preface that statement by noting that private debt levels have to drop to provide some financial stability to that sector. This will require a saving effort over many years (given the time that the households and firms overall binged on credit). That process has to be supported by government deficits given that net exports are not sufficient to drive the necessary income growth.
There is nothing coming out of the Treasurer's office that suggests he understands any of that. His stubborn entreaty that "we're sticking to our strict fiscal rules" just sounds like obsessive compulsive behaviour to me.
Second, the idea that because growth is faltering – and the automatic stabilisers (lost tax revenue, less saving in welfare outlays) are pushing the deficit higher – that the Government has to impose even more austerity is breathtaking … at the very least.
Horse before the cart! The budget outcome should never be a "rule" that is blindly followed. As I have noted previously, the budget outcome is not something the Government can control very easily. It can try but ultimately it is private spending decisions that determine the final outcome.
If a government pursues austerity thinking each dollar it cuts is a dollar in budget shrinkage it will typically fail. Why? Because the austerity reduces national income which impacts negatively on private spending, which, in turn, further reduces national income. The negativity of the austerity reverberates throughout the economy.
As the economy declines, the falling tax revenue and increased welfare outlays increase the budget deficit (or reduce an existing surplus). The faster the government cuts the worse the situation will get.
So the last thing you would do when there is already evidence that government revenue is about to "take a hit from weaker growth" is deliberately cut back net public spending because the projections now suggest you won't achieve your preconceived budget goal.
Fiscal policy is a living art form. It requires sound judgement and the ability to be flexible and move with changing circumstances. Setting fiscal rules is the anathema of that reality.
It also requires us to understand that the budget outcome is part of the overall "system solution" and depends on private and public spending decisions. Trying to control an outcome is irresponsible and fraught.
The more appropriate role of government is to target real outcomes – like employment and output growth to ensure unemployment and waste is minimised. The budget will be whatever it takes to achieve those goals … and that is just fine.
"Sticking to our strict fiscal rules" is just an admission that the Treasurer has no flair.
Conclusion
I have to finish on that note.
Sovereign governments who don't want to be sovereign – that is what this is all about.
That is enough for today!