So near but so far … from comprehension
I have very little time again today so to the point! Sometimes you are reading an article or column and you nod along saying – yeh, that is correct, this writer understands it … and then crunch … the brick wall appears – one word, one phrase, one sentence, one paragraph and all that bonhomie evaporates and you realise that the writer isn't as cognisant of the way the macroeconomy works as you first thought. It is a case of so near but so far.

Such was my experience early this morning when I read the latest Financial Times article (March 15, 2011) by Martin Wolf – Japan can meet the earthquake test.
Wolf is writing about the ability of the Japanese people to meet the monumental challenge that they now face to restore a sense of stability to their communities and then seek renewed prosperity.
He concluded that the Japanese people have demonstrated their considerable mettle in the past and he hoped their leaders were capable of stepping up to the plate to match their resilience and sense of purpose.
Wolf wrote:
If any civilisation is inured to such tragedies it is Japan's. Its people will cope. This seems certain. A bigger question is whether something more positive might emerge from the tragedy. Japan's bickering politicians are on trial. Can they sustain the mood of national unity? If so will they use it to take Japan out of the doldrums of the past two decades?
I agree with most of this. The Japanese people have been beset by considerable anguish in the past (and delivered considerable anguish on others too don't forget).
The problem is that their government is pretty much incapable of dealing with the economy as they flee into conservatism. All the talk of putting taxes up to "pay for" the reconstruction effort is beyond belief.
Wolf also attacked the notion that is now circulating that Japan cannot afford to meet the fiscal challenge presented by the devastating natural disaster.
Please read my blog – Earthquake lies – for more discussion on this point.
Wolf assesses the damage of the disaster as being less in:
… magnitude as that of the global financial crisis. That drove down Japan's GDP by 10 per cent between the first quarters of 2008 and 2009, the steepest decline in the Group of Seven leading high-income countries. The impact of this shock will certainly be far smaller.
Given that the reconstruction will add to GDP growth (via public investment) this is probably a reasonable assessment although doesn't have any bearing on the Japanese government's capacity to meet its spending obligations in terms of an appropriate reconstruction.
In terms of the fiscal position, Wolf said that once you consider the likely impact on revenues and outlays:
… these sums are too small to have any meaningful bearing on fiscal solvency.
I agree that the sums involved will be rather small in relative terms but at this point Wolf was losing me. The implication of his assessment is that the Japanese government does have a solvency risk but not just yet at this scale of deficit.
The reality is that the Japanese government has no solvency risk at all in relation to its net spending position and the debt issuance that matches it (nearly). It is grossly misleading to leave the impression that it is just because the reconstruction sums are small that their is no insolvency risk.
Then the wheels fell off.
He considers the point that the deficit terrorists (most mainstream economists) are raising as to:
… whether Japan's government can afford additional spending.
His immediate conclusion is that these commentators "need not do so" – that is, should not be concerned. I agree entirely. The fact they are concerned demonstrates that they do not understand the way the fiscal policy dynamics work within a fiat monetary system.
The national government of Japan can always afford to purchase concrete, wood, steel, glass, health care, road contractors etc as long as those resources are available for sale in Yen.
There is no question about that. It issues the currency as a monopoly provider (that is, as a consolidated treasury/central bank unit). It doesn't make any sense to say that the issuer of the currency can be constrained in terms of using that currency.
Intrinsically that cannot be the case. Politically, it is a different matter and the politicians might attempt to put themselves in a straitjacket and pretend that they have to spend on a quantity rule – which means that they set some budget deficit limit and allocated funds to that limit.
But the imposition of such constraints would not be based on anything operational or intrinsic in relation to the characteristics of the monetary system the government oversees. It would be short-sighted and damaging conservatism – an act of vandalism such that we saw in 1997 when the deficit terrorists held political sway and successfully pressured the Japanese government to tighten fiscal policy.
The 1997 GDP plunge – just as the economy was beginning to recover from the property crash in the early 1990s – followed this stupidity. Fortunately the government realised this mistake and started supporting growth again from 1998 onwards and by the time the financial crisis hit the economy was starting to look to be in better shape.
Wolf, however, has a different view on affordability and it is here that you have to be attune to the detail to understand why this next tract gives the game away totally (if the previously comments on insolvency hadn't already achieved that end):
Japan can and unquestionably will pay these relatively modest sums. The Japanese private sector runs a financial surplus large enough to cover the government's deficit and export substantial capital abroad. Japan as a whole is the world's largest creditor, with net external assets equal to 60 per cent of GDP. In short, the assets of Japan's private sector vastly exceed the liabilities of its public sector.

The government's debt is a way for the Japanese to owe money to themselves. At some point, no doubt, that debt will turn into taxation, either overt or covert (the latter via inflation and reductions in the value of Japanese government debt). Since total government receipts are still only 33 per cent of GDP, raising taxes should really not be so hard. The idea that the government confronts an imminent fiscal crisis strikes me as quite bizarre.
Correct conclusion – "The idea that the government confronts an imminent fiscal crisis strikes me as quite bizarre". Total ignorance leads to conclusions that there will be a fiscal crisis.
Terrible justification though. Others have noticed this point as well (cheers Rob in SF). I will return to this in a moment.
Some theory
Before we consider the problem I have with Wolf's reasoning we need some theory.
Consider the following table which is a macroeconomic transactions table which, in this case, simplifies the components of GDP. Here, Gross Domestic Product, Y, is equal to Private expenditure, PX, plus government expenditure, G, plus exports, X, minus imports, M.
The external – Rest of World (ROW) account – reveals that imports minus exports and transfers paid by the external sector, TF, equals the balance of payments deficit.
Every item in the Production (GDP) account is matched by a corresponding negative entry in some other column.
Taxes net of transfers are received by the government. Net property income, taxes and transfers, TF and TP, are paid by the external and private sectors, respectively.
The final row totals reveal that public sector net borrowing, PSNB, equals the private net acquisition of financial assets, NAFA (private savings less investment) minus the balance of payments surplus (or plus the deficit), BP.
You can read more about these tables in a working paper I wrote with a colleague in 2008 – available HERE. The paper was subsequently published but this version is close enough to the final version and is free to access.
Please read my blog – Stock-flow consistent macro models – for more discussion on this point.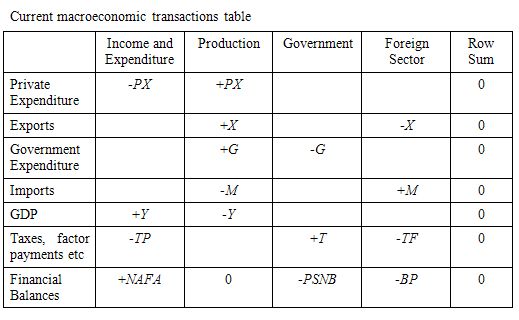 From the perspective of a stock-flow consistent approach to macroeconomic modelling, the fundamental accounting identity states that government savings (surplus) or tax revenue net of government spending and payment of interest on bonds is equal to the non-government sector's dis-saving.
This is inescapable and an artefact of the way the National Accounts are constructed. It is not my opinion or a matter of interpretation.
So public sector net borrowing equals the private net acquisition of financial assets (private savings less investment) minus the balance of payments surplus (or plus the deficit).
As governments moved away from deficit spending at levels typical of the post-war period of full-employment, private sector debt levels have escalated. This is one of the defining characteristics of the neo-liberal period.
The reason why this has happened is that causality flows from fiscal policy to the private sector simply because economic influences over the rest-of-the-world account change quite slowly, with income effects dominating over the price effects that are championed by mainstream macroeconomists.
In contrast, fiscal policy responds immediately to government decisions about spending and taxing. The transmission mechanism behind these changes is complex, as it operates within a portfolio setting, by changing relative rates-of-return between real investment, the equity-premium, and the term structure of bonds.
Japan, as we will see, has experienced slightly different trends than other advanced nations because it has a strong net exports sector, is culturally attuned to higher private domestic saving ratios, and suffered its property crash some two decades before everyone else.
The bottom row in the current transactions table sums to zero and is just another way of expressing the sectoral balances that I have written about often.
Please read my blogs – Barnaby, better to walk before we run – Stock-flow consistent macro models – Norway and sectoral balances – The OECD is at it again! – for more discussion on this point.
The bottom row can be re-written in more familiar terms – the accounting identity for the three sectoral balances:
(S – I) = (G – T) + (X – M)
This says in English that total private domestic savings (S) is equal to private domestic investment (I) plus the public deficit (spending, G minus taxes, T) plus net exports (exports (X) minus imports (M)), where net exports represent the net savings of non-residents.
Thus, when an external deficit (X – M < 0) and public surplus (G - T < 0) coincide, there must be a private deficit. While private spending can persist for a time under these conditions using the net savings of the external sector, the private sector becomes increasingly indebted in the process. When there is an external surplus, the public (budget) balance may be in surplus while still permitting the private domestic sector to save. This is the Norwegian situation. But when private savings desires are strong (and overwhelm the external surplus) as in Japan, then you have to have a public (budget) deficit to support growth. I will come back to that point soon after considering the sectoral balances for Japan. The following graph shows the sectoral balances for Japan from 1980 to 2010 (using IMF WEO data).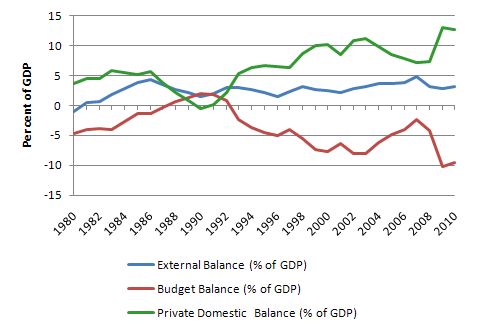 You can see that there is a fairly stable external surplus arising from trade in Japan although it certainly took a hit in the recent downturn.
In that context, you will also observe that the private sector surplus has increased steadily since the early 1990s with some fluctuations. The growth in private net saving has been in line with the long term increase in budget deficits.
The public balance has been in deficit (and rising) since the property crash in the early 1990s.
In line with our previous (causal) understanding, the persistent and substantial fiscal deficits have "financed" the saving desires of the private sector and helped to maintain positive levels of real activity in the economy. These relationships demonstrate the strength of fiscal policy to underwrite economic activity.
The way this works is simple but not well understood (and totally misrepresented by the neo-liberals and Wolf).
Economic growth – in terms of income and output – that is, GDP growth – requires growth in aggregate demand (spending). If one of the aggregate spending components noted above falls – for example, the private domestic sector increases its desire to net save and implements that desire by cutting back on consumption and/or investment – then for economic growth to continue at its current rate one of the other sectors has to come to the party.
So a rise in net exports could maintain growth and/or a rise in net public spending (that is, a rising budget deficit).
If net exports are relatively steady, then a fall in private spending overall has to be met with a rise in net public spending if growth is to be maintained.
The ability of the private domestic sector to save is also dependent on the level of income. If income rises, saving rises and vice versa. So if the government doesn't come to the party and boost spending when private spending falls, income will fall but so will private saving.
Once you understand that basic macroeconomic dynamic then you will easily be able understand that it is the rising budget deficits which are driving income growth in Japan and thus "financing" the desire of the private sector to save.
Wolf – gets this wrong
Wolf, however, gets this causality wrong.
Wolf has been introducing the sectoral balances into his analysis increasingly over the last few years. The only problem is that you have to interpret them and use them with some basic prior understandings.
Yes, the private domestic sector in Japan does run a huge financial surplus – it spends less than it earns by far. There are various reasons for this – some cultural – some institutional (which might be reflect culture) – but it is a reality.
Yes, the external sector runs a surplus too which adds to growth in net terms. Net exports took a beating in downturn but are showing signs of recovery.
But the conclusion that the government will be able to afford the reconstruction effort because the "Japanese private sector runs a financial surplus large enough to cover the government's deficit" is incorrect.
It implies that the deficit draws on past private saving and requires that saving for funding. That is misinformation.
Reflect back on the previous discussion about the way in which budget deficits "finance" private saving desires and maintain income growth consistent with those desires. Understanding that point should lead you to conclude that without the deficits there would be no realisation of the private saving desire (for a constant external position) because aggregate demand would falter and income growth would fall.
The reality is that net government spending provides the funds that are borrowed back. The borrowing is totally unnecessary for the government to spend. It is totally sovereign in its own currency.
That is the reason that the Japanese government will be able to "afford" to reconstruct its northern regions (subject to real resource availability). It has nothing at all to do with the private surpluses. They will fall if the deficit was cut.
The Japanese economy beguiles analysts who attempt to apply orthodox macroeconomic theory to its aggregates. It is clear that Japan has had the highest public debt ever recorded and faced repeated downgrades from the ratings agencies. It has also run persistently large fiscal deficits for more than 20 years.
Every day the Bank of Japan issues as many treasury bills as it likes at virtually zero interest yields. Further, inflation has been low and sometimes negative since 1991. So if deficits really caused high interest rates and/or runaway inflation, Japan would have revealed these pathologies years ago.
The fact is the Bank of Japan does not completely drain the "fiscal wash" every day with its treasury bill issue and in this way allows competition between the commercial member banks to keep the short-term interest rate at around zero.
This, in turn, allows the longer rates to be as low as possible and provide a favourable climate for investment. In turn, the fiscal stimulus is designed to counteract the deflationary impacts of the private saving.
I also dispute the Ricardian overtones that the "debt will turn into taxation, either overt or covert". It might if the politicians are stupid. But there is no financial necessity for it to do so.
Tax rates might rise in the future but that would only reflect the need to slow private demand to prevent inflation from occuring. They are so far from that situation at present.
Please read my earlier blogs – Balance sheet recessions and democracy and Japan – up against the neo-liberal machine – for further discussion on Japan.
Conclusion
So I agree with Wolf's conclusion that:
The idea that the government confronts an imminent fiscal crisis strikes me as quite bizarre.
I just wish he had have explained that conclusion in a better way without all the mis-information which really plays into the hands of the mainstream.
That is enough for today!