There is no solvency issue for a sovereign government
Yesterday, I indicated that I would provide some commentary on the latest Morgan Stanley briefing (August 25, 2010) – Sovereign Subjects – which received a lot of press coverage in the last few days and roused the interest of many of my readers. I cannot link to it as it is copyrighted. But the MS document is another example of how you can spread nonsense by ignoring the elephant that is sitting in the corner of the room. The MS briefing is essentially a self-aggrandising rant which perpetuates the standard neo-liberal myths and offers nothing new. I sincerely hope that the author's company and all of their clients take his advice and lose significant amounts of their investment funds. The more losses are made in this respect the more quickly people will see through the cant that is served up by these clowns.

The report was written by one Arnaud Marès who you can telephone and set him straight on (44 20) 7677 6302. He used to work in the United Kingdom Debt Management Office and before that worked at the European Central Bank (from 1999 to 2004). Prior to that he worked in various banks.
Somewhere along the way he became sure he had something to say that was important but forgot the important bit.
Marès claims the:
The sovereign debt crisis is not European: it is global. And it is not over.
There is no debt crisis in sovereign nations. The only public debt problems that have emerged in the current crisis have been in non-sovereign countries and even then with appropriate "fiscal support" those crisis were managed. I am referring to the intervention by the ECB when they decided to purchase outstanding public debt in the secondary bond markets – which amounte to a fiscal act within a flawed monetary system.
But blurring the distinction between sovereign and non-sovereign nations is the starting gate for this absurd journey in self-importance that Marès has produced.
The report is "the first issue of Sovereign Subjects" which is "a new Morgan Stanley publication focusing on sovereign risk in advanced economies". Please write to Morgan Stanley and tell them that the publication is a crock and they should save their time by not producing a second issue.
The first issue of this propaganda document perpetuates some classic myths and then some.
Marès starts by breaking out of the mould and asserting that:
… debt/GDP is the most widely used debt metric, but we believe that it is a very inadequate indicator of government solvency.
From a Modern Monetary Theory (MMT) perspective public Debt/GDP ratios have no relevance at all. What exactly do they tell us? The implication is that the bigger the economy the larger the tax base and so the government can support more debt. But a sovereign government does not need to tax to spend and its taxation powers serve different functions. Please read my blog – Functional finance and modern monetary theory – for more discussion on this point.
It might be that the size of the economy limits nominal government spending because it provides some indication of the real resource base but that doesn't tell us anything about the capacity of the government to service any outstanding debt. A sovereign government can always service its nominal debts. It simply credits a bank account when the interest or maturity payments are due.
So I agree with Marès the debt/GDP ratio is a "very inadequate indicator of government solvency". The MMT indicator of government solvency is to determine the nature of currency issuance and the currency composition of the public debt held (foreign or domestic currency) – more about which later.
Marès list four reasons why what might look like sustainable debt/GDP ratios are misleading.
His first reason is that you should focus on net rather than gross indebtedness. He rightfully notes that usually the former is a much lower figure. But still any financial ratio of this ilk is irrelevant to assessing solvency or not. Marès certainly doesn't appreciate that.
Second, he claims that debt/GDP ratio:
… only accounts for part of a government's contractual liabilities. There exists a broad range of liabilities that are debt, yet are not captured in national accounts. To take one example, in March 2008 the UK Government Actuary Department valued the government's unfunded civil service pension liabilities – that is, the contractual claims on government accumulated to date by civil servants – at £770 billion. That is 58% of GDP, not captured by the debt/GDP ratio. Debt/GDP does not capture contingent liabilities either.
Response: so what? None of the liabilities (public service pensions) are of any concern unless of-course the whole public service was closed down immediately and the government had to suddenly spend very large amounts relative to the capacity of the economy to absorb the increased nominal demand.
But even in that case, the pensions would, in all likelihood, be held in the form of savings and would not enter the spending stream anyway. Further, liabilities such as public service pensions are actuarially assessed each year and there is no risk to the government.
The overriding point, however, is that a sovereign government can always fund its liabilities as long as they are denominated in the currency that it issues under monopoly conditions.
To put a finer point on this – at the height of the recent financial crisis, when pension entitlements were being written off as wealth collapsed, the government could have protected all recipients 100 per cent if it thought it was politically and socially useful to do so. There was never a financial constraint on the government from bailing out all funds that made losses. I wouldn't have advocated it doing so but it could have.
Marès then really starts clutching at the straws of ignorance. He claims that:
It is not GDP but government revenues that matter: Whatever the size of a government's liabilities, what matters ultimately is how they compare to the resources available to service them. One benefit of sovereignty is that governments can unilaterally increase their income by raising taxes, but they will only ever be able to acquire in this way a fraction of GDP. Debt/GDP therefore provides a flattering image of government finances. A better approach is to scale debt against actual government revenues … An even better approach would be to scale debt against the maximum level of revenues that governments can realistically obtain from using their tax-raising power to the full. This is, inter alia, a function of the people's tolerance for taxation and government interference. Seen from this angle, the US federal debt no longer compares quite so favourably with that of European governments.
Where do you start with that nonsense? Continuing yesterday's theme – there is a huge elephant hovering nearby. State and local governments that do not have currency issuing powers have to worry about their revenue bases.
The financial resources available to a sovereign government (defined in the MMT sense) are, if you like, equal to infinity minus 1 dollar. The concept of a revenue base has no meaning to a truly sovereign government. The only limitations on government spending are political in the first instance, and then, ultimately, the availability of real goods and services to buy.
Scaling public debt against a current or prospective tax base has no meaning in this context. A sovereign government can always fund any of its liabilities (that are denominated in its own currency) independent of the state of the business cycle (and its tax revenue).
Taxation does not function to raise funds to permit spending. It helps free real resources in the private sector and in that sense provides non-inflationary space for governments to spend and pursue their socio-economic programs. But that is quite a different matter to being necessary to raise funds that the government can then spend.
The government does not need funds to spend. It credits bank accounts courtesy of its unique position as the monopoly issuer of the currency.
That is the elephant. The reason the likes of Marès cannot mention it is because then they would have to have a discussion about the relationship between currency and inflation. They prefer just to assert the totally discredited Quantity Theory of Money which claims that any expansion of the money supply is inflationary. The theory does not accord with what we know from the real world.
The Quantity Theory of Money is written in symbols as MV = PQ. This just means that the money stock (M) times the turnover per period (V) is equal to the price level (P) times real output (Q). The mainstream assume that V is fixed (despite empirically it moving all over the place) and Q is always at full employment as a result of market adjustments.
So in applying this theory they deny the existence of unemployment and excess capacity. The more reasonable mainstream economists admit that short-run deviations in the predictions of the Quantity Theory of Money can occur but in the long-run all the frictions causing unemployment will disappear and the theory will apply regardless.
It is, of-course, trivial to conclude that if V and Q fixed, then changes in M will be reflected in P – which is the basic Monetarist claim that expanding the money supply is inflationary. They say that excess monetary growth creates a situation where too much money is chasing too few goods and the only adjustment that is possible is nominal (that is, inflation).
One of the contributions of Keynes was to show the Quantity Theory of Money could not be correct. He observed price level changes independent of monetary supply movements (and vice versa) which changed his own perception of the way the monetary system operated.
Further, with high rates of capacity and labour underutilisation at various times (including now) one can hardly seriously maintain the view that Q is fixed. There is always scope for real adjustments (that is, increasing output) to match nominal growth in aggregate demand. So if increased credit became available and borrowers used the deposits that were created by the loans to purchase goods and services, it is likely that firms with excess capacity will respond by increasing real output and employment. The empirical world provides that lesson over and over again.
So while Marès is pretending to offer new insights that should bias us against government spending (and debt issuance) he is really just operating within the tired and irrelevant orthodox (gold standard/convertible currency) paradigm which is known as the government budget constraint (GBC) in the literature.
This framework is based on the accounting relationship linking the budget flows (spending, taxation and interest servicing) with relevant stocks (base money and government bonds).
This framework has been interpreted by the mainstream macroeconommists as constituting an a priori financial constraint on government spending and by proponents of Modern Monetary Theory (MMT) as an ex post accounting relationship that has to be true in a stock-flow consistent macro model but which carries no particular import other than to measure the changes in stocks between periods.
As noted above, these stock changes are also not particularly significant within MMT given that a sovereign government is never revenue constrained because it is the monopoly issuer of the currency.
The way the mainstream macroeconomics textbooks build their flawed narrative is to draw an analogy between the household and the sovereign government and to assert that the microeconomic constraints that are imposed on individual or household choices apply equally without qualification to the government.
The narrative then shifts, without explanation, from an ex post sum that has to be true because it is an accounting identity, to an alleged behavioural constraint on government action.
The GBC is always true ex post but never represents an a priori financial constraint for a sovereign government running a flexible-exchange rate non-convertible currency.
The GBC literature emerged in the 1960s during a period when the neo-classical microeconomists were trying to gain control of the macroeconomic policy agenda by undermining the theoretical validity of the, then, dominant Keynesian macroeconomics.
The neo-classical attack was centred on the so-called lack of microfoundations (read: contrived optimisation and rationality assertions that are the hallmark of mainstream microeconomics but which fail to stand scrutiny by, for example, behavioural economists).
This was a very technical debate (beyond today's blog) but the whole agenda was total nonsense and reflected the desire of the mainstream microeconomists to represent the government as a household and to "prove" analytically that its presence within the economy was largely damaging to income and wealth generation.
Anyway, just as an individual or a household is conceived in orthodox microeconomic theory to maximise utility (real income) subject to their budget constraints, this emerging approach also constructed the government as being constrained by a budget or "financing" constraint. Accordingly, they developed an analytical framework whereby the budget deficits had stock implications – this is the so-called GBC.
So within this model, taxes are conceived as providing the funds to the government to allow it to spend. Further, this approach asserts that any excess in government spending over taxation receipts then has to be "financed" in two ways: (a) by borrowing from the public; and (b) by printing money.
You can see that the approach is a gold standard approach where the quantity of "money" in circulation is proportional (via a fixed exchange price) to the stock of gold that a nation holds at any point in time. So if the government wants to spend more it has to take money off the non-government sector either via taxation of bond-issuance.
However, in a fiat currency system, the mainstream analogy between the household and the government is flawed at the most elemental level. The household must work out the financing before it can spend. The household cannot spend first. The government can spend first and ultimately does not have to worry about financing such expenditure.
From a policy perspective, they believed (via the flawed Quantity Theory of Money) that "printing money" would be inflationary (even though governments do not spend by printing money anyway. So they recommended that deficits be covered by debt-issuance, which they then claimed would increase interest rates by increasing demand for scarce savings and crowd out private investment. All sorts of variations on this nonsense has appeared ranging from the moderate Keynesians (and some Post Keynesians) who claim the "financial crowding out" (via interest rate increases) is moderate to the extreme conservatives who say it is 100 per cent (that is, no output increase accompanies government spending).
So the GBC is the mainstream macroeconomics framework for analysing these "financing" choices and it says that the budget deficit in year t is equal to the change in government debt (ΔB) over year t plus the change in the monetary base (ΔH) over year t. If we think of this in real terms (rather than monetary terms), the mathematical expression of this is written as:

which you can read in English as saying that Budget deficit (BD) = Government spending (G) – Tax receipts (T) + Government interest payments (rBt-1), all in real terms.
However, this is merely an accounting statement. It has to be true if things have been added and subtracted properly in accounting for the dealings between the government and non-government sectors.
In mainstream economics, money creation is erroneously depicted as the government asking the central bank to buy treasury bonds which the central bank in return then prints money. The government then spends this money. This is called debt monetisation and we have shown in the Deficits 101 series how this conception is incorrect. Anyway, the mainstream claims that if the government is willing to increase the money growth rate it can finance a growing deficit but also inflation because there will be too much money chasing too few goods! But an economy constrained by deficient demand (defined as demand below the full employment level) responds to a nominal impulse by expanding real output not prices.
But because they believe that inflation is inevitable if "printing money" occurs, mainstream economists recommend that governments use debt issuance to "finance" their deficits. But then they scream that this will merely require higher future taxes. Why should taxes have to be increased?
Well the textbooks are full of elaborate models of debt pay-back, debt stabilisation etc which all "prove" (not!) that the legacy of past deficits is higher debt and to stabilise the debt, the government must eliminate the deficit which means it must then run a primary surplus equal to interest payments on the existing debt.
Nothing is included about the swings and roundabouts provided by the automatic stabilisers as the results of the deficits stimulate private activity and welfare spending drops and tax revenue rises automatically in line with the increased economic growth. Most orthodox models are based on the assumption that full employment prevails continually anyway, which makes them nonsensical depictions of the real world.
Finally, you can now see why conflating the fiscal situation in the US with that of a Eurozone nation which is not sovereign is a sign that Marès doesn't understand the way different monetary systems operate. He clearly does understand or doesn't want his readers to understand that the Eurozone is an entirely different monetary system to that operating in nations where the national government has a currency issuing monopoly and floats that currency in international markets.
The fourth argument he makes about the lack of relevance of debt/GDP ratios is that:
Debt/GDP looks at the past. The main problem is in the future: The fourth and largest flaw of debt/GDP is that it is an entirely backward-looking indicator. It only accounts for the accumulation of past deficits. This captured reasonably well the magnitude of the fiscal challenge at the end of World War II because at that time the challenge did indeed result entirely from the past: large wartime deficits had pushed debt ratios higher, but governments were no longer running deficits, nor were there expectations of them doing so in subsequent years.
By contrast, the accumulation of past deficits now represents only part of the problem for advanced economies' governments. The other part consists of coping with the large structural deficits opened up by the crisis and compounded by the fiscal consequences of ageing. What raises questions about debt sustainability is not so much current debt levels as the additional debt that will accumulate in coming years if policies do not radically change. Debt ratios do not capture this part of the problem.
First, governments in most nations ran deficits in the post World War II period and everyone (including the markets) came to expect deficits as being normal. It is false to claim otherwise. It is only in the last three decades as the neo-liberal onslaught ensued that deficits have been demonised.
Second, the accumulation of past deficits in the form of net financial assets including outstanding government bonds represent a significant portion of the wealth held by the private sector. The likes of Morgan Stanley have made profits by using government bonds to their advantage. The interest servicing payments by government on outstanding debt constitute private income. There is no problem.
Third, the "ageing problem" is not a financial issue for government. It may be a political problem if the younger generations rebel against providing increased public care to their parents. It may also be a real problem – that is, there may not be enough real resources to service all the competing needs. Those sorts of problems are always resolved (more or less satisfactorily) by political processes.
A sovereign government will always be able to "buy" health and aged care services if they are available for sale in the currency of issue. There is no financial problem. There are not questions of fiscal sustainability in this respect.
Please read the suite of blogs – Fiscal sustainability 101 – Part 1 – Fiscal sustainability 101 – Part 2 – Fiscal sustainability 101 – Part 3 – for more discussion of this issue.
Marès conducts some analysis of the "costs of ageing" but never once mentions real resources, which are the only actual costs of any economic use.
He then decides to present Exhibit 3 (reproduced below) which purports to show "a stylised representation of the government balance sheet". Marès claims that:
On the asset side is the power to tax, which is the main asset and resource of any government. It can be conceived as a variable rate claim on GDP, where the rate depends on the level of taxation. Its value on the balance sheet is therefore the net present value of all future tax revenues. On the liability side appears a 'social' liability, which represents the promise of the government to its electorate to spend resources on defence, justice, education, health and any other existing government policy. Its value is the net present value of all future primary expenditure. The difference between the power to tax and the social liability is the net present value of all future structural primary deficits (by definition, the cyclical component of the deficit should sum up to zero over time).
This extraordinary piece of deception ignores the fact that the main economic asset a sovereign government has is it monopoly over currency-issuance.
This asset allows the government if it has the political will to pursue public purpose and create full employment.
The power to tax is an important aspect of gaining currency legitimacy (creating a demand for the currency) and is an important counter-stabilising policy tool. But it should never be set against the public liabilities that are serviced by government spending as if it "funds" that spending.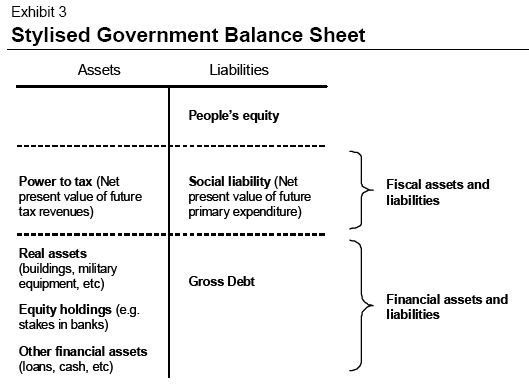 Marès then confuses the fiscal position of a sovereign government with that of a revenue-constrained corporate entity:
The residual is represented on the balance sheet as the people's equity, by analogy to a corporate balance sheet. This is effectively the net worth of the government in the broadest sense, and a measure of its solvency.
There is no legitimate comparison here. The meaning of capital in the balance sheet of a private corporation has no carry over to the public space when we are considering a sovereign government.
It is not a measure of the solvency of a sovereign government. By definition a sovereign government is always solvent unless it takes on debts that are not denominated in the currency of issue. Then solvency issues may arise.
Marès claims that if the residual if the residual (the gap between its tax revenue and its liabilities) is:
… negative, the government is insolvent. In other words, some or all of its stakeholders must suffer a loss: either taxpayers (through a higher tax burden), or beneficiaries of public services (through lower expenditure) or bond holders (through some form of default).
That is a preposterous claim. A sovereign government can run permanent deficits forever. It may not be desirable to do that – given the state of the external and private domestic sector spending but that is a different matter.
What might constitute prudent policy aiming to maintain full employment doesn't negate the fact that there is no solvency risk for a sovereign government. The only risk ultimately is inflation if the government spends too much relative to the real capacity of the economy to absorb it. Then taxation may place a counter-stabilising role.
The final section of the MS paper is focused on the form in which governments will default. Marès says:
It is not whether to default, but how, and vis-à-vis whom. What this means is that – as indicated above – governments will impose a loss on some of their stakeholders and have in fact started to do so (across Europe at least). The question is not whether they will renege on their promises, but rather upon which of their promises they will renege, and what form this default will take.
Once again conflating non-sovereign nations such as exist in the Eurozone with fully sovereign nations is not valid.
Further, the only "defaults" that have occurred in Europe with respect to the stakeholders have been driven by the neo-liberal obsession with austerity. The Eurozone problem is not one of debt default but rather a flawed monetary system that does not have adequate fiscal responsiveness to crisis and places too much power into the hands of the bond markets.
Having said that, the ECB has demonstrated in recent months that it can engage in what is essentially a fiscal operation and take all pressure of national governments within the Eurozone to "finance" their spending.
So the only reason that other governments will start punishing stakeholders (via tax increases or otherwise) is if they believe the sort of nonsense that Marès is propagating and think they have a financial problem that has to be dealt with.
If they fully understand the nature of the monetary system they oversee and the capacity they have within that system as the monopoly issuer of the currency then there will be no reason to renege on any promises.
But Marès acknowledges that "(t)his is ultimately a question of political economy" but doesn't seem to realise that this also means it is not a financial question.
At the end of the paper, he decides that governments may not engage in outright default but will deflate the debt burdens away. He had to get the inflation threat in there somewhere. He says:
Outright sovereign default in large advanced economies remains an extremely unlikely outcome, in our view. But current yields and break-even inflation rates provide very little protection against the credible threat of financial oppression in any form it might take.
"Unlikely", "might" – all the weasel words that the neo-liberals use when the empirical world doesn't support their arguments. It is interesting that bond investors keep queuing up for more debt because they know it makes them wealthier. As it has been doing for years.
Conclusion
There is no credible threat of default and inflation is not a policy threat at present.
Digression: this weekend
My old band from Melbourne – Pressure Drop – has decided to reform and this weekend I am flying to Melbourne for our first get together in 29-odd years. The band was very popular in the Melbourne scene in the 1970s and early 1980s. It went into its long hiatus when I decided that I wanted to do a PhD and drop out of the professional music scene for a while.
We have all been playing in other bands since then and have now decided to come back together and do gigs as Pressure Drop about once a month for the time being. We will also release a CD in the months ahead. So for me it is a chance to play with my old professional colleagues and good friends again but without having to endure the financial strains that trying to survive as a professional musician used to bring.
Saturday quiz
It will appear sometime tomorrow with Answers and Discussion being available on Sunday.
That is enough for today!