The Covid trade-off between health and the economy did not exist
With yesterday's detail CPI analysis, I am transferring the news/music blog post that normally appears on a Wednesday to today. This morning, I read the newly published report from the UK-based – Institute for Public Policy Research – Health and prosperity: Introducing the Commission on Health and Prosperity (released April 27, 2022) – which provides a sobering (to say the least) evidence base for how the pandemic has impacted on Britain's health system and labour market. As more evidence comes out from the experience of the last 2.4 years, I wonder when those who demanded nations learn to live with the virus – by basically denying its existence – will reflect on the folly of their laissez-faire positions.

The IPPR Report is predicated on the conclusion that "Covid-19 has been the most significant health shock in modern history."
The analysis documents the impacts of Covid on deaths, illness, "record waiting lists", increased poverty and the "massive rise in unmet physical and mental health needs".
I know one of the propositions of those against lockdowns was that they would exacerbate mental illness.
But the solution to that problem wasn't to make everybody sick with Covid. Rather it required a carefully thought out health response, which necessitated significant boosts to NHS funding.
Interestingly, recall that back in 2020, economists were coming out claiming there was a trade-off between protecting lives and health outcomes and economic growth.
Some went further and used so-called 'value of life' arithmetic to claim the decisions taken by governments to be cautious in the early days of the pandemic were not sensible because the economic losses vastly outweighed the costs arising from loss of life, particularly because those who were more likely to die were old and were no longer working and producing.
Yes, that is how mainstream economists think, unfortunately.
I wrote about those debates in these blog posts:
1. The coronavirus crisis – a particular type of shock – Part 1 (March 10, 2020).
2. The coronavirus crisis – a particular type of shock – Part 2 (March 11, 2020).
Institute for Public Policy Research Report found that:
… the size of economic decline was related to Covid-19 mortality in 2020.
It is relatively clear that the countries with the highest mortality rates were also those with the highest GDP loss, before the vaccines gave us some, imperfect protection.
And for some nations, such as the UK, Covid "caused the largest fall in economic growth in over 300 years."
The IPPR Report found that:
… the UK labour market has shed over 1 million workers compared to the pre-pandemic trend – with around 400,000 labour market exits related to a combination of long-term ill health and Covid-19. This would mean £8 billion less economic output in 2022 alone.
The 'its just a flu' crowd are in denial when figures like this emerge.
When we focus on shipping and trucking delays – and I note the West is now targetting the Chinese government's attempts to limit the spread of Omicron as denials of freedoms etc – we ignore that in Britain alone, nearly half a million workers have been sidelined through illness and on-going health concerns arising from Covid.
The Chinese government is sensible in trying to restrict the spread of the disease.
They seem to have understood the consequences of 'letting it rip'.
This study, published in The Lancet (April 16, 2022) – Estimating excess mortality due to the COVID-19 pandemic: a systematic analysis of COVID-19-related mortality, 2020-21 – is once again exploiting the improved and more comprehensive datasets that are now becoming available as we traverse through the pandemic.
It aimed to "to estimate excess mortality from the COVID-19 pandemic in 191 countries and territories, and 252 subnational units for selected countries, from Jan 1, 2020, to Dec 31, 2021."
They used various approaches to estimating "expected mortality" and used an "ensemble of these models". So like a meta analysis.
They defined "excess mortality due to the COVID-19 pandemic":
… as the net difference between the number of deaths during the pandemic (measured by observed or estimated all-cause mortality) and the number of deaths that would be expected on the basis of past trends in all-cause mortality, is therefore a crucial measure of the true toll of the COVID-19 pandemic.
They also used new methods to ensure their data was as 'clean' as possible (for example, "excluded weeks with heat waves").
This included refining ways of differentiating between the dying with Covid and dying because of it.
They also corrected for the fact that lockdowns and other restrictions also had the effect of decreasing road accident deaths etc and increasing deaths from chronic conditions that could not get adequate treatment because the hospitals were overwhelmed.
They produced this map of their estimated excess mortality.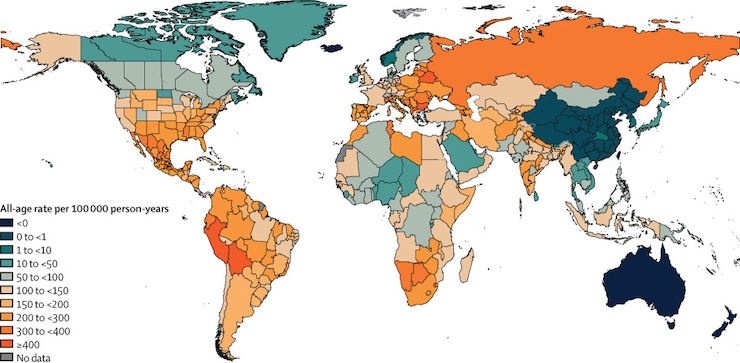 Australia, New Zealand and China all adopted zero Covid strategies until relatively recent – China is still on that path.
This – Table – gives a breakdown for all the nations in the study.
Some notable results for the Estimated excess mortality rate (per 100 000):
1. Australia -37.6
2. New Zealand -9.3
3. Japan 44.1
4. Canada 60.5
5. US 179.3 (Alabama 293·5; Arkansas 255.5; Louisiana 257·1; Mississippi 329.7; West Virginia 278.4)
6. Western Europe 140 (Belgium 146·6; France 124·2; Germany 120·5; Italy 227·4; Netherlands 140·0; Portugal 202·2; Spain 186.7; Sweden 91.2)
7. UK 126.8 (England 125.8; Northern Ireland 131.8, Scotland 130.6; Wales 135.5)
8. Central Latin America 274·4 (Mexico 325.1)
9. Tropical Latin America 186 (Brazil 186.9)
10. North Africa and Middle East 144.7
11. South Asia 151.7
12. Sub-Saharan Africa 101.6
The study found:
1. "Our estimates of COVID-19 excess mortality suggest the mortality impact from the COVID-19 pandemic has been more devastating than the situation documented by official statistics."
2. "Although reported COVID-19 deaths between Jan 1, 2020, and Dec 31, 2021, totalled 5·94 million worldwide, we estimate that 18·2 million (95% uncertainty interval 17·1-19·6) people died worldwide because of the COVID-19 pandemic (as measured by excess mortality) over that period."
3. "The global all-age rate of excess mortality due to the COVID-19 pandemic was 120·3 deaths (113·1-129·3) per 100 000 of the population, and excess mortality rate exceeded 300 deaths per 100 000 of the population in 21 countries. The number of excess deaths due to COVID-19 was largest in the regions of south Asia, north Africa and the Middle East, and eastern Europe."
The IPPR Report notes that:
Britain experienced 180,000 more deaths than would otherwise have been expected in a two-year period (2020-21) and has seen average life expectancy decrease by a year …
But they also note the increasing evidence in Britain that:
… around 1.7 million people are experiencing long Covid symptoms (based on self-reporting), with two-thirds reporting symptoms that interfere with their daily lives.
The rising incidence of long Covid is a global phenomenon that is now being reported.
I wrote about some of that evidence in this blog post – The rising incidence of Long Covid and its labour market impacts (April 12, 2022).
The IPPR Report lists a number of related problems arising from the pandemic:
Disruption to education … an increase in child poverty … and levels of inequality more broadly are all likely to have consequences for the population's health. This is now combined with a cost-of-living crisis – which the Resolution Foundation predict will push 1.3 million more into absolute poverty …

Moreover, the pandemic's impact on access to and outcomes from healthcare for those people facing non-Covid-19 related ill-health is having a substantial impact. NHS elective care waiting lists are at their longest since records began in 2007 … but even this is likely to underestimate unmet need. It has been estimated that, once unmet need is accounted for … around 12 million people were in need of healthcare services in England as of December 2021 …
All this adds up to a massive negative shock to the British economy (and all economies).
So where does that leave us?
According to the IPPR, Covid has:
… exposed and exacerbated the UK's failing approach to both population health and the economy. On the former, it exposed a status quo of poor health, wide inequality, weak action on the determinants of health, and stretched healthcare capacity. On the latter, it exposed an economy characterised by low growth, low productivity, wide inequality, stagnant pay and insecure working conditions. It would be a disservice to the lost lives and livelihoods to return to this broken status quo. We must build back better.
In other words, the chickens from neoliberalism are coming home to roost more quickly as a result of Covid.
Our health systems and labour markets have been pushed into unworkable states by the fiscal cuts, outsourcing, privatisation, casualisation, wage restraint, etc – all pursued in the name of making us all better off and more free.
The future of our young generation is now severely compromised by these trends, which were justified, in part, by the spurious argument that if we didn't pursue fiscal surpluses our grandchildren would have to pick up the tab.
That has been one of the most destructive narratives I can think off.
The IPPR Report advocates urgent action – which effectively means we would have to radically abandon the neoliberal approach.
I will leave it to you to study the sorts of action, within the British context, they advocate.
But I was interested to see them hold out Japan as an exemplar of what could be done to improve matters.
They differentiate between "liberal market economies" such as the Anglo nations (US, Canada, Australia, UK, NZ) and the "coordinated market economies" (Western Europe, Japan)
They conclude:
… that coordinated market economies tend to have higher social spending – and that higher social spending is positively correlated with healthy life expectancy among advanced economies.
They hold out Japan as the "nation with the highest healthy life expectancy" as an exemplar and estimate that if the UK followed that example, then its health and economic outcomes would be substantially improved.
The conclude:
This would bring the UK from towards the bottom of the G7, towards the levels seen in the US over the last decade.
My view remains that the public policy challenge in 2020 should have been targetted at eliminating the virus and using fiscal policy to protect incomes, particularly of those with low-pay.
By adopting that approach, the more vulnerable workers would have been less exposed to illness and the now-being revealed long Covid problems, and our health systems would not have been so compromised.
Music – Featuring Tommy Flanagan
This is what I have been listening to while working this morning.
On Monday, I featured the great – Coleman Hawkins – who is one of the all-time best tenor sax players.
But lurking in his quartet was an ace piano player – Tommy Flanagan – who played in the Coleman Hawkins Quartet between 1961 and 1962.
Tommy Flanagan played with many great bands and artists and you hear him on many records (Kenny Burrell, Ella Fitzgerald, John Coltrane, Sonny Rollins, to name just a few).
This track features his delicate touch while he was with Coleman Hawkins.
It is from Coleman Hawkins 1962 album – Today and Now (Impulse records).
I play this album a lot.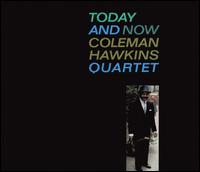 The song is – Love Song from 'Apache' – and was composed for the 1954 movie – Apache – which has the unedifying repute for dressing Burt Lancaster up to look like a Native American.
His female playing partner in the movie – and lover – Jean Peters – also played her role as a – Brownface.
I am glad we have left those racist whitewashing days behind us.
The other members of the quartet at that time were:
1. Major Holley – Double bass.
2. Eddie Locke – drums.
The tone that Coleman Hawkins gets on this track is amazing and everything to long for. Those lower register C notes are beautiful.
And Tommy Flanagan's piano work is the best.
Here is a story about how the track came to be recorded – Coleman Hawkins: Love Song from "Apache".
That is enough for today!
(c) Copyright 2022 William Mitchell. All Rights Reserved.