Australian government invokes 'can-do capitalism' to save us from climate change – disaster awaits
Today, we have a guest blogger in the guise of Professor Scott Baum from Griffith University who has been one of my regular research colleagues over a long period of time. Today, he follows on from my previous post – The financial markets should be kept away from the climate crisis solution (November 10, 2021) – and discusses the failure of the Australian federal government to produce a workable net-zero emissions plan. So, it's over to Scott.

The governments neo-liberal climate plan: can-do capitalism will save us all
Recently there has been a great deal of discussion in the Australian media about the federal government's engagement with the whole COP26 fiasco in Glasgow.
I have seen the United Nation's Conference of Parties (COP) 26 referred to by some as Source):
A grotesque mix of rent seekers, hangers-on and political wannabes.
Speaks volumes!
The Australian government's involvement in the Glasgow shenanigans was making news early on when we had the Prime Minister refusing to go.
The SBS News article (October 1, 2021) – Scott Morrison confirms he's unlikely to attend UN climate summit in Glasgow – claimed that he had already spent a lot of time in quarantine following overseas trips and he was not keen to have to spend another 14 days locked up in the Lodge.
For context, the Lodge is a 40-room Australian Georgian revival style mansion, located on "18,000 square metres (4.4 acres) of landscaped ground
(Source: Wikipedia).
It is the Prime minister's residence in Canberra and is a far, far cry from the standard hotel room that others coming into Australia would have to endure during their quarantine period.
After some weeks, following national and international pressure, the PM announced that he changed his mind and would toddle off to Glasgow after all.
And then like magic, the government released – The Plan to Deliver Net Zero The Australian Way – which outlined how it was going to catapult Australia to net zero emissions by 2050.
The glossy 20-page brochure spoke volumes about the government's lack of engagement in the whole affair.
Lots of pictures.
Lots of motherhood statements.
No action.
Apparently, this is the Australian way.
In between the glossiness and pictures we learn that the Australian way is:
… a uniquely Australian plan, because compared to other countries, we have different challenges and opportunities.
And the Australian way would focus
… on Australia's national interest and securing our strengths by determining our own destiny.
So, pretty much the government's plan would be to ignore what everyone else in the world is doing and ignore any international agreements that have been made, which the UK Guardian article (October 30, 2021) – Australia has trashed the Paris agreement and exposed itself as the worst kind of climate hypocrite – noted is par for the course.
The release of the "Plan to Reach Net-Zero: the Australian Way" document was accompanied by lots of debate and poorly timed comments from our elected officials in Canberra.
There are lots to pick from, but this interchange between the media and our Federal Resources Minister is one of my favourites.
We read in this UK Guardian article (October 21, 2021) – Nationals MP says solar won't work in the dark as party makes wishlist for supporting net zero target – that when:
… asked whether he still believed that wind, solar and battery technology didn't work and whether investments in renewable energy delivered little more than a "warm and fuzzy feeling" … [the Minister replied] … Find me a solar panel that works in the dark.
And, gems like this:
I say to those opposite are you seriously suggesting that when there's no sun, solar works? This is just a fundamental fact.
Clearly, not everyone in Canberra is onboard with The Plan.
When our government officials finally made it up to Glasgow, they got into the swing of things.
The SBS news report (November 3, 2021) – Australia criticised over prominence of fossil fuel company display at COP26 stall – noted that the Australia's shiny booth in the Exhibition Hall was fronted by one of our fossil fuel companies, showing off their best bit of Carbon Capture and Storage technology (did someone say pass the green-wash?).
The true flavour of the government's plan became clear in many of the PMs comments.
Coming out of Glasgow we heard statements such as how our net-zero goals (Source):
… will be met by those who are frankly largely not in this room. It will be our scientists, our technologists, our engineers, our entrepreneurs, our industrialists and our financiers that will actually chart the path to net-zero …

And it is up to us as Leaders of governments to back them in …

Our researchers, scientists, entrepreneurs, investors and most importantly our people are ready. The Australian way is to bet on them – and we think that's a good bet.
We also heard how (Source):
In Australia our journey to net zero is being led by world class pioneering Australian companies like Fortescue, led by Dr Andrew Forrest, Visy, BHP, Rio Tinto, AGL and so many more of all sizes.
That is, our mining and heavy industry companies.
Once safely back on Australian soil, the announcements kept coming thick and fast.
The government was on a roll with its latest catchy phrase 'can-do capitalism'.
This is a government of catchy phrases rather than action.
To a bunch of so-called business leaders the PM announced that in relation to emissions reductions the government would be (Source):
… backing Australian businesses … Private sector "can-do capitalism", not government policy, will be crucial to cutting carbon emissions … [and how] … Glasgow has marked the passing of the baton from targets and timetables … to private enterprise .
So, the government's emission reduction plan is all about letting large corporations act in the country's 'best interests' when it comes to meeting our net-zero emissions targets.
Sounds like letting the foxes guard the hen house.
Given this context, it is no wonder that Australia fell to 58th place in the global – Climate Change Performance Index – and came in dead last with regard to its policy response to climate change.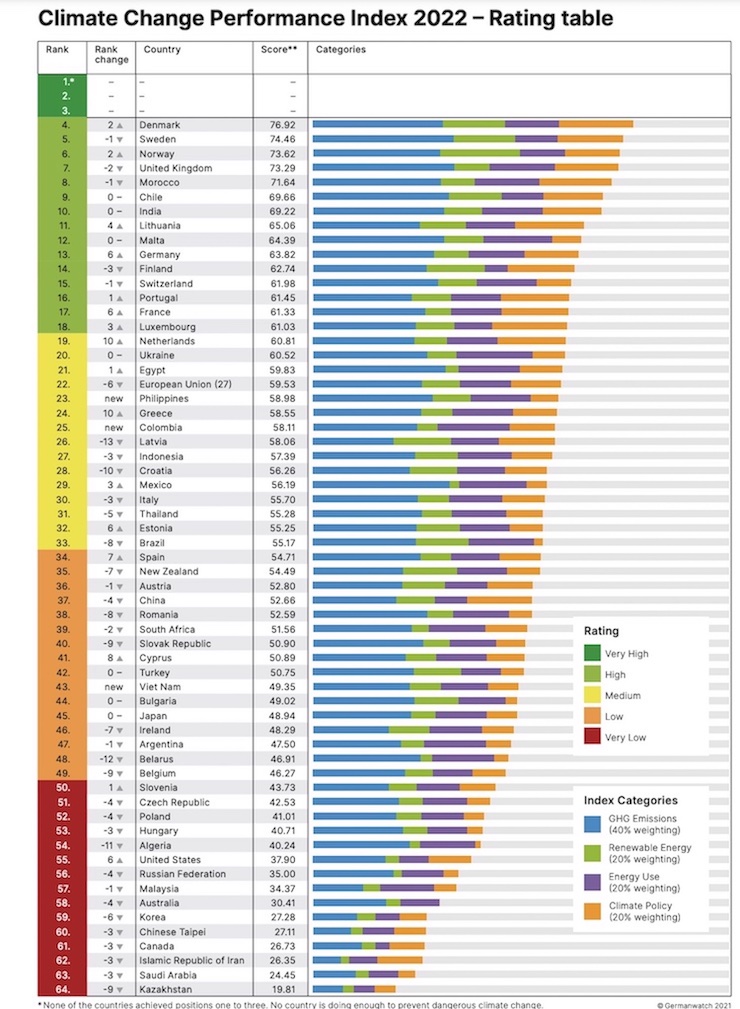 The summary of Australia's position in the Climate Change Performance Index report is not quite as glossy as our emission reduction brochure suggests.
We read
The country receives ratings of very low for its performance in every CCPI category: GHG Emissions, Renewable Energy, Energy Use, and Climate Policy.
The summary identifies that Australia's plan reveals:
No new policies and plans
Reading through the Government's Plan , we see a whole range of things the government had already previously announced, many of which had little directly to do with reaching net-zero.
The Climate Change Performance Index report also noted that:
The government does not have any policies on phasing out coal or gas, but CCUS (carbon capture and storage) and hydrogen are being promoted as low emissions technologies …

experts believe that Australia has failed to take advantage of its potential, and other countries have outpaced it. This failure to promote renewables is exacerbated by inadequate infrastructure investment, despite subsidies for fossil fuel production and promotion of a 'gas-led' economic recovery following COVID-19.
Ok, so not good, but also not much of a surprise.
It is not that the Australian government doesn't have a plan, it's just that the plan is rubbish.
The neoliberals would love it.
The plan removes much of the responsibility for reducing emissions from the government's hands and places in the hands of corporate Australia.
Can-do capitalism!
What could possibly go wrong, after all, big business is much more efficient than government and large companies are all run by socially responsible souls who have the best interests of the country, society and environment at heart.
Right? (Note: a large serving of sarcasm).
Is a neoliberal emissions reduction plan what we need?
In a word: No.
The government needs to tear up (or at least press delete) its Net-zero emissions plan and return to the drawing board.
Luckily, there are lots of things they could do that would be a vast improvement on their current collection of 'ideas'.
First, the government's plan should immediately include a decision to phase out the production of fossil fuels and develop a just transition strategy for impacted workers, regions and communities.
We can read about the possibilities in this regard, from this Centre of Full Employment and Equity (CofFEE) report from as far back as June 2008 – A Just Transition to a Renewable Energy Economy in the Hunter Region, Australia.
We learn that:
There can be major benefits … if there is a shift from coal-fired power generation to a renewable energy economy.
So researchers in this area (such as the team at CofFEE) have known about this for years.
The Government should recognise the importance of science and research in improving and developing innovative renewable energy solutions.
Rather than cutting university funding and sitting back while universities are forced to cut jobs and programs, they should provide adequate funding levels that at the very least offer some real increases in dollars.
Research centres such as CofFEE are always scratching around for funding yet are at the forefront of Modern Monetary Theory (MMT) work and its application to issues such as climate change.
Adequate funding would allow universities to continue their important role in innovation and in developing (Source):
New knowledge and skills, the ability to develop and exploit new technologies, as well as understanding how technology and society interact …
Clearly in terms of reduction and understanding carbon emissions these
are all critical success factors that universities can contribute to in this ongoing process of change.
Second, the Government should recognise that for some households, the ability to engage in energy efficient solutions is severely curtailed by circumstances beyond their control.
Arguing that households will be better off and not impacted by new taxes is all fine and good, but understanding that there is an important social equity dimension that is overlooked is another (Source).
Third, the Government should ensure that sufficient and accurate information and education is available to offset the 'fake news and scaremongering that surrounds much of the debate.
We don't need our elected officials and others making comments such as (Source):
Find me a solar panel that works in the dark … [or] … energy and EV targets will kill the economy, bring an end to meat raffles, the sausage sizzle and perhaps even the weekend itself.
The reference to the destruction of the weekend was in relation to EVs, which the Government claimed would undermine our ability to tow boats and other items (jet skis, etc) to weekend play grounds.
We deserve much more grown-up debate and commentary than this!
These are a few things, but they are a good starting point.
Conclusion
It is ludicrous to think that the very organisations that are significant producers of carbon emissions will all-of-a-sudden become our savours.
The government needs to step away from its business led neo-liberal emissions reduction plan and embrace a program of policies that will work in the nation's favour.
That is enough for today!
(c) Copyright 2021 William Mitchell. All Rights Reserved.