The Pandemic, Government Failures and Accumulated Social Wreckage
Today, we have a guest blogger in the guise of Professor Scott Baum from Griffith University who has been one of my regular research colleagues over a long period of time. Today he is writing about impact on local communities of the current Covid-19 outbreak in Sydney. Over to Scott …

I am currently involved in a book project with a number of colleagues looking into the impact of Covid-19 on Australian cities and urban regions.
The book, which will be published by Springer in 2022, is focusing on how the pandemic and the associated economic and social fallout is reflected in the daily "workings" of our large urban areas, and how and what impacts might the pandemic have in store for cities in the long term.
Cities are the spatial reflection of accumulated social wreckage
I have commented in the past, either in my academic writing such as – Faultlines Exposed (2005) – or in my blog pieces – Using a regional lens reveals the uneven impact of the COVID employment crash (February 11, 2021) – about the importance of understanding the concentration of accumulated social wreckage (disadvantage) in spatially distinct communities.
The persistence of clusters of accumulated social wreckage in our cities and other areas reflects a mass failure of government policy.
The current Covid-19 response magnifies these disadvantages in many communities.
Within the academic literature the link with the Covid-19 pandemic and social disadvantage can be traced to health geography and epidemiology literature that talks about the social determinants of health and in particular how these are reflected at the spatial a local community level.
Not surprisingly, there has been an uptick in the number of articles that consider at these propositions.
The general gist of the social determinants of health can be seen in this Lancet article – Covid-19 and the impact of social determinants of health (May 18, 2020) – where we learn that:
While Covid-19 has been termed a great equaliser, necessitating physical distancing measures across the globe, it is increasingly demonstrable that social inequalities in health are profoundly, and unevenly, impacting Covid-19 morbidity and mortality …

Many social determinants of health-including poverty, physical environment (eg, smoke exposure, homelessness), and race or ethnicity-can have a considerable effect on Covid-19 outcomes.
An example (from the US but still relevant) of how these are reflected at the spatial or community level can be seen in this academic article – A spatial analysis of the COVID-19 period prevalence in U.S. counties through June 28, 2020: where geography matters? (published December 2020).
The authors find that:
… the variables with statistically significant associations with county-level COVID-19 cases include demographic variables (i.e., race/ethnicity), socioeconomic factors (i.e., income and housing conditions), and population mobility (i.e., the level of commuting ties between counties).
The current Sydney outbreak: accumulated social wreckage ramps up!
Bill has written several blog posts related to the current situation in Sydney, specifically and Australia, more generally:
1. The ideology of neoliberal 'freedom' ends up damaging all of us – NSW Covid outbreak (August 10, 2021).
2. The pandemic exposes the damage that neoliberalism has caused (August 3, 2021).
3. Mobility data tells an interesting story about cultural differences between Australian states (July 21, 2021).
In historical Australian terms the outbreak is significant with the state of NSW recording new daily highs in the number of Covid-19 cases with the bulk (until recently) centred in Local Government Areas in the greater Sydney region.
It is very clear from the emerging data and daily press conferences that the situation in Sydney has particular spatial or community patterns.
Data is readily available for – Local Government Areas (LGAs) – and as is clear from this map, there is a strong spatial pattern to the number of cases of Covid-19.
The map shows cases per 10,000 population, with the most extreme numbers (relative) being heavily concentrated in Sydney's western LGAs, with a second ring of high infection rates surrounding the initial clustering.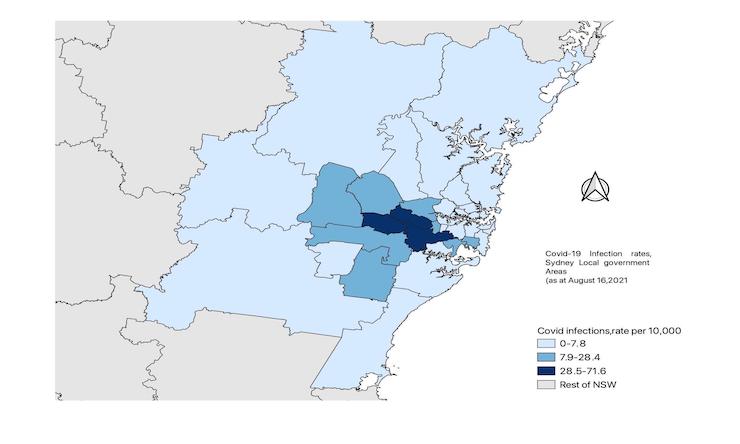 Moreover, we learn from reviewing Australian Bureau of Statistics Census data from 2016 (the most recent data won't be available till mid 2022), that LGAs with higher rates of Covid-19 infections tend to have higher levels of recent migrants, people who don't speak English well, people who live in higher density residential arrangements, have higher levels of disadvantage (unemployment, low incomes etc) and are more likely to be employed in jobs where are less likely to work remotely.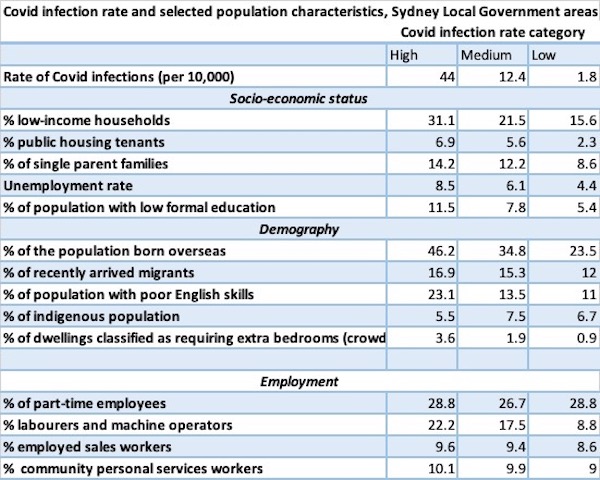 So, the take home message is clear.
The current Covid-19 outbreak in Sydney is impacting most on communities that are already facing social and economic disadvantage (socially/economically disadvantaged, recent migrants) and is exacerbated by the structure of jobs that require the face-to-face contact.
These patterns and drivers are well rehearsed in relation to other places.
In this article – Social determinants of health and inequalities in COVID-19 (published July 8, 2020) – the authors note three points. Firstly
… although everyone is susceptible to the virus, there are numerous accounts of the pandemic having a greater impact on lower socioeconomic groups and minorities …

Limited material circumstances, such as crowded living conditions and multigenerational households, may increase the risk of being infected with SARS-CoV-2 …

Work-related exposure is also increased for occupations that do not permit working from home and entail physical proximity to other people or direct contact with the public. These typically include low-income jobs in service sectors, such as health or social care, transportation, cleaning and hospitality.
The end results? The disadvantaged are further disadvantaged and accumulated social wreckage ramps up.
The virus picks on the vulnerable and the government does too
The conservative NSW government's reaction to the Sydney Covid outbreak was to impose piecemeal restrictions on communities they deemed to be responsible for spreading the virus without full consideration of the consequences.
The choice of the government to go 'lockdown lite' put many people's health at risk.
We see this in the daily numbers of new locally acquired cases that have shown no signs of declining and have in fact grown exponentially.
But the impacts are wider.
Many people in locked down communities lost Jobs or were stood down due to the nature of their employment.
The government's response was either missing in action or slow to get off the mark further disadvantaging many people in these communities.
The Australian Bureau of Statistics' – Weekly Payroll Jobs in Australia – data for the weekending July 17, 2021, shows that numbers ofCOvid cases (previous map) correspond closely with a map of job losses.
That is, communities with high cases also have seen significant job losses.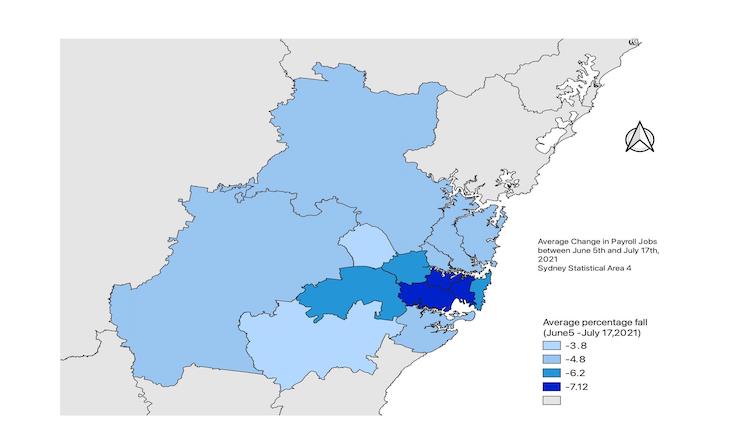 In fact, the report in The Australian newspaper (August 13, 2021) – Jobs slump a 'massive' shock to economy- (paywall) – tell us that:
Nearly one in 10 workers in some western Sydney suburbs have been stood down as a result of harsh lockdowns and restrictions imposed to suppress the Delta outbreak,
Added to this, the government decided that these communities were in need of some stern guidance so arranged to send in police and the Army to make sure members of these selected lockdown communities "did as they were told."
The impact was to further isolate and alienate these vulnerable communities.
The UK Guardian article (August 13, 2021) – Fear and loathing in western Sydney: how NSW's Covid response failed migrant communities – reported that:
Tough policing, constant rule changes and health messaging that isn't cutting through have created a perfect storm of misinformation and paranoia in Sydney's most diverse areas.
A related UK Guardian article (July 30, 2021) – Troops enforcing western Sydney lockdown will alienate community, advocates warn – reported that:
… choosing to use force and fear by giving police additional powers and rolling in army troops to communities is disturbing. This will only create greater fear and uncertainty among our families and friends.
The author of this article quoting a local resident summed the situation up nicely, stating:
Their deployment is such a statement about the nature of the problem, and the problem is us, the people who live in western Sydney. They're saying the problem isn't the vaccine rollout or their failure to support people, the problem is our compliance.
Blaming the victim at its best!
(Bill notes: the decision of the Federal government not to reinstate its wage subsidy program which took some pressure of families in the first wave last year has also left families financially vulnerable and placed increased pressure of low-pay communities to keep interacting at a time when the virus was spreading quickly in their communities in West and South-west Sydney).
Inconsistent governance was not what we needed
Most of us would agree that the role of government in a democracy is first and foremost the protection of its citizen's wellbeing.
The reaction to the Covid outbreak in Sydney is just another example where governments have failed in their role.
The NSW government could have, like other states, imposed a city-wide short sharp lockdown in order to deal with the emergent Covid clusters.
But instead, they pandered to big business and other vested interests by trying to keep Sydney 'open for business', despite the obvious risks, and they put the blame on some of the most vulnerable and disadvantaged communities.
An approach right out of the neo-liberal play book – support the 1 per cent while blaming the most vulnerable.
The Government's mantra as their own failures became obvious to all was: "If only they had done as they were told we would not be in this mess".
That is typical rubbish thinking from the neoliberals.
The NSW state government's ineffectiveness was further exacerbated by the federal government's failure in rolling out a suitable vaccination program.
As we read in Bill's blog post – The pandemic exposes the damage that neoliberalism has caused (August 3, 2021):
The vaccine scandal has arisen because the federal government tried to 'penny pinch' with Pfizer last year and we now have a vaccine scarcity and will not get adequate supplies until later this year …

So, the neoliberal obsession with fiscal austerity (the 'penny-pinching') has left the nation badly exposed to the Delta variant of COVID and on-going lockdowns enforced by the state governments which are resulting in millions of dollars of lost output and incomes every day.
A shocking example of what happens when the government ramps up the austerity talk.
The state and federal government needed to support the most vulnerable, not dither around trying to find someone to blame and putting out spot fires.
Piecemeal plans were put in place for financial support, only to be reviewed at a later date.
Two ABC media reports are illustrative.
1. Sydney food businesses report huge income losses, delays in government aid (August 16, 2021) – reports on the lack of funding and delays in getting funding due to government unwillingness to make sure the financial costs of their actions are covered.
2. COVID support payments still exclude many businesses and workers who are struggling to survive (August 9, 2021) – more of the same.
As usual, we are all in this together, except when we are not.
(Bill notes: the NSW government is now going to 'reward' those who are now fully vaccinated with new 'freedoms' while the rest of us stand in the queue to get the vaccine. The queue is long and will take months to work through solely because the Federal government didn't order enough vaccine. We are definitely, not "all in this together".)
Unfortunately, the impact will be felt in many areas long after the current outbreak ends.
The broader impact on the economy will be significant and uneven as regions will recover at different rates.
There will be no widespread automatic bounce back, despite what the politicians say or believe.
I talked about the uneven nature of jobs losses and recovery in this blog post – Using a regional lens reveals the uneven impact of the COVID employment crash February 11, 2021.
… those places that were already disadvantaged prior to the outbreak of Covid-19 that will be hit hard and when recovery does take place the gulf between the advantaged and disadvantaged will remain and might have even grown
In the current Sydney outbreak, the uneven hand of the state and federal government responses will result a negative economic legacy for the most disadvantaged, even after the 1 percent have moved forward.
Conclusion
The failures of government within the neoliberal era have been well documented.
The Covid-19 pandemic has exacerbated these failings and has multiplied existing accumulated social wreckage for individuals and the communities in which they live.
The choices the collective governments have made are political ones and have not been made with everyone's interests front of mind.
The final word comes from the Lancet article – Covid-19 and the impact of social determinants of health (May 18, 2020) – cited earlier:
… the effects of COVID-19 have shed light on the broad disparities within our society and provides an opportunity to address those disparities moving forward.
Couldn't have said it better myself.
That is enough for today!
(c) Copyright 2021 William Mitchell. All Rights Reserved.