There are no financial risks involved in increased British government spending
On July 26, 2018, UK Guardian columnist Phillip Inman published an article – Household debt in UK 'worse than at any time on record' – which reported on the latest figures at the time from the Office of National Statistics (ONS). He noted that the data showed that "British households spent around £900 more on average than they received in income during 2017, pushing their finances into deficit for the first time since the credit boom of the 1980s … The figures pose a challenge to the government … Britain's consumer credit bubble of more than £200bn was unsustainable. A dramatic rise in debt-fuelled spending since 2016" and more. While keen to tell the readers that British households were "living beyond their means", there was not a single mention of the fiscal austerity drive being pursued by the British government over the same period. Nor was there mention of the fact that the entire British fiscal strategy since the Tories took office was predicated, as I pointed out years ago in this blog post – I don't wanna know one thing about evil (April 29, 2011), on this debt binge continuing. A year later (July 20, 2019), the same columnist published this article – Labour and Tories both plan to borrow and spend. Is that wise? – which like its predecessor fails to present a comprehensive, linked-up, analysis for his readers and makes basis macroeconomic errors along the way.

The latest article is attacking both the variously announced intentions of the British Labour Party and the Tory government to increase net public spending.
On October 29, 2018, the British Chancellor, sensing the deepening unpopularity of the Tory government, promised in his – Budget Speech that:
… the era of austerity finally coming to an end.
He said it was time (he was talking about the "Deal Dividend" that never got off the ground because there was no 'Deal') that he set about giving the economy:
… a boost from releasing some of the fiscal headroom that I am holding in reserve at the moment.
It was all nonsense talk designed to give the impression that the Brexit process was under control and in train and that he finally had the 'fiscal space' to ensure the negative consequences would be minimised.
His concept of 'fiscal space' – that it increased the smaller the deficit or the larger the surplus – was erroneous of course. It was a denial of the most basic currency capacity that the UK government possesses – it can never run out of spending capacity.
Which, of course, is not the same thing as saying that it can run out of things to spend on.
He was also dealing with a Labour Party that was intent on taking government and implementing a wide-ranging infrastructure plan, some of the more important aspects would not be possible while it remained with the EU, but they seem to be in denial of that fact.
It is clear that the Labour Party intends to break with the austerity mindset that has damaged prosperity in Britain for at least the last decade.
Whether it will or can is an open question and as I have indicated in the past – its adherence to a neoliberal fiscal credibility rule – is likely to cause it grief if it is confronted with a significant downturn in non-government spending.
The latest Tory shenanigans have left the likes of Philip Hammond behind. He is now yesterday's man and on borrowed time as they say.
The new British PM will be announced next week – a most curious process – and it is likely to be Boris Johnson – a man most unsuited to the job.
He joins a long list – May, Cameron, Brown, Blair, Major, Thatcher, Callaghan etc – all of whom it could be said were unsuited for the job for various and different reasons.
But, Johnson (and his co-candidate Hunt) have both promised to introduce significant fiscal stimulus packages designed to redress some of the obvious damage that the austerity has generated but also to insulate the British economy from its impending October 31, 2019 exit from neoliberal central – the European Union.
I actually agree with Boris Johnson that Britain can avoid recession if the government acts sensibly in relation to fiscal policy. Whether the government will be capable of acting sensibly is another matter – but they have the capacity to avoid recession.
The latest analysis from the Office of Budget Responsibility – Overview of the July 2019 Fiscal risks report (July 18, 2019) – is breathtakingly biased towards the conclusion it seeks to reach – that a No-Deal Brexit would force Britain into a deep recession.
Its use of the IMF stress test framework leads it to conclusions as bad as the IMF is famous for delivering.
What they hold constant – is the very thing that has the capacity to avoid the recession.
And while acknowledging that the economy is entering a highly uncertain period and that economic growth has "paused at best in thee second quarter" and that a "more general weakness may persist and intensify as 31 October nears", it still claimed:
But policy risks to the public finances in the medium term are significant and look greater than they were two years ago. In his recent statements the current Chancellor has all but abandoned the Government's legislated objective to balance the budget by the mid-2020s. And the £27 billion a year NHS settlement announced in June 2018 – unfunded, unaccompanied by detailed plans for reform and outside the normal timetable for spending decisions – has cast doubts over the Treasury's usually firm grip on departmental spending.
So with the British economy apparently close to recession already and households carrying record and unsustainable debt burdens, the OBR, which is meant to give 'independent' advice to the government on fiscal matters, wants the austerity to continue.
And this is the backdrop on which Phillip Inman penned his latest piece (cited above).
In the context of these prospective public spending increases (whoever is in government), Phillip Inman claims that:
Britons, then, find themselves for the first time since the financial crisis in a similar situation to Italians in their last general election, with parties at both ends of the political spectrum wanting to spend large amounts of mostly borrowed money to spur investment.
First check on any Op Ed: does it conflate currency issuers with currency users?
If so, you can ignore what they write.
Italy uses a foreign currency – the euro.
Britain issues its own currency – the pound.
Italy has to – by dint of being in the Eurozone – issue debt denominated in a foreign currency to raise the funds to cover its fiscal deficits.
Britain does not have to issue debt at all if it chooses and never has to issue debt in a foreign currency.
There is no meaningful comparison between the two nations in terms of financial constraints arising from spending promises.
Why Phillip Inman misses that basic point is unknown but telling.
He then says that the spending promises are in fact promises to pursue "a huge increase in government borrowing".
In the current institutional practice, the government is likely to maintain the unnecessary link between deficit spending and borrowing, although clearly there are voices mounting to break with that neoliberal tradition and instead use the currency capacity of the Bank of England to spend without the debt matching.
Clearly, the British government can run deficits without having to match them with debt issuance, although they would get huge push-back from the financial markets who cannot get enough of British government debt – after all, it is a form of corporate welfare payment.
He claims that "for money over many decades", the "borrowers to dictate what they pay for loans" – and that is "not much", given the likelihood of continued "almost zero" interest rates (and yields).
And while he differentiates between Labour's "slow-burn solution" (infrastructure spending in neglected areas) from the Tory plan to give tax cuts" he still claims that:
Only an ideologue could fail to see that both routes out of the current torpor are fraught with risks. Labour may find that, following decades of neglect, pouring financial fertiliser on the regions has little effect. And businesses that have rejected commercial bank funding to support investment plans may give a state bank the same two-fingered salute.

The Tory solution has even less chance of success. We know this after nine years of cuts to corporate taxes, which have done nothing to spur investment.
So what is the risk here?
The article starts off railing against the prospect of higher public spending and the debt increases that probably would accompany that spending.
But then its big conclusion on risks is that such a strategy may not actually be stimulative.
It is thus unclear what the problem his article is addressing.
Is it too much debt or too little growth?
And what is the use of the term "ideologue" denoting here? Obviously pejorative.
But basic macroeconomics tells us that one sector's spending is another sector's income.
If the Labour government was to revitalise public transport, for example, throughout the regional areas – and hired construction workers, new manufacturing contracts, new staff to person the services, and more – why would that have "little effect"?
Apparently, the public spending multiplier according to Inman (implied) is close to zero.
But I would guarantee that if the government announced some large projects that local regions where the spending was actually going would achieve higher incomes.
Why is that insight "only" for "an ideologue" to have?
Ridiculous.
Perhaps, also that British households might decide to save more of the increased disposable income and render their balance sheets, currently in a precarious state from the record levels of unsustainable (in Inman's 2018 assessment) debt, a little less risky.
This would also likely be the result of a personal tax cut, although it would depend on the targetting.
The point is: Why hasn't he made the connection between the unsustainable household debt and the fiscal conduct?
I guess it is whatever sounds like a good story on the day he has to file and who cares about continuity or logical linkages between the topics.
Perhaps he doesn't actually understand the link between the sectors?
That appears to be a correct assessment when we read:
With austerity measures in place, total UK public debt is expected to decline over the next five years from 80% of GDP to around 70%. Reverse that trend and the government starts to match the profligacy of households and corporates that have sent private debt spiralling to 250% of GDP and beyond.
We know that the fiscal deficit has contracted because tax revenues have grown on the back of economic growth.
What has been driving that growth?
The following graph tells you the answer.
1. Net exports have been consistently dragging down growth.
2. Private investment has been making a negative or minimal contribution over the period shown.
3. Household consumption has dominated although that contribution is in decline over the last few quarters.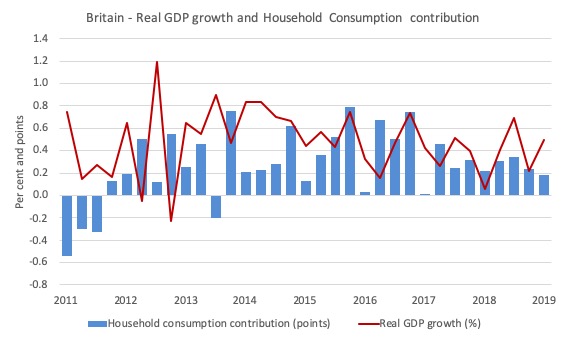 So if the British households, for example, had not borrowed so much, real GDP growth would have been significantly lower than it has been and tax revenue collected much lower.
The reduced fiscal deficits have come directly from the excessive use of private credit. And as I indicated in my blog post cited above, that was a deliberate strategy of the Tory government – to increase the risk of the private sector while claiming they were 'fixing' the fiscal situation.
While it makes sense to talk about a deteriorating private domestic finances, there is no meaning to that concept when applied to the finances of the national, currency-issuing government.
But Inman clearly thinks that there is no particular relationship between the two sectoral balances. A major mistake made by many mainstream analysts.
We learn more on how astray his analysis is when he extrapolates with this:
It may seem defeatist to say so, but if you are concerned about another financial crisis, or even a plain vanilla recession, higher borrowing puts finances at risk.
At which point you know his 'risk' worries relate to solvency issues rather than the size of the spending multipliers.
And at the same point you realise this sort of analysis is nonsensical.
What is the risk of higher public debt?
1. Solvency? The British government can always meet the requirements of any outstanding liabilities issued in sterling.
2. Yields? Inman has already concluded that yields will be low "over many decades" to come.
3. Fiscal space? A higher fiscal deficit now places no financial limitations on the capacity of the British government to run whatever deficit is required tomorrow or the next day to meets its objectives.
It is true that a higher deficit now, may reduce the available real resources that can be brought back into productive use – which means the government is pushing the economy closer to full capacity, which in anyone's language is a positive move as long as environmental sustainability is being pursued.
But that just means there is a real constraint on government spending. There is no sense that "finances" are "at risk".
Risk of what? Stupid talk.
Equally stupid is his claim that:
… the UK's public finances are already worsening, it might be better to hunker down.
Hunker down how?
Imposing more austerity?
Causing people to lose their jobs?
Promoting low wages growth?
What the F**k!
Conclusion
A sorry story for UK Guardian readers to have to engage with.
The problem is that most readers are bluffed by this type of spurious analysis.
Come the day that an Modern Monetary Theory (MMT) understanding is widespread – we are working on it – the likes of Philip Inman will have to do something productive to earn a living.
That is enough for today!
(c) Copyright 2019 William Mitchell. All Rights Reserved.