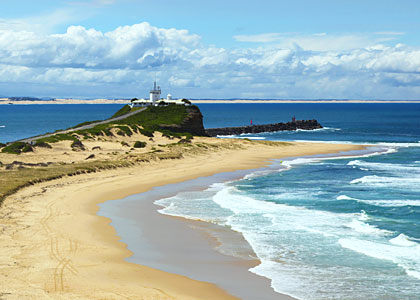 The blog is on holiday until Thursday, December 27, 2018. All the best from my local beach (Nobbys). Today is an economics free zone. Music discussion if you click on …

Music to listen to …
Jamaican singer – Delroy Wilson – was very popular during the 1960s and 1970s. He started out as a 13 year-old child star.
He worked with Studio One in Kingston to pump out many hit songs, often covers of American hits, which is one way the ska then rocksteady era evolved.
He died young (46) from liver failure.
He is one of my favourite singers.
Here is his version of the Temptations classic from 1966- Get Ready, which was written by Smokey Robinson (from the Miracles) who produced the song for the Temptations.
I have the original 1967 release on 7 inch vinyl which you can hear – HERE.
The backing musicians were the Soul Brothers who were the Studio One house band and featured on many of the 1960s rock steady/ska/reggae recordings were mainly jazz players trying to earn extra cash.
They were originally the Skatalites (Roland Alphonso, Don Drummond, Tommy McCook, Jackie Mittoo, Lester Sterling, and Lloyd Brevett) but became the Sound Dimension in 1965 when trombonist Don Drummond went to prison for murdering his wife. Other musicians also joined the 'group'.
The following version was recorded in 1975 and was recorded by Delroy Wilson and produced by Bunny 'Striker' Lee, who was able to break "the dominance of Coxsone Dodd and Duke Reid" (Studio One).
His main engineer was – King Tubby – and together they pioneered a lot of the sounds and techniques that evolved into modern dub and reggae.
The backing session band at his studio were – The Aggrovators – which was a moving feast of the greatest Jamaican players around.
I think the backing band on this version was – The Revolutionairies – which consisted of bass player Robbie Shakespeare, drummer Sly Dunbar, Ossie Hibbert, Ansel Collins, Errol Nelson (all on keyboards), Radcliffe Bryan on guitar, Uziah Thompson on percussion, Tommy McCook (tenor sax), Herman Marquis (alto sax) and Vin Gordon (trombone) – many of who were from the 1960s band The Skatalites.
There were other players who variously filled the positions in the house band.
You can see the evolution in the sophistication of the production and playing over the decade (1967 to 1975) by comparing Delroy Wilson's rather relaxed Studio One version of Get Ready with the later version.
Fabulous (both).
Perfect way to start the 2-day holiday.
That is enough for today!
(c) Copyright 2018 William Mitchell. All Rights Reserved.