A summary of my meeting with John McDonnell in London
It is Wednesday and I am reverting to my plan to keep my blog posts short on this day to give me more time for other things. Today, I will briefly outline what happened last Thursday when I met with Shadow British Chancellor John McDonnell in London. As I noted yesterday, I was not going to comment publicly on this meeting. I have a lot of meetings and interactions with people in 'high' office which remain private due to the topics discussed etc. But given that John McDonnell told an audience in London later that evening that he had met with me and that I thought the proposed fiscal rule that Labour has adopted was "fine", I thought it only reasonable that I disclose what happened at that meeting. I did not think the rule was fine and I urged them to scrap it and stop using neoliberal constructs.

As background to my view on the matter, the following blog posts (among others) are relevant:
1. British Labour Party is mad to sign up to the 'Charter of Budget Responsibility' (September 28, 2015).
2. The non-austerity British Labour party and reality – Part 2 (September 29, 2015).
3. The full employment fiscal deficit condition (April 13, 2011).
4. Seeking zero fiscal deficits is not a progressive endeavour (June 18, 2015).
5. Jeremy Corbyn's 'New Politics' must not include lying about fiscal deficits (September 15, 2015).
6. British Labour has to break out of the neo-liberal 'cost' framing trap (April 12, 2017).
7. British labour lost in a neo-liberal haze (May 4, 2017).
8. When neoliberals masquerade as progressives (November 9, 2017).
9. The lame progressive obsession with meaningless aggregates (November 23, 2017).
10. The New Keynesian fiscal rules that mislead British Labour – Part 1 (February 27, 2018).
11. The New Keynesian fiscal rules that mislead British Labour – Part 2 (February 28, 2018).
12. The New Keynesian fiscal rules that mislead British Labour – Part 3 (March 1, 2018).
13. MMT is just plain good economics – Part 1 (August 9, 2008).
14. MMT is just plain good economics – Part 2 (August 13, 2008).
15. A twitter storm of lies … (August 15, 2018).
I provide links to previous blog posts I have written for two reasons: (a) to avoid detailed repetition; and (b) to help people navigate through related issues on what is now a rather complex body of writing.
JMD made it public that he had met with me when he appeared in a so-called 'head-to-head' conversation last Thursday evening (October 11, 2018) with Jenny Manson, who is the co-chair of Jewish Voice for Labour (JVL) and is campaigning to become a future Labour MP.
The event was organised by the Momentum Barnet group in Cricklewood, London as a fundraiser for Manson.
The relevant video is available – HERE.
At the 1 hour mark of the video, a banker from the 'City' asked an MMT type question with respect to government spending and 'financing'. His question was good.
JMD replied (I only cite the relevant section that refers to yours truly):
We have introduced a fiscal rule that's been developed by Simon Wren … Wren-Lewis, one of our key advisers. In which we have said actually, that yes the deficit does matter, debt does matter. The relationship between debt and GDP, that ratio does matter, because it matters in terms of the confidence of the rest of the world in regard to what we are doing in this country itself.

So our fiscal rule is flexible. Basically it means, we have said that we will not borrow for day to day expenditure, we will balance the deficit over a period of time, be a rolling five-year program, and that yes, if interest rates go to what we call the lower bound there will be knockout rule where we can use fiscal policy to stimulate the economy. Now, that was designed in a way which gives us the flexibility of a progressive Labour government coming to power, to raise the resources we need, to have a long-term vision, where we only borrow to invest, so therefore to grow the economy, but the flexibility if we need it, when monetary policy isn't working.

I think that's the best way forward at the moment. There is a big discussion which was an M … MMT debate and funnily enough I met Bill Mitchell this morning for a cup of tea and he had a bit of a wrangle with some of my advisers and it was interesting to spectate but there you are.

But actually his view is our fiscal rule is fine. But, he thinks it's all right for a sunny day, what happens when the clouds darken. I think there is sufficient flexibility to do it.
What follows is not verbatum but rather my recall.
First, I did meet with JMD last Thursday morning at his Embankment office block in London, near the Houses of Parliament. He was accompanied by two advisers, one being James Meadway. I didn't catch the name of the other participant.
Second, JMD began the meeting by asking me "What are we getting right?" (or similar).
I indicated that I thought that the Labour Manifesto was a progressive agenda, which represented in broader terms the return of a functional oppositional Left force in British politics, after the years of right-wing Blairism (Third Way) garbage coming out of the British Labour Party.
I said that the social democratic parties had let the progressive side of politics down in recent years and that it was good to see this oppositional left capacity coming back into British politics to give people an effective choice.
I noted that this was also happening in France with the launch of La France Insoumise under Jean-Luc Mélenchon.
As an aside on Jean-Luc Mélenchon (not related to the meeting with JMD), yesterday special French police raided his home and offices searching for evidence of "alleged misuse of funds" in relation to European Parliament elections and the Presidential election campaign.
A report in the Libération news (October 16, 2018) – Perquisition chez Mélenchon : de l'insoumission à l'obstruction – indicated that Jean-Luc Mélenchon and his team resisted the raid by the special anti-corruption police force and indicated that he thought it was a:
… coup de force politique, policier et judiciaire contre Jean-Luc Mélenchon et La France insoumise», et une «attaque sur la base d'éléments fantaisistes …
A political, police and judicial coup against him and his party (La France insoumise) – a fanciful attack.
This police unit has also raided other political opponents of French President Emmanual Macron.
Later in the day, the French Prime Minister Édouard Philippe denied in Parliament that the actions were politically motivated:
Il n'y a aucune instruction individuelle donnée au procureur. Les décisions du procureur, celle-ci en l'occurrence, ont été soumises au contrôle d'un juge de la liberté et de la détention, qui est un magistrat du siège, parfaitement indépendant
This, as Macron's popularity is in sharp decline.
Third, JMD then asked me "What are we getting wrong?" (or similar).
I replied that the fiscal rule was a poor choice and that such rules that are defined in terms of narrow financial ratios were neoliberal and likely to give them grief.
I noted that the fiscal ambitions to support the Manifesto should be defined in terms of broad goals such as full employment and price stability rather than whether recurrent spending was matched over a rolling five-year period to revenue.
I also noted that the way in which we divide recurrent and capital spending was problematic, given that significant items of recurrent spending, for example, teachers salaries, nurses, etc delivered benefits that were not exhausted within a 12 month period (the normal definition of a recurrent outlay).
James Meadway (JM) said the fiscal rule was not neoliberal. I disagreed noting that the idea that we pursue a fiscal aggregate, which the government can't control anyway, that is independent of the behaviour of other sectors was a neoliberal construct.
While JMD claimed in the video above that I said the fiscal rule was fine, in fact, I said nothing of the sort.
What I indicated that it was probable, based on reasonable costing estimates, that the major parts of the Manifesto could be accommodated within the Rule.
But that would require everything else being unchanged and the most optimistic outlook for current parameters.
I suggested that in a downturn the rule would be blasted out of the water by the cyclical impacts on revenue and spending (the 'automatic stabilisers') and at that point the British Labour Party would have to do abandon the rule.
I said that this abandonment would come with significant political costs and open the government to accusations that it was financially incompetent.
I thought that the adherence to such a unnecessary rule in the first place was therefore unwise.
They replied that there was flexibility (as JMD notes in the video) and that at the zero bound, fiscal policy could free itself of the rule.
I noted that this was another neoliberal aspect of the approach. The reason for that conclusion is that the rule as stated requires the Monetary Policy Committee of the Bank of England to indicate to the Treasury that its monetary policy instruments are no longer effective.
So in effect, the elected and accountable Chancellor can only enjoy fiscal freedom when the technocrats in the Bank of England handover the imprimatur to him.
That is a basic Monetarist tenet – that monetary policy has primacy over fiscal policy. That is neoliberal central.
Moreover, the MPC may not indicate monetary policy ineffectiveness, even if the target interest-rate is at zero (the so-called zero bound). As we have seen in the recent years, central banks have been willing to explore all sorts of weird and wonderful policy interventions to remain relevant in the macroeconomic policy sphere.
Further, zero bound outcomes are very rare. Most recessions are not accompanied by zero interest rates at the policy end.
JM responded by claiming that it was likely that the next recession would trigger a zero bound situation.
I replied that that surmise was just a guess and that history suggested such an outcome was rare.
But the very idea that fiscal policy can only enjoy freedom at the behest of an unelected and unaccountable MPC is pure neoliberal thinking.
So while I did concur that under 'sunny day' conditions, the British Labour Party could probably introduce key elements of its Manifesto without violating the fiscal rule as stated, it would encounter major difficulties in a recession.
So the obsession with the fiscal rule developed by Simon Wren-Lewis was an unnecessary neoliberal distraction that will come back to haunt them.
They responded by saying that the rolling five-year period gave them flexibility in a downturn.
But as I've written many times in the past, if a nation encounters a serious recession that results in a significant deficit, and then within the last years of the rolling window, it may have to introduce major cuts in recurrent outlays in order to move the recurrent balance towards zero.
That is not flexibility.
JMD asked me what I might do differently on the policy front and I said they should announce the intention to introduce a Job Guarantee. We talked about whether the UK was at 'full capacity' or not and what that would mean for the fiscal rule.
His advisor (the one I cannot recall his name) said that this would add a lot to total spending. I suggested otherwise.
I said that my assessment was that the UK had idle capacity and so needed a significantly larger deficit anyway. But if it turned out I was wrong, then they would have to increase taxes to squeeze some purchasing power out of the non-government sector to create the space for any extra public spending.
I concluded they were not interested in a Job Guarantee believing their infrastructure spending would be sufficient. That will come back to haunt them I think.
I also noted that JM had declared on social media that MMT was only valid for the US as a result of its reserve currency status. I indicated that that view was incorrect.
He responded by saying that the UK was a special case because its financial sector was so large relative to the size of the financial sector in other nations.
The inference was that the fiscal rule was necessary to placate any hostility that might arise in this 'large' sector.
I said that Australia was a small and very open economy with a significant financial sector as well.
He disagreed about relative sizes.
Well is as it happens, Sydney and Melbourne are significant financial centres in the world markets.
The Global Financial Centres Index (GFCI), which is published by London research Centre and is widely used as an indicator of strength of the financial sector in different nations, ranked London as number one (March 2018 rankings).
Other interesting rankings were Tokyo 5th, Toronto 7th, Sydney 9th, and Melbourne 12th.
The following graph gives you an idea of the relative size of the Finance and Insurance sectors in total Gross Value Added in Australia and the Britain.
In relative terms (to size of economy), the finance and insurance sector in the UK is broadly similar to the sector in Australia.
So I posed the question, given Australia has run current account deficits of around 3 to 4% of GDP since 1975 about, and fiscal deficits for much of that time, why hasn't the finance sector rendered the Australian currency worthless?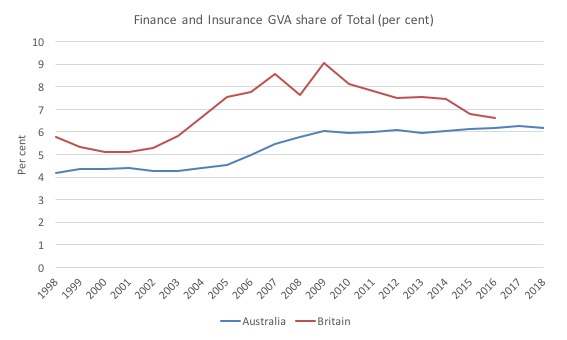 The same goes for Japan. It is run large fiscal deficits, has significant public debt relative to its economic size, and has no problem selling more debt to the bond markets whenever it chooses.
Why hasn't the yen been dumped and made worthless by these financial markets?
JM said something like the debt is held by Japanese not foreigners and they are running current account surpluses.
So I pointed out the inconsistency.
Japan: current account surplus, debt held locally – no currency dumping.
Australia: current account deficit, debt not held exclusively by locals – no currency dumping.
The claim of relative sizes of the finance sector was at that point reasserted.
Somewhat frustrating given the data.
We broached several other issues, which I won't comment on here.
The last part of the discussion centred on the use of social media. I indicated that the British MMTers who were strong supporters of JMD and the Labour Party in general were regularly vilified by JMD's advisers on social media.
JM said that the MMTers were rude to him and that I should control them. I said something like it was not a cult under my control and that I had actually noted at the MMT conference in NYC that a more respectful dialogue on social media should be the aim of both sides.
But in finishing I told JMD that is was counterproductive to abuse his support base for discussing MMT.
I also said something about the dangers of Groupthink and living in an echo chamber where one's advisers are the only (neoliberal) voice he listens to.
That is more or less what transpired.
And after all that … a love song without compromise
Here is one of my favourite artists – Leonard Cohen – on his last album – You Want it Darker that was released in October 2016, just 19 days before he died.
This song – If I Didn't Have Your Love – is one of my favourite songs.
I go back a long way with Leonard Cohen – I bought his first album – Songs of Leonard Cohen (1967) – as a teenager and then the sequence that unfolded through the 1960s and 1970s and on.
I also read his book – Beautiful Losers (1966) as a teenager. Quite heady days indeed.
That is enough for today!
(c) Copyright 2018 William Mitchell. All Rights Reserved.