George needs a bowl of Cornflakes! Colloquially speaking that is!
In 1723, a rather bizarre book was published in London (and then reprinted in Boston a year later) called Onania; or, The Heinous Sin of Self-Pollution, And All its Frightful Consequences, in both Sexes, Considered: With Spiritual and Physical Advice to those, who have already injured themselves by this abominable Practice.. The author was an anonymous Puritan minister who equated "masturbation, homosexuality and bestialy". It was "addressed predominantly to adolescent males" but was applied to all ages. The book is full of metaphor – and exhorted a "hope in God" to "awaken … the Guilty" who are "Daily, and often-times Dangerously wounded by this foul Practice" and to stop the "Innocent and Unwary from falling into it". It represented part of a conservative literature that was intent on pursuing its moral agenda by scaring people into believing that certain activities would be injurious to their health and life-threatening. The agenda exploited ignorance among the general population and traded on this ignorance to advance an agenda based on myth. With George Osborne's Mansion House Speech last week, not a lot has changed. But I have a cure for him!

Onanism, according to the book was "that unnatural Practice, by which Persons of either Sex … defile their own Bodies, without the assistance of others, whilst yielding to filthy Imaginations …" And on it went in all its lurid and threatening detail.
The book predicted that the "Frightful Consequences of SELF-POLLUTION", which included ulcers, weird contortions of the male penis, Gonorrhea, Distemper" even in the "Hands of the most skillful".
Other consequeneces were "fainting Fits and Epilepsies", a "worn out" penis, "robbing the Body of its balmy and vital Moisture", and death. It doesn't bear thinking about how it destroys Manhood and makes (metaphor coming):
… them become barren, as Land becomes poor by being over-till'd; and few of those that have been much accustomed to this vice in their Youth, have ever much reason to boast of the Fruits oftheir Marriage-Bed …
And if by accident these sinners ever have kids they turn out to be "weakly little ones, that either die soon, or become tender, sickly People … a dishonour to [the] human Race, and a scandal to their Parents".
And as children might be reading this blog, I care not discuss what happens to females who engage in this self-pollution. It is horrific. Even the author is careful not to "rake into so much Filthiness" so as to avoid offending "Chastity".
Quite a book indeed. It was part of a series of Conservative literature that sought to impose their sanctimonious morality onto the society of the day.
By the C19th, Onania became the "Great Terror" with a medical layer to reinforce the moral disdain, which had earlier been the emphasis in the Middle Ages.
The Americans were particularly taken by the fear. The founder of a famous breakfast cereal (John Harvey Kellogg) published a book in 1881 – Plain Facts for Old and Young – which said that the self-polluter or "victim literally dies by his own hand, a veritable suicide".
He even presented case studies where brothers "Charles and Oscar" weren't turning out the way their parents desired and he sought "to discover the cause of this dreadful condition". The resolute Dr Kellogg wrote that the boys "were soon caught in the act, to which it was found that they were greatly addicted, and the mystery was wholly solved"
He prescribed mechanical remedies involving constraints (wires) to prevent erection to be supplemented with dietary help. This, of course led to the creation of some oat and corn biscuits to help his patients keep their hands clear. This concern led to the creation of that famous breakfast food.
I should add I never eat his product preferring other cereals. Am I dammed?
Hilarious as all this appears to us today, I thought of it as I was reading George Osborne's – Mansion House 2015 Speech – which he presented in London on June 10, 2015.
The advanced world became terrified en masse by the threat of the consequences of onania. That fear lasted several centuries but eventually was found to be nonsensical in the extreme and we wouldn't give it any serious attention now.
The same sort of world hysteria has grown over the last thirty or so years about fiscal balances, public debt, and public spending as the neo-liberal era took hold and one economist after another was wheeled out (hand on it) to lecture us of the disasters that would befall us if we didn't insist that our governments act with discipline (hand off it) and that would require us to sacrifice our own selfish pleasures.
I use a male analogy for economists because, unfortunately, still, my profession is dominated by men. And I also would not dare "dishonour Chastity" to talk about what my female colleagues might be up to!
The Mansion House Speech is up there among the great scare stories of history and if acted upon (that is, put into operation) will damage Britain for a long-time to come.
We abandoned the catatrophising about onania when society became a little more sophisticated as a result of a richer evidence base – aka more knowledge. Our understanding of causality in medical matters has advanced and we have a better appreciation (in most nations) of the attempt to advance moral agendas with spurious smokescreens.
Our natural tendencies have thus triumphed.
The amazing thing is that our knowledge about how the monetary system operates is of the sort that allowed idiots like the author of Onania and Dr Kellogg to occupy national stages with their wacky ideas.
The analogy falls down somewhat because while the onania-type scare campaigns probably didn't stop people from enjoying themselves very much – sorry, engaging in self-polluting, the scaremongering about the monetary system has had devastating consequences – entrenched mass unemployment, rising poverty, increased suicide rates, a whole generation of youth denied the opportunities to live fulfilled adult lives, and more.
I admit that I am not a psychologist so my estimate of the damage that the guilt-campaign associated with the ideas of Dr Kellogg and his ilk caused might be too low. But I doubt whether it outstrips the daily damage of mass unemployment.
Both types of national hysteria though exploit ignorance and the malicious desire by a particular cohort in society to exploit that ignorance to advance their own agendas without regard for the costs it would cause.
It might be argued that the ignorant are those running the agendas. That is something we never will really know. It is possible that the author of Onania was so besotted with religious zeal that he thought his book was God's work rather than be motivated by a venal desire to stop people having fun. That would appear very likely.
It is also possible that George Osborne is so stupid that he doesn't know what his fiscal plans mean to the way the monetary economy will opeate if realised. But it is also highly likely that the lobby that funds his party and demands legislative rewards for that funding know well that the fiscal plans will allow them to gain a higher share of real income at the expense of the vast majority.
What George Osborne outlined in his Mansion House Speech was extraordinary when you think about it. Here he was in 2015 rehearsing the sort of logic that dominated Britain at a time when conservatives were issuing public documents exhorting people to take 'their hands of it'.
It was rehearsing a morality tale straight out of a Charles Dicken's novel. But the Dickensian overtones were applied to public fiscal behaviour, not, as some commentary on individual finances, which was the emphasis of Victorian England.
George Osborne thinks that an increasingly indebted private domestic sector is what Britain needs as the basis for continued economic growth. We already know that that strategy can drive growth for only so long and ends in crisis.
Meanwhile it is associated with declining standards of public services, degradation of public infrastructure, rising inequality and increased social instability.
It is not a road that a nation would plan to take if the goal of the government was to advance societal well-being rather than enriching the coffers of the elites and then managing the costs to the majority with lies about causality.
George Osborne suggested that:
… there is one practice from Lord Palmerston's time that we would do well to revive.
He clearly would not want to apply too much of the agenda of – Lord Palmerston – who brought in socially advanced labour laws to restrict youth labour, force capitalists to pay cash wages rather than in-kind, prevented capitalists from forcing workers to buy from their own shops, among other reforms.
But he wants to revive the – Commissioners for the Reduction of National Debt – which last met in 1860.
This is to revive the idea of "sound public finances" to have "lasting economic security".
All the usual scare myths were there in his Speech – summarised by his claim that Britain has to eliminate deficits because:
Questions were raised about our ability to pay our way in the world
Who asked these questions? No-one who understand the capacities of a currency-issuer would ever ask those questions.
The British government has an infinite ability to buy anything that is for sale in British pounds and can instruct the Bank of England to credit any account with pounds to any amount.
That is categorical and it is a lie to claim otherwise.
Osborne is reconstructing the recent election victory as a "comprehensive rejection of those who argued for more borrowing and more spending". This "gives our nation the chance to entrench a new settlement."
It shows how far the failure of British Labour to articulate an opposition to the fiscal myths have taken the British debate away from reality.
Osborne even squeezed the abysmal Labour Party further when he said this new "settlement … is accepted across the political spectrum".
What will Labour say about that? I wouldn't be holding my breath if I was the British. They are likely to use – weasel words – about the need to reduce the deficit fairly or some other nonsense.
And I apologise to the weasels out there for associating them with the Labour Party. They deserve better.
His overriding conclusion was that:
… in normal times, governments of the left as well as the right should run a budget surplus to bear down on debt and prepare for an uncertain future.
The logic he used was because "the people who suffer when governments run unsustainable deficits are not the richest but the poorest."
History would tell us otherwise.
The following graph uses the – Public finances databank – from the British Office of Budget Responsibility (OBR), which allows us to go back to 1948 and gives us a reasonable depiction of what might be considered "normal".
It shows the British government fiscal deficit as a percent of GDP (blue bars) and the output gap (percentage deviation from potential) in red.
The way the OBR measures the output gap is not uncontroversial and is likely to underestimate the size of the true gap. Please read my blog – The dreaded NAIRU is still about! – for more discussion on this point.
But it doesn't alter the general point being made here.
The pattern is similar across all nations. The normal situation for Britain has been for its government to run fiscal deficits of varying proportions to GDP.
At times, the deficits have risen when output growth has stalled and the automatic stabilisers have pushed out welfare payments and reduce tax revenue.
Whenever, the government has tried to run sustained surpluses, a recession or slowdown has followed soon after and the fiscal balance has returned to its 'normal' state of deficit.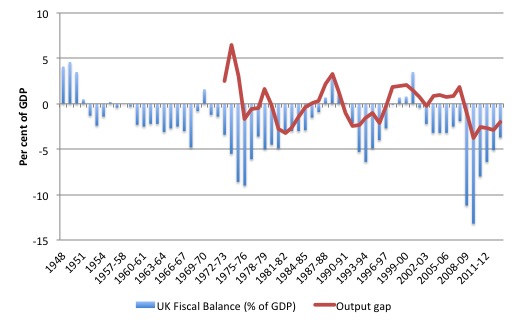 Why would I call that a normal state? Well basic macroeconomic relationships tell me that.
I have been over these many times before but for new readers here is a quick summary.
In macroeconomics we have a way of looking at the national accounts (the national expenditure and income data) which allows us to highlight the broad spending and income sectors – the government sector and the non-government sector. So we start by focusing on the final expenditure components of consumption (C), investment (I), government spending (G) , and net exports (exports minus imports) (NX). The basic aggregate demand equation is:
GDP = C + I + G + (X – M)
which says that total national income (GDP) is the sum of total final consumption spending (C), total private investment (I), total government spending (G) and net exports (X – M).
In terms of the uses that national income (GDP) can be put too, we say:
GDP = C + S + T
which says that GDP (income) ultimately comes back to households who consume, save (S) or pay taxes (T) with it once all the distributions are made.
So if we equate these two ideas about the same thing (GDP) we get:
C + S + T = C + I + G + (X – M)
Which we then can simplify by cancelling out the C from both sides and re-arranging (shifting things around but still satisfying the rules of algebra) into what we call the sectoral balances view of the national accounts.
There are three sectoral balances derived – the Fiscal Deficit (G – T), the Current Account balance (X – M) and the Private Domestic Balance (S – I).
Notice here that the non-government sector is made up of the external sector and the private domestic sector (households and firms).
These balances are usually expressed as a per cent of GDP:
(S – I) = (G – T) + (X – M)
The sectoral balances equation is an accounting statement (that has to be true by definition) says that total private savings (S) minus private investment (I) has to equal the public deficit (spending, G minus taxes, T) plus net exports (exports (X) minus imports (M)), where net exports represent the net savings of non-residents.
You can then manipulate these balances to tell stories about what is going on in a country.
For example, when an external deficit (X – M < 0) and a public surplus (G - T < 0) coincide, there must be a private domestic deficit. That is, the private domestic sector must be spending more than its income, which means it is increasing its indebtedness to the other sectors. So if X = 10 and M = 20, X - M = -10 (a current account deficit) and if G = 20 and T = 30, G - T = -10 (a fiscal surplus) then the private domestic deficit must be (20 - 30) + (10 - 20) = -20. As a matter of accounting then (S - I) = -20 which means that the domestic private sector is spending more than they are earning because I > S by 20 (whatever units we like – $s or % of GDP).
So the fiscal drag from the public sector surplus (taking more out of the economy than it is putting back in) is coinciding with an influx of net savings from the external sector. While private spending can persist for a time under these conditions using the net savings of the external sector, the private sector becomes increasingly indebted in the process. It is an unsustainable growth path.
The other way of saying this is that a fiscal deficit is required to support non-government net saving. Further, if the external sector is in deficit then the private domestic sector can only net save if the government sector is in deficit as well.
So if a nation has an external deficit (X – M < 0) then for the private domestic sector to net save (S - I) > 0, then the public fiscal deficit has to be large enough to offset the external deficit. Say, (X – M) = -20 (as above).
Under these circumstances, a balanced fiscal position (G – T = 0) will force the domestic private sector to spend more than they are earning (S – I) = -20 and accumulate more debt. But a government deficit of 25 (for example, G = 55 and T = 30) will give a right-hand solution of (55 – 30) + (10 – 20) = 15. The domestic private sector can then net save.
So, as a matter of accounting between the sectors, a government fiscal deficit adds net financial assets (adding to non government savings) available to the private sector and a fiscal surplus has the opposite effect. The last point requires further explanation as it is crucial to understanding the basis of Modern Monetary Theory (MMT).
In aggregate, there can be no net savings of financial assets of the non-government sector without cumulative government deficit spending.
In a closed economy, NX = 0 and government deficits translate dollar-for-dollar into private domestic surpluses (savings).
In an open economy, if we disaggregate the non-government sector into the private and foreign sectors, then total private savings is equal to private investment, the government fiscal deficit, and net exports, as net exports represent the net financial asset savings of non-residents.
It remains true, however, that the only entity that can provide the non-government sector with net financial assets (net savings) and thereby simultaneously accommodate any net desire to save (financial assets) and thus eliminate unemployment is the currency monopolist – the government. It does this by net spending (G > T) – that is, running a fiscal deficit.
That is a normal state.
Additionally, and contrary to mainstream rhetoric, yet ironically, necessarily consistent with national income accounting, the systematic pursuit of government fiscal surpluses (G < T) is dollar-for-dollar (or pound-for-pound, in the UK case) manifested as declines in non-government savings. If the aim was to boost the savings of the private domestic sector, when net exports are in deficit, then taxes in aggregate would have to be less than total government spending. That is, a fiscal deficit (G > T) would be required.
That is a normal state.
Since the collapse of the Bretton Woods agreement in August 1971 and the floating of the British pound, Britain has run more or less continuous external deficits.
The following graph of the UK sectoral balances is for the period 1974/75 to 2013/14.
The traditional near-mirror image between the fiscal balance and the private domestic balance is evident over this relatively long period. When the government deficit rises, the private domestic sector is able to save overall, which means that household saving is greater than investment. The opposite happens when the public sector goes into surplus (look at what happened in the late 1990s.
At present the public deficit is being squeezed by the attempted austerity and the current account is expanding as exports fail to deliver the growth premium forecasted by the Government.
The private domestic sector is now back in deficit. So if George Osborne thinks he will get British public debt down he is also clearly desiring to push private debt up to substantially. With an external deficit, it is one or the other.
But the other reality in the UK at present is that despite all the austerity talk, the fiscal deficit is still substantial and supporting growth. That is a fact that should be emphasised. The austerity cycle has not been severe enough to eliminate that on-going fiscal support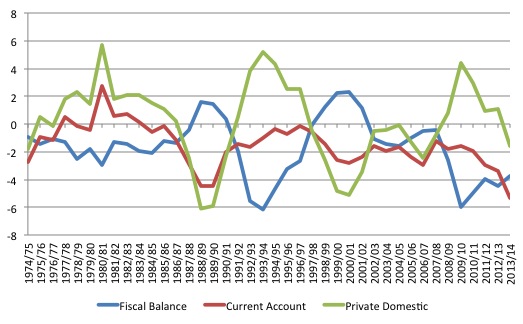 There will be no big export boom in the UK. The UK will continue to enjoy – as a normal state – the fact that foreigners are willing to send them more real goods and services than they expect back in return.
And with private investment relatively weak, a major private domestic spending boom would have to come from household consumption. And with real wages growth being highly constrained, this would require massive increases in household indebtedness – a situation that cannot persist and certainly cannot be considered "normal times".
So when George Osborne said in this Mansion House Speech that the:
… strong new fiscal framework to entrench this permanent commitment to that surplus, and the budget responsibility it represents.
You know he is lying or stupid or both. In 'normal' times for Britain, it would represent the height of fiscal irresponsibility.
Further, it is not something he can control.
The forces of non-government spending and saving vastly outweigh the capacity of the government in influencing the final fiscal balance in each period.
With the attempted permanent fiscal drag (from trying to run permanent surpluses) that will intensify.
Unless the government plans to eliminate all sensitivity of the fiscal outcome to the economic cycle (that is, eliminate the automatic stabilisers), which would require abandoning income taxes in favour of poll taxes (per head taxes for example) and abolishing welfare payments, there is no way George Osborne can commit to a permanent fiscal surplus.
The fluctuations in non-government spending will see to it that the normal state of fiscal deficits prevail. But in the process, the attempt to enforce this "new framework" will have devastating consequences for the British economy.
Further discussion of these issues can be found in this blog – Who are the British that are living within their means?
Conclusion
It would appear that George might need a bowl of Cornflakes! Colloquially speaking that is!
That is enough for today!
(c) Copyright 2015 William Mitchell. All Rights Reserved.