Framing Modern Monetary Theory – Presentation
I am not doing much work today. But in the early quietness I was able to finalise an edit of a presentation I gave in Rome on November 24, 2014 on Framing Modern Monetary Theory. So among other things I include today that video is now available. All the best for today.

Here is my Xmas card for 2014 courtesy of – Kipper Williams – of the Guardian.
I think it appropriate for this day and age.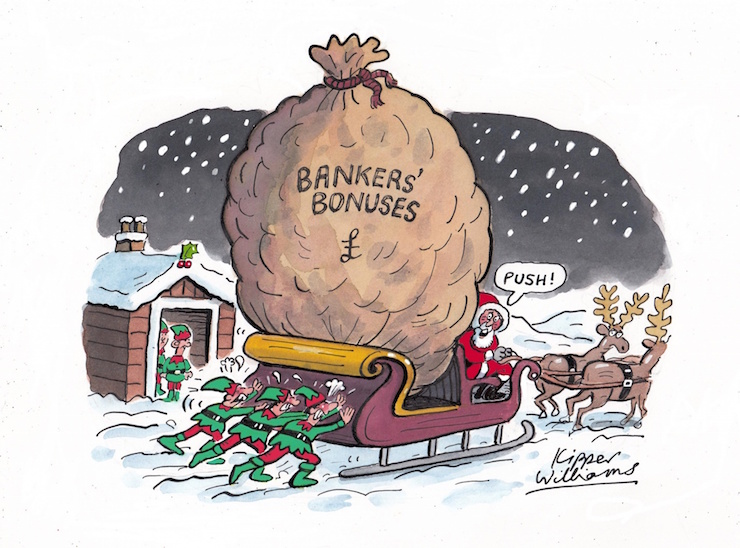 Framing Modern Monetary Theory – Presentation in Rome, November 24, 2014
I finally found time to edit and create a video from my presentation at the Rome 3 University on November 24, 2014, which was kindly organised by L'associazione MEMMT.info
The original full version with Italian interpretation and the Q&A was filmed and produced by Joel Samuele Beaumont and can be viewed at http://youtu.be/bDETqz2MA1c – the session went for 2 hours and 43 minutes. I captured his video and I thank him for his work.
The version here is 39 minutes and covers the English presentation only. I have cut out the interpreting and the Q&A and some other nondescript time filling bits. I will post the Q&A session separately once the editing is complete.
It is based on work we are doing at present on presenting Modern Monetary Theory (MMT) to a public that has neo-liberal economic concepts ingrained in their basic learning structures.
Stereotyping those on income support and the homeless
I thought this was rather apposite for today. See related story – See what homeless man does with $100.
I might make a good spy
I never buy airlines tickets particularly one-way types with cash the day before. When you travel a lot you work out that the cheapest fares are those that are 3-4 months out of the flight – unless you are prepared to take the risk of standby.
I also never wear T-shirts and never look very scruffy at airports.
It was as if I had been reading the – CIA Assessment on Surviving Seconday Screening – and the – CIA Advice for Operatives Infiltrating Schengen.
WikiLeaks has kindly made these two CIA documents public which offer all would-be spies some solid hints on how they can stay undercover and defraud the sovereign rights of nations through the use of false documents to illegally cross international borders.
This information will also help would-be spy novelists get some real world, workshopped information to make their scripts more realistic.
The docuuments were intended for CIA operatives only – not to be shared with even other allied security agencies.
Some of the hints to avoid so-called 'profiling' include:
1. Don't show signs of nervousness at foreign airports – "Physiological signs of nervousness include shaking or trembling hands, rapid breathing for no apparent reason, cold sweats, pulsating carotid arteries, a flushed face, and avoidance of eye contact." So stay calm.
2. Don't lie if they ask you at the screening if you are carrying heaps of drugs – "Appearance of lying or withholding information".
3. Memorise all your previous passport stamps – "Lack of familiarity with passport entries (biographic page, previous travel)."
4. Preferably white out any stamps or visa from bad places – "Stamps or visas from a terrorism-sponsoring country".
5. Learn all Ten official languages if you intend to spy in South Africa – "Inability to speak the language of the passport-issuing country".
6. Don't carry sets of golf clubs if you simultaneously are being assisted by a guide dog for blindness – "Baggage or contents inconsistent with the passenger's appearance, profession, or ticket class".
Other hints include:
… do not buy a one-way ticket with cash the day before flying … do not look scruffy while traveling on a diplomatic passport …
The other document tells CIA wannabees how to breach the border security of European nations in order to spy on them and kidnap people for rendition and torture.
The US Administration seems to be a cheery place!
A lighter note
Here is a snippet from my Melbourne band – Pressure Drop. It is a shortened version of a song from our next CD to be released in early 2015.
The audio is the pre-final mix and has some glitches and will be refined in the final mix in January.
It is not about spies.
Conclusion
Season's greetings.
That is enough for today!
(c) Copyright 2014 William Mitchell. All Rights Reserved.