When the left became lost – Part 1
I read a book a long time ago (1994) called "The Principle of Duty: An Essay on the Foundations of Civic Order". I note it was republished in 2009. The book by David Selbourne – who is a British philosopher and these days writes regularly for the British Magazine New Statesman. His latest article (July 24, 2014) – How the left was lost: the need to relearn what true progress means – reprises the argument made in his book. He has been making the argument for a long time, which, in itself is not a bad thing if it a reflection of a good idea being ignored. At the time I read the book the Dark Age of neo-liberalism that we are within was forming but its internal contradictions had not yet manifested fully. But the left had certainly lost direction by then, getting caught up in a Post Modernist haze with career politicians and their union buddies abandoning progressive principles and, instead, adopting neo-liberal economic stances to prove that they were 'responsible'. The aim – to get power. That was the end game. Selbourne's book and current article captures a lot of that but, I think, also misses some vital parts of the story.

The main argument is this. The idea of progress has no "fixed meaning". If the left is to challenge the "pro-competition and pro-enterprise agenda" then "what is the alternative?"
He rules out "socialism" as an idea whose "time has come and gone" – whatever form it might take. He believes the
"working class has never been further from dethroning capital, and has itself been near consumed by market forces".
Utopian visions of communism are illusions and "the productive 'proletarian' has turned into a mere shopper, poor as may be".
He argues that the failures of state socialism has allowed the neo-liberal agenda – "privatisation (or theft) of public goods" etc – appear as "a virtue and the common good appear synonymous with the good of the market".
Any moderate attempts to regulate the market are vilified as "socialist", whereas "the freedom to exploit others is seen as an expression of freedom as such".
Socialists will not save the "collapsing liberal democracies" – "They had their chances and blew them".
Who is to blame?
1. Trade unions – "have been harmed by their Tammany practices, falling memberships and overpaid leaders".
2. Academics – Selbourne takes aim squarely at my broad profession – academia. He talks of an "Incomprehensible scholasticism, emanating from the nether darkness of academia where nothing grows, has contributed with its jargon to the left's failure."
He chooses to characterise us as "fluttering over bookes", which is a quote from from the first part of Thomas Hobbes epic analysis of the legitimacy of government and the role of individuals within social contracts – Leviathan published in 1651.
At university, I studied Thomas Hobbes' works. The first part of that book analyses human nature and characterises Scholasticism, which is the dominant theology at the time he was writing as thrives on confused definitions of everyday words, such as incorporeal substance, which for Hobbes is a contradiction in terms.
The full 'fluttering quote' in contained in this paragraph:
By this it appears how necessary it is for any man that aspires to true knowledge to examine the definitions of former authors; and either to correct them, where they are negligently set down, or to make them himself. For the errors of definitions multiply themselves, according as the reckoning proceeds, and lead men into absurdities, which at last they see, but cannot avoid, without reckoning anew from the beginning; in which lies the foundation of their errors. From whence it happens that they which trust to books do as they that cast up many little sums into a greater, without considering whether those little sums were rightly cast up or not; and at last finding the error visible, and not mistrusting their first grounds, know not which way to clear themselves, spend time in fluttering over their books; as birds that entering by the chimney, and finding themselves enclosed in a chamber, flutter at the false light of a glass window, for want of wit to consider which way they came in.
There is truth in what Selbourne says about the left in academic institutions. He says that clear talk about "class struggle":
gave way to the mystifying nonsenses of structuralism and semiotics, with their 'narratives', 'discourses' and 'tropes', their 'moments', 'shifts' and 'ruptures': the language of political and moral paralysis.
When the left started obsessing about – Michel Foucault – and became lost in Post Modernism and deconstructed themselves out of reality, the wheels fell off for the left.
As academics became fractured by this 'crypto-normativist' dead-end (as Jurgen Habermas called it) – they spent theire time "fluttering in their books". I have been to many heterodox conferences where the speaking list is dominated by studies about hermeneutics, gender identification, ontological viewpoints, and the rest of it. I have been lectured on claims that economists are bad because they were weaned too early by their mothers. A discursive narrative tells us that I am reliably informed. And all the rest of it.
Selbourne says that:
… the 'left' now lacks a coherent sense of what progress is. It has only a ragbag of causes and issues, rational and irrational, urgent and idle: a politics of personal rights and 'lifestyle choices', of anti-racism and environmental protection, of multicultural separatism, individual identity and gender, and much else besides.
So far, there is nothing contentious in any of this in my view.
He also merges the liberatarian trends in the left with the same concept of freedom that you will find in Milton Friedman's classic 1980 book "Free to Choose, which outlined why he considered the free market was the best way to deliver maximum prosperity and wealth for all.
Friedman's vision should be the anathema of what the left stand for and that is Selbourne's point.
He believes the left have embraced a sense of freedom that is far removed from what the "19th-century emancipationists and the suffragettes struggled" for (as an example). Now the left wants to have "freedom to do what one wants and the devil take the hindmost" – a "pseudo-left libertarianism".
The progressives push against any restraints on moral or social activities – arguing that it is "authoritarian". Selbourne points out that it is hard to fathom why one can then "logically object to the rights of Capital to do whatever it wants also. The rapacious equity trader has as much right to be free as you or me".
He claims, that the elevation of individual freedom destroys a free society.
I found that part interesting. I am from the hippy generation. We fought hard to regain individual freedoms from an archaic male-oriented conservative, post-war generation of parents.
As part of that struggle many of the left developed strong libertarian perspectives. Just to check where I was on the – Political Compass, I redid the test this afternoon.
Here is the result. Hard left on economics, very libertarian. I know why I didn't hit the edge of the libertarian boundary but I will keep the reasons to myself.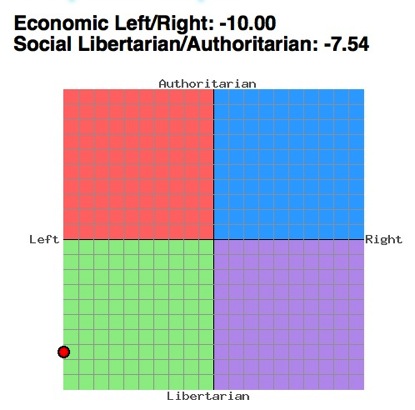 So in Selbourne's hypothesis I guess I fit squarely in the movement among the left to the libertarian edge of the world.
And I understand that many of the left have followed this pattern but where I disagree with Selbourne is in his characterisation that libertarianism is equivalent to Friedman's free choice.
I don't believe in free choice. I am on the hard left in economic terms, which means I elevate the state to the top and the market to the bottom.
This is the basis of my criticisms of the so-called progressives who talk economics as if they were reciting neo-liberal doctrine.
When these so-called leftists start raving on about the need to "be focused on maintaining government solvency" and talk as if "Low and stable long run debt to GDP ratios or Deficit to GDP ratios are two better measures of prudent fiscal management than surpluses or zero net debt" then you know that the progressive movement is down Selbourne's dead-end.
When left parties talk about "taxpayer funds" being used on government spending, you know the wheels have fallen off.
When they spend more time arguing about gender than they do about class then you know the wheels have fallen off.
Sure enough, I want the freedom to read and watch what I like but only if it is not at the expense of anyone else.
But I accept private coercion if it means that the state is fulfilling its responsibilities to give work opportunities for all.
The meaning of this coercion – is the idea that the state has to have real resources at its disposal to run non-inflationary deficits. In a world where private ownership is institutionalised in the legal structure, then the government can only get those resources by depriving private individuals of their use.
They can do it by guns and violence, which is not sustainable. Or they can do it by using their currency-issuing monopoly to impose a tax on us so we have to accept their spending in order to relinquish our legal liabilities to the state.
That is, coercion and as long as the state is using that currency-issuing monopoly to advance the welfare of all of us then I accept that notwithstanding my individual libertarian leaning.
Selbourne sais that there have to be:
… restraints on some forms of liberty are essential to both individual and public well-being, and therefore essential to a new definition of what is truly progressive.
A strong state is the only way that the anti-people tendencies of capitalism can be fettered.
When the politicians on the left claim they want (in Selbourne's words in the UK setting) "to make Labour the party of enterprise" this is ideologically no different to the right. The UK analogy extends throughout the advanced world.
'Enterprise' is code for deregulation, 'business-friendly', constraints on the unemployed and all the other terrible policy structures that 'Labour-type' governments have introduced in Australia, the UK, Canada, the US, and throughout Europe and beyond.
How can we tolerate millions of people unemployed and still argue for surpluses or low deficit to GDP ratios?
How can we tolerate people not eating enough and then handing out billions of public money to private schools which consolidate the inequality?
How can a Labor government in Australia lock children up in prisons on harsh Pacific islands when all their parents did was pay a crooked boat owner some money to take them to our shores in search of something better? And further, when they were escaping the torment, oppression and chaos that our own armed forces in tandem with other martial states created when they invaded the lands of these refugees.
Incredible.
As Selbourne says "All that remains for Labour to do, it seems, is to work on its "brand" – but it has no "brand" – and give its leader a cosmetic makeover. Meanwhile, hundreds of thousands of trade unionists are said no longer to vote Labour, and rootless consumption rules."
And when the trade unions continue to support the Labor political machines they want to tie the party down to neo-liberal economic rules that destroy prosperity, reinforce inequality and undermine any sense of progressive agenda.
They do not admit to that – but that is the delusion they are living with.
Selbourne also takes aim at "political correctness" which "is a creed as rigid as any religious dogma", which he considers to be a "a form of reactionary self-censorship driven by cowardice".
Reason is thwarted by "with repressive taboos about what may be said and (almost) about what should be thought". So if you criticise the current neo-liberal macroeconomics, the left trade unions will dismiss the critic as a loony, fringe dweller.
Political correctness becomes mob rule and extends into a stand-off, which Selbourne calls the " pseudo-progressive's non-judgementalism". Why have we tolerated disgusting regimes? Why does anyone vote for parties that allow the nation to trade and enrich these awful regimes? Why does the dollar come before our judgement of principle?
The state can always create work, so why tolerate trading with unfair, vicious, despotic nations? Well, the left no longer believe that the state should create jobs because that might require a large deficit and who is ever going to argue for that?
Remember for them the focus has to be on government solvency. A progressive would close down the vast majority of speculative financial market transactions. But the modern so-called progressive wants a Robin Hood tax instead.
Why? To help pay for government spending and to make the rich pay. That sort of logic is just lost in the deepest darkest forest sort of stuff. And in that sense I agree with Selbourne.
His examples are about Islam. He rails against dishonest "pseudo-progressives, letting down the secular cause, keep quiet about aspects of the morality of Islam that they would not tolerate for themselves".
His prescription is to restore what he calls civic society. He eschews the "Wishy-washy centrists" who "need to recognise that a market-driven liberal democracy such as ours, with a few human rights protections thrown into the mix, does not stand at the summit of political evolution."
Citizenship is not defined by market freedom – enterprise – low deficits to GDP ratios and restore the sense of collective will, which has all but disappeared in this market "free-for-all".
I am running out of time and will come back to this topic because I am starting to map out a book project (to join my current queue) on the topic of where the left got lost.
Selbourne claims that "civic consciousness" should replace "class consciousness". I disagree with that view, which is one of the reasons I am out there on the economic left.
Capitalism hasn't gone away no matter how it has morphed into some international global morass. The dynamics of capital drive the show. Industrial capital has given way to financial capital.
But every day, there is something happening that tells us how the struggle is ongoing.
The desire for individual freedom to do what we want does not undermine the centrality of the state being our vehicle to discipline capital and prepare for some sort of post-capitalism evolution.
That desire does not also give an imprimatur, as Selbourne claims, for capital to do what it wants. Corporations are not citizens. In some cases, single corporations are bigger than the state.
But the currency-monopoly is extremely powerful and we have reduced that power by buying the neo-liberal myths.
Conclusion
There will be more on this theme as I collect my thoughts.
That is enough for today!
(c) Copyright 2014 Bill Mitchell. All Rights Reserved.