Revisionism is rife and ignorance is being elevated to higher levels
Sometimes I read things and consider either I live in a parallel universe or the writers do. I always conclude the latter. There is an increasing number of articles and commentaries coming out which aim to re-write history in favour of the writer's reputation or that of his/her mates. Revisionism, which includes the practice of personal reincarnation is rife at present. Everybody seemed to predict the crisis. Even those that clearly in their own writing didn't have a clue that the trouble was coming predicted it. As part of this process, key organisations that should be learning from the crisis such as the BIS are demonstrating that they are in an educational void. They have become just another propaganda machine. And so the crisis continues as ignorance is elevated to higher levels.

Which tradition?
Take for example this UK Guardian article written by on J. Bradford Delong (June 29, 2012) – Explaining current US Treasury rates is beyond even the economic prophets – which caused a bit of a stir among progressive economists over the weekend after it was released. He is an American economist.
Guardian readers would have understood from this article that there is a strong group of leading (mostly US) economists including Dr Delong himself who knew all along the crisis was coming and what should be done about it when it came because they were all working in a tradition of Hyman Minsky, despite at least one admitting he only recently read any of Minsky's work.
The paragraph that inflamed many was:
So the big lesson is simple: trust those who work in the tradition of Walter Bagehot, Hyman Minsky, and Charles Kindleberger. That means trusting economists like Paul Krugman, Paul Romer, Gary Gorton, Carmen Reinhart, Ken Rogoff, Raghuram Rajan, Larry Summers, Barry Eichengreen, Olivier Blanchard, and their peers. Just as they got the recent past right, so they are the ones most likely to get the distribution of possible futures right.
I won't go into detail about the contributions of this coterie. But we know full well that characters like Larry Summers (part of the Committee to save the World – Please read my blog – Fiscal austerity damages real growth and prolongs the financial downturn – for more discussion on this point) was a key player in the financial deregulation that led to the bust.
We know that Olivier Blanchard failed to understand the macroeconomic implications of the financial deregulation. Please read my blog – We are sorry – for more discussion on this point.
In a 2010, IMF Staff Position Note entitled – Rethinking Macroeconomic Policy, written by Blanchard with co-authors Giovanni Dell'Ariccia and Paolo Mauro we read that:
… we thought of monetary policy as having one target, inflation, and one instrument, the policy rate. So long as inflation was stable, the output gap was likely to be small and stable and monetary policy did its job. We thought of fiscal policy as playing a secondary role, with political constraints sharply limiting its de facto usefulness. And we thought of financial regulation as mostly outside the macroeconomic policy framework … [and] … Little attention was paid, however, to the rest of the financial system from a macro standpoint.
They also indicated they believed in the money multiplier and the myth that reserve volumes influence lending ("This led to an emphasis on the "credit channel," where monetary policy also affects the economy through the quantity of reserves and, in turn, bank credit.") which is expounded in detail by Blanchard in his macroeconomics textbook.
In other words, he didn't understand how the modern banking system actually works. Please see my blog – Money multiplier and other myths – for more discussion.
He believed in Ricardian Equivalence – one of the myths used to justify fiscal austerity. The IMF paper he co-authored said they had "wide skepticism about the effects of fiscal policy, itself largely based on Ricardian equivalence arguments." Please read my blog – Deficits should be cut in a recession. Not! – for more discussion on Ricardian equivalence.
Blanchard and Co wrote that they considered that monetary policy alone "could maintain a stable output gap … [so] … there was little reason to use another instrument" (that is, fiscal policy). And then along came the crisis that Delong claims they all predicted, which has demonstrated that monetary policy has failed dramatically to rekindle growth.
Blanchard and Co said that they had:
Increased confidence that a coherent macro framework had been achieved was surely reinforced by the "Great moderation," the steady decline in the variability of output and of inflation over the period in most advanced economies.
Please read the blog – The Great Moderation – where I show why this proposition was never well-established.
Dr Delong himself hasn't actually drowned himself in glory in the recent period. In a Bloomberg opinion piece (July 5, 2011) – Sorrow and Pity of Another Liquidity Trap – J. Bradford Delong – asserted:
… (t)here is only one real law of economics: the law of supply and demand. If the quantity supplied goes up, the price goes down"
He was then confounded by the apparent abrogation of that law when it comes to US Treasury bond yields. He notes that between 2002 and 2007 the increased supply of bonds led him to conclude that:
this expanded supply would exert substantial pressure on interest rates to rise.
But he rationalises this by arguing that the "demand for Treasuries was inordinately high, in part because the supply of alternatives was low" and suggests that private bond issuers reduced their demand for funds because they lacked "confidence" in the set of available investment opportunities.
He admits to thinking that it was only a matter of time before "the market's appetite for Treasury bonds at high prices and low interest rates had to reach its limit" given that "(s)upply and demand isn't just a good idea – it's the law".
He also says that in 2008 he considered the US "had a little time for expansionary fiscal policy to boost the economy … before the bond-market vigilantes would arrive" and:
They would demand higher interest rates on Treasury bonds, which would begin seriously crowding out the benefits of fiscal stimulus. The U.S. government would have to react, pivoting from fighting joblessness, via deficit spending, to reassuring the bond market via long-run tax increases and spending cuts to Medicare and Medicaid.
That is all straightforward mainstream macroeconomics – the crowding out story and the view that private bond markets essentially call the shots and the government is a passive player in seeking funds.
The empirical world certainly didn't pan out as he claimed and it is clear that bond markets will buy whatever debt is being issued at high prices (low yields).
There is also no inflation threat emerging from the expansion of the central bank balance sheets – quite the opposite.
He then offered his mea culpa:
Although I worked for three years in the Clinton Treasury Department, and am a card-carrying member of the economist guild, I predicted none of this. Like most of my peers, I was wrong. Yet the most interesting thing is that I could have – should have – been right. I had read economist John Hicks; I just didn't quite believe him.
The reference to J.R. Hicks was in relation to the concept of a liquidity trap. I considered that link more fully in this blog – Whether there is a liquidity trap or not is irrelevant and more recently in this blog – The on-going crisis has nothing to do with a supposed liquidity trap.
Like Paul Krugman, who is included in Dr Delong's group of cogniscenti, Dr Delong was "wrong", because in his own words, he didn't consider the liquidity trap to be a serious description of real possibilities despite being having sat in his "first graduate economics class in 1980? listening "to Marty Feldstein and Olivier Blanchard – two of the smartest humans I am ever likely to see" who assured him that "Hicks's liquidity trap was a very special case, into which the economy was unlikely to wedge itself again".
Hmm. Dr Delong represented the Hicks liquidity trap (from the 1930s) in terms of "that interest rates paid by creditworthy governments would remain low after a financial crisis … even in the face of enormous budget deficits that greatly expand the supply of government bonds".
Delong claims that normally when interest rates fall (and bond prices rise) business investment is stimulated and household saving becomes less attractive – both stimulatory outcomes. But during a financial crisis, there is "an increased desire among businesses and households to safeguard more of their wealth in cash" and total spending falls and a recession emerges.
What if the central bank conducts open market operations (with the fancy title of quantitative easing) and buys "bonds for cash"? He says that:
… when rates become so low that there's little difference between cash and short-term government bonds, open-market operations cease having an effect; they simply swap one zero- yielding government asset for another, with their hunger to hold more safe, liquid assets unsatisfied. This is the liquidity trap.
So he concludes that "we need deficit spending" to fill the gap left by private spending. But even though the government runs a deficit and borrows "creating more of the safe, cashlike assets that private investors want" why is the demand for bonds so high? He doesn't answer that. In a true liquidity trap (a la Keynes) the demand for bonds evaporates because people fear capital losses.
For someone who in his own words is an economist "who … [is] … steeped in economic and financial history" this is a major oversight.
Dr Delong prefers to channel his version of Hicks and conclude that "(a)s long as output remains depressed and there is slack in the economy, printing more bonds will have negligible effect in increasing interest rates" and says he is "sorry" for ignoring that message.
The point is that De Long "generally" believes deficits to be damaging for private spending because he thinks they drive up interest rates but in this special case – they are safe … for a time. Eventually the build-up in the monetary base will be inflationary in his view because supply will exceed demand. The current demand for "cash" will move into a demand for goods and services and all those reserves will be loaned out and spent.
Please read the following blogs – Building bank reserves will not expand credit and Building bank reserves is not inflationary – for further discussion as to why increasing banks reserves neither enhance the capacity of the private banks to lend or increase the risk of inflation.
I needn't say too much about Drs Rogoff and Reinhardt. Why haven't they sought to correct on the public record the continued mis-use of the analysis that appears in their book This Time is Different. A lot of commentators quote this book without it seems having read it in detail.
Of critical importance, quite apart from the other issues that one might have with Reinhart and Rogoff's analysis (and I have many), one has to appreciate what they are talking about. Most of the commentators do not spell out the definitions of a sovereign default used in the book. In this way they deliberately (or through ignorance – one or the other) blur the terminology and start claiming or leaving the reader to assume that the analysis applies to all governments everywhere.
It does not. On Page 2 of the draft, Reinhart and Rogoff say:
We begin by discussing sovereign default on external debt (i.e., a government default on its own external debt or private sector debts that were publicly guaranteed.)
Their analysis, inasmuch as it has any credibility relates to problems that national governments face when they borrow in a foreign currency. Please read my blog – Watch out for spam! – for more discussion on this point.
But why haven't the authors written strongly about this abuse of their research?
I could go into massive detail about the work of all the above-named "economists who are steeped in economic and financial history" and in Dr Delong's estimate were right!
You will be hard-pressed to find anything in their work (Raghuram Rajan and to some extend Barry Eichengreen apart) that would suggest they were predicting the crisis and understood why it occurred and how it can be solved.
The thing that curled the ears of many progressives was the claim that these economists worked in the Minskian tradition. The best response to the article was from my colleague Randy Wray – Brad Delong: We're all Minskians now!. Randy was a doctoral student under Minsky.
That was a very outlandish piece of reinvention by Dr Delong, consistent with many economists who are now attempting to play catch-up and blur what they did or didn't know or believe pre- and post-crisis.
Some of the outrage against Dr Delong was driven by personal ego (I am not including Randy in that assessment) and in that sense was unhelpful. Sort of along the lines – "why wasn't I included in the list of economists who are steeped in economic and financial history who knew all?".
But substantively, it is a real concern when economists who basically operate within the mainstream macroeconomics tradition lay claim to prescience and channel writers that they have never written about or whose thoughts they have never advanced – except now – when it is obvious to them that they were wrong.
You should read Randy's reply to Dr Delong for more detail on some of the other claims he made in the Guardian piece.
And then … the BIS Annual Report
The Bank of International Settlements – 82nd Annual Report – covering the period from April 1, 2011 to March 31, 2012 (released June 24, 2012) is an exemplorary demonstration of how the World's key financial and economic institutions have failed to learn anything from the crisis and persist in perpetuating erroneous analysis.
But it goes beyond that even. If extended to its logical conclusion it is hard not to conclude that the BIS (and central banks in general) feel they are blameless in the creation of the crisis and further, despite their regular calls that they are independent, think that their policy ambit includes treasury, industry and labour market policy.
The degree of their self-belief is only matched by the level of their revisionism and ignorance.
I haven't the time (nor the inclination to review the whole document) but here are some snippetts.
In Chapter I. Breaking the vicious cycles the problem according to the BIS is laid out. We read that the high levels of debt carried by the private sector as a result of the "leverage-driven real estate boom" has spawned a "necessary deleveraging process for households" which is "far from complete".
We can agree on that. But then the BIS claim that an:
… important factor slowing the deleveraging process among households is the simultaneous need for balance sheet repair and deleveraging in the financial and government sectors.
Why conflate the private and government sectors? No reason is given. Apparently, it is just a given that governments have to cut their debt at the same time as the non-government sector is doing so. Earlier they talk about the problem of reliance on export-led growth.
Astute readers will realise that under current institutional (voluntary) arrangements which are in place in most nations and determine the way in which governments spend (and issue debt), it is impossible for the government and non-government sectors to simultaneously reduce debt. One sector's surplus is the other sector's deficit.
The reason that the private deleveraging process is struggling is because governments are acting in violation of that "sectoral" rule and, by imposing fiscal austerity, are killing growth – the source of private saving.
Who understands that? Certainly not the writer's of the BIS Annual Report.
We then read that the:
… given the ongoing need to improve balance sheets, any effects from stimulative fiscal policy will be limited by overindebted agents using additional income to repay debt rather than spend more. As a result, weak growth is likely to continue.
Which tells us two things:
1. Government deficits stimulate income which is then the source of private saving (as above). The private debt overhang is so large as a result of the neo-liberal endorsed credit binge that there is a need for higher than normal saving ratios to fix the private balance sheets.
2. Government deficits are thus too small as evidenced by the weak growth. From a sectoral perspective, aggregate spending can come from the government sector and/or the non-government sector. If the latter are engaged in a period of weak spending then growth requires an enhanced contribution from the government sector. It is impossible to engender income and output growth any other way.
But the BIS thinks that the real cause of the weak (and in some cases non-existent recovery) is that:
Persistent imbalances across industries are also impeding recovery. Because labour and capital do not easily shift across industries, the misallocation of resources during the boom tends to work against recovery in the aftermath of a crisis. Hence, countries where the sectoral imbalances were most apparent are facing higher and more protracted unemployment as their industrial structure only slowly adjusts.
This is the standard neo-liberal structural (supply-side) explanation. The reality is that demand collapses in some sectors more dramatically than others. Unemployment in those industries rises. But the collapse is a demand-driven outcome.
Sudden recessions such as the current crisis do not occur because of industry imbalances. They occur because demand collapses. It is clear that demand patterns can create unstable industry structures – such as the massive growth of construction in Spain servicing the real estate boom.
But the solution isn't to wait for the industry structure to resolve itself.
The free market economists are continually claiming that economies have to go through blood-letting if there are structural imbalances so that the high-cost industries are expunged and resources re-allocated back to the best-use patterns.
This argument never adds up the costs of letting the "market work". As I have indicated before doyens of the market such as Milton Friedman has acknowledged that his estimate of such a resolution might be something like 15 years – that is, 3/4 of one generation confined to unemployment and the rest of the nation enduring massive, permanent income losses.
Further, it was the belief in the self-regulating private market which led to the massive deregulation and lack of regulative oversight of the financial sector. The resource misallocation they talk about occurred because of a lack of regulation – because the market was allowed to do its own thing more than in the past.
So why will the resource allocation improve without major government intervention?
The other point, in relation to the costs of adjustment, is that the role of the government sector should be to attenuate those costs. It can do that very easily in a major downturn by increasing its role as a direct employer.
If the non-government sector fails to employ then there is only one sector left.
Just to check where the employment was lost in the US between 2008 and 2010 I dug out the US Bureau of Labour Statistics data – Industry Output and Employment and compiled the following graph.
We should recall that the US housing bubble burst in 2006 but growth continued across the industry structure until overall demand started to falter in 2008.
It is clear that negative growth in 2008 and 2009 was spread broadly across the industry structure but was worse in Mining, Construction, Manufacturing, Wholesale trade, Retail Trade, Information and Real Estate.
That is a pattern common in most recessions – whether they be financially motivated (risky balance sheets) or driven by pessimistic investment.
Moreover, the response of government in employment terms has been pathetic and goes a long way to explain why unemployment rose so dramatically in the US and has stayed at those persistently high levels for some years now.
The same lack of public sector response is common in other nations.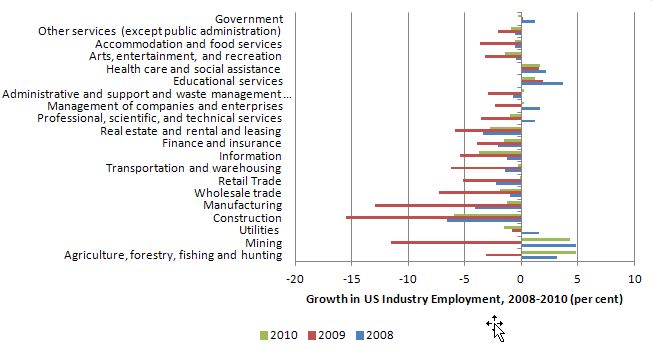 If you believed the BIS, then there is nothing that policy can do. Monetary policy has done everything and is now too expansionist and fiscal policy is dangerous given the alleged sovereign debt problem.
There was another extraordinary argument presented in the BIS Annual Report. Under a sub-heading "Overburdened central banks face risks" we read that:
The extraordinary persistence of loose monetary policy is largely the result of insufficient action by governments in addressing structural problems. Simply put: central banks are being cornered into prolonging monetary stimulus as governments drag their feet and adjustment is delayed.
First, since when does a central bank in a sovereign nation face any default risk? What does being overburdened mean in the context of a currency issuer? Nothing!
Second, the reason why the "loose monetary policy" (and we could dispute that assessment given that it is likely required real interest rates are lower than they currently are in most economies) is being maintained is because central bankers have generally expressed concern about the weak growth outlook. Also, given their obsession with inflation-first strategies, the subdued inflation environment is giving no signal for rate rises.
The reason their is weak growth has everything to do with an over-indebted private sector being confronted by governments imposing fiscal austerity onto them. Growth has to falter in those circumstances.
Further, since when has the central bank or the central bank of the central bank become commentators on fiscal policy. They are unaccountable, unelected and claim to be independent.
But under the sub-heading "The abysmal fiscal outlook" we get the full montie. This is the most appalling section (Chapter V) of the Report. Here is a sample:
… the fiscal maelstrom has toppled many sovereigns from their unique perch where the market considered them to be essentially free of credit risk and, in that sense, riskless. The loss is particularly worrisome given weak economic conditions and a global banking system still largely dependent on government support. The shrinking supply of safe assets is harming the functioning of financial markets and driving up funding costs for the private sector. And it is helping push banks into risky practices, such as rehypothecation – that is, the use of the same collateral for multiple obligations. Over the past year, much of the world has focused on Europe, where sovereign debt crises have been erupting at an alarming rate. But, as recently underscored by credit downgrades of the United States and Japan and rating agency warnings on the United Kingdom, underlying long-term fiscal imbalances extend far beyond the euro area.
So why are yields low in the US, UK, Australia, Japan? Why are they high in Spain and Greece? Why do they insist on referring to the Eurozone countries as sovereigns?
You will note that the assessment of fiscal sustainability is solely based on what the rating agencies thinks. That should tell you everything. The rating agencies downgraded Japan in the early part of this century and yields didn't move. They downgraded the US recently and yields fell.
Why not just consider the reality – yields are low where governments issue their own currency and variously higher where they don't.
The BIS say:
Sovereigns under fiscal pressure have been losing their risk-free status – and the accompanying economic benefits – at an alarming rate.
Which sovereigns? The Euro nations, where yields have risen, indicating bond markets have assessed that the relevant member states are at risk of default (and have defaulted in the case of Greece) do not issue their own currency and do not have their own central bank. The bond markets know that. They have not attacked any nation with its own central bank because they know in those case there is no solvency risk.
The rest of the BIS analysis in this context is spurious to say the least.
Conclusion
Revisionism, which includes the practice of personal reincarnation is rife at present. Everybody seemed to predict the crisis. Even those that clearly in their own writing didn't have a clue that the trouble was coming.
And those organisations that should be learning from the crisis such as the BIS are demonstrating that they are in an educational void. They have become just another propaganda machines.
And so the crisis continues.
Its lucky the Tour de France is on – otherwise one might get a bit depressed.
The way things are done in Romania
When pesky watchdogs get in the road – the solution is simple. This snippet came from the EU Observer.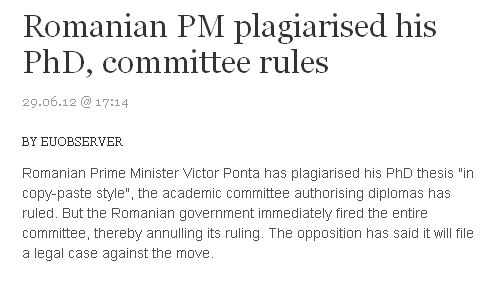 That is enough for today!
(c) Copyright 2012 Bill Mitchell. All Rights Reserved.