I was at a social function last weekend and the conversation turned to economics – surprise surprise. I was the only professional economist in the group. I try very hard to avoid discussing economics in these circumstances because experience tells me that misunderstandings quickly occur as the "intuitive" or "common-sense" economists seek the floor. I would much rather talk about weeds growing than the sustainability of budget deficits in times like that. But, alas, someone said "but we've got a 50 million-dollar deficit who is going to pay for that?" Another member of the group, who is very articulate and fairly well-read in Modern Monetary Theory (MMT) but not a professional economist stepped in to save the day. She proceeded to explain how common sense is a dangerous guide to reality and that not all opinions should be given equal privilege in public discourse. The conversation deteriorated because the "deficit worrier" and others immediately personalised this observation and considered it to be a attack on their life's experience. Notwithstanding the tenseness of the situation, it was an interesting demonstration of the flaws in logic that govern the way people think about economics and the way politicians exploit our (flawed) reliance on common sense. Our propensity to generalise from personal experience, as if the experience constitutes general knowledge, dominates the public debate.

In November 2008, the current Republican presidential aspirant Mitt Romney wrote the now-infamous New York Times Op-Ed article – Let Detroit Go Bankrupt – and said;
IF General Motors, Ford and Chrysler get the bailout that their chief executives asked for yesterday, you can kiss the American automotive industry goodbye. It won't go overnight, but its demise will be virtually guaranteed … Detroit needs a turnaround, not a check.
Romney's comments were, in my opinion been somewhat mis-represented for political purposes, by his opponents. But, whatever interpretation we put on Romney's earlier comments, more recently he said:
I believe that without his intervention things there would be better.
His public statements have been used by fiscal conservatives to support their case for austerity.
But the evidence base doesn't support the claim. Research by the US Center for Automotive Research estimates that some 1.45 million people are working as a direct result of the $US80 billion bailout that the US government introduced in 2008. There is additional research that I have referred to in the past (for example, last week's blog – The lesson for the Europeans is that the US fiscal stimulus worked) that confirm the effectiveness of the stimulus.
It is clear from the evidence that the fiscal stimulus had net positive effects and these effects were of a significant scale. There is no current evidence that supports the case that fiscal austerity is good for jobs and economic growth.
More recently, when in an impromptu situation Romney disclosed what is probably his more reasoned view of things and consistent with this evidence.
This Think Progress article (February 21, 2012) (among many) – Romney: 'If You Just Cut…As You Cut, You'll Slow Down The Economy' – reported that Mitt Romney informed participants at a GOP Michigan rally that:
If you just cut, if all you're thinking about doing is cutting spending, why as you cut spending you'll slow down the economy,
This, of-course, amounts to a categorical denial of the usual conservative view that fiscal austerity is the path to growth. He came under sustained attack from the Club for Growth (rabid right-wing conservatives) who sensed that this might diminish the public acceptance of the push for austerity.
However, this is not the sort of "common sense trap" that I am referring to here.
Romney clearly makes political statements to massage his support base. It seems that he knows full well that his political statements run counter to the facts.
Of course, given his ideological preferences, he is probably more comfortable with those facts (for example, he would probably be less concerned about unemployment rising than I would be). But that is another issue.
The "common sense trap" that people fall prey to allows con-men like Romney to hold out propositions as being reasonable even when they violate the most simple evidential base.
In 1949, the Austrian-born, but US-based sociologist Paul F. Lazarsfeld, who was "one of the major figures in 20th-century American sociology" wrote a article – The American Soldier-An Expository Review in the The Public Opinion Quarterly (Vol. 13, No. 3 (Autumn, 1949), pp. 377-404).
If you have access to JSTOR then the reference is The American Soldier: An Expository Review.
The American Soldier was the result of a five-year research project conducted by the U.S. Army involving some "300 studies dealing with various phases of the soldiers life".
The data gathered (some 600,000 interviews and other declassified reports) were given to academic researchers in the US for analysis. The result was a 4-volume publication, the first two dealing with "the attitudes of soldiers in training and in combat", the third dealt with "the results of experiments in connection with army indoctrination" and the fourth was "devoted to discussion of methodological procedures".
Lazerfield reviewed the first two volumes. One of his specific interests was in understanding the relationships that govern human behaviour. He noted the difficulty involved in this undertaking:
… this very function often leads to serious misunderstandings. For it is hard to find a form of human behaviour that has not already been observed somewhere. Consequently, if the study reports of prevailing regularity, many readers respond to it by thinking "of course that is the way things are." Thus, from time to time, the arguments against the surveys only put into complicated form observations which already obvious to everyone.
To advance this point, Lazerfield produced a list which he said comprised "a few statements which are typical of many survey findings … To bring into sharper focus probable reactions of many readers." The list of propositions was made up by Lazerfield but held out as if they were drawn from the survey and the reasoning in brackets was what he suggested a typical person relying on "common sense" would use to rationalise the "findings". It is all just common sense really.
The following Table is taken from page 380 of the Lazerfield article referred to above. The references A and B and accompanying numbering come from the first (A) and second (B) volumes of "The American Soldier" where these propositions are discussed.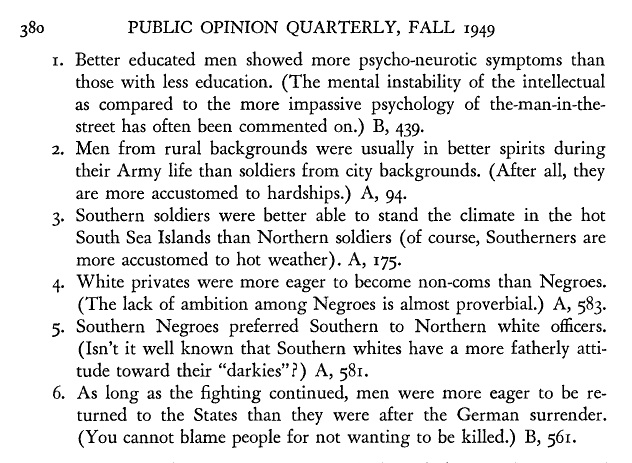 Lazerfield says that "in these examples are sample list of the simplest type of interrelationships provide the "bricks" from which empirical social sciences being built". The question he asks is if these propositions "are so obvious" why would we seek to fund research "to establish such findings"?
This is a common criticism of social science research – that it generates what we already know as common sense.
Lazerfield then played his trump card (emphasis in original – though it was in italics not bold):
Every one of these statements is the direct opposite of what actually was found. Poorly educated soldiers were more neurotic than those with higher education; Southerners showed no greater ability than Northerners to adjust to a tropical climate; Negroes were more eager for promotions and whites; and so on …
He muses that if he had have disclosed "the actual results of the investigation 1st, the reader would have labelled these "obvious" also". He concludes that if two opposing points can be declared obvious depending on how they are introduced to the observer the "something is wrong with the entire argument of' obviousness'".
There was a recent book – Everything is Obvious Once You Know the Answer – by Australian-born sociologist Duncan J. Watts – which bears on these questions.
He subsequently promoted his book with a series of Op Ed articles. For example, The Perils of Thinking Like an Individual published at the Harvard Business Review Blog Network, September 19, 2011 and The human paradox that is common sense – was published in the New Scientist, July 20, 2011.
In the "The Perils of Thinking Like an Individual", Watts makes a point that I have written about several times in the past. Please read my blog – Fiscal austerity – the newest fallacy of composition – for an example.
He says that:
… the debate over the nation's debt ceiling frequently invoked analogies with ordinary people or families, treating us to statements like "Ordinary Americans can't just run up debt, so neither should the government" or "we're broke and we have to pay our bills" or "we need to get our fiscal house in order."

In arguments like these, it is tempting to call for more common sense, but common sense is part of the problem. Common sense is helpful in navigating concrete, everyday situations – situations where we really are dealing with actual people, here and now. But just because it helps us to reason about how individuals will or should behave in circumstances with which we ourselves are familiar doesn't mean it's good for reasoning about abstract collectives like "the government," or "the market," or even "taxpayers."
So when our social friend raised his concern for the "$A50 billion deficit" which he considered was a reasonable estimate of the current state of the public balance (it was actually around $A47 billion in 2011 – Source – so not a bad guess) he was using his personal experience of his own budget and generalising that to the government level.
To understand the difference in viewpoint we might usefully start with the mainstream view. The way the mainstream macroeconomics textbooks build this narrative is to draw an analogy between the household and the sovereign government and to assert that the microeconomic constraints that are imposed on individual or household choices apply equally without qualification to the government.
Neoliberals claim that governments, like households, have to live within their means. They say budget deficits have to be repaid and this requires onerous future tax burdens, which force our children and their children to pay for our profligacy.
They argue that government borrowing (to "fund" the deficits) competes with the private sector for scarce available funds and thus drives up interest rates, which reduces private investment-the "crowding out" hypothesis.
And because governments are not subject to market discipline, neoliberals claim, public use of scarce resources is wasteful. Finally, they assert that deficits require printing money, which is inflationary.
When British Prime Minister David Cameron said that the government deficit is just like credit-card debt and that Britain was facing bankruptcy, he was invoking the false neoliberal analogy between national budgets and household budgets.
This analogy resonates strongly with voters because it attempts to relate the more amorphous finances of a government with our daily household finances. We know that we cannot run up our household debt forever and that we have to tighten our belts when our credit cards are maxed out.
We can borrow to enhance current spending, but eventually we have to sacrifice spending to pay the debts back. We intuitively understand that we cannot indefinitely live beyond our means.
Neoliberals draw an analogy between the two, because they know we will judge government deficits as reckless. But the government is not a big household. It can consistently spend more than its revenue because it creates the currency.
Whereas households have to save (spend less than they earn) to spend more in the future, governments can purchase whatever they like whenever there are goods and services for sale in the currency they issue. Budget surpluses provide no greater capacity to governments to meet future needs, nor do budget deficits erode that capacity.
Governments always have the capacity to spend in their own currencies.
Why? Because they are the issuers of their own currencies, governments like Britain, the United States, Japan and Australia can never run out of money.
In this context, Duncan J. Watts says that:
It seems like common sense that the principles of sound financial management should be the same for people and governments, and for centuries moralists (and to a lesser extent economists) have frowned on excessive levels of individual debt. But the economy is not a single entity in any meaningful sense. Rather it's a vast, complex system of hundreds of millions of workers and consumers, hundreds of thousands of firms, thousands of government and regulatory agencies, hundreds of public figures whose words and actions can move markets, and so on – all interacting in an incredibly complex, dynamic, and co-evolutionary way.
Most people are unaware that a major historical event occurred in 1971 when President Nixon abandoned what had been called the gold standard (or US-dollar standard).
Under that monetary system, which had endured for eighty-odd years (with breaks for war), currencies were convertible into gold, exchange rates were fixed and governments could expand their spending only by increasing taxes or borrowing from the private sector
After 1971 governments issued their own currencies, which were not convertible into anything of value and were floated and traded freely in foreign currency markets. Most nations have operated "fiat monetary systems" ever since, and as a result national governments no longer have to "fund" their spending. The level of liquidity in the system is not limited by gold stocks, or anything else.
So the neo-liberal propositions are designed to appeal to our common sense. The "common sense" is then reinforced by the propaganda machine that is mainstream macroeconomics. If I was to confront my professional colleagues about this (I have often) they admit that the analogy is false and then resort to the claim that pedagogical vehicles have to be false by definition.
I agree that simplifying models are "false" in the sense that they leave things out. But a sound pedagogical model will not violate the evidence-base available and will not deliberately reinforce "common sense" logic that leads to misleading generalisations – in this case, about the viability of budgets run by sovereign, currency-issuing nations.
Please see my article in The Nation (March 16, 2011) – Beyond Austerity – for more discussion about these issues.
Our individual experience concerning our household budgets has no application to the government budget. We use the currency the government issues. Our individual experience does not generate knowledge about the government budget yet, on a daily basis, we act as if it does.
Our budget-worrying social acquaintances were falling squarely into that common sense trap and then getting edgy because they considered a counter-argument that "opinions" are not all equally valid to be an attack on their knowledge and life experience. They failed to see that evidence that an individual collects in their life about themselves will not be a reliable guide to what will apply to the government.
The "means" that the government has to consider are the real resources available to the economy and how best to deploy them. These are not financial considerations – there are no "financial" opportunity costs that are relevant to a currency-issuing government. A household always has to consider its financial means.
This sort of tension arises regularly in public debate – where academic specialists are attacked as being "high brow" or not at the edge of reality (where reality in this context is the personal experience of the attacker – without the same level of education/training as the academic). The academic is often accused of being an elitist who disregards the opinions of others and derides their experiences.
But once we accept that common sense is not knowledge and evidential reasoning often negates the applicability of common sense then there is no reason for any debate to be "personalised" in that way.
There are some things I know that others don't (based on evidence and theoretical interpretation of that evidence) which violate the common sense or intution that parades as the popular view. The former "opinion" should be privileged at the expense of the latter in the specific context where it applies.
Duncan J. Watts provides some examples of the common sense trap. He notes that:
… short-term government spending can either increase long-term debt or reduce it, largely as a result of how much economic growth it stimulates. As many economists have pointed out … [he provides links] … by negatively impacting future tax revenues, slow economic growth can increase long-term government debt far more than even profligate short term spending. And by exacerbating long-term unemployment, not to mention impairing social services and public infrastructure, short-term austerity can have a debilitating impact on societal wellbeing, as we are already witnessing in the U.K.
In other words, our common sense about our own debt will led us astray when we discuss public debt unless we take the time to really understand the aggregate concept and to divorce our own experiences from that understanding.
Mitt Romney clearly knows that aggregate spending drives output and fiscal austerity (during times of flat private spending growth) will be damaging to growth – totally contrary to the meme that extols the virtues and effectiveness of a "fiscal contraction expansion".
Common sense tells us that if we have "too much debt" then we can save and reduce that debt. But, whether public debt is problematic aside, if the government tries to "save" (another inapplicable conceptual transfer from the individual level) then public debt will probably rise.
This sort of logical error goes back to the origins of what we now call macroeconomics (in the 1930s).
It was the recognition by Keynes and others (even though Marx understood this 80 or so years earlier) that the mainstream economics approach to aggregation was rendered bereft by the concept of the Fallacy of Composition that led to the development of macroeconomics as a separate discipline from microeconomics.
Compositional fallacies are errors in logic that arise "when one infers that something is true of the whole from the fact that it is true of some part of the whole (or even of every proper part)" (Source).
The fallacy of composition refers to situations where individually logical actions are collectively irrational. These fallacies are rife in the way mainstream macroeconomists reason and serve to undermine their policy responses.
Fallacies of composition arise when we use common sense to reason about aggregate events.
From the perspective of mainstream economics, the origins of this logical error lie in the way in which mainstream economics developed. It was largely concerned with microeconomic and started its a priori reasoning from the perspective of an atomistic individual. The single consumer or single firm. I won't go into detail here but this body of theory soon got into trouble via the so-called Aggregation Problem.
So to make statements about industry or markets or the economy as a whole, the mainstream had to aggregate their atomistic analysis. Of-course this proved to be impossible using any reasonable basis and so they fudged the task and assumed things like the "representative household" to be the demand side of a product market and the "representative firm" to be the supply side. Together they bought and sold a "composite good".
The fudge comes because in this sleight of hand the principles that apply to the individual were transferred over to the composite or aggregate.
Prior to the 1930s, there was no separate study called macroeconomics. The mainstream theory – which dominates still today – considered macroeconomics to be an aggregation of the individual. So the representative firm and household were just made bigger but the underlying behavioural principles that were brought to bear on the analysis were those that applied at the individual level.
So the economy was seen as being just like a household or single firm. Accordingly, changes in behaviour or circumstances that might benefit the individual or the firm are automatically claimed to be of benefit to the economy as a whole.
Keynes led the attack on the mainstream by exposing several fallacies of composition. While these type of logical errors pervade mainstream macroeconomic thinking, there are two famous fallacies of composition in macroeconomics: (a) the paradox of thrift; and (b) the wage cutting solution to unemployment.
In first semester of a credible macroeconomics course, students learn about the paradox of thrift – where individual virtue can be public vice. So when consumers en masse try to save more and nothing else replaces the spending loss, everyone suffers because national income falls (as production levels react to the lower spending) and unemployment rises.
The paradox of thrift tells us that what applies at a micro level (ability to increase saving if one is disciplined enough) does not apply at the macro level (if everyone saves aggregate demand and, hence, output and income falls without government intervention).
So if an individual tried to increase his/her individual saving (and saving ratio) they would probably succeed if they were disciplined enough. But if all individuals tried to do this en masse, and nothing else replaces the spending loss, then everyone suffers because national income falls (as production levels react to the lower spending) and unemployment rises. The impact of lost consumption on aggregate demand (spending) would be such that the economy would plunge into a recession.
As a result, incomes would fall and individuals would be thwarted in their attempts to increase their savings in total (because saving was a function of income). So what works for one will not work for all. This was overlooked by the mainstream.
The causality reflects the basic understanding that output and income are functions of aggregate spending (demand) and adjustments in the latter will drive changes in the former. It is even possible that total savings will decline in absolute terms when individuals all try to save more because the income adjustments are so harsh.
Keynes and others considered fallacies of composition such as the paradox of thrift to provide a prima facie case for considering the study of macroeconomics as a separate discipline. As noted, up until then, the neo-classical (the modern mainstream) had ignored the particular characteristics of the macro economy that require it to be studies separately.
They assumed you could just add up the microeconomic relations (individual consumers add to market segment add to industry add to economy). So the representative firm or consumer or industry exhibited the same behaviour and faced the same constraints as the individual sub-units. But Keynes and others showed that the mainstream had no aggregate theory because they could not resolve the fallacy of composition.
Conclusion
When we use common sense to reason we are prone to falling into fallacies of composition. When we use our personal experiences as if they represent knowledge that can be generalised we also run the danger of having views that are just plainly wrong.
No one eschews the priority of an individual to have their own views about their own life based on their own experiences. But those views can become dangerous when they are extrapolated to other situations where they have no application. In that case, evidence-based theories and conceptual frameworks have to have priority in the public discourse.
Duncan J. Watts warns us that:
… there's another problem with placing too much faith in common sense – namely that although everyone thinks they know what it is, they often invoke it to reach wildly divergent conclusions. And because when something is a matter of common sense it is considered beyond dispute, these disagreements can be extraordinarily difficult to reconcile – as current political debates illustrate.

The solution is to rely less on common sense and pay more attention to what the evidence tells us. We do, for example, have some evidence about which government policies have and haven't worked in the aftermath of recessions, just as we have evidence about the lack of impact of top marginal tax rates on economic growth. And if more of the political conversation was devoted to arguing about the economic facts – and where they need to be refined – it might push us do a more effective job of collecting evidence for the future. We possess the tools and technologies to measure more about the world than we could have imagined just a generation ago. It's time to stop trusting our common sense and start learning what it is that we don't know.
So when considering the validity of MMT, the first place I advise interested parties to go to is Japan. There is a huge amount of denial among mainstream macroeconomists about Japan over the last 20 years.
The cognitive dissonance is acute. The mainstream model is incapable of explaining why Japan has run continuing and increasing budget deficits, as the largest public debt ratio, yet has maintained almost zero interest rates for two decades, as low inflation if not deflation, and the bond markets queue up for every public bond tender with relish.
Once you accept this evidence you realise that: (a) applying our common sense to Japan and other advanced nations is fraught; and (b) the mainstream macroeconomic narrative that attempts to reinforce this common sense is a blatant misrepresentation, if not, a lie.
At that point,the common sense approach should be avoided and more serious study undertaken.
That is enough for today!