It has become like a sporting event. We now have the live coverage with commentators and up to the minute news updates and scores. The only problem is that we are actually viewing the dynamics of a monetary system – in this case, a system so poorly conceived and blinded by ideology and cultural prejudices that it is was certain to collapse. But only 3 or maybe 4 years ago the same ideologues who constructed this failure were telling us that some nations within this monetary system should be the role models for all of us to follow. Now the live coverage is of the crisis that these "role" models are in. It is no surprise though – I disagreed with the entreaties to "believe" in this model when the hype was at its maximum. I wrote several years ago "when this crisis comes it will be very big" in relation to the growing private sector indebtedness and the move to fiscal austerity as the neo-liberal madness climaxed. It was only ever a matter of time. Anyway, live coverage is now on …

The graph comes from the front page of the UK Guardian (Business) and I wanted to preserve it for posterity. Live coverage of a debt crisis … what has the world come to. When you think that this is totally avoidable – not without pain given recent history – but the Irish government could stop this madness virtually immediately – leave the EMU, default (re-negotiate all Euro-denominated debts in punts), and start using their regained sovereignty to get people back to work and consuming again.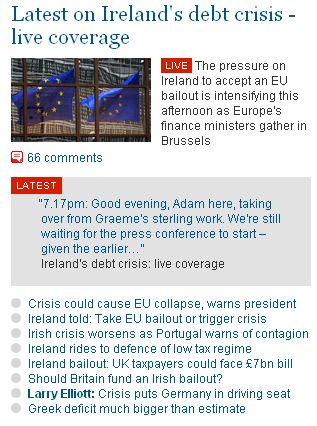 This is what I was writing in 2006. This writing eventually came out in my 2008 book with Joan Muysken – Full Employment abandoned. Here is a brief selection starting with an attack on the dominant economic policy framework:
The overriding priority of macroeconomic policy has shifted towards keeping inflation low and suppressing the stabilisation functions of fiscal policy. Concerted political campaigns by neo-liberal governments aided and abetted by a capitalist class intent on regaining total control of workplaces, have hectored communities into accepting that mass unemployment and rising underemployment is no longer the responsibility of government. As a consequence, the insights gained from the writings of Keynes, Marx and Kalecki into how deficient demand in macroeconomic systems constrains employment opportunities and forces some individuals into involuntary unemployment have been discarded. The concept of systemic failure has been replaced by sheeting the responsibility for economic outcomes onto the individual …

At a time when budget deficits should have been used to stimulate the demand needed to generate jobs for all those wanting work, various restrictions have been placed on fiscal policy by governments influenced by orthodox macroeconomic theory. Monetary policy has also become restrictive, with inflation targeting – either directly or indirectly – pursued by increasingly independent and vigilant central banks. These misguided fiscal and monetary stances have damaged the capacities of the various economies to produce enough jobs …

It is important to document how structural explanations for unemployment have been used to justify widespread labour market deregulation; attacks on the rights and capacities of labour unions to represent their members; wasteful privatisations of public assets; the compliance focus of welfare-to-work policy, a retrenchment of the role of the public sector as an employer, and widespread reductions in the social wage … macroeconomic policy, characterised by inflation targeting and a growing fiscal conservatism, has supported this microeconomic emphasis structural reform. While the current orthodoxy extols the virtues of budget surpluses as the exemplars of fiscal responsibility … this policy stance is, in fact, damaging for economic growth …

Additionally, and contrary to neo-liberal rhetoric, the systematic pursuit of government budget surpluses is necessarily manifested as systematic declines in private sector savings … the decreasing levels of net private savings financing the government surplus increasingly leverage the private sector. The deteriorating debt to income ratios which result will eventually see the system succumb to ongoing demand-draining fiscal drag through a slow-down in real activity.
I have been writing along those lines for most of my academic career and will stand by that analysis and its predictions. It was always obvious that the neo-liberal policy dynamics were going to explode and generate a terrible recession. The way in which restrictive fiscal policy and massive private debt accumulated was coordinated across nations via the increasing financialisation of our economies meant that the contagion was going to be huge once the house of cards started to collapse.
If you had been going to conferences or lectures where Randy Wray, Warren Mosler or myself were talking – way back in the mid-1990s you would have picked up on this trend. If we had have been in charge it would not have happened!
In 1997 I wrote (subsequently published the following year in the US Journal of Economic Issues):
[There is a] … priority of spending and … that debt issue is not essential for governments to spend beyond tax revenue … bond issues are essential only to support the cash rates set by the Central Bank. Deficit spending without Treasury bond sales would generate excess reserves in the banking system, so that government debt helps to maintain a positive overnight interest rate for private banks. The idea of crowding out in this environment is as meaningless as debates about the term maturity of the debt. Deficits add to the net disposable income of households in the economy and the income provides markets for private production. An endogenous credit economy then serves to provide the deposits necessary to make payments, which facilitate production. The higher demand stimulates investment that creates capacity as a legacy to the future. The higher is current demand, the higher is productive capacity in the future. Spending brings forth its own savings. Savings are not required to exist as a prior pool for spending to occur.
And clearly I could offer pages of such quotes. The point is that there has been no empirical evidence over this long period which poses questions for my analysis and the core of Modern Monetary Theory (MMT). Note we have to be careful to distinguish my personally preferred policy interventions from the analysis of the existing policy stance. My analysis over a long period of the latter has been rock solid and continues to be.
That is background. If events that followed did not support my understanding then it would have given me a major headache (the loss of face) but it would surely have provoked me to question the basis of my understanding about how the monetary system operates and the way in which the government/non-government sectors interact. I certainly would not continue to advocate explanations and related policies that had been shown to fail and cause untold damage to people all around the world.
So lets go back to February 23, 2006 – on that day this article appeared in the UK Times Newspaper – Look and learn from across the Irish Sea – written by the now British Chancellor George Osborne.
Osborne said that
A GENERATION ago, the very idea that a British politician would go to Ireland to see how to run an economy would have been laughable. The Irish Republic was seen as Britain's poor and troubled country cousin, a rural backwater on the edge of Europe. Today things are different. Ireland stands as a shining example of the art of the possible in long-term economic policymaking, and that is why I am in Dublin: to listen and to learn.
It seems that George didn't stay in Dublin long enough for he would have seen the folly of his remarks.
After waxing lyrical about all the foreign companies that had set up in Ireland (courtesy of the very low tax rates) and the lifestyle in general, Osborne ventured to speculate on what had "caused this Irish miracle" and how could "Britain emulate it" and listed "Ireland's education system is world-class", the Irish understanding that "innovation requires world class research and development" and "low business taxes" and substantial business de-regulation.
Osborne then said:
The new global economy poses real long-term challenges to Britain, but also real opportunities for us to prosper and succeed. In Ireland they understand this. They have freed their markets, developed the skills of their workforce, encouraged enterprise and innovation and created a dynamic economy. They have much to teach us, if only we are willing to learn.
Of-course, I don't need to tell the story of Ireland over and over again. Major deregulations particularly in the financial sector; banks allowed to career out of control; entry into the EMU (and thus surrendering their currency sovereignty); a huge real estate price bubble driven by a massive increase in private sector indebtedness; major divergence between GDP and GNP (as foreign firms repatriated huge earnings from the nation).
Please read my blogs – The sick Celtic Tiger getting sicker and The Celtic Tiger is not a good example – for more background discussion and analysis.
But the neo-liberals were strutting around at that time telling us all that this was the miracle that a belief in the self-regulation of private markets and fiscal rectitude brings.
The mainstream macroeconomists increasingly tried to claim in the 1990s and up until the recent crisis that they had "won" – been vindicated and those stupid Keynesians would never see the light of day again. The Great Moderation was upon us!
One notable example, is the 2003 presidential address to the American Economic Association, where Robert E. Lucas, Jnr of the University of Chicago said:
My thesis in this lecture is that macroeconomics in this original sense has succeeded: Its central problem of depression-prevention has been solved, for all practical purposes, and has in fact been solved for many decades. There remain important gains in welfare from better fiscal policies, but I argue that these are gains from providing people with better incentives to work and to save, not from better fine tuning of spending flows. Taking U.S. performance over the past 50 years as a benchmark, the potential for welfare gains from better long-run, supply side policies exceeds by far the potential from further improvements in short-run demand management.
So no humility there. Problem solved. There is no business cycle. Please read my blog – The Great Moderation myth – for more discussion on this point.
On February 20, 2004 the current US Federal Reserve Board Governor Ben S. Bernanke made one of the worst speeches by an official of a major policy institution ever. It was entitled The Great Moderation.
At the time, I was among only a few macroeconomists who poured scorn on the propositions that Bernanke outlined as "truth". Now, the experience of a big economic crisis has demonstrated to anyone that the essential ideas that were used to justify the policy positions taken by countries across the world were so wilful in their neglect of basic understanding of how the system actually operates.
Sure growth was possible while private sector credit expansion was strong. But the credit flows left a nasty stock – private indebtedness – and this debt was supporting increasingly fragile nominal asset values. It was always going to collapse – and so it did.
But the right didn't see it coming at all. Take this article – It's Not Luck – which appeared in the National Review Online on March 16, 2007. It was written by one Chris Edwards who is aligned with the right-wing Cato Institute in the US.
Edwards was commenting on the improvement in the Irish GDP growth in the years leading up to the crisis and asked:
Was this dramatic change the luck of the Irish? Not at all. It resulted from a series of hard-headed decisions that shifted Ireland from big government stagnation to free market growth. After years of high inflation, double-digit unemployment rates, and soaring government debt that topped 100 percent of GDP, Irish policymakers began to cut spending in the late 1980s … [and] … has steadily reduced its tax rates. However, the key to Ireland's success has been its excellent tax climate for business … one of the lowest rates in the world … have helped … attract huge inflows of foreign investment.
Edwards then continued on this theme talking about "open borders" and "stable money" and then launched into a rave about "politicians who spend their time trying to undermine the free market" (citing Venezuela's Hugo Chavez).
But you get the picture. Within a few months of Edwards writing this article which urged the US to follow suit and cut taxes and public spending and deregulate further, the global financial crisis was upon us. The GFC morphed into a real recession (nearly depression) because the government response in the US and elsewhere was too slow and too small. That response was tempered and delayed because of the influence of the likes of George Osborne and Chris Edwards and the host of ideologues who preached deregulation and small government.
I did a search today as a follow up to these articles to see how these two actually rationalised what the crisis was all about. It is hard to find anything at all that you would call definitive that allows us to understand how they move from this pre-crisis position which was advocating policies etc that clearly led to the crisis to an explanation of why the crisis occurred.
So how to these characters explain what has happened? Edwards recently wrote an article (I won't link to it for obvious reasons) entitled – "Plunder! How Public Employee Unions Are Raiding Treasuries, Controlling Our Lives, and Bankrupting the Nation".
The fact is that the neo-liberals have bypassed an extensive analysis of the crisis and have redefined it as a fiscal crisis. They waited a while until things became a little more stable and then started launching into their maniacal attacks on government spending and public debt.
The fiscal austerity program that Osborne is "managing" in the UK is testament to his ideological zeal. Not only will the austerity policies make the UK go backwards in economic terms as overall aggregate demand falters but the policies will make it much harder for the private sector to reduce their very high debt levels and reduce the precariousness of their financial situations.
And then you read that:
Financial hit squads from the International Monetary Fund, the European Central Bank and the EU will be parachuted into Dublin within days to finalise details of a multibillion-euro bailout for the stricken Irish economy …
And the Irish finance minister was reported as saying that the bond markets are "not being good to Ireland" given that "borrowing costs shot up to 9% last week" as the full extent of the banking insolvency becomes obvious.
The next stop will be Portugal and Spain. Greece is already effectively in receivership with the ECB providing the "fiscal life line".
So the parachute squads are demonstrating beyond any stretch of the imagination that Ireland has no sovereignty – economic or political. They surrendered that when they entered the EMU.
The whole European monetary system has failed. When are they going to realise that?
On November 13, 2010 (Monday) Eurostat published the latest Provision of deficit and debt data – which provides the most recent estimates for 2009 of the trends in public financial data.
The release brought a large reaction from the press because the Greek deficit for 2009 was 15.4 per cent of GDP rather than the previously estimated 13.6 per cent.
My reaction when I received the update in my E-mail and read it was to mumble – "so what! What else would you expect?".
The press reaction was quite different – pointing that the Greek government was now violating the terms of the bailouts it received in the earlier part of 2010 and that the public debt ratio would be the highest in the EU.
The reality is that the Greek government is now entering default. The UK Guardian quotes a "senior government aide" who said:
We will face a profound strategic issue of how to repay €70bn-€80bn when redemption of the rescue loans comes … There will have to be some disguised rescheduling of the time frame in which we repay the money.
That is, default.
The Guardian also reported that there was parachute squad in Athens as well (from the IMF, ECB and EC) and there are noises emerging from the Greek Prime Minister that the increased budget deficit (beyond the bailout agreement) would require even further cuts in net public spending.
Don't they ever learn.
The budget outcome is driven by spending patterns in the private sector. Economists call it an endogenous result because the government cannot set a target budget outcome and guarantee it will succeed. It all depends on what the non-government does.
Please read my blog – Structural deficits and automatic stabilisers – for more discussion on this point.
So with a private sector heavily undebted and world trade growth fairly flat, the only thing that will work in the Greek case is to expand fiscal policy. If people are paying down debt and credit growth is flat, then the low interest rate regime the ECB is running won't help.
The Japanese learnt this lesson in the 1990s. They had nearly zero interest rates from 1995 in an attempt to revive their economy which had been severely damaged by the collapse of the real estate boom in the late 1980s. The only thing that stimulated growth was fiscal policy. In 1997, the conservatives succeeded in scaring the Japanese government into tightening fiscal policy again. Result? Japan went back into a deeper recession and the budget outcome was a higher deficit driven by the automatic stabilisers (collapsing tax revenue).
There can be no repair of precarious private sector balance sheets while the government is cutting back and economic growth is stalled or going backwards. If the private sector desires to net save overall then the government has to run deficits to match the spending withdrawal from the private sector.
There is no other choice.
Conclusion
Ireland was never an example of a desirable growth policy framework just as it is not an example of how to deal with a collapse in aggregate demand and a major bank crisis.
Building growth on ever-increasing levels of private sector indebtedness that was supporting an inflated real estate market is not a desirable growth path. Further, providing a landscape devoid of regulation and allowing foreign firms to rip is also not desirable.
In addition, allowing banks to become casino players is totally nonsensical.
And finally, joining a monetary system where you surrender your currency sovereignty and fix your "exchange rate" (such as in the EMU) is the height of madness.
Our "exemplar" – Ireland – went for all these options. And now they are paying for it.
On Monday, October 20, 1980 an article written by J.K.Galbraith appeared in the Agenda column in the UK Guardian (Page 7). Here is the article (courtesy of the Guardian/Observer Digital Archive – it is in JPG form and the full picture (click if you want to read it) is about 457 kb in size.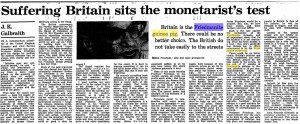 Galbraith was talking about the debates between Keynesians and Monetarists at the time. He noted that:
Such is the case against the workability of the Friedmanite formula, and all experience shows that for the faithful it is not convincing. What has been needed is a trial; thus one's gratitude that Britain has, in effect, volunteered to be the Friedmanite guinea pig …

At the end of 17 months of Friedmanite policies in Britain, inflation is 16 per cent, manufacturing output is down by 8 per cent, small business bankruptcies are up and unemployment … is the highest since the Great Depression.
So Ireland has pioneered the neo-liberal fiscal austerity route this time and now Britain is in hot pursuit. They will fare badly.
Remember spending equals income. Someone has to spend.
I will stand by what I have written here and in my academic work. I would be deeply humiliated if I had have written the sort of stuff that Osborne and Edwards and a myriad of other conservatives wrote during the lead up to the crisis. They were wrong then. They are wrong now. What will it take to convince the people that their policies are wrong.
So in tonight's live coverage we can sit back and wonder where the parachute squads are heading next – Lisbon, Madrid … maybe even Roma!
That is enough for today!