Monday, April 26: Where is bill?
Today's blog is being posted earlier than usual. I am travelling today and so time is short.

I am off to the US for some work commitments including the Fiscal Sustainability Teach-In and Counter-Conference will be staged in Washington D.C. next Wednesday, April 28, 2010.
The Teach-In Counter-Conference will be held at the George Washington University Marvin Center, Room 310 (the Elliott Room) from 8:00 to 16:00. You can see a map of the location via Google Maps.
The Teach-In Counter Conference Program assembles many of the major Modern Monetary Theory (MMT) developers in the same place and all interested parties are welcome.
This is the first grass roots effort to promote MMT. The day has been chosen to rival the sham Peter G. Peterson Foundation conference exploring the same topic.
If you are near to Washington DC and have the means it would be great to meet you next week.
You will also note that I have included a fund raising widget on my right side-bar at present. Any help for the organisers will be very appreciated. Just click the image and open your bank accounts! Apparently this will only accept funds if you are in the US. The alternative strategy is to use the contact page that the organisers have set up and pursue your enquiry that way.
At present they really need some financial support. It is a shoe-string, community-driven event being organised by committed volunteers who are motivated by the fact that they care and realise something is wrong with the dominance of conservative, free-market think tanks like the PGPF in the public debate.
Here is how I am getting there: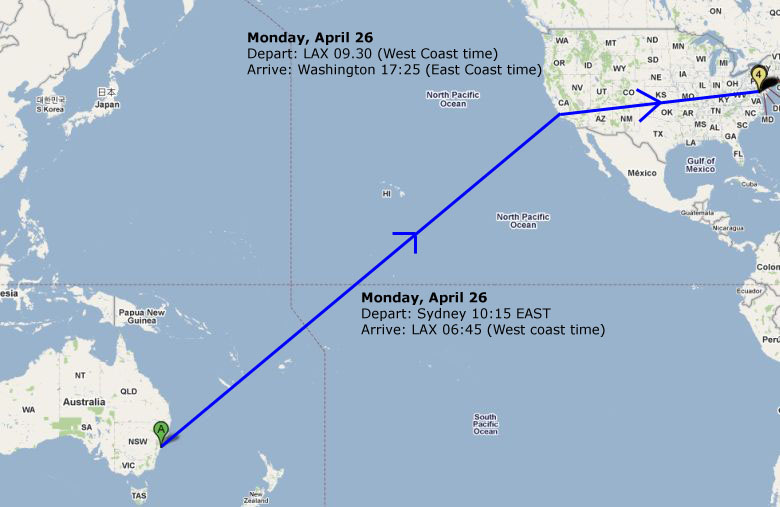 I am staying at the Red Roof Inn-Washington DC, 500 H Street Northwest Washington, DC 20001-2620, (202) 289-5959. I will be there from Monday night (local time) and if anyone is in DC and interested in a chat feel free to contact me via E-mail, the blog contact page or my mobile phone is +61-419 422 410.
Most of all come down to the Teach-In and Counter Conference.
Normal blog transmission will resume on Tuesday.
Comments
In some cases I moderate comments which is a manual operation. I can do this via mobile phone or computer but while actually flying I cannot. So if you have made a comment that my algorithms deem to warrant moderation then please be patient – it will be dealt with within the next 20 hours or so.