Living standards fall and labour wastage rises … but its that time again
It is on days like today that you see how far away from the mainstream economic opinion my macroeconomic thinking is. Why today? For overseas readers, the central bank (RBA) started hiking its official cash rate target by 0.25 basis points to 3.25 per cent. What is wrong with this? There is around 14 per cent of available labour resources currently underutilised and rising. Last month full-time employment continued its collapse. The only signs of activity in the labour market are some casualised, low-skill, low-paid jobs being created. My conclusion: neo-liberal paradigm remains intact. Stay tuned for the next crisis.

This is what the RBA Governor said today when the announcement was made:
The global economy is resuming growth … The expansion is generally expected to be modest in the major countries … Prospects for Australia's Asian trading partners appear to be noticeably better. Growth in China has been very strong, which is having a significant impact on other economies in the region and on commodity markets … Overall, growth through 2010 looks likely to be close to trend … Underlying inflation should continue to moderate in the near term, but now will probably not fall as far as earlier thought … Housing credit growth has been solid and dwelling prices have risen appreciably over the past six months … Business borrowing has been declining … the exchange rate has appreciated considerably over the past year, which will dampen pressure on prices and constrain growth in the tradeables sector … With growth likely to be close to trend over the year ahead, inflation close to target and the risk of serious economic contraction in Australia now having passed … it is now prudent to begin gradually lessening the stimulus provided by monetary policy. This will work to increase the sustainability of growth in economic activity and keep inflation consistent with the target over the years ahead.
We will have to wait two weeks before the Minutes of the October meeting are made available to learn more.
But the RBA Governor has been making these noises for some weeks now arguing that our "economic emergency is over" and all the investment bank economists and others have lapped it up. Which emergency exactly are we talking about here?
Well apparently the share market is on the rebound and that shows us that the crisis is over. Apparently home prices are rising again and that shows the crisis is over.
But the message is clear – we need less aggregate spending not more. They have bundled the political rhetoric into this notion that rates (at 3 per cent) have been at "emergency levels" and a return to the normal (or natural) rate is required. You might like to read the blog – The natural rate of interest is zero! – to see what I think of that nonsense. A related blog – Another sorry chapter in RBA history is looming.
It is now common place to hear the investment bankers mimicking this (Austrian) language. One investment banker was quoted by the ABC today as saying:
If the Australian economy continues to strengthen – in particular, if the downtrend in full-time employment tends to stabilise and then reverse – we can expect the RBA over an extended period to move through its various policy settings, from emergency (3 per cent) towards easy (4 per cent) and then neutral (5 per cent or so) … Restrictive (6 per cent plus) will come much later on if things go really well over coming years.
When you think about this logic something doesn't add up. If they are trying to take the heat out of the asset market then they must be thinking a slight rise will take a bit of heat out. But the language in use would have us believe that monetary policy is still expansionary. So the asset price boom will just boom more slowly? They will claim that they are sending a signal that in a year or so rates will be considerably higher than they are now and that should stop people in their tracks now. But that is a very inefficient way of managing an economy. More later on that.
We also should not overlook the fact that the big four banks, now a protected group operating, have been making profits as a consequence of the government subsidy (guarantee). They have also not fully passed on the previous cuts in the interest rates by the RBA over the course of the crisis citing increased funding costs. So the extent to which mortgage rates had eased anyway is not as much as might be thought.
All the media is focusing on the fact that the RBA is (according to the ABC today):
… getting increasingly worried about the stimulatory effect low interest rates are having on housing prices, with first time buyers taking on record levels of debt and becoming more vulnerable to the inevitable rate rises as the RBA returns to more normal settings over future years.
Amid all the non-growth that was outlined in the RBA's statement today, the Governor did say that "housing credit growth has been solid and dwelling prices have risen appreciably over the past six months"
But a significant chunk of that is the first home owners' scheme which was just a subsidy to sellers (went into prices) and that scheme (thankfully) is being unwound. It should never have been part of the fiscal stimulus strategy and was inherited from the previous government who designed fiscal policy in the recent years to win favour as its electoral standings were plummeting.
If the federal government was on top of the crisis it would have acted to target the specific assets that may inflate over the period ahead along the lines that I outlined the other day in this blog – Asset bubbles and the conduct of banks.
The beauty of fiscal policy is that you can target the initiatives so as to contract specific areas of the economy and expand other areas (including overall spending). In that way the government can transform the composition of spending. Monetary policy is like an antibiotic – it kills good and bad (inasmuch as it kills anything).
The so-called experts (not!) have been using today's RBA meeting to write copy for some weeks now. As recently as yesterday, Sydney Morning Herald Economics Editor, Ross Gittins was talking this up. After rehearsing the RBA logic for them about neutral rate levels and that "the official rate can't stay at its lowest in 50 years for very long", he said this:
But why is it desirable to put rates up, even if only by a bit? Because it's no longer prudent to have rates so exceptionally low. It runs risks it's not necessary to run to ensure the economy has sufficient stimulus to get back on its feet.
The risk – inflation. In his 992 words (not including title line and attribution) Gittins didn't mention unemployment once – this is not a risk apparently that needs to be considered when monetary policy is being discussed. It just shows how far we have lost the plot over the last three decades or so that this sort of reasoning is considered reasonable.
Gittins went on:
More broadly, business investment is surprisingly strong and export volumes are still growing …
Not by my reckoning. The following graph is the annual growth in real business investment since 2006. It doesn't look strong at all to me.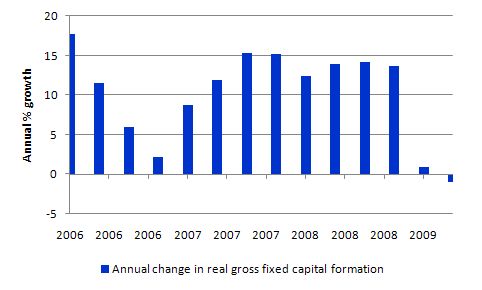 We are now increasingly hearing that we avoided a "technical recession" – meaning two consecutive quarters of economic growth. And this is why rates have to start going up.
Well it depends on how you measure it even if you stay within the national accounts domain. The June National Accounts showed that while seasonally-adjusted GDP grew by 0.6 per cent in the June quarter and was also 0.6 per cent over the year from June 2008, Real net national disposable income collapsed by 2 per cent in the June quarter and was 3.2 per cent down over the year from June 2008. The following graph shows quarterly growth in GDP, Real net national disposable income and Real net national disposable income per capita since March 2007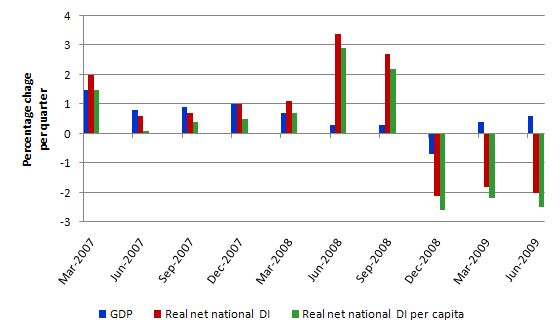 As you can see the income growth measures have been negative for the last three quarters. So our material living standards have fallen (in income terms) over the last year quite substantially. Our wealth has also fallen sharply (see ABS data for evidence). This is what I wrote about it previously – One good reason for the government to remain in office
To understand what this means go to this ABS Page. The ABS say that:
Real net national disposable income is the capacity of the Australian community to buy goods and services, save and invest. It is the value of total production in Australia (less that needed to replace depreciated capital) plus primary income received from overseas (less primary income generated in Australia but paid overseas) plus current transfers received from overseas (less current transfers paid overseas). It can be spent on goods and services by households or governments, or saved and used by households, governments or businesses to add to the stock of machinery, buildings and other produced capital.
The broader view of a recession relates to how the labour market performs rather than sticking to the "technical recession" definition. The fact that total labour underutilisation is now around 5 per cent higher than it was in February 2008 when the downturn began here is suggestive of something bad … if that is what the term recession is meant to invoke.
My view is simple – the unemployed and underemployed casual workers – which are increasing in number by the day – don't buy shares and cannot, largely, afford to buy houses anyway … no bank would lend to them at present even if they wanted to participate.
So while the financial emergency might be over for those with wealth and financial assets but it is just starting for those who are facing the prospect of long-term unemployment and suppressed real wages and job insecurity.
I was out west the other day (Brewarrina) on a field trip. The indigenous Australian who live in this town has the lowest life expectancies of any people in Australia and it is falling! There is very little work and certainly no housing boom. Why should they pay higher interest rates for what the speculators are doing in Sydney, for example? Not that anyone would lend them a penny. Which is a problem in itself.
With monetary policy you cannot target. It is a mindless policy to rely on.
It is true that monetary policy is of dubious effectiveness anyway – but increasing interest rates still hurt some people in society. It also puts in peril those who remain over-committed to debt. The reason we haven't seen mass bankruptcies in this downturn is because they reduced interest rates. If they are now tightening again, more households will go over the edge and that will be deflationary.
What it signals to me is that the discredited macroeconomic policy regime that helped get the world into this mess – a dominant inflation-targetting monetary policy and a passive, surplus-oriented fiscal policy is still in vogue. Governments will be rushing to get their deficits down next. And all we will be doing is setting out the conditions for the next crash.
The surpluses will force the private sector in Australia (given our external deficits) increasingly into debt for a time to fuel growth or else the households will continue their attempts to save and a double-dip recession will hit us before we can wipe the smirk of the policy makers faces.
Finally, as a matter of historical fact, the RBA was legally constituted to pursue full employment as one of its three goals (price stability and general welfare being the others). The functions of the RBA Board are set out in Section 10 of the Reserve Bank Act 1959. However, the RBA has been significantly influenced by the NAIRU concept and it conducts monetary policy in Australia to meet an openly published inflation target.
In my view – and if I was a lawyer I would pursue this – there is a strong case to be made that the RBA is acting illegally according to the 1959 Act by using unemployment as a policy tool. A class action brought against them on behalf of the unemployed and underemployed (now 14.5 per cent of the labour force) would at least force them to argue that full employment was associated with an official unemployment rate of anywhere between 5 and 10 per cent and underemployment of over 4 per cent.
It would interesting to cross-examine their economists about their knowledge of how a modern monetary system works. We could all have a laugh each night watching the news.
Any pro bono silks out there?