When the Left disgraces itself
In Monte Python's Life of Brian we were introduced to the "People's Front of Judea", which was "one of many fractious and bickering independence movements, who spend more time fighting each other than the Romans". The segments featuring the Front were very amusing. It was humour but redolent of the sort of historical struggles that have divided the Left over the centuries. In Australia, the history of the Communist Party, for example, is one of many factions, splintering into new parties and leaderships after disputes about Bolshevism, then the Communist International and Stalinism, then the so-called "imperialist" war by the Allies against Nazism, then Krushchev's revelations about the crimes of Stalin, then the Soviet invasion of Hungary, then the split between the Soviet Union and China and the rise of Mao, then the Soviet invasion of Czechoslovakia, and so on. This sort of division is mirrored around the world on the Left side of politics and struggle. I have been reminded of this history in recent weeks as the 'war' against Modern Monetary Theory (MMT) has been ramped up from so-called progressives. However, this 'war' seems different to the sort of internicine struggles that have historically bedevilled the Left. We now have all manner of strategies emerging, ranging from classic Association fallacies to ridiculous claims that MMTers perpetuate 'anti semitic tropes', and on to plain invention, a.k.a. straight out fabrications or lying. There is no real attempt to embrace the body of work we have created over the last 25 years. Quite the opposite – the 'critics' haven't an original thing to say about the substance of MMT. They have instead decided to smear us with increasingly hysterical assertions. Which raises the interesting question for me – what is driving this aberrant behaviour? Fear, a sense of irrelevance, jealousy, Brexit, spite, … what? I have conjectures but no real answers.

Before I begin, here is the People's Front of Judea in action. Still humorous after all these years.
There have been persistent claims that Modern Monetary Theory (MMT) is a cult. That the proponents are roping in mindless followers who then chant mantras like "the government can not run out of money" and relentlessly purge dissent via various social media platforms.
I always thought that line of attack was incredibly insulting to the many people who have taken the trouble to educate themselves in search of some explanation for what has been happening in their lives and the communities around them as a result of neoliberalism.
As if these people were mindless, without discretion, without purpose.
There was a less than articulated conception expressed about the way the alleged cult leaders (like yours truly) achieved this status – what was our motivation? What did we get out of it?
The usual cult story is one where the leaders get rich quick, have lots of sex with lots of partners, take a lot of drugs and drive around in fancy cars.
I can assure the readers that I do not fit that mould (-:
Twitter storms
More recently, we have started to see more attacks directed at the MMT economists – about their motivation, their strategies.
The latest attacks came with this Tweet:
Interesting to see @billy_blog explicitly linking #MMT with Trump and Johnson. bilbo.economicoutlook.net/blog/?p=42783
Attached was this graphic captured from the blog post linked in the Tweet.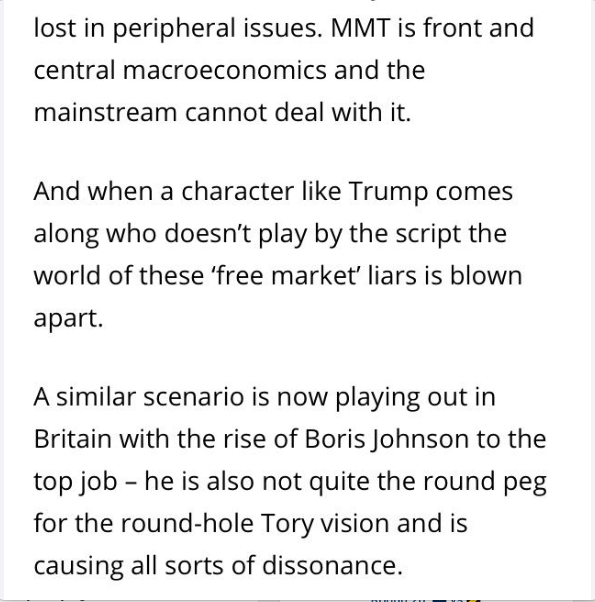 Of course, this segment of the text doesn't even support the claim that I was linking MMT explicitly or in any other way to Trump and Johnson.
But if he had have offered the full section of the blog post – Voodoo economic revisionism abounds – and it is not MMT doing the voodoo (July 23, 2019) – to his readers, where I make the point about Trump and Johnson, the spuriousness of his claim would have been even more obvious:
The angst these conservatives are now going through is mirrored by the obvious fact that mainstream macroeconomics is growing in irrelevance itself.

Which is why many of the 'big' names are attacking MMT so relentlessly. The MMT economists are delivering the alternative paradigm in macroeconomics. No other challenge to the mainstream has succeeded and the heterodox tradition just became lost in peripheral issues. MMT is front and central macroeconomics and the mainstream cannot deal with it.

And when a character like Trump comes along who doesn't play by the script the world of these 'free market' liars is blown apart.

A similar scenario is now playing out in Britain with the rise of Boris Johnson to the top job – he is also not quite the round peg for the round-hole Tory vision and is causing all sorts of dissonance.

While I prefer neither of these monsters, the dissonance they are creating is creating new opportunities for the progressive side of politics, although the leadership vacuum on that side is debilitating.

In the US, however, the fabulous 'Squad' is creating havoc within the largely neoliberal Democratic Party and changing the dynamic considerably for the better.

And Trump is demonstrating by his fiscal actions that the main weapon the Republicans used to kill off any progressive policy dreams is now defunct. No one believes the deficit horror stories any more.
Any reading of that discussion would never lead to the conclusion that the Tweeter decided to push onto his readership in the hope that many would accept it at face value and see MMT as some sort of crazy Republican/Tory agenda.
My point was clear enough. MMT is creating massive dissonance among mainstream economists.
And Trump and Johnson are creating dissonance within their own conservative side of politics. They are even undermining the spurious economic myths that these mainstream economists feed them.
It means there are fantastic opportunities for progressive political forces to seize this fractured state and forge a new period of social democratic ascendancy.
During the subsequent Twitter storm all sort of nonsense was rehearsed as the original Tweeter and his mates became increasingly desperate.
There was the accusation that I had shown:
'solidarit' with Dempsey after he praised a fascist and made racist comments.
Well, I retweeted Eddie Dempsey on April 3 as below:
He was telling the world he had received a copy of our book – Reclaiming the State: A Progressive Vision of Sovereignty for a Post-Neoliberal World (Pluto Books, 2017).
Nothing racist about that.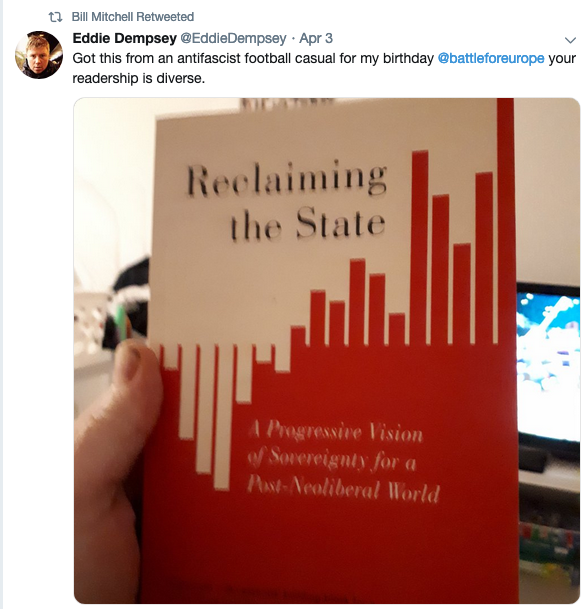 On April 2, 2019, I retweeted a message about Eddie Dempsey talking about renationalising railways inside the EU. This was tweet as part of the 'Labour Leave' campaign to argue for Lexit.
I support Lexit.
Nothing racist about that.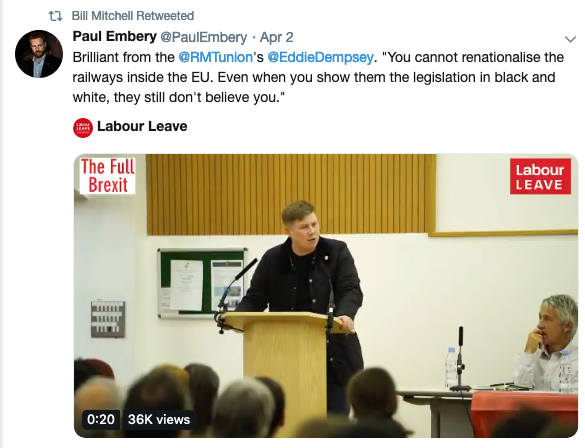 On March 27, 2019, I retweeted a message from my co-author Thomas Fazi which was about Eddie Dempsey being attacked by Pro-EU neoliberal left.
And this message is about the way the Left Remainers have fallen into a mindset where they think a nation such as Britain should remain as part of an organisation such as the EU, despite that organisation being at the forefront of neoliberal attacks on workers and prosperity.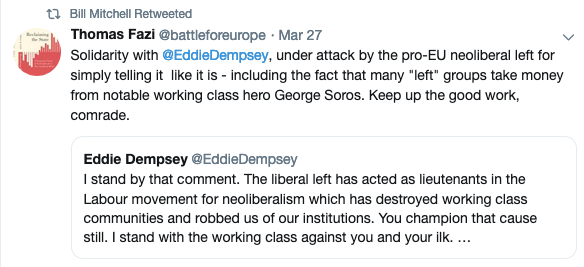 As far as I know, that is the extent to my Tweeting or Retweeting about these names etc.
And then we get the 'Soros' factor entering the fray and the more insidious attacks.
Joining the attack on us, was this ridiculous claim:
as a rule, I dont get involved in heated disagreements about theoretical validity of #MMT. But when key MMT figures are starting to use anti-semitic tropes, and defend 'Tommy Robinson and Nigel Farage are not that bad' takes from Lexiters, that's a worrying sign.
I have never provided any succour to Tommy Robinson or Nigel Farage and as far as I know no MMT economist has.
The Soros issue is interesting.
I have been very critical of George Soros and Robert Johnson as financial market speculators. As most will recall, they were key players in the events that led to Black Wednesday (September 16, 1992), when their investment fund reportedly made $US1 billion in profits by attacking (shorting) the British pound.
My view has always been that this was a crude example of a financial market player putting greed and profits ahead of the well-being of a nation of people. That is the extent of my criticism of Soros.
In that sense, their speculative behaviour is akin to all the Wall Street greed merchants that are prepared to compromise the prosperity of a nation for their own ends.
My criticism has nothing at all to do with the personal characteristics of the players. I have never made statements that could be interpreted in any other way other than to attack the banksters and their behaviour.
I have never invoked any conspiracy theories (for example, the Rothschild paranoia) about Jewish people.
So the allegations that MMT economists are somehow promoting "anti-semitic tropes" is scurrilous at best.
The idea of anti-semitism is powerful in western cultures. As a consequence, accusing someone of such a horrendous stance should be used with great care and be fully documented.
It just goes to show the desperation that these MMT critics feel that they contravene that level of decency and Tweet wild and unfounded accusations.
It seems that in this current era, the anti-semitism card is thrown around readily (because it is powerful) just for political purposes rather than any attempt to establish civil dialogue.
In the British situation, I see it as a nasty tactic to undermine Jeremy Corbyn's leadership. It actually demeans the accuser when they pull this card out for political purposes when there is no evidence available to establish a record of such prejudice.
Then the attacks moved on via this sort of ridiculous Tweet:
MMT also has a growing following among the nationalist right in Europe. That's just a fact I'm afraid. The extent to which some MMT authors appear extremely relaxed about this is problematic to say the least.
This is the association fallacy.
As I have been at pains to emphasise in public presentations and in my writing – MMT is neither Left or Right – it is a lens to achieve a superior understanding of how the monetary system operates and the capacities of the currency-issuing government within that system.
It breaks through the veil of ideology and as the MMT understanding spreads, politicians will be forced to account for their decisions in more transparent ways.
The questions we ask our politicians and the answers we will deem to be acceptable will change. It will enhance the quality of our democracies.
The Right have as much capacity to achieve this understanding as the Left. It isn't rocket science after all.
And as an educator, I am pleased that people in society are achieving better understandings of phenomena that are central to our lives – such as the way the macro economy works.
The fact that the Right activists have become cognisant of MMT and are seeing its potential is a good thing. Education has the effect of dominating prejudices. I have seen many young students change their ideological position as they mature through my classes and become more erudite.
These transitions are typically from Right to Progressive Left.
I have never observed the opposite transition although in general society there have been widely known examples.
Further, the point is that a MMTer on the Right will take that understanding, impose their Right-inspired ideology and values onto it, and come up with policies that are vastly different to how I will apply my MMT understanding (being on the Left).
The fact that people on the Right are expressing an MMT understanding doesn't mean that MMT is somehow a Right wing motivation.
And it just means that while the Left are fighting among themselves, the Right might organise within that understanding more effectively and seize political advantage.
The accusation that MMT economists are somehow supportive of nationalist Right agendas is far fetched and scurrilous. I am close to all the key MMT economists and none of them exhibit that sort of leaning.
I also touched on that theme in this blog post – Being anti-European Union and pro-Brexit does not make one a nationalist (May 23, 2019).
At some point in this Twitter storm, some bright spark, straining every cell in his/her head came up with this conclusion during the interchange:
Bill Bitchell is full of schitt.
Of course, while the holier than thou set were bashing us for being Nazis, Anti-Semites, xenophobic nationalists, fascists, etc, they failed to call out this character, who was supporting their attacks, for their obvious mysogyny.
I suppose there are only so many evils one can purge in a day!
Just prior, the same genius said that:
MMTards are blind sheep!
None of this side of the attack suggested this was offensive – not to MMTers but to people with mental health issues ('tards!).
The Tweeter that started all this tried to address criticism of him with this gem:
… you apparently think that a couple of identities and some hand waving about a job guarantee are equivalent to the equations describing the motion of the stars.
So MMT is now dismissed as nothing at all.
Why then are many of the leading mainstream macroeconomists falling over themselves to criticise our work and to stop it spreading in popularity?
Why did the IMF boss dismiss MMT without any particular argument being offered?
Why have central bank governors (Powell, Draghi, Haruhiko Kuroda, etc) been at pains to mount arguments against MMT?
Why has the Japanese Diet been discussing it and the Minister of Finance taking effort to deny that Japan is an example of the sort of dynamics that are central to the MMT framework?
Why are there many financial market journalists writing about MMT now?
Why did our Macroeconomics textbook sell out soon after it was released – see Bloomberg story – A 600-Page Textbook About Modern Monetary Theory Has Sold Out (May 31, 2019).
It strains credibility to argue that this response from the mainstream, that the heterodox economics tradition, has never been previously able to achieve, would have occurred had MMT just been a matter of "a couple of identities and some hand waving about a job guarantee".
This sort of put down tells us something about the heterodox economist making the statements rather than any about MMT per se.
Then some Retweet from Thomas Fazi was wheeled out as from "Bill's co-author" as if it reflected on me in some negative manner. Thomas is one of my co-authors. He is an independent entity. He is not a key MMT economist. What he does is his own business and has nothing to do with me.
What he writes with me is our business.
And then the Twitter storm which raged for a few days diverged into a range of ridiculous issues – all aimed to discredit MMT – but none actually linking the body of work to anything that one might call unsavoury.
Throughout the tirade the only times the main characters actually said anything about the core body of MMT work was as above (the identities put down) and this claim about MMT:
No, it's a political project, centred around the policy of the job guarantee. The MMT description of the monetary system isn't even accurate – for example the central bank and the treasury are actually two separate institutional identities.
The old furphy that the MMT lens is inaccurate because there is no relationship between the central bank and the treasury functions.
The Tweeter, by the way, did not come up with this criticism. He just parrots the claim made by others some years ago. This character has added nothing by way of knowledge or refutation of our work himself.
And, his claim might find some acceptance among his readership who are not trained to understand things beyond the superficial.
But in a modern monetary system, the central bank and the treasury cannot be independent in any functional sense. They must cooperate and communicate on a daily basis.
And that goes beyond the obvious ways that the central bank can never be independent – the government appoints the senior officials and in many countries has the legal right to overrule interest rate decisions.
Further, pulling the 'independence' card, is really playing into the neoliberal myth that promotes this false narrative as a way of depoliticising macroeconomic policy making.
I dealt with this sort of criticism in great detail in this blog post among others – Marxists getting all tied up on MMT (May 1, 2019).
I suppose when one has nothing meaningful to add to a discussion, any stray claim that sounds like one knows what they are talking about will capture some eyes and ears.
Not many, one hopes.
Printed Press
Earlier this week, an article in the British media outlet – James Meadway Interview: "There are ways to end neoliberalism globally that are not progressive, and this will (increasingly) be the terrain the left is fighting on." (July 28, 2019) – was brought to my attention.
MMT activists were so affronted that they demanded the magazine, which claims to be an "an inclusive platform which creates a space for grassroots centre-left voices", is "is fiercely independent and takes no editorial positions", and more, offer me (among others) equal space.
The editor who conducted the interview wrote back:
Hi all,

Feel free to pitch a response article through our usual process: https://www.thesocialreview.co.uk/pitching/

Thanks,
Joe
I replied along these lines:
Dear Joseph

In your About Page, you talk about (quote) "Good-faith engagement within Labour is more essential than ever."

I am sure that Meadway interview did not arise from him "pitching a response article through our usual process".

In that sense, your "feel free" statement below is disingenuous at best.

If you were really interested in balanced debate (noting you claim to take "no editorial positions"), then you would interview me directly.

I am not writing a response and then have some editor determine it is not suitable.

Your publication does itself no favours by publishing a rather vicious interview which, in particular, grossly misrepresents my work to the point of lying and not seeking equal space from me.

Feel free to send me an invitation. If the interview has to be done in person, then I will be in the UK in September.

Best wishes
bill
No invitation was received.
So what was the problem?
I will only consider the section of the Interview that is specifically about MMT.
James Meadway was formerly an advisor to Shadow British Chancellor John McDonnell and was in attendance at the meeting I had with John last October.
I wrote a report on that meeting in this blog post – A summary of my meeting with John McDonnell in London (October 17, 2018).
You will note that at the end of the meeting I raised the issue of social media use with him and indicated that the British MMTers who were strong supporters of JMD and the Labour Party in general were regularly vilified by JMD's advisers on social media.
Meadway said that the MMTers were rude to him and that I should control them. I said something like it was not a cult under my control and that I had actually noted at the MMT conference in NYC that a more respectful dialogue on social media should be the aim of both sides.
But in finishing I told JMD that is was counterproductive to abuse his support base for discussing MMT.
Meadway no longer works for McDonnell. If you see him ask him why? I know the story!
Anyway, Meadway has taken it on himself to try to isolate MMT from the British Left psyche in any way he can. And his tactics are fundamentally unsound.
For example, during the Interview he was asked: "You've been fiercely critical of MMT. Why do you think this would be such a wrong turn for the left?"
His reply was based on a number of lies that should not be left uncontested on the public record.
First, he really offers nothing of substance about the core body of MMT work, which is a common tactic among these critics. He just says he dealt with it in his 'Tribune' article.
The Tribune, to its credit allowed us to respond to his attacks there.
I also provided a more detail response in this series of blog posts:
1. Seize the Means of Production of Currency – Part 1 (June 11, 2019).
2. Seize the Means of Production of Currency – Part 2 (June 12, 2019).
3. Seize the Means of Production of Currency – Part 3 (June 17, 2019).
He then moved on to defend the British Labour Party's Fiscal Credibility Rule – etc.
I last dealt with that Rule in these blog posts and won't repeat the arguments:
1. The British Labour Fiscal Credibility rule – some further final comments (October 23, 2018).
2. Forget the official Rule, apparently, there is a secret Fiscal Credibility Rule (June 19, 2019).
In his Interview though, Meadway became increasingly desperate to slam MMT.
He went on:
… the underlying politics of MMT are worth spending some time on. The core MMT policy agenda has strikingly little to do with the left: support for dollar dominance; indifference (at best) to redistribution from the rich through taxation (usually argued as taxing the rich being "unnecessary"); and labour market authoritarianism via the so-called "Job Guarantee". There's not much in here that is recognisably of the left, if we think the left is basically about freedom and equality – there's quite a different political tradition at work.
First, the 'dollar dominance' argument was dealt with in this blog post – The conga line of MMT critics – marching into oblivion (March 7, 2019).
Second, there is no indifference to taxing the rich – that is a gross misrepresentation.
What MMT economists argue is that we should not conflate the desire to tax the rich to reduce their economic and political power and the need for government to provide services to the disadvantaged (for example).
MMT economists repeatedly indicate they want the rich to have less purchasing power and less power.
They just do not want to reinforce the neoliberal line (that Meadway pushes) that the 'money' the rich might have is essential to allow the governments to provide welfare and other services.
I will come back to the Job Guarantee assertion later.
Meadway continued:
This comes through in many different ways. For instance, Bill Mitchell and Thomas Fazi described it (in Reclaiming the State, p.10) as "tragic" that the left adopted the causes of anti-racism, women's rights, and LGBT rights in the late 1970s. Worse, they claim this is as "equally tragic" as the acceptance of neoliberalism by parts of the left over the same time period. Now this is reactionary garbage, however you look at it, and should be firmly rejected – but it's an important indicator as to where MMT is coming from.
This is a serious example of selective quoting and spurious inference being paraded as serious commentary.
If one goes to the actual text and reads it fully, one will see that we wrote in the Introduction (the page 10 section):
This has gone hand in hand with another, equally tragic, development. As discussed in Chapter 5, following its historical defeat, the left's traditional anti-capitalist focus on class slowly gave way to a liberal- individualist understanding of emancipation. Waylaid by post-modernist and post-structuralist theories, left intellectuals slowly abandoned Marxian class categories to focus, instead, on elements of political power and the use of language and narratives as a way of establishing meaning. This also defined new arenas of political struggle that were diametrically opposed to those defined by Marx. Over the past three decades, the left focus on 'capitalism' has given way to a focus on issues such as racism, gender, homophobia, multiculturalism, etc. Marginality is no longer described in terms of class but rather in terms of identity. The struggle against the illegitimate hegemony of the capitalist class has given way to the struggles of a variety of (more or less) oppressed and marginalised groups: women, ethnic and racial minorities, the LGBTQ community, etc. As a result, class struggle has ceased to be seen as the path to liberation.
In Chapter 5, we elaborated at length the way the Left has moved from post modernism to progressive neoliberalism.
We explicitly stated that:
1. "Issues such as racism and xenophobia are important, of course."
2. "But we need to be cognisant of the way in which the establishment has used these to divide and conquer the working class, and to divert our attention from the antagonistic class relations that lie at the heart of capitalism."
3. "the embrace of this post-modernist agenda by the 1960s Marxist radicals has meant that the left's traditional focus on class has been replaced by a diversity of struggles, none of which challenge the basis of capitalism."
4. "Therefore, an alternative left strategy must necessarily be grounded not only in an appreciation of the operational reality of fiat monetary systems but also on an understanding of the underlying class relations that define capitalism as an historically specific system of productive organisation. This is not in contradiction with the struggle against racism, patriarchy, xenophobia and other forms of oppression and discrimination."
There are two points to appreciate here. First, these statements reflect our values and are not intrinsic to the MMT core body of work. So even if they were offensive to some, they would not undermine the validity of MMT.
Second, how anyone could construct these views as in some way undermining concern for "the causes of anti-racism, women's rights, and LGBT rights" and departing from a Left perspective is beyond me.
Next, Meadway once again pulls the nationalism card.
He suggests the roots of MMT are in the Right wing because:
MMT advocates are reportedly advising Matteo Salvini in Italy, and Bill Mitchell thinks his government should "lead" other European countries.
First, once again if a person achieves an MMT understanding and then uses that understanding to advise a right-wing politician one cannot conclude the understanding is right-wing.
The values applied might be. But not the understanding. That is spurious association at best.
Second, I have implored Italy to lead other European countries out of the Eurozone. Not to lead them in any particular domestic policies. There is a fundamental difference then.
I also began to make those suggestions in my 2015 book – Eurozone Dystopia: Groupthink and Denial on a Grand Scale – long before the current group of politicians were in government.
The logic was always explained along the lines that the European elites could kill of Greece because it was small, but with Italy, it would be a different story. Italy was one of the original Community states and very large in relative terms.
That is a totally different logic stream to the Meadway claim that in some way I am – and MMT is by association – some right-wing nationalist project.
Finally, Meadway concludes his response by claiming that:
Mitchell and Fazi approvingly cite the monetary policy of Nazi Germany before the war in their book.
We do not.
Our only reference to Hitler and Nazi Germany was this section of the text:
Austerity was the dominant response of European governments during the early years of the Great Depression. The political consequences are well known. Anti-systemic parties gained strength all across the continent, most notably in Germany. While 24 European regimes had been democratic in 1920, the number was down to eleven in 1939 … Various historians and economists see the rise of Hitler as a direct consequence of the austerity policies indirectly imposed on Germany by its creditors following the economic crash of the late 1920s. Ewald Nowotny, the current head of Austria's national bank, stated that it was precisely 'the single-minded concentration on austerity policy' in the 1930s that 'led to mass unemployment, a breakdown of democratic systems and, at the end, to the catastrophe of Nazism' … Historian Steven Bryan agrees: 'During the 1920s and 1930s it was precisely the refusal to acknowledge the social and political consequences of austerity that helped bring about not only the depression, but also the authoritarian governments of the 1930s.'
Match that against the Meadway accusation and you can then draw your own conclusions. His assertion is a fabrication.
Conclusion
The question is not whether these criticisms carry any merit – they don't. They are largely spurious, personalised attacks with no substance.
The interesting thing that I muse over is what is behind these ridiculous attacks. Sure enough they make the critic look rather lame.
So why do they behave in such a nonsensically and patently transparent way?
Is it as simple as they are vehemently against Brexit and want to discredit those who are pro-Leave? Are they threatened by MMT because they have not been able to cut through with their own academic work?
I have conjectures that I am still thinking about.
That is enough for today!
(c) Copyright 2019 William Mitchell. All Rights Reserved.