The British government can avoid a recession from a No-Deal Brexit
A shorter blog post today (Wednesday). On Monday (July 29, 2019), the British Social Metrics Commission published their – 2019 Report – which reveals (staggeringly) "that 4.5 million people are more than 50% below the poverty line, and 7 million people are living in persistent poverty" in Britain. So around 22 per cent of people in the UK are living in poverty. In this day and age, poverty is like polio – it is completely avoidable if governments adopt the right policy mix. Persistent poverty means that a people "are in poverty now and have also been in poverty for at least two of the previous three years." In other words, the policy failure is persistent. As Britain approaches the October 31, 2019 deadline and, hopefully, finds itself free of the neoliberal, corporatist nightmare that is membership of the EU, it certainly needs to take action to insulate the economy from a possible downturn. The forecasts coming out of the Office of Budget Responsibility (OBR) are clearly negative but hardly catastrophic. They certainly do not match the hysteria that you read in the Guardian on a daily basis about the end of life as we know it in Britain. But the Government has the capacity to circumvent any downturn. The OBR assumes that facing a recession that the Government does nothing of a discretionary nature (stimulate via fiscal policy) to attenuate that event. What responsible government would not act? And why did the OBR not model some fiscal stimulus scenarios in the wake of the decline in non-government spending they estimate will follow a No-Deal? The reason, is, of course, that that would give the game away. They know that the Government can offset their predicted (though modest) downturn if it chooses. The Government could also go a long way to avoiding such a downturn, and, bring this horrendous (austerity-driven) poverty rate down rather quickly if it takes positive action. That is Boris Johnson's challenge. And if he takes it up and succeeds then it is 'goodnight' Labour.

British poverty and the OBR stress test
One of the first things that Boris Johnson should do is announce a war on poverty which will go some way to dealing with the fallout of No-Deal Brexit.
There is no doubt that the British economy can avoid a recession if the Government stimulates the economy enough. Recessions are just about spending gaps.
If the non-government spending gap increases then the government net contribution has to rise.
It is not quite that simple because there are compositional factors to consider – the areas of the economy where spending will be lost as the non-government sector contracts will not necessarily be the preferred areas for the public spending boost.
I will come back to that in a moment.
But first, what of the Office of Budget Responsibility (OBR) report – Fiscal risks report – July 2019 – that predicts that a No-deal Brexit will cause GDP to contract by 2 per cent in 2020, but recover in 2021, and public debt will rise by £30 billion?
Trope, tripe … (see below in the music offering)!
The OBR has conventions:
1. A rising deficit is bad.
2. A falling deficit is good.
3. About the end of the story.
They worry about the fact that "the current Chancellor has all but abandoned the Government's legislated objective to balance the budget by the mid-2020s" whereas British people should be applauding it.
They suggest that the "£27 billion a year NHS settlement announced in June 2018" is evidence of the ship sinking (violates "Treasury's usually firm grip on departmental spending").
Just read those latest poverty numbers to see where that "firm grip" has put 22 per cent of the British population.
On the No-Deal Brexit, the OBR performed what they call a "stress test" where they make a whole lot of assumptions and then guess where the economy will head based on those assumptions.
They conclude that:
1. "The UK enters a year-long recession in the fourth quarter of 2019. Real GDP falls by 2.1 per cent, around the same as in the early-1990s recession but only about a third of what was seen in the financial crisis."
Think about that for a moment.
Even with assumptions biased heavily towards a bad outcome, the OBR predicts a 2.1 per cent GDP decline, for what the hysterical Remainers are characterising as a catastrophe.
A 2.1 per cent loss of GDP is bad but no catastrophe.
Morever:
2. "By mid-2021 … [the] … economy then picks up and is just 1.6 per cent smaller than the baseline by the first quarter of 2024"
3. "A negative output gap opens, peaking at 2.5 per cent of potential output at the end of 2020, before narrowing to 0.5 per cent by the scenario horizon."
To repeat, this is not desirable should it happen, but hardly the end of the world for Britain.
And if you examine their main chart (10.1) you see that the direction of GDP under the 'stress test' is upwards, closing the gap between their March 2019 forecast of growth and the No-deal Brexit scenario.
Here is that chart.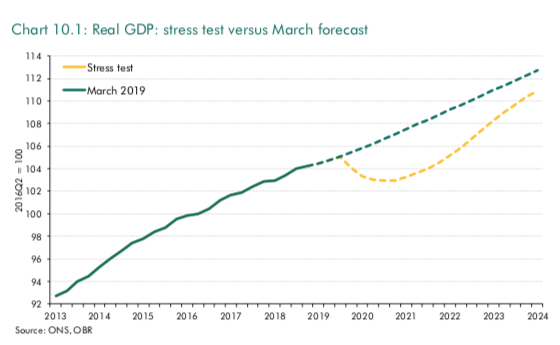 They say the main drivers of a recession would be:
1. "The weaker path for GDP is mainly driven by lower business investment".
2. "the contribution of net trade to GDP growth is similar to our March forecast" – think about that!
They estimate that imports will fall a little because of the GDP losses but the depreciating currency boosts exports.
But "these effects are largely offset by the immediate rise in tariff and non-tariff barriers on UK exports to the EU."
So no major collapse of trade!
3. By 2023, the unemployment rate will be just 0.3 points higher than the March forecast as "employment … recovers".
4. "Inflation expectations remain anchored" – and the rise in CPI inflation is "temporary".
I don't want to report my analysis the rest of the Report here (time reasons).
But what assumptions did they make to generate these forecasts?
Among the key ones, which they took directly from IMF analysis, are:
1. The Bank of England "cuts Bank Rate to around 0.2 per cent by the end of 2020. As the negative output gap closes, Bank Rate gradually increases back towards the level assumed in our March forecast."
2. "We do not assume that any further monetary easing is delivered through quantitative easing".
3. "There is no discretionary fiscal policy response". Read that again: "Discretionary fiscal policy is unchanged".
So as the economy is tanking (modestly) the shock-horror OBR stress-test scenario for a No-Deal Brexit assumes the government stands back and uses no discretionary stimulus to attenuate the decline in real GDP.
What government in its right mind would do that?
There is no doubt in my mind that the British government could easily prevent a real GDP decline of the projected magnitude proposed by the OBR.
So even with their worst case scenario predictions, a No Deal Brexit doesn't look all that catastrophic to me.
And we do not actually know whether British exports are all that price sensitive anyway – in both ways – tariff hikes and exchange rate shifts.
But it is certain that if Boris Johnson wants to demonstrate that his government is competent he will announce sooner rather than later (among other things):
1. Some large public infrastructure projects, preferably tied in with a Green New Deal conception.
2. Some major welfare reforms to bring the 22 per cent of the population out of poverty.
The first initiative will provide some increased certainty to business investment and deliver some massive, long-term upgrades to public infrastructure (as well as the employment boost and local multiplier effects)
The second is likely to be translated into both increased consumption spending (households) and increased saving (to reduce the dangerous levels of household debt.
As the fiscal deficit rises, the British people will be able to celebrate a dramatic fall in the poverty rate, better public facilities (and the services that flow from them), and freedom from the neoliberal, corporatist nightmare that is the European Union.
Go on Boris – do it.
Music – reflecting the theme from yesterday
While I was absorbing the ridiculous claims of those who are trying to tear Modern Monetary Theory (MMT) down (because they didn't think of it) by accusing me of being motivated by dark, right-wing, nationalist and anti-semitic 'tropes' – I love that word 'tropes'.
Many people use it because they think it makes them sound meaningful. The recent use to attack MMT is, however, meaningful.
If we play those games where you alter one letter and transform through different words to get a final word, this time it is easy:
Trope, tripe
Anyway, I was thinking of this song when all these accusations were flying last week.
The lyrics – "I support the left, Though I'm leaning, leaning to the right"
Not that that description applies.
Rather, I don't support the (neoliberal, fiscal credibility rule) Left, Though I'm leaning, leaning further left than them.
This was one of the underrated Cream songs, that was on their third studio album – Wheels of Fire – released in 1968.
The band split soon after it was completed.
Playing bass is – Jack Bruce – who died on October 25, 2014. He was one of the great bass players and had a brilliant voice. I love the legacy he has left us.
Guitar is played by one of the best players ever – Rory Gallagher – who died at the age of 47 on June 14, 1995 not long after receiving a liver transplant.
Two towers of the modern music era were gone.
Here they are playing together in Cologne on October 16, 1990.
Brendan O'Neill was on drums – he played in the last version of the Rory Gallagher Band.
The song – Politician – has one of those brilliant bass lines.
In this article (October 27, 2014) – Strange Brew: Jack Bruce, Ginger Baker and Tom Dowd Recall the Rise (and Curdling) of Cream – which, in part, recounts an Interview done in 1997 with the three-named (Tom Dowd was their engineer for the Wheels of Fire album), we learn from Jack Bruce that:
We were scheduled to perform on the BBC and needed a song. Pete had given me the words, which had a great blues feel to them. Eric and I were jamming and trying to come up with a lick. There was no big writing session or anything like that. It came together quickly, and we performed it for the first time on that radio program.
Here is that original version.
I like Rory's playing much more than Eric Clapton's style.
That is enough for today!
(c) Copyright 2019 William Mitchell. All Rights Reserved.