Some myths about modern monetary theory and its developers
Today's economics blog is about some reactions I have to the many pieces of correspondence I get each week about my work via E-mails, letters, telephone calls. It seems that there is a lot of misinformation out there and a reluctance by many to engage in ideas that they find contrary to their current understandings (or more likely prejudices). It always puzzles me how vehement some people get about an idea. A different idea seems to be the most threatening thing … forget about rising unemployment and poverty – just kill the idea!. So here are a few thoughts on that sort of theme.

To set the scene consider this graph which was published by the Financial Times in June which is meant to show why US voters should be scared of what the US Government is doing with respect to its budget. It was sent to me by someone who says I should learn from it and "wake up to myself and stop advocating socialism … that he didn't want to work in one of my crummy public sector jobs". Okay, I hope he has a job elsewhere.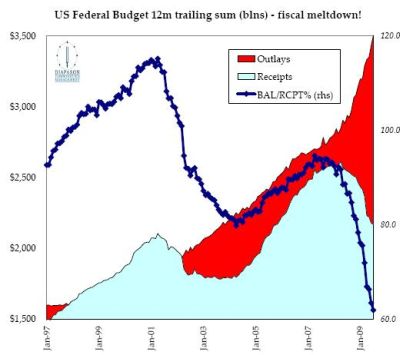 You will note that the time period begins in 1997 which I think is good (although the article fails to appreciate the significance of that). In fact, the short sample is deliberately intended to deceive and bias the conclusion. As you can see it shows a big splash of red (outlays) currently and a corresponding rapid decline in receipts. Horror story really! Don't you agree?
Anyone who isn't quaking in their boots upon seeing this graph is evidently a "delusional or was it fanciful left wing nutter" who "wants to impose socialism on everyone" by forcing "everyone to work for the government". More about which later.
The first thing to note from the graph is the Clinton surpluses in fiscal years 1998, 1999 and 2000 (increasing each year). And you can guess what happened? The private sector became more heavily indebted than before as the fiscal drag squeezed liquidity. Further, it set up the conditions for a major recession in 2001-02 with unemployment rising sharply and the automatic stabilisers pushing the budget back into deficit. So the stupid graph serves to illustrate some of that which was not mentioned at all in the article.
But consider my version of the graph which follows and begins in 1948 not 1997. It also scales everything to GDP and includes a lower panel showing the evolution of the federal budget balance over time alongside the unemployment rate. All data is available at US Office of Management and Budget (budget statistics) and the US Bureau of Labor Statistics (unemployment data).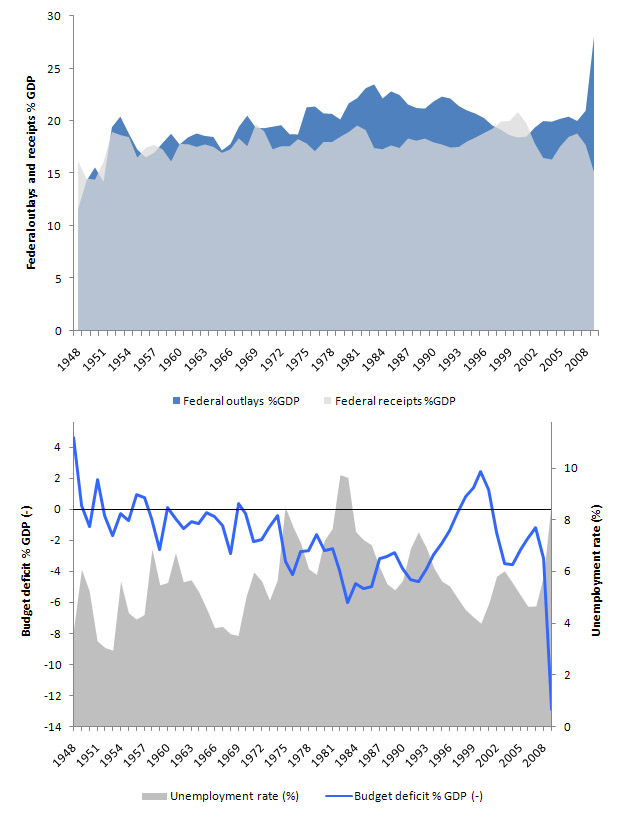 Now that should set things in a totally different context. The things to note are obvious. First, Federal deficits have been the norm in the US since 1948. Everytime the federal government has tried to achieve a budget surplus (or succeeded in doing so) the economy has faltered and unemployment has risen. The deficits that followed were driven by the automatic stabilisers – falling revenue and rising welfare outlays.
Second, the Clinton surpluses only endured for as long as they did without unemployment rising significant immediately because spending in the US economy was driven by the credit-binge. This unwound for consumers around the end of 2001 and as noted above the flight back to saving resulted in a serious recession – the one before this one. This is a very similar tale to the surplus period in Australia where the conservatives were only able to maintain them for a decade because the household sector went increasingly into debt. In both countries this was an unsustainable growth strategy. We are now living through the damaging aftermath of the folly – some are more damaged than others.
Third, the deficits in the past have been inversely related to the unemployment dynamics and during the 1982 recession were large (around 6 per cent of GDP) and persisted at those levels for as long as spending had to be supported. Even so, a case can be made that Reagan should have pushed the deficits much higher given the huge jump (and persistence) in the unemployment rate. If the US Government had have been serious about maintaining full employment (US style!) then the deficits would have been much higher than 6 per cent in 1983.
Fourth, the current deficits are the highest as a percentage of GDP but include extraordinary measures to stabilise the financial system which the neo-liberal deregulation had allowed to take the world economic system to the brink. You don't nationalise (or do the same thing and not call it that) major banks and insurance companies and help underwrite a great proportion of minor banks, without some serious outlays. (Scott: care to comment on what is included in the outlays figure which is atypical and push the deficit/GDP figure up?).
You can also see the depth of the crisis by noting the fall in revenue relative to movements in the past. The current decline in revenue is very large (as a % of GDP) and so the unusually high automatic stabilisers are driving much of the budget dynamics in the US at present.
All that makes sense to me and doesn't scare me for a moment. The lower panel of the chart – the grey shaded part – the dynamics of the unemployment rate is what scares me. With a federal government that is not revenue-constrained the budget deficit should be even higher than it is now given the rapid deterioration in the US labour market.
Which brings me to the point of the blog? I get sent a lot of E-mails every day – many are complimentary or inquisitive and some are hostile and vindictive (more than I care think about). I also get snail mail hate letters from punters who hear me on radio or read my Op Eds and now my blog. I also get sent messages telling me that other blogs allow commentary that significantly criticises my viewpoint in a fairly personal way (that is waxing lyrical about my sanity and political ambitions).
This has been going on for years and I am used to it. If you have a public profile that is what you might expect. Water off a duck's back!
But the hostility reflects a real ignorance and fear of new ideas and that is the worrying aspect of all the communications. It means that the levels of comprehension about how the economy actually works among the lay persons and many mainstream economists is very low. In seems that the best defence of that ignorance, is to launch a personal attack on anyone who dares to think differently (and might just know what they are talking about). The hallmark of these attacks are that all sorts of economic concepts and technical terms that sound authoritative but are not are mashed into the one incoherent wall of words.
So here are some of the more obvious elements that are used by those who are struggling to understand what is going on to discredit modern monetary theory. They will be familiar themes to regular readers but some of them still amaze me – if only for the breathtaking audacity of the vehemence that is displayed given the level of ignorance that is endemic. They are only a slice of the sort of things that are out there.
Modern Money Theorists are fanciful left-wing nutters
There is a view among the deficit terrorists that the fiscal situation for the current period depicted in the graphs above is unsustainable and that rising interest rates will choke of the capacity of the US Government to spend.
In my blog – Twisted logic and just plain misinformation I said:
… this analysis does not apply to a sovereign government. Its capacity to spend in the future is not reduced if it holds debt no matter if the economy is growing or in decline. It can never be insolvent even if its tax revenue declines signficantly. Its balance sheet can never become precarious in the same way that a household balance sheet can.
You might also like to go back to first principles – Deficit spending 101 – Part 3
So my judgement is an economic one not a political one. We had a very interesting discussion recently about the importance of that distinction in the blog – Debates in modern monetary macro … – which might be considered a useful companion to this blog.
The voters might get scared and push the US Government into cutting back spending much earlier than they should – when assessed from a modern monetary perspective which says that if the non-government sector desires to net save then aggregate demand must be supported by the government sector for output and employment levels to remain high. All throughout the period shown in my graph above – those deficits were supporting a solid private saving ratio. And it is typical for the private sector to save a proportion of their income (in aggregate).
So if the political reality sees the US Government start contracting before the non-government sector spending has risen again then they will simply worsen their already parlous situation. A fair proportion of the deficits will be wiped away as the automatic stabilisers go into reverse on the back of economic growth. The best thing the US Government can be doing is supporting spending and inspiring confidence among private investors to get capacity building spending back on track and start employing people again.
Now the recognition of the national accounting relationships which underpin modern monetary theory are not matters of opinion. These include (but the list is not exhaustive):
That a government deficit (surplus ) will be exactly equal ($-for-$) to a non-government surplus (deficit).
That a deficiency of spending overall relative to full capacity output will cause output to contract and employment to fall.
That government net spending funds the private desire to save while at the same ensuring output levels are high.
That a national government which issues its own currency is not revenue-constrained in its own spending, irrespective of the voluntary (political) arrangements it puts in place which may constrain it in spending in any number of ways.
That public debt issuance of a sovereign government is about interest-rate maintenance and has nothing to do with "funding" net government spending.
That a sovereign government can buy whatever is for sale at any time but should only net spend up to the desire by the non-government sector to save otherwise nominal spending will outstrip the real capacity of the economy to respond in quantity terms and inflation will result.
These concepts and understandings of Modern Monetary Theory (MMT) don't impose any political opinion at all about how the state might use these opportunities. There is nothing intrinsically left-wing or right-wing or any wing, for that matter, about these statements.
There is certainly nothing that hints of socialism or dare I mutter these words in public space – …. communism – embedded in these concepts.
The concepts are technical understandings of how a fiat monetary system – of the sort we have – operates. Modern monetary theory is different from Keynesian macroeconomics and neo-classical macroeconomics in the sense that it begins at the operational level. The knowledge framework that has been built up by modern monetary theorists did not start with some (untestable) a priori assumptions – that is, the deductive approach that exemplifies the neo-liberal text book macro.
Modern monetary theory starts with how the system works not how we assume or want it to work. On top of that a some basic insights from Kalecki, Keynes and others relating to uncertainty, investment dynamics and aggregate spending are added to the operational insights to form a coherent macroeconomics. It is a macroeconomic theory that is complete and holds up very well in explaining the revealed dynamics of fiat monetary economies.
You should always ask a neo-liberal to provide a coherent explanation of the evolution of the Japanese economy since 1990 using the principles laid out in their macroeconomic text books. So ask them to explain the years of high deficits, high public debt issuance, zero interest rates and deflation. They cannot!
So in that context, you have to separate the operational understanding that is only provided by modern monetary theorists – no other body of macroeconomics get this side of the economy remotely correct – from political statements that, say, I might make.
One could acknowledge the veracity of modern monetary theory yet still say that the government should run a surplus because they thought unemployment was a more functional way to ensure high profits (via wage discipline) than full employment. So the person would understand what will happen if the government uses contractionary fiscal policy but has a political preference for that state of affairs.
Whereas I say that I value people having work with an environmentally sustainable world above most other things and so my understanding of how the economy works tells me that the only way I can achieve those political (or ideological) aspirations (full employment) is for the government to run deficits up to the level justified by non-government saving.
You get the point – the ideological statement are entirely separable from the operational insights that modern monetary theory provides.
You might call me a left-winger because I value full employment but you would be totally ignorant if you said it because of the operational knowledge I seek to disseminate as a professor of economics.
Wanting everyone to have a job amounts to socialism
It is clear that I advocate full employment. It is also clear that one of the obvious insights that comes from modern monetary theory is that inflation can result if nominal spending chases goods and services offered at market prices.
So in that context I have for many years advocated the introduction of a Job Guarantee where the government offers a job at a minimum wage to anybody who wants one. By definition, unemployment reflects a lack of demand by the private sector for this labour. The only other sector than can provide employment with decent conditions and a living wage is the government sector.
There are many advantages arising from keeping people in employment. I have written extensively about these advantages – see this sample of my blogs and follow the pages if you want to refresh your memories.
So advocating this simple change in policy where the sovereign government uses its obvious fiscal capacity to prevent unemployment doesn't seem to be remotely like socialism. The latter requires a major change in the ownership of the means of production in the economy to take place at the outset.
How does offering a job to anyone who wants one create large scale institutional changes in the ownership of capital? Especially when the overwhelming proportion of persons who would benefit from this approach to counter-stabilisation would be the most disadvantaged workers in our communities. How do they have any correspondence with capital at all – even in the best of times?
I might be a supporter of socialism as a political system. Then again I might not. But you won't find anything in my publication list over many years – journal articles, books or even this blog – that will articulate that position. Nor in the writings of any modern monetary theorist that I know.
In fact, without disclosing names, some Modern Monetary Theorists would be hostile to the urging for an overthrow of the capitalist system.
Deficits are unsustainable and just cause inflation
Well we have dealt with this myth many times but it still dominates the attacks that modern monetary. Supposedly, deficits cause inflation.
I also advocate abandoning all the voluntary constraints that governments have instituted (either by law or regulation) whereby they act as if they are still in a gold standard monetary system. So I would not issue any public debt when the government is net spending (running deficits). Why would we be providing the private sector with a guaranteed welfare annuity? Especially, when the segments of the private sector that have the most to gain from using the public debt as a risk free benchmark for their profit seeking seem to hate any other form of government welfare – that is, any support for the poor or regulations to protect workers? You might like to read this blog – The problem of being a macro economist where I discuss this issue.
So in that case, I would just have the central bank "funding" the net spending – which according the deficit terrorists will be instantly inflationary.
Again you might like to refresh the statements I have made by reviewing this sample of my blogs.
It should be clear that if the economy can respond to nominal spending in real terms then most firms will behave in this way. That is, they will desire to increase real output rather than put up prices. Why? Well if they didn't some other firm would and they would lose market share. That is one reason. There are many others.
So if there is idle capacity and idle resources that can be brought into the process of production to increase the supply of goods and services then firms will increase their deployment of those resources if they can see a realistic possibility that they can sell the goods and services. That is, they sense there is adequate aggregate demand (spending).
Fiscal deficits add to aggregate demand and provide the underpinning for firms to increase output (and employment).
At some point, nominal spending growth can clearly come up against the real capacity of the economy to expand production. That is, firms can no longer expand production because there are no idle resources or capacity left to bring back into production. At that point, the economy hits the inflationary gap – a term which simply means that the firms will start hiking prices to ration the increasing nominal spending. That is, inflation is the result.
The other way of thinking about this is that the budget deficits are too large relative to the desire of the non-government sector to save. How would we know that was the case? Well very high levels of employment (zero underemployment) and very low unemployment would tell us that we were around that point in the business cycle.
High levels of unemployment tell us that there is significant idle capacity in the economy. It cannot be inflationary for the government to use its fiscal power to provide a job to this labour – which has no private sector demand by definition. The government would not be competing for any resources at market prices.
That is another reason why I advocate the Job Guarantee as a first step because it creates enough jobs for all but at the same times introduces a nominal anchor that disciplines inflation. Once you have this "loose" full employment (see these blogs for more on this) the government can then start thinking about other expansionary policies that would improve the quality of employment and/or infrastructure provision. But the first step should be to underwrite full employment with the smallest net spending stimulus that is required to do so.
So none of that says we ignore inflation. A concern for inflation is at the heart of modern monetary theory and the policies that most of the adherents of that theoretical structure advocate.
Modern Monetary Theory is just academic
Better get a real job, son (you better get a real good one – borrowing from that fantastic song by The Cruel Sea!)
Yes, a lot of correspondence tells me that I know nothing about the real world because I just sit in a university with my hand on my …… etc (and worse). Presumably the real world is somewhere else and evades my gaze.
This is a recurring theme. As a logical construct it always amuses me. It is always mouthed by those who feel content to mindlessly reiterate the stuff they get from neo-liberal text books or to rehearse what they have read or heard others say who themselves have accessed the nonsense from the same textbooks. Where do the mainstream text book writers work? Mostly universities!
I received a particularly nasty E-mail not that long ago from a character who started by saying that he was important because he "worked behind a major bank bond trading desk" (that is, how the E-mail began). Good I thought, he/she has a job and is contributing to aggregate demand.
But one of the hallmarks of the development of Modern Monetary Theory is that the academics involved work closely with some major players in banking and the bond markets. One of the leading modern monetary theorists is on record as having created some of the largest "trades" in history.
Refer back to my earlier point – the roots of Modern Monetary Theory is at the operational level. How banks work. How central banks work. How the treasury works. The mechanisms and operations that define daily life in a fiat monetary system. The academics have achieved this understanding by working closely with our financial market friends.
You also see that some of the main commentators here work in financial markets. They understand on a daily basis how the system operates.
The collaboration between the academic and financial market modern monetary theorists has produced this body of theory. No other body of economic theory comes from that sort of collaboration.
Ideological persuasions
To make sure you characterise my political positions correctly please consult my political compass result. And if you do some exploration you will find that I am in very good company out there in the lower left-hand quadrant – along with Nelson Mandela, The Dalai Lama, Ghandi and regular commentator here Sean Carmody.
Conclusion
By the way, the overwhelming proportion of correspondence I receive is constructive and generally supportive. But a significant minority is not!
Postscript:
Blogs that seem to be interesting and those that attract less attention – I will write about this another day. Seems to be the conceptual blogs attract marginally more interest, if my statistics are accurate, than those which focus on data analysis. The differences appear to be not so much in the traffic that each page attracts but in the number of comments.
The data blogs attract less interaction. One of the reasons I presume is that the data analysis is mostly Australian and I get thousands of overseas hits each day. Anyway, I am thinking about this at present. Not that popularity is the number one aim!
After all, devoting your career to the development of Modern Monetary Theory (MMT) is not a sure fire way to becoming particularly popular!