Those Imbecilic Keynesianisticists are loose – lock up your … whatever!
It is Wednesday – a blog lite day – sort of. I am travelling a lot today and I have a large report to finish. But I couldn't resist typing out the term "Keynesianisticists", which refers to those imbeciles who think Modern Monetary Theory (MMT) has any credibility – it hasn't!. These MMTers types – imbecilic is being kind – are parading around telling people that governments cannot run out of spending power as long as there are things for sale in the currency they issue on a monopoly basis. I have only one word for them – Zimbabwe – well two words – add Venezuela. And Lebanon thrown in! And I should know. I have predicted "9 of the Past 5 Recessions" (a Paul Samuelson quote from 1966). I told people that bond yields would rise sharply, they fell. I told people the share market would collapse, it boomed. I told people the gold price would soar, it fell. But that is nothing compared to what those Imbecilic Keynesianisticists want us to believe. Believe me, I know what I am talking about. They are imbeciles, they are imbeciles, imbecile is too kind a word, they are imbeciles, imbeciles, I am an imbecile … stop the record. Time to catch an aeroplane!
Here is the Tweet stream that told us more: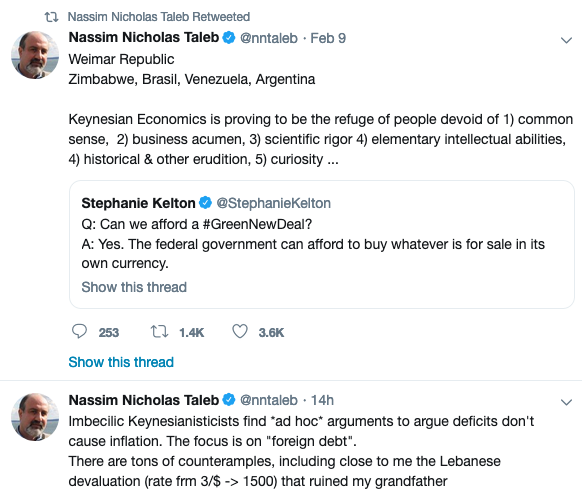 Go on tick the boxes about those MMT proponents – you know you want to give that lot some comeuppance:
– "devoid of common sense" – tick!
– "devoid of business acumen – tick!
– "devoid of scientific rigor" – tick!
– "devoid of elementary intellectual abilities" – er, ahh, what was that big word … intellegible or something – but tick anyway, just to be sure. I wouldn't want to stand out. Mr Taleb, he da man!
– "devoid of historical and other erudition" – definitely, tick!
– "devoid of curiosity" – tick!
Not much left is there. Imbecilic Keynesianisticists seems about right.
Well who is this guy who has such a prescient view about those imbecile MMTers?
Remember – Nassim Nicholas Taleb – the 'black swan' man?
Yes, that one.
The guy who made a fool of himself in the early days of the GFC when the mainstream economists and the sychophantic financial commentators were out in force declaring that various currency-issuing governments would go broke because bond yields would soar and hyperinflation would be triggered by the massive fiscal deficits that governments were running.
On February 5, 2010, Mr Taleb was quoted in the article – Taleb: "Every Single Human Being" Should Short Treasuries – as telling a conference in Moscow about his knowledge of financial markets.
At the time, I considered Mr Taleb's judgement in this blog post – On human bondage (February 5, 2010).
I noted that my mate, Marshall Auerback described Mr Taleb as a blind squirrel who accidently stumbled on a few acorns – very North American imagery I thought.
The point being that if you run your mouth at some fast pace in a more or less random fashion you are sure to say something that is sensible once in a while.
Mr Taleb's book "The Black Swan" had some good analysis in it but nothing much more than Mandelbrot had laid out in his fractal geometry which inspired chaos theory.
So a few acorns here and there but overall no understanding of how the monetary system operates.
Anyway, Mr Taleb who keeps telling his readers how clever he is (if you have been unlucky enough to read his book you will know what I mean) was telling people at the time:
It's a no brainer to sell short Treasuries … Every single human being should have that trade … [and] … Short the S&P vs Long Gold, in a 5 to 1 ratio.
This is because the US economy was apparently approaching Armageddon day. Yes, another doomsday approaches.
In that interview, Mr Taleb also said:
Deficits are like putting dynamite in the hands of children … They can get out of control very quickly … The problem we have in the United States, the level of debt is still very high and being converted to government debt … We are worse-off today than we were last year. In the United States and in Europe, you have fewer people employed and a larger amount of debt.
At the time, I challenged Mr Taleb to name the date of the END, which meant that we could have sent him our commisserations when it was obvious he had failed to 'stumble on the acorn'.
Well we can clearly reflect on Mr Taleb's prognostications given the passage of time.
And perhaps, that assessment conditions how seriously we take anything that such a person might now say about economic matters.
The evidence is in. Mr Taleb doesn't know much about these matters.
What does it mean to "short Treasuries"?
For those who don't understand what his call – for every single human being (including the newly born), those in dire poverty, those who don't know what a Treasury is, and all the rest – to short Treasuries means, then let me explain.
When the prices that government bonds are bought and sold at in the secondary bond markets (after they have been auctioned to the selective bidders in the primary market) fluctuate there is an opportunity to make profits by predicting which way the sale price will go.
A person who believes the buying price of the bond will fall in the future can make money by 'shorting' it in a trading contract.
There are various ways to 'short' a bond, including using bond exchange-traded funds (ETF), ETF put options, Treasury put options, Bond futures, etc etc.
They all amount to the same thing – you offer to sell an asset (a government bond in this case) at some future date (specified in a contract) that you do not currently own.
So you might offer to sell a bond at some future date at its current market price and hope that when the time comes to deliver on the sale, you can purchase the bond at a lower price and make a profit.
The price of a bond is intrinsically linked to its yield.
Simplifying, in macroeconomics, we summarise the plethora of public debt instruments with the concept of a bond.
The standard bond has a face value – say $A1000 and a coupon rate – say 5 per cent and a maturity – say 10 years. This means that the bond holder will will get $50 dollar per annum (interest) for 10 years and when the maturity is reached they would get $1000 back.
Bonds are issued by government into the primary market, which is simply the institutional machinery via which the government sells debt to the primary dealers.
Once bonds are issued they are traded in the secondary market between interested parties. Clearly secondary market trading has no impact at all on the volume of financial assets in the system – it just shuffles the wealth between wealth-holders.
In the context of public debt issuance – the transactions in the primary market are vertical (net financial assets are created or destroyed) and the secondary market transactions are all horizontal (no new financial assets are created).
Please read my blog – Deficit spending 101 – Part 3 (March 2, 2009) – for more discussion on this point.
Further, most primary market issuance is now done via auction. Accordingly, the government would determine the maturity of the bond (how long the bond would exist for), the coupon rate (the interest return on the bond) and the volume (how many bonds) being specified.
The issue would then be put out for tender and the market then would determine the final price of the bonds issued.
Imagine a $1000 bond had a coupon of 5 per cent, meaning that you would get $50 dollar per annum until the bond matured at which time you would get $1000 back.
Imagine, given the current expectations in the 'market', that bond investors wanted a yield of 6 per cent to accommodate risk expectations (inflation or something else).
So for them the bond is unattractive and they would only trade it at a bid price lower than the $1000 to ensure they get the 6 per cent return they sought.
The mathematical formulae to compute the desired (lower) price is quite tricky and you can look it up in a finance book if you are so inclined.
The general rule for fixed-income bonds is that when the prices rise, the yield falls and vice versa. Thus, the price of a bond can change in the market place according to interest rate fluctuations.
When interest rates rise, the price of previously issued bonds fall because they are less attractive in comparison to the newly issued bonds, which are offering a higher coupon rates (reflecting current interest rates).
When interest rates fall, the price of older bonds increase, becoming more attractive as newly issued bonds offer a lower coupon rate than the older higher coupon rated bonds.
Further, rising yields may indicate a rising sense of risk (mostly from future inflation although sovereign credit ratings will influence this).
But they may also indicated a recovering economy where people are more confidence investing in commercial paper (for higher returns) and so they demand less of the 'risk free' government paper.
So you see how an event (yield rises) that signifies growing confidence in the real economy is reinterpreted (and trumpeted) by the conservatives to signal something bad (crowding out). In this case, the reason long-term yields would be rising is because investors were diversifying their portfolios and moving back into private financial assets.
Now Mr Taleb wanted everyone – every single human – to be short – meaning, if they were rational, that the price of bonds was expected to fall dramatically because yields had risen.
He obviously wanted people to believe that yields were going to rise significantly because of fears of government insolvency, and all the rest of the claptrap that the mainstream economists go on about.
On his Twitter account he self-promotes himself as a flâneur, which means (translating) that he just strolls or saunters around checking stuff out. Although there are other meanings that Mr Taleb probably thinks applies to him.
Well he should check this out!
What happened to bond yields?
The following graph shows the evolution of the ten-year US government bond yield since Mr Taleb's statements (February 5, 2010) to February 8, 2019.
The trend has been downwards with fluctuations.
Going short means you have to have an idea of the contract delivery date. You might accidently 'stumble on the acorns' and get some of the volatility in the yields correct (there were ups and down through the period) but the overriding trend has not been up!
Big losses would have been highly likely from following his advice.
Remember, these sort of predictions have been made for decades about the Japanese government 10-year bonds.
The famous 'widowmaker' trade where smartie-type Mr Taleb's in hedge funds bet on rising JGB yields (and falling prices) only to find out that the opposite happens and they make massive losses.
Next stop – 10th floor window! The widowmaker!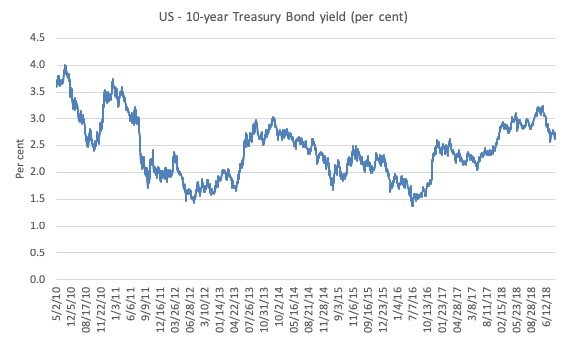 And what about the S&P
Mr Taleb recommended we all go short on the S&P index because collapse in the economy would lead to a collapse in the S&P.
Bring on the graph.
Graph enters – shows S&P index from February 5, 2010 to February 11, 2019.
It shows that big losses would have been incurred by trying to short the S*P 500.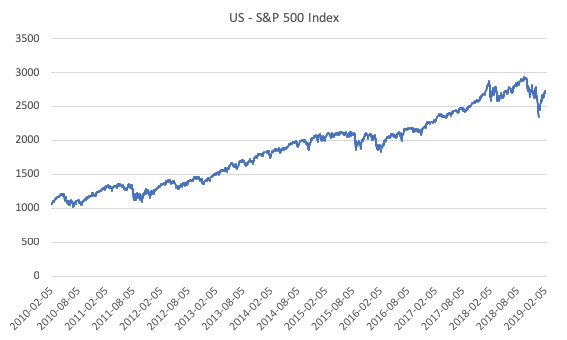 And what about gold?
What if we had all followed Mr Taleb's advice and went long in gold?
Going long means you hold the asset and hope for capital gain over the longer term as its price appreciates.
In 2010, the average gold price was $US1,420.25, having risen substantially in the previous year as the GFC played out.
And now, you gold bug longees?
The London Bullion Market gold price on Monday, February 11, 2019 was $US1306.75.
Suck it up!
But then I am one of those "Imbecilic Keynesianisticists".
Yeh, I know Zimbabwe yesterday, Venezuela tomorrow, then we take Berlin (sorry Leonard)!
And Lebanon?
1. Currency peg against the US dollar (1500)
2. A central bank that borrows foreign exchange from commercial banks at exhorbitant interest rates.
3. Stagnant growth due to regional instability – Lebanon is suffering from the fallout of the Syrian War, the struggles between Sunni and Shia elements stemming from Saudi Arabia and Iran, respectively.
Impact: dramatic falls in tourism, a fall in real estate prices and Foreign Direct Investment.
Impact: massive refugee flows into Lebanon from Syria. Population of Lebanon around 6 and a bit million. Number of Syrian refugees – more than a million.
Infrastructure cannot cope with that sort of population influx. Fiscal deficits have to rise in those cases because the private sector is hardly going to pick up the humanitarian bill
4. Rapid decline in private activity due to on-going military strife create massive insecurity in the region.
But those Imbecilic Keynesianisticists are behind this calamity. They started the Syrian War didn't they with their stupid ideas.
Go Nuke Da (GND) lot of them.
Music for today …
Yes, the album had drum machines, disco feels, and the rest of it – but it still had some great guitar playing from Jeff Beck and some great singing from Mick Jagger.
I am referring to the February 1985 solo album by the last mentioned – She's the boss – which caused deep frictions within the Rolling Stones and marked a period where Mick Jagger, obsessed with his own stardom, lost track of what quality music really is.
I bought the album when it came out – yeh, a tragic collector of records. It is mostly forgettable.
But this song – Hard Woman – has some great vocal phrasing and I always liked it – with some nice guitar at the end.
And while on one member of the Glimmer Twins, the other member, Keith Richards was not to be outdone and in 1988 released his first solo album – Talk is Cheap. It was a much better effort than Mick's collection of solo records.
The backing band was the X-Pensive Winos (all great players) with a guest appearance by former Rolling Stone Mick Taylor (another fabulous guitarist).
Here is a good sample from the album – You Don't Move me (anymore)!
The sound is of raw guitars (beautiful) with some funk thrown in, rather than the disco dance from Mick Jagger. You get the understanding that the engine room of the Rolling Stones at their best was Keith Richards and at their worst Mick Jagger. Not that the 'worst' was that bad.
Fabulous playing.
If you have read Keith Richard's book from 2010 – Life – (I recommend it – I have a personally-signed copy) – then he talks about the friction that Mick Jagger created between the pair when he signed a three-record deal with CBS behind the back of other Rolling Stones member.
He refers to Mick Jagger's first solo album in this way (pp.462-463):
Mick's album was called She's the Boss, which said it all. I've never listened to the entire thing all the way through. Who has? It's like Mein Kampf. Everybody had a copy, but nobody listened to it. As to his subsequent titles, carefully worded Primitive Cool, Goddess in the Doorway, which it was irresistible not to rechristen "Dogshit in the Doorway, I rest my case. He says I have no manners and a bad mouth. He's even written a song on the subject. But this record deal of Mick's was bad manners beyond any verbal jibes.

Just by the choice of material, it seem to be he had really gone off the tracks. It was very sad. He wasn't prepared not to make an impact. And he was upset. But I can't imagine why he thought it would fly. This is where I felt Mick had lost touch with reality.
Pretty direct.
If you are in Melbourne tonight and want to hear music …
Then my band – Pressure Drop – is playing at the Maori Chief Hotel, 117 Moray St, South Melbourne, from about 20:00 to late.
This is a great little inner city pub in Melbourne which has consistently supported live music. Such venues need the support of all of us.
And, what else is there to do on a Wednesday night in Melbourne anyway?
Lots of great dub, rock steady and reggae coming up tonight. We will throw some jazz in there somewhere too!
I can also discuss Modern Monetary Theory (MMT) during breaks in the sets!
That is enough for today!
(c) Copyright 2019 William Mitchell. All Rights Reserved.