The brainwashing of economics graduate students
I was reminded this week of an interesting studies published in 1987 by Arjo Klamer and David Colander on the influences that go into the training of a professional economist. This study was repeated by Colander in 2005. The results are rather disturbing although obviously I am an 'insider' in the sense I went through the process in one way or another myself (although not in a US graduate program). They demonstrate how far removed graduate students are from learning or being interested in the real world. They compete among each other for 'technical excellence' in mathematics so they can solve tricky technical problems but do not think it is important to know anything much about the real world economy nor about the economics literature and history of the discipline that has gone before them. They adopt classic Groupthink characteristics as they are moulded (socialised, brainwashed, choose your own word) by their professors (who then feed them into their own networks for employment etc). There is little wonder the profession has very little to say that makes any sense about the real world. It is largely a disgrace.

Clearly, I have been through this mill myself. It was quite torrid though being a non-orthodox thinker getting through the process where homogenisation is largely expected and enforced (through grades if nothing else).
In my case, I was good at mathematics and statistics and read widely so I found the orthodox material to be easy. This meant I could get top grades, given the technical nature of the mainstream material (especially in graduate studies), and still have plenty of time to read all manner of things in sociology, philosophy, history, political science etc.
So I think I came out of it with my humanity somewhat intact.
I was also from the 'other side of the tracks', whereas most of my class mates were from well-to-do backgrounds, mostly from private schools and higher income suburbs.
So I already knew there was inequality and poverty and that unemployment ravaged households.
The first study by Arjo Klamer and David Colander – The Making of an Economist – was published in the economics journal Journal of Economic Perspectives (Vol.1, No.2) in the northern Fall of 1987.
The second study by David Colander – The Making of an Economist Redux – was published in the Journal of Economic Perspectives (Vol.19, No.1) in the northern Winter of 2005.
Unlike most academic journals, "All issues of the Journal of Economic Perspectives (1987 – present) are now publicly accessible online at no charge, compliments of the American Economic Association."
In the earlier study, the authors were interested in:
… the initiation process that turns students into professional economists.
I think the term "initiation" is somewhat euphemistic.
Two years earlier (1985), journalist Robert Kuttner had published an article – The Poverty of Economics – in the February edition of the The Atlantic Monthly that noted:
Departments of economics are graduating a generation of idiots savants, brilliant at esoteric mathematics yet innocent of actual economic life.
And that is definitely being euphemistic.
I have written about how economics programs at university level nurture sociopathological tendencies in the students.
For example:
1. Economics curriculum is needed to work against selfishness and for altruism (September 19, 2018).
2. Humans are intrinsically anti neo-liberal (May 22, 2017).
Arjo Klamer and David Colander thus set out to examine what goes on in 'graduate schools' of economics in order to understand why economists engage in public discourse in the way that they do.
They compiled a database from a survey of "six top-ranking graduate economic programs-University of Chicago, Columbia University, Harvard University, Massachusetts Institute of Technology, Stanford University, and Yale University".
They followed up with face-to-face interviews.
Profile of students
1. "The typical graduate student in economics at these selected institutions is a 26-year-old, middle class, nonreligious white male who is involved in a long-term relationship" (18.9 per cent were female).
2. "Most had attended highly competitive undergraduate colleges and came from relatively well-to-do families."
3. "the majority see themselves as predominantly liberal."
This sort of profile is similar to many graduate programs that I have been aware of.
4. "In terms of future jobs, 53 percent were planning to pursue an academic career, 33 percent were planning to go into policy-related work, 17 percent into business, 8 percent into research institutes, and 2 percent into journalism."
5. Peer group pressure was strong and militated against taken jobs with lower wages or less status (such as in public policy work).
Impact of program
1. "we can conclude that graduate economics education is succeeding in narrowing students' interests."
2. "Another indication of the narrowing process is that students also felt that graduate school gave them little opportunity for interdisciplinary discussions."
The following Table (Table 3 in the article) showed the responses to the question: "Which characteristics will most likely place students on the fast track? Circle one."
The authors noted that:
That question provided some of the most dramatic results of our survey.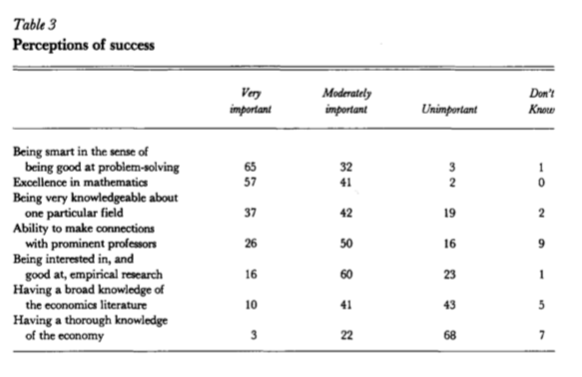 As you can see:
1. "Knowledge of the economy and knowledge of economic literature do not make an economist successful, according to graduate students".
2. "Forty-three percent believed that a knowledge of economic literature was unimportant while only 10 percent felt that it was very important. Sixty-eight percent believed that a thorough knowledge of the economy was unimportant …"
In the interviews that followed, the students confirmed this result.
The authors note:
Clearly these results raise significant questions about the nature of graduate school, what is being taught, and the socialization process that occurs.
The most important things governing perceptions of success were "Being smart in the sense of being good at problem-solving" and "Excellence in mathematics".
Which raises the question – what problems are being solved? Certainly not those that relate much to the real world.
In fact, what mainstream economics has come down to at the graduate level is a cute game, which former IMF chief economist Olivier Blanchard summarised in his August 2008 article – The State of Macro as being an exercise in following:
… strict, haiku-like, rules … [the economics papers] … look very similar to each other in structure, and very different from the way they did thirty years ago …
Graduate students are trained to follow these 'haiku-like' rules, that govern an economics paper's chance of publication success.
So if an article submission does not conform to this haiku-like structure it has a significantly diminished chance of publication.
So we get a formulaic approach to publications in macroeconomics that goes something like this:
Assert without foundation – so-called micro-foundations – rationality, maximisation, RATEX.
Cannot deal with real world people so deal with one infinitely-lived agent!
Assert efficient, competitive markets as optimality benchmark.
Write some trivial mathematical equations and solve.
Policy shock 'solution' to 'prove', for example, that fiscal policy ineffective (Ricardian equivalence) and austerity is good. Perhaps allow some short-run stimulus effect.
Get some data – realise poor fit – add some ad hoc lags (price stickiness etc) to improve 'fit' but end up with identical long-term results.
Maintain pretense that micro-foundations are intact – after all it is the only claim to intellectual authority.
Publish articles that reinforce starting assumptions.
Knowledge quotient – ZERO – GIGO.
This is why the publication bias problem in mainstream macroeconomics is so significant.
As Klamer and Colander note, the students become experts at "problem solving":
… but it is technical problem-solving which has more to do with formal modeling techniques than with real world problems. To do the problems little real world knowledge of institutions is needed, and in many cases such knowledge would actually be a hindrance since the simplifying assumptions would be harder to accept.
Klamer and Colander found in the interviews that students harboured:
a strong sense that economics was a game and that hard work in devising relevant models that demonstrated a deep understanding of institutions would have a lower payoff than devising models that were analytically neat; the facade, not the depth of knowledge, was important.
By the time these students graduate and enter the world as professional economists they become less questioning:
… graduate students tend to qualify their conclusions … much more than do most American economists.
One interview response in relation to the dearth of real world application of their studies was:
If you really know your theory, the policy implications are pretty straightforward. It's not really the really challenging meat and potato stuff for a really sharp theorist.
This is a really outrageous statement. Because it suggests that an abstract theory, which is not even consistent internally, and lacks any correspondence to the real world, can deliver anything that will help governments advance the well-being of people.
It cannot.
The theory in question delivers self-fulfilling outcomes through the internal logic of the 'theory'.
If we set up the experiment such that the basic assumption is that Policy X will cause harm and then find Policy X causes harm in the constrained abstract world we play around with and think we have said anything about the real world then we are deluding ourselves.
The Groupthink that dominates mainstream economics blinds the participants to any realisation of how far removed they are from the reality they, ultimately, prognosticate about.
While I use the term Groupthink, Klamer and Colander refer to a "socialisation process" that permeates graduate school economics.
Other words include: indoctrination, brainwashing … take your pick.
In the followup article – The Making of an Economist Redux – published in 2005, David Colander sought to update the earlier study.
Not much had changed with the profile of the students surveyed and interviewed.
There were some changes in the "Perceptions of Success" outcomes.
Here is a comparison of the 1987 and 2005 outcomes (Table 1 from David Colander's paper).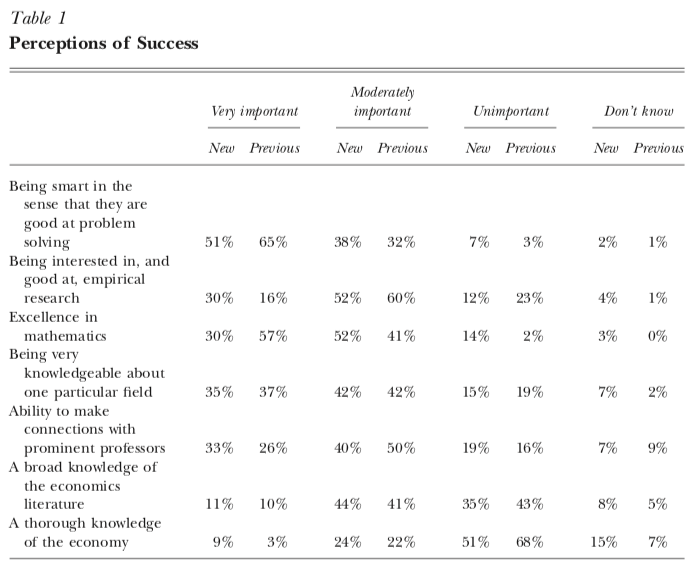 The author says that the Table "summarizes my perception of the changes that have occurred in the profession over the last 15 years … Economics … has become more consciously empirical".
Refer back to my haiku list as to what that actually means.
One cannot, for example, do any sensible empirical work on financial stability, if there is no financial sector in the major models that inform the empirical analysis.
That was the case of the dominant New Keynesian approach to macroeconomics – no banks, no unemployment.
One can do 'empirical work' until the cows come home but if one is just 'counting the number of angels on the top of a pinhead' then there is little worth to come from it.
As you see in the last Table, a majority of graduate students in economics do not think a thorough knowledge of the economy to be important.
Finally, David Colander noted that in the past:
… the core macro course still focused on macro policy … The current study shows that that is no longer the case; today, most of the macro courses never discussed macro policy, and since micro students never take advanced field courses in macro, they are taught no macro policy …

… the differences in policy views on macro that showed up in the survey did not reflect what they were taught about policy in macro, since they were taught almost nothing about macro policy, but reflected their undergraduate training.
Which is a dire result.
The simplistic undergraduate approach to macroeconomics delivers the sort of trash that we read in financial columns.
You know with headlines like Zimbabwe, and now, Venezuela.
The fact that macroeconomics is not necessarily considered part of "core" learning in economics and that "Eliminating macro from the core would free up resources" is a desperate thought.
Each day, the news stories are about macroeconomics.
Mass unemployment is a macro outcome. You cannot understand a systemic failure to create enough jobs by studying microeconomics, which tells us that all outcomes are the result of individual maximising behaviour in the face of income constraints.
Conclusion
I am hoping that the work the core MMT group have been doing over the last 25 odd years will eventually permeate into the mainstream curriculum.
Our textbook comes out in a week or so.
It is a two-year sequence in macroeconomics – full of theory, history, rhetoric, techniques, and policy.
I hope to be able to launch the MMT University Project later in the year if I can raise sufficient funding.
I will be conducting classes at the University of Helsinki on February 26-28 and March 5-7 in Modern Monetary Theory (MMT) using the book.
While the lectures are part of a university degree (in my role as Professor of Global Political Economy at the University of Helsinki) – they are open to the public and I would welcome anyone to attend.
It is now likely that I will also be in London to launch our text book on Friday, March 1 – more details to follow.
There is hope as we duck and weave on a daily basis these days as the Zimbabwe or Venezuela darts come flying at us.
That is enough for today!
(c) Copyright 2019 William Mitchell. All Rights Reserved.