If Africa is rich – why is it so poor?
When I was a student, that is, formally studying for degrees rather than the constant-learning approach which makes us permanent students, I was very interested in development economics and have carried that into the career phase of my work, including doing commissioned work for international agencies in Africa and Asia. One of the things I have come up against in that work has been the question of why are the nations in Africa, for example, so poor, when it is obvious to all and sundry that they possess massive resource wealth. My student days introduced me to dependency theory, which provided a solid framework for understanding the nature of underdevelopment. It stood in contrast to the mainstream development theory that was presented in most textbooks and which we would now call the neo-liberal approach. That approach is publicly enunciated by the IMF and the World Bank as if it is reality. In fact, it is a chimera! The framework of development aid and oversight put in place by the richer nations and mediated through the likes of the IMF and the World Bank can be seen more as a giant vacuum cleaner designed to suck resource and financial wealth out of the poorer nations either through legal or illegal means, whichever generates the largest flows. So while Africa is wealthy, its interaction with the world monetary and trade systems, leaves millions of its citizens in extreme poverty – unable to even purchase sufficient nutrition to live. It is a scandal of massive proportions and should become the target of all progressive governments (as they emerge).

Over the weekend, I watched a short documentary produced by France24 (published June 16, 2017) – Modern-day slaves: Europe's fruit pickers .
It is a disturbing account of how the higher income groups in Europe enjoy a lifestyle that is made possible by the harsh and illegal exploitation of low wage workers in Spain and Italy. The specific study is the fruit industry which supplies fresh fruit into northern Europe to the enjoyment of consumers but under horrific conditions for the manual (mostly migrant) workers who do the labour.
When I was a postgraduate student, a friend (also a student) and I organised what we rather obviously billed as a Radical Film Festival.
We found an archive of films that we could get for free held by the Victorian State Library. There were several films available some of which featured labour conditions and attacks on trade unions in nations run by right-wing regimes in Latin America.
One film – Chircales (The Brickmakers) released in 1972 – focused on the life of an impoverished family of non-unionised brick makers in the outskirts of Bogotá.
It showed how the workers were exploited to enrich the elites and then how the family was forced out by the capitalist when the husband became ill as a result of years of working in unsafe conditions. The final scene of the family (wife and several kids) walking out of the digging to nowhere dragging a picture of the virgin mary is still indelibly etched in my mind.
Another film we showed focused on the low-wage tin miners of Bolivia and the way their attempts at unionising were crushed by the capitalists aided and abetted by the power of the state police and military.
We used to have a discussion at the end of each film. At the end of that particular film someone in the audience said it was all well and good to expose exploitation in poor nations but in Australia our labour laws prevent that sort of thing so what was the relevance of the film ffor us.
I posed the question in response: Who in the audience has ever bought a tin of canned food or drink?
The France24 film brings the same issues into relief again. The better life that many enjoy comes at the expense of other workers on low-wage and living in precarious conditions and being horrendously exploited by one capitalist or another.
It brought back further memories of my postgraduate days.
As a student I also became interested in the work of German academic Andre Gunder Frank, who was supervised in his doctoral studies at the University of Chicago by Milton Friedman.
In his later body of work, Gunder Frank was a fierce critic of the free market approach espoused by the Chicago Boys (Friedman's collection of doctoral students most noted for the damage they did in Chile after the overthrow of Salvatore Allende in 1973 by Pinochet.
The first book from Gunder Frank that I read was his 1967 Capitalism and Underdevelopment in Latin America, which built on the earlier work (1949) by the Argentine economist Raúl Prebisch and German economist Hans Singer.
The Prebisch-Singer Thesis became the basis of Dependency theory – a distinct framework for understanding the process of economic development.
Their thesis challenged the traditional neo-classical development theory (which originated from David Ricardo's notions of comparative advantage) and conjectured that the terms of trade moved against poorer nations without an industrial base in favour of richer industrial nations.
In other words, the world prices of primary commodities (agriculture etc) declines over time relative to the price of industrial goods, which increases income and wealth inequalities across (and within nations).
The policy implications, pushed by the authors, included recommendations that the development process should begin with the creation of a import-competing manufacturing base.
The traditional theory of economic development (modernisation theory) suggested that nations follow a pattern where they begin as undeveloped and primitive societies and through industrialisation (investment, adoption of best-practice technology) and institutional and governance development, begin to operate like developed nations.
A middle class forms and incomes grow. An export-orientation is then encouraged to plug the nation into the world economy
Dependency theory extends that work and posits that the nations that we now consider to be developed were never 'undeveloped' in the way we view nations in, say, Africa.
Rather, the nations that are called undeveloped have a unique role in the world system unlike anything that the rich countries have ever played.
Whereas the mainstream view is that Africa, say, is poor, and interventions are required to make it rich.
But dependency theory would consider Africa to be 'rich' and those riches are being continually drained to the benefit of the core wealthy nations.
Dependency theory posits that resource flows are from periphery to the core rather than the other way around. The rich nations do not 'invest' in the 'income poor' nations to make the latter richer.
Rather, the rich nations set up processes (supported by international institutions such as the IMF and the World Bank) to ensure that resources flow to the benefit of the advanced world.
These processes, which include legal frameworks and tax rules, privatisation, and the imposition of fiscal austerity to suppress public good development, undermine the opportunities of the 'income poor' nations to use their own resource riches to their own advantage.
In his September 1966 Monthly Review article – The Development of Underdevelopment – (this link is to a reprint that appeared in a later collection), which was a precursor to his 1967 book, Gunder Frank wrote:
… our ignorance of the underdeveloped countries' history leads us to assume that their past and indeed their present resembles earlier stages of the history of the now developed countries. This ignorance and this assumption leads us into serious misconceptions about contemporary underdevelopment and development …

It is generally held that economic development occurs in a succession of capitalist stages and that today's underdeveloped countries are still in a stage, sometimes depicted as an original stage, of history through which the now developed countries passed long ago. Yet even a modest acquaintance with history shows that underdevelopment is not original or traditional and that neither the past nor the present of the underdeveloped countries resembles in any important respect the past of the now developed countries. The now developed countries were never underdeveloped, though they may have been undeveloped. It is also widely believed that the contemporary underdevelopment of a country can be understood as the product or reflection solely of its own economic, political, social, and cultural characteristics or structure. Yet historical research demonstrates that contemporary underdevelopment is in large part the historical product of past and continuing economic and other relations between the satellite underdeveloped and the now developed metropolitan countries. Furthermore, these relations are an essential part of the structure and development of the capitalist system on a world scale as a whole.
Note his use of the term 'underdevelopment' as opposed to undeveloped.
Essentially, Gunder Frank argued that it is essential to understand the relationship between the "metropolis and its economic colonies" under capitalism.
The underdeveloped countries were in that state because they were functionally essential to making the developed nations at the core richer.
This was a very conception of the process of economic development that organisations such as the IMF and the World Bank hold out as they impose neo-liberal policy structures onto the underdeveloped world.
What Gunder Frank argued was that these policy structures were not about developing the undeveloped nations but, rather, developing the richer nations further and holding the underdeveloped nations in a state where they could act as resource conduits for the richer nations.
Along the way, the underdeveloped nations will develop a middle class and a localised upper class but they only serve to drain the resources in favour of the richer nations even more efficiently.
Gunder Frank said that the underdeveloped nations serve "as an instrument to suck capital or economic surplus out of … [the] … satellites and to channel … this surplus to the world metropolis".
He also eschewed the use of export-oriented development – that favoured by the World Bank and the IMF – believing that it destroyed the local subsistence systems and accelerated the transfer of surpluses to the core while leaving the peripheral economies heavily indebted and in precarious states.
I was thinking about all this when I read a recent report about the way the richer nations are draining, with IMF and World Bank support, the riches of Africa and leaving the African nations with poor quality public infrastructure, on-going high levels of poverty and precarious states of debt dependence.
The report (released May 2017) – Honest Accounts 2017 – was put out by Global Justice Now in coalition with a number of partners, and is quite shocking to read.
It begins by reminding us that:
Africa is rich – in potential mineral wealth, skilled workers, booming new businesses and biodiversity. Its people should thrive, its economies prosper. Yet many people living in Africa's 47 countries remain trapped in poverty, while much of the continent's wealth is being extracted by those outside it.
The aim of the study is to calculate "the movement of financial resources into and out of Africa and some key costs imposed on Africa by the rest of the world."
The principal finding is that:
We find that the countries of Africa are collectively net creditors to the rest of the world, to the tune of $41.3 billion in 2015 … Thus much more wealth is leaving the world's most impoverished continent than is entering it.
The following graphic from the Report provides a summary of the financial flows: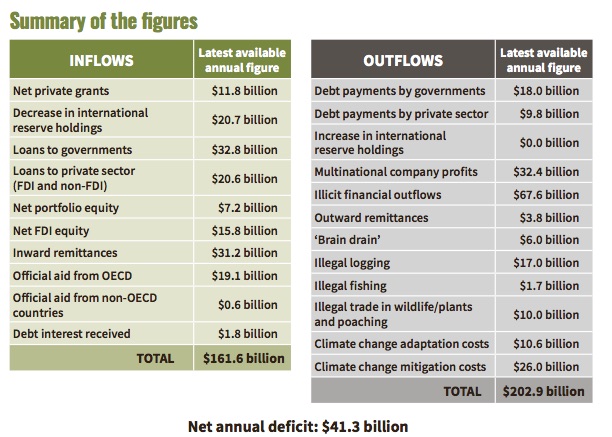 The methods of surplus extraction are many and varied:
1. Repatriation of profits.
2. Illegal financial outflows (smuggling).
3. Transnational companies "deliberately misreporting the value of their imports or exports to reduce tax".
4. Debt and interest repayments "with the overall level of debt rising rapidly".
5. Valuable resources "being stolen from Africa in illegal logging fishing and the trade in wildlife/plants".
6. "trade policies mean that unprocessed agricultural goods are often exported from African countries and refined elsewhere, causing the vast majority of their value to be earned abroad."
The richer countries also impose costs on Africa in other ways.
1. "the cost to African countries of adapting to climate change: a process which has been overwhelmingly caused by richer industrialised and industrialising countries, not Africa – amounting to $10.6 billion a year".
2. "the cost to Africa of mitigating climate change – to reorient African economies onto a low carbon path – again due to the need to tackle climate change: the annual cost here is even greater, at $26 billion."
The point that "Africa is not poor" but "many people in African countries live in poverty" cannot be overemphasised.
I recall when was doing field work in South Africa a few years ago I had some dealings with the South African Treasury and the IMF.
The issue related to my argument that the Expanded Public Works Program should be expanded dramatically to resemble a demand-driven employment guarantee rather than a supply-driven (financially constrained) program with limited coverage.
The nation at the time was running fiscal surpluses even though there were more than 12 million people living in extreme poverty (about 22 per cent of the population) – which means they are unable to pay for basic nutritional needs, much less housing and health care.
Around 35 to 37 per cent of the population cannot purchase essential non-food items.
And around 55 per cent have enough to eat but are considered poor by the usual standards (which I might add are ridiculously low).
Anyway, I recall one Treasury official pounding the table at a discussion saying "how can we afford to expand the scheme".
I responded by noting that South Africa was not only a currency-issuing state but was among the richest nations in the world in terms of real resources.
So how could it not afford to bring more of those resources into productive use and lift more people out of poverty.
The IMF official claimed that the state had to continue running surpluses because they had to ensure they could meet their international debt obligations.
At that point, I could hear that giant sucking sound as the financial and real resources were being vacuumed out of the nation to the benefit of those elsewhere, with some leaking down to the local officials that had been co-opted by the likes of the IMF and the World Bank and acted, more or less, as their agents.
And, as this was post apartheid, I am, of course, referring to the newly empowered black elite here.
The Global Justice Report makes it clear that:
1. "Africa is generating large amounts of wealth and, in some ways, is booming."
2. "The value of mineral reserves in the ground is of course even larger – South Africa's potential mineral wealth is estimated to be around $2.5 trillion …"
3. "Companies are anyway easily able to avoid paying the taxes that are due, because of their use of tax planning through tax havens. Many African tax policies are the result of long standing policies of Western governments insisting on Africa lowering taxes to attract investment."
4. "Corporations stealing wealth".
5. "Africa's poverty is much deeper than the World Bank likes to publicise … and rising …"
The question is what can be done about this?
First, fundamental reform of the international institutional structure is required including the disbanding of the IMF and the World Bank, both institutions that serve to facilitate these surplus movements from poor to rich.
Developing countries seeking finance from the IMF and the World Bank have been forced to adopt neoliberal policies that included harsh austerity measures – similar to the ones being imposed today on the periphery countries of the eurozone today – as a condition of international support.
The programmes of structural adjustment and austerity imposed by the IMF on developing countries in the 1980s and 1990s undermined many of the achievements of the previous growth model, driving living standards down and poverty levels up.
By the mid-1990s, no less than 57 developing countries had become poorer in per capita income than 15 years earlier – and in some cases than 25 years earlier. In almost all countries where austerity-driven policies were imposed, poverty and unemployment grew, labour rights deteriorated, inequality soared, and financial and economic instability increased.
In our upcoming book, we outline the fundamental Modern Monetary Theory (MMT) insight that the ultimate constraint on prosperity is the real resources that a nation can command, which includes the skills of its people and its natural resource inventory.
If a country's resource base is very limited, there is relatively little that a country can do to pull itself out of poverty even if the government productively deploys all the resources available to the nation.
These countries may find no market for their currencies and may be forced to trade in foreign currencies.
In this sense, it should be noted that not all currencies are equal.
However, this is not a balance-of-payments constraint as it is usually intended. It is a real resource constraint arising from the unequal distribution of resources across geographic space and the somewhat arbitrary lines that have been drawn across that space to delineate sovereign states.
The world must take responsibility to ensure that it alleviates any real resource constraints that operate through the balance of payments.
Imposing austerity on these countries is no solution. The evidence shows that the so-called structural adjustment program (SAPs) that the IMF and World Bank typically impose on poor nations struggling with balance-of-payments problems – based upon fiscal austerity, elimination of food subsidies, increase in the price of public services, wage reductions, trade and market liberalisation, deregulation, privatisation of state-owned assets, etc. – have had a disastrous social, economic and environmental impact wherever they have been applied.
Not only have they kept millions in persistent poverty but they also foisted unsustainable levels of external debt on these nations, which were then used to justify the imposition of destructive export-led production strategies that in many cases devastated the existing subsistence systems and led to large-scale environmental ruin (for example, massive deforestation in Mali).
Though masqueraded as development programs, SAPs have actually acted as giant siphons, sucking out wealth and resources from these countries and pumping it into the pockets of the rich elites and corporations in the US, Europe and elsewhere.
To add insult to injury, in many instances these policies also wrecked the borrowing countries' local productive sectors, thus creating increased import and debt dependencies.
Clearly, the IMF and the World Bank have outgrown their original purpose and have ceased to play any positive role in the management of world affairs.
Rather, their interventions have undermined prosperity and impoverished millions of people across the world, and continue to do so – mostly, but not exclusively, in the developing world (as the Fund's participation in Greece's bailout program testifies).
In this context, we argued that a new multilateral institution (or series of institutions) should be created to replace both the World Bank and the IMF, charged with the responsibility of ensuring that these highly disadvantaged nations can access essential real resources such as food are not priced out of international markets due to exchange rate fluctuations that may arise from trade deficits.
There are two essential functions that that need to be served at the multilateral level:
Development aid – providing funds to develop public infrastructure, education, health services and governance support.
Macroeconomic stabilisation – the provision of liquidity to prevent exchange rate crises in the face of problematic balance of payments.
A progressive developmental model should reject the current export-led corporate farming models, which are implicated in environmental degradation within less developed countries.
A progressive multilateral institutions would aim to reduce (and ultimately eliminate) poverty through economic development but within an environmentally sustainable frame.
It would also allow countries to restrict imports from nations that engage in poor environmental practices – an approach that the WTO has repeatedly deemed illegal.
Further, developing nations should have the right to defend and sustain their local industries. Contrary to the claim that trade liberalisation promotes growth, the evidence indicates a positive relationship between tariffs and economic growth in developing economies.
We also showed earlier in the book that no advanced nation achieved that status by the following the IMF/World Bank free market approach; rather, it did so through widespread industrial protection and government controls and supports.
This observation is consistent with Gunder Frank's thesis noted above.
A progressive trade policy would also ban the Investor-State Disputes Settlement (ISDS) clauses embedded in the more recent wave of trade agreements and force corporations to act within the legal constraints of the nations they seek to operate within or sell into.
Under a fair trade framework, all countries should respect the following principles:
Good working conditions – wages, safety, hours.
Right to association and to strike – formation of trade unions, etc.
Consumer protection – safety, ethical standards, quality of product or service, etc.
Environmental standards.
To this end, the WTO should be replaced by an all-encompassing multilateral body that is charged with establishing relevant labour and environmental standards to regulate trade.
A progressive policy framework has to allow all workers access to work, and the poorest members in each nation opportunities for upward mobility, if jobs are destroyed as part of an overall strategy to redress matters of global concern (whether to advance labour, environmental or broader issues).
Part of these transition arrangements might also include more generous foreign aid to ensure that trade constraints do not interrupt international efforts to relieve world poverty.
In general, a single nation should not be punished for the uneven pattern of geographic resource distribution.
With regard to the question of macroeconomic stabilisation – that is, the provision of liquidity to countries struggling with balance-of-payments problems – a progressive multilateral institution would recognise that all nations should maintain sovereign currencies and float them on international markets but at the same time acknowledge that capital flows may be problematic at certain times and that some nations require more or less permanent assistance due to their limited export capacities and domestic resource bases.
The starting point would be to recognise that as long as there are real resources available for use in a nation, its government can purchase them using its currency power. That includes all idle labour.
So, there is no reason to have involuntary unemployment in any nation, no matter how poor its non-labour resources are. The government in each country could easily purchase these services with the local currency without placing pressure on labour costs in the country.
A new multilateral institutional structure should work within that reality rather than use unemployment as a weapon to discipline local cost structures.
Furthermore, new international agreements are needed to outlaw speculation by investment banks on food and other essential commodities.
A new framework is needed at the international level to ban illegal speculative financial flows that have no necessary relationship with improving the operation of the real economy.
Finally, the multilateral institution would not force nations to cut taxes for high income-earners in return for aid, which is another bias in current IMF and World Bank interventions.
It would recognise that the role of taxation is to create non-inflationary space for the sovereign government to command real resources in order to fulfil its socio-economic program.
The reality is that there are many idle resources in the poorer nations – land, people and materials – that can be bought by government and mobilised to reduce poverty without causing inflation.
Finally, it should be acknowledged that these nations will likely have to run continuous fiscal and current account deficits for many years to allow the non-government sector to accumulate financial assets and provide a better risk management framework.
A progressive international agency would help them to do just that.
Conclusion
The agenda outlined above would go a long way to break the core-periphery dependence model that keeps resource rich nations such as those in Africa in poverty.
It would also force a major rethink in the core economies because they would have to generate their own riches without easy access to those in the now poorer (but resource rich) nations.
That is enough for today!
(c) Copyright 2017 William Mitchell. All Rights Reserved.