A primary fiscal deficit Never ever? I don't think so
I know I am an armchair commentator hiding out in my research environment and not really accountable to anybody other than the funding agencies I win grants from. I am certainly not a Finance Minister with a nation in crisis on my hands. But with that said I wonder how any Finance Minister who aims to create full employment and expand equity and undo years of deliberately imposed neo-liberal hardship can claim his nation will "Never, never, never!" record a primary fiscal deficit again. That comment has to be dismissed as political rhetoric rather than an expression of a serious evaluation of reality. What worries me about Greece at the moment is that we are seeing a trend around the world where politicians over promise (or lie straight out) about their intentions to apparently appease the multitude of vested interests then proceed to do what they like. I discussed how this is now backfiring in the recent blog – Time is running out for neo-liberalism. An understanding of macroeconomics will tell you (and I know the Finance Minister in question knows all this) that a government cannot guarantee to never run a primary fiscal deficit forever unless they are prepared to allow for large swings in unemployment, something I thought the new Greek government was averse to, and it is that aversion, which defines their popular appeal.

The quote came from an interesting interview that the new Greek Finance Minister gave to the German weekly newspaper – Die Zeit (The Times) (February 4, 2015) – "I'm the finance minister of a bankrupt country".
The relevant Q&A in the interview was:
ZEIT ONLINE: During the campaign, Syriza announced a spending programme worth billions. Can it be implemented without new debts?

Varoufakis: It has to. I can promise you: Excluding interest payments, Greece will never present a budget deficit again. Never, never, never!
Lets get some terms write first.
The government overall fiscal balance that is regularly reported is the difference between two flows – total revenue and total outlays. So if total revenue is greater than outlays, the fiscal balance is in surplus and vice versa.
Within that balance though are two components that are often separated out:
1. The primary fiscal balance – the difference between total government revenue and total public spending less interest payments on outstanding debt.
2. The interest payments on outstanding debt.
So the Finance Minister is talking about Greece never recording a primary fiscal deficit again.
Further, the primary fiscal balance is not something that the government can particularly control once it sets its objectives to be the maintenance of full employment.
I suggest you read this blog – The full employment fiscal deficit condition – if you are uncertain of the components of the fiscal balance and how they relate to the real economy.
We have noted in the past that movements in the final budget balance (net or gross of interest payments on outstanding debt) do not provide a reliable indication of the discretionary intent of the government.
We cannot conclude that if there is a fiscal surplus (primary or overall) that the fiscal impact of government is designed to be contractionary (withdrawing net spending to reduce economic activity), just as we cannot conclude that a fiscal deficit signals that the government is wanting to expand the real economy.
This uncertainty arises because there are so-called automatic stabilisers operating as a result of swings in overal economic activity, which are, in part, influenced by the discretionary shifts in government fiscal policy. But more fundamentally, these swings are driven by non-government spending (and saving) decisions.
Ignoring interest payments on outstanding public debt, then we have:
Fiscal Balance = Total revenue – Total spending (net of interest payments)
We can decompose that a step further to recognise the cyclical nature of the fiscal outcome:
Fiscal Balance = (Tax Revenue + Other Revenue) – (Welfare Payments + Other Spending)
We know that Tax Revenue and Welfare Payments move inversely with respect to each other, with the latter rising when GDP growth falls and the former rises with GDP growth.
Why? Tax revenue falls when employment drops and people lose their incomes. Many of the same people go onto welfare benefits.
These are the so-called automatic stabilisers. Without any discretionary policy changes, the Fiscal Balance will vary in a pro-cyclical manner over the course of the economic cycle.
When the economy is weak – tax revenue falls and welfare payments rise and so the Fiscal Balance moves towards deficit (or an increasing deficit).
When the economy is stronger – tax revenue rises and welfare payments fall and the Fiscal Balance becomes increasingly positive.
Automatic stabilisers attenuate the amplitude in the economic cycle by expanding the fiscal deficit (or reducing a surplus) in a recession and vice versa in a boom.
So just because the Fiscal Balance goes into deficit doesn't allow us to conclude that the Government has suddenly become of an expansionary mind.
We can now appreciate that the Fiscal Balance is not a standalone accounting outcome. It is intrinsically linked to the spending and saving decisions of the non-government sector, which can, itself, be decomposed into the external sector and the private domestic sector (households and firms).
Modern Monetary Theory (MMT) uses the concept of sectoral accounting to derive so-called sectoral balances to demonstrate the intrinsic nature of these interrelationships. It is a recurring theme in my blog but needs to be repeated often to ensure that standalone statements about what the fiscal outcome might or might not be or become are assessed carefully.
The sources of spending which flow and add to total spending (aggregate demand in the textbooks) are:
Household consumption (C)
Private Investment (I)
Government spending (G)
Export revenue (X)
The income (payments to resource owners involved in the production of output) that is generated by these spending flows can be used in the following ways:
Taxation payments (T)
Household consumption (C)
Household saving (S)
Import spending (M)
Clearly, the sources of income have to equal the uses (as a convention of the National Accounts). This allows us to write the two sides of income generation like this:
C + I + G + X = C + S + T + M
Given C cancels out we know that:
I + G + X = S + T + M
The left-hand side of this equation always is brought into equality with the right-hand side via income adjustments (that is, variations in the level of aggregate activity brought about by spending variations). That is the essential first-principle involved in understanding how the macroeconomy works.
So if for example, Private Investment increases (G and X constant) this stimulates aggregate demand (spending) and firms react by increasing output to meet the new orders. This requires them to increase employment and the increased income is then used to increase saving (S), pay more tax (T) even if tax rates are unaltered, and increase imports (M).
The economy stops expanding again once the change in Investment is equal to the sum of the changes in S, T and M. This dynamic response and subsequent resolution is what we term an movement to a new equilibrium state of national income.
The left-hand side (I + G + X) are called injections – because they inject new spending into the economy whereas the right-hand side (S + T + M) are leakages – because they drain aggregate spending over some period.
Implicit here is the fact that the increase in investment stimulated rising consumption (C) and the induced consumption stimulated subsequent increases in income and so on. That is the basis of the spending multiplier.
Please read my blog – Spending multipliers – for more discussion on this point.
A macroeconomy is in a steady-state (that is, at rest or in equilibrium) when the sum of the injections equals the sum of the leakages. The point is that whenever this relationship is disturbed (by a change in the level of injections or leakages, however sourced), national income adjusts and brings the income-sensitive spending drains into line with the new level of injections. At that point the system is at rest.
Three points should be noted.
First, this position of 'rest' does not necessarily have to coincide with full employment. The system will adjust to dramatically lower levels of injections and come to rest even if there are high unemployment levels.
Second, when an economy is 'at rest' and there is high unemployment, there must be a spending gap given that mass unemployment is the result of deficient demand (in relation to the spending required to provide enough jobs overall).
Please read my blog – What causes mass unemployment? – for more discussion on this point.
Accordingly, if there is no dynamic which would lead to an increase in private (or non-government) spending then the only way the economy will increase its level of activity is if there is increased net government spending – this means that the injection via increasing government spending (G) has to more than offset the increased drain (leakage) coming from taxation revenue (T). That is, a fiscal deficit is needed to offset a non-government spending gap.
Third, this doesn't mean that a fiscal deficit is always required. We need one more condition to establish that case for on-going fiscal deficits. If the non-government decisions taken together (so consumption and saving decisions by households, investment decisions by production firms and the external sector) indicate a desire to "net save" overall, which might be written as
I + X < S + M then the only way the level of activity can be maintained on an on-going basis (at any rate of unemployment) is if G > T. That is a fiscal deficit is required on a continuous basis to sustain a given level of activity.
In this case, a fiscal deficit "finances" the desire by the non-government sector to save by maintaining sufficient demand to produce a level of income which will generate that level of net saving.
Functional finance is very clear – responsible fiscal policy requires two conditions be fulfilled:
1. The discretionary fiscal position (deficit or surplus) must fill the gap between the savings minus investment minus the gap between exports minus imports.
In notation this is given as
(G – T) = (S – I) – (X – M)
Which in English says for income to be stable, the fiscal deficit will equal the excess of saving over investment (which drains domestic demand) minus the excess of exports over imports (which adds to demand).
If the right-hand side of the equation: (S – I) – (X – M) – is in surplus overall – that is, the non-government sector is saving overall then the only way the level of national income can remain stable is if the fiscal deficit offsets that surplus.
A surplus on the right-hand side can arise from (S – I) > (X – M) (that is, the private domestic sector net saving being more than the net export surplus) or it could be associated with a net exports deficit (draining demand and adding foreign savings) being greater than the private domestic sector deficit (investment greater than saving) which adds to demand.
2. Most importantly, the prior discussion focused on the level of income remaining stable but as we have seen that doesn't necessarily define a full employment condition.
We can define a full employment level of national income as that which is generated when all resources are fully utilised according to the preferences of workers and owners of land and capital etc.
Given that S, T and M are all positively related to the level of national income, there is a unique level of each of these flows that is defined at full employment. Changes in behaviour (for example, an increased desire to save per dollar earned) will change that 'unique' level but for given behavioural preferences and parameters we can define levels of each.
So lets call S(Yf), M(Yf) the corresponding flows that are defined at full employment income (Yf). We also consider investment to be sensitive to national income (this is outlined in the so-called accelerator theory) such that higher levels of output require more capital equipment for a given technology. So I(Yf) might be defined as the full employment flow of investment. We consider export spending to be determined by the level of World income.
Accordingly, to sustain full employment the condition for stable national income is written more specifically:
Full-employment fiscal deficit condition: (G – T) = S(Yf) + M(Yf) – I(Yf) – X
The sum of the terms S(Yf) and M(Yf) represent drains on aggregate demand when the economy is at full employment and the sum of the terms I(Yf) and X represents spending injections at full employment.
If the drains outweigh the injections then for national income to remain stable, there has to be a fiscal deficit (G – T) sufficient to offset that gap in aggregate demand.
If the fiscal deficit is not sufficient, then national income will fall and full employment will be lost. If the government tries to expand the fiscal deficit beyond the full employment limit (G – T)(Yf) then nominal spending will outstrip the capacity of the economy to respond by increasing real output and while income will rise it will be all due to price effects (that is, inflation would occur).
In this sense, MMT specifies a strict discipline on fiscal policy. It is not a free-for-all. If the goal is full employment and price stability then the Full-employment fiscal deficit condition has to be met.
The real world
So could a country always run a primary surplus or zero balance and still maintain full employment? The answer is yes.
If its external sector was continously generating injections of spending sufficient to match any desire to save overall by the private domestic sector net of interest payments from the government in relation to its outstanding debt then it is possible.
How likely is that for Greece?
Not very likely at all.
The following graph shows the sectoral balances for Greece from 1980 to 2014 (using IMF WEO data). The balances are expressed as percentages of total GDP.
You can see that Greece has typically run an external deficit of varying magnitudes over this 34 year span. Its deficit was reduced in 2014 mostly due to the dramatic decline in import spending as a result of the Depression the nation finds itself in.
If Syriza manages to stimulate the economy and lift employment levels to acceptable levels then imports will rise again. The nation is unlikely to record sufficient Current Account surpluses to allow the primary fiscal balance to be zero on an on-going basis.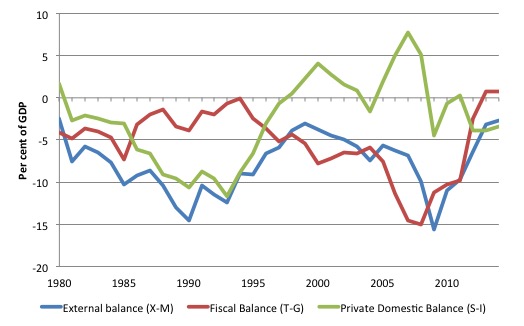 The qualifier is that Greek households are not large net savers (Source). Combined witht the knowledge that historically, Greece's investment ratio (as a percent of GDP) has been above 20 per cent. It has collapsed to 11.2 per cent (September 2014) as a result of the Depression.
Should Greece start growing again and investment rebounds it will certainly spur household saving but will also see the investment ratio return to more historically normal levels.
If we take the general government accounts in Greece, then in 2013, the Eurostat data tells us that the primary deficit was 8.6 per cent of GDP and interest payments were equivalent of 3.6 per cent of GDP.
For the central government accounts, the primary fiscal deficit was 10.7 per cent of GDP and interest payments were 3.7 per cent of GDP.
Total general (central) government spending was 59.2 (49.2) per cent of GDP and revenue 47.0 (34.8) per cent.
The net interest paid has averaged about 4.8 per cent since 2006 for the General government.
If GDP increases and public debt is reduced then at current interest rates the injection coming from interest payments on outstanding public debt will fall below the 3.6 per cent in 2013.
So if the external balance was to remain close to zero and not return to its more typical levels (say if Greek imports remained modest and exports boomed) then it is possible that the interest payments alone would be sufficient to fund the private domestic sector's excess spending over income.
It is possible. But how likely? Not very likely.
Further, there would have to be a massive shift in the composition of spending and taxation to allow the government to advance its left-wing socio-economic program. How likely is that? Not very likely?
And what this all assumes that growth is consistently maintained.
What happens during the next major spending shock?
Well you know the answer, the primary fiscal balance would soon be back in deficit (should they actually get it consistently into surplus) or, alternatively, unemployment would get worse.
Conclusion
A government's accounts cannot buck the economic cycle without causing dreadful damage to the real economy.
That is what austerity is all about. That is what I thought Syriza is railing against. Certainly it is what defines Syriza as a political movement.
As an aside, I note that there is now considerable attention in the media about the clothes that the Finance Minister happens to be wearing, which is a change from the usual gender-biased focus on clothing and appearance that female leaders normally have to suffer from the sexist press.
In his case, it is being seen as an asset – confronting the stodgy suits that define the austerity mindset. But the sexism remains.
Here is today's journalistic clanger.
The Fairfax article – Can Andrews go the distance in a fraught time to be a political leader? – is mostly sensible.
It argues that lying and scheming politicians who over promise to get elected then abandon their promises are doomed and that accounts for the rapid demise in recent years of governments and leaders in Australia.
It then turns its focus on Victoria, which recently tossed out a conservative government. One of the big issues was infrastructure spending – roads versus public transport. The conservatives did a dirty deal to build a freeway tunnel that was overpriced and would not achieve its aim of reducing traffic congestion. In pursuing that policy, they abandoned a major public transport (train) project that would improve the congested rail system and would deliver a better social return on the investment.
The article notes that the newly elected Labor Government in Victoria has to get out of the nasty contract the conservatives signed "as an act of political sabotage" weeks before the election, which predicted they would be tossed out of office.
It also explains how the new government has "to make a start on the metro rail tunnel, a project that is expensive and incredibly complex from an engineering point of view – not to mention delivering 30 level crossing upgrades over the next four years."
Finally, it notes that the new government is having to deal "with the loss of tens of thousands of automotive jobs likely once the car industry closes."
All serious issues for the new regime – no doubt.
But then, by way of conclusion, the article says:
All the while Labor must keep the budget in surplus, without sacrificing the state's AAA credit rating by borrowing more.
Why "must" the new government keep its budget in surplus given the massive infrastructure spending that will have to be undertaken to repair the damage of previous governments who neglected to maintain and improve basic public infrastructure in Victoria?
The new Victorian state government will probably have to run on-going deficits to achieve their aims, especially given the deteriorating state of employment which is the result of the federal fiscal austerity.
Intergenerational equity demands that debt be used to fund public infrastructure for a non-currency issuing government because the costs of provision should be matched with the temporal profile of the benefits.
Major transport projects deliver benefits over many generations and it is only fair and efficient that those generations participate in the cost of providing the infrastructure.
A different situation, obviously, faces a national, currency-issuing government – then no debt need be issued.
Too many US Phds in economics going back hometo China
I read a US news report this morning – China cuts bank reserves to 'keep economy stable' – and immediately came to the conclusion that too many Chinese students with Economics PhDs from US universities must be getting jobs in the People's Bank of China – its central bank.
Apparently, the central bank has "increased its economic stimulus measures even further" by deciding to:
… cut banks' reserve requirement ratio (RRR) by 50 basis points to 19.5 percent. The move, effective Thursday, is the first such cut since May 2012. This will lower the amount of deposits that each lender is required to hold as reserves.

The measure will help keep the economy stable, the PBOC said …
Well that is what the young PhDs would learn in most US graduate programs in economics, unfortunately.
As is obvious to anyone who understands the way the banking system operates, banks do not loan out reserves. They are used to facilitate the integrity of the payments system (cheque clearing etc) and might be swapped between banks to help settle overnight imbalances.
Having more less reserves in the system will not make any difference to the capacity of the banks to expand credit should there be sufficient credit worthy borrowers walking through their doors.
It is sheer idiocy to think otherwise.
So either the People's Bank is becoming infested with these flaky mainstream Phd graduates or the journalists put their imprint on the story and didn't understand what they were writing about.
ECB bastard act
This morning we woke up (in Australia) to the news from Franfurt that overnight the ECB had effectively closed the door on Greek banks access to euro liquidity.
The Press Release (February 4, 2015) – Eligibility of Greek bonds used as collateral in Eurosystem monetary policy operations – tells us that the ECB has lifted its:
… current waiver of minimum credit rating requirements for marketable instruments issued or guaranteed by the Hellenic Republic …
What does this mean? The ECB will no longer allow Greek government bonds to be used as collateral. Previously, as a result of the waiver, the bonds would be used throughout the Eurosystem to facilitate monetary operations – so-called open market operations where a bank might sell these bonds to the central bank to access necessary liquidity in euros.
The waiver was in line with the assessment by the ECB that these bonds "did not fulfil minimum credit rating requirements". So the waiver basically cancelled the higher risk in dealing in these bonds.
Why? The ECB claims it is "currently not possible to assume a successful conclusion of the programme review".
Real speak: This is a bullying bastard act which clearly sees the ECB dropping its so-called 'independence' and acting as the front-line attack dog for the Troika (of which it is a member).
Of course, it dropped any semblance of indepedence when it became part of the austerity pogrom on Greece in 2010.
Their decision only reinforces my view that the Greek government should bail out of the bailout, exit the Eurozone, redenominate the outstanding public euro liabilities to its own advantage in its own currency, ensure the Bank of Greece (central bank) can maintain financial stability (keeps its banking system liquid) and flip the rest of them the 'bird' as they implement a national Job Guarantee program.
Otherwise …
That is enough for today!
(c) Copyright 2015 William Mitchell. All Rights Reserved.