Fiscal austerity – there is another way
I have had very little time today (worse than usual). I gave a 3 hour lecture today on Modern Monetary Theory (MMT) and unemployment to a final-year class in the Social Work program at the University of Newcastle. It was interesting trying to work out how to explain all these concepts, which are intrinsically hard, to a group that has no background in economics. Just the language we use is not universal and so I spent quite a bit of time working out how to communicate. Anyway, the following blog is short as a consequence. But knowing I didn't have much time, and the blog I am thinking about will require some more digging, I decided to take the chance today to write an Op Ed that was requested from a newspaper in Buenos Aires and which I am late in delivering. They only wanted 5,000 odd characters so it forced me to be disciplined. It is about fiscal austerity and will be translated into Spanish for their readers.

Trickle Down
But before we begin, I was shown this cartoon yesterday which I thought was very humorous in a sick sort of way! It sets the scene.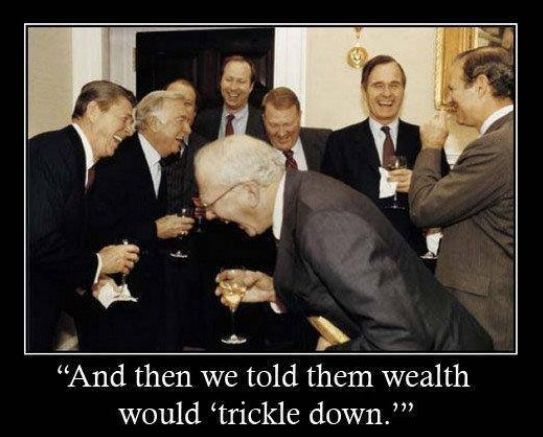 Fiscal Austerity
The current economic crisis began as a problem of unsustainable private debt growth, driven by an out-of-control financial sector, aided and abetted by government deregulation. It is now an alleged sovereign debt crisis.
As private spending collapsed in 2007-08, budget deficits rose to limit the rise in unemployment. Fiscal stimulus fostered a resumption of growth and the crisis waned.
While unemployment represents a failure of the system to create enough jobs, the neoliberals recast it as an individual problem – poor work attitudes etc – exacerbated by excessively generous welfare payments.
Before the crisis, neoliberals promoted the myth of self-regulating markets and pressured governments to deregulate. They argued that governments should not try to reduce unemployment by running budget deficits. They claimed that whenever governments did try to reduce unemployment, they only made things worse – causing inflation and forcing up interest rates.
After the 2008 fiscal stimulus saved the World economy from a depression, the neoliberals reasserted their anti-government agenda and demanded fiscal austerity. They claimed that budget deficits were unsustainable and would lead to rising interest rates and hyperinflation.
None of these predictions eventuated. Interest rates remain around zero and inflation is contained. But despite millions remaining jobless and poverty rates rising, many nations are falling back into recession because governments have bowed to this pressure and imposed austerity.
Austerity is built on a sequence of lies.
Neoliberals claim that governments, like households, have to live within their means. This analogy resonates strongly with voters because they can readily understand their daily household finances. We know that we cannot run up debt forever.
But government issues the currency and can consistently spend more than it earns. Whereas households have to save to increase future spending, governments can purchase whatever they like whenever there are goods and services for sale in the currency they issue. Governments can never run out of money.
Neoliberals talk about an "expansionary fiscal contraction" – that is, by cutting public spending, private spending will increase. Consumers and firms allegedly anticipate higher future tax burdens and so increase saving now. Austerity signals to the private sector that future tax obligations and frees them to spend more now.
But the evidence is that consumers won't spend if they fear unemployment and firms won't hire and produce if sales are flat. Cutting public spending deepens this pessimism. The neoliberals consistently deny human psychology.
Neoliberals say that continuous deficits cause hyperinflation like in Zimbabwe. But increased government spending will not cause inflation if the economy is operating below full capacity.
Neoliberals say that deficits drive up interest rates! Deficits have risen sharply in recent years but interest rates have remained close to zero. Japan has been running large deficits since the early 1990s and has maintained zero interest rates and low inflation ever since. The neoliberal lie forgets to mention that the central bank sets interest rates, not the market.
The Eurozone is different because member-states use a foreign currency (Euro) and have to borrow to cover deficits. They are thus dependent on bond markets. No progress will be made there until governments restore their own currencies and use deficits to stimulate growth. The only lesson to be drawn from Europe is that governments should retain their own currencies and use deficits to pursue full employment.
Austerity denies history. The Great Depression taught us that without government deficit spending, capitalism is prone to delivering lengthy periods of unemployment.
The neoliberal assault on the use of fiscal policy began in the 1970s, with the rise of monetarism. Since then, most nations have failed to create enough jobs relative to the preferences of their workforces.
Neoliberal economists and their supporters failed to predict the crisis and their solution, austerity, is now making things worse.
The basic macroeconomic rule is that spending equals income, which drives employment growth. Austerity undermines necessary spending.
The major economies are suffering from deficient private spending and a massive overhang of private debt. Persistently high unemployment means that our economies are forgoing massive production and income-earning opportunities. Unemployment also causes many other social problems.
As long as private spending is subdued, governments should expand budget deficits. That's the only way the advanced economies will drive growth fast enough to absorb the huge pool of unemployed.
As a start, I would introduce a Job Guarantee that offers a minimum wage job to anyone who wants to work but cannot find employment. Job Guarantee workers would enjoy stable incomes, and their increased spending would boost confidence throughout the economy and underpin a private-spending recovery.
Sustainable growth requires substantially lower levels of private sector indebtedness. In most cases, this will require ongoing budget deficits. We need to get used to that fact.
Conclusion
The fiscal austerity argument is very current given the Australian Treasurer's speech today saying that despite sharp declines in tax revenue as the Australian economy slows under the yoke of fiscal austerity, the government will have to cut spending deeper to ensure it achieves its surplus ambitions in the upcoming budget. I will write about his latest statement soon.
Further, the Australian government has all but rejected the so-called Gonski Report which was published a few weeks ago and estimated that $A5 billion (at least) was necessary to bring Australian public education up to minimum standards. The fiscal austerity over many years has starved the public education system of necessary funds. But while we have an ageing society and a crucial need to develop higher productivity in our future labour force, the Australian Government claims that running a surplus is its priority. It is a tragedy of ignorance.
That is enough for today!