BIS now part of the neo-liberal propaganda apparatus
Happy New Year – first serious blog for 2012. What does a macroeconomist like me do on the second day of the new year when the sun is shining warmly (about 29 degrees celsius) and everyone is seemingly on holidays? Answer: read up on central bank balance sheets. The truth is that I read two speeches today as part of another piece of research I am doing and they contained a few statements that help us understand the difference between Modern Monetary Theory (MMT) essentials and the way the mainstream economists misrepresent the monetary operations in the economy. The speeches were presented by a senior official at the Bank of International Settlements and they confirm that the central bank of the central bankers is now part of the problem. This organisation has now become part of the neo-liberal propaganda machine which is making things worse rather than better.

The first speech – Financial and real sector interactions: enter the sovereign ex machina – was given on November 15, 2011 by one Jaime Caruana who is the General Manager of the Bank of International Settlements. He gave the paper in Mumbai at a conference on Financial sector regulation.
He begins with the central proposition of his Speech:
As the latest events have reminded us, financial stability depends not only on the link between banks and the corporate and household sectors1 but also on their links with the sovereign. The sovereign must be prepared to act as ultimate backstop for the financial system. But this requires that fiscal buffers be built up in good times. Otherwise, the sovereign can itself become a source of financial instability as its credit risk damagingly interacts with that of banks and other private sector entities.
I agree that the "sovereign must be prepared to act as ultimate backstop for the financial system". A monetary system cannot be stable unless the currency issuer ensures that there is enough currency available at all times to satisfies the needs of the system. Given monopoly issuance of the currency, that role is a unique one that has to be played by the government – consolidated as the treasury and central bank.
Please read my blog – The consolidated government – treasury and central bank – for more discussion on this point.
The essential additional point – an prior to the political willingness ("must be prepared") is that government has to actually possess the capacity to undertake that role.
At which point I asked myself – what are the "latest events" that he was referring to which motivated this introduction? He could not have been talking about the US, Japan, Britain, Australia, Canada and most nearly all other nations.
There is no financial instability in those nations that can be traced to fiscal policy. Which makes his inference that "fiscal buffers built up in good times" – by which he means budget surpluses – spurious at best.
Those nations always have the fiscal capacity to ensure there is financial stability in the private banking system. That capacity is independent of whether they have been running fiscal deficits in the past or surpluses. In every period, the government can choose how much discretionary net spending it desires without being constrained by past fiscal decisions.
Please read my blog – There is no credit risk for a sovereign government – for more discussion on this point.
That is not the same thing as saying that the government can choose the overall budget outcome in any period. As we know, the final budget balance is largely determined by non-government spending and saving decisions via the impacts of these on the automatic stabilisers. So, other things being equal, when private spending is weak, there will be a tendency for the budget outcome to move into deficit or increase the deficit as taxation revenue declines and welfare spending rises.
The only qualification to the point that previous budget decisions do not impact on the choices faced by the government in the current period is that if budget deficits, for example, were providing sufficient support to aggregate demand such that the economy was at full employment, then any further fiscal injection would have to be accompanied by a reduction in private spending via taxation increases. But that doesn't negate the point I was making.
So I conclude that the BIS General Manager is only referring to nations that do not have the capacity to maintain financial stability as a result of ceding their currency-issuing status – to wit, the Eurozone countries. Other governments that have borrowed heavily in foreign-currencies and/or peg their currencies fall into the same boat for different reasons.
But it is clear that the Eurozone nations use a foreign currency and do not have direct control over the central bank that issues the currency they use. They all face credit risk – from Germany down to Greece – and as a consequence can become a source of financial instability.
The reason is entirely because they use a foreign currency and have to get access to it in order to spend via taxation and borrowing. Deficits then become an issue if the lenders (bond markets) take a view that there is a risk of default.
The problem is the link between the government and the currency it uses which is endemic to the poorly designed EMU. The only lasting solution is to abandon that monetary system and re-align the currency-issuance with the fiscal decision-making (which, in turn, should be accountable to a specific voting cohort – to ensure democracy rules rather than amorphous power elites and bond markets).
The proposed fiscal union for the EMU is not that type of solution. It will make matters worse because it will impose damaging restrictions on fiscal policy which will hamper growth and make the task of satisfying the bond markets even more difficult. The proposed fiscal union is a misnomer – it is, in fact, nothing more than a tighter straitjacket.
The BIS General Manager however made no such qualification and by leaving his comments as being applicable to all monetary systems (fiat and the EMU) he deliberately mislead his audience and further perpetuated the types of myths that are, for example, crucifying the British economy at present.
He then moved on to outline how the private banking system becomes "more vulnerable to any … downturn" after a period of leverage (extending credit). There is no rocket science involved here.
As he noted:
… excessive leverage leaves banks more vulnerable to any subsequent downturn in economic activity and asset prices. At the same time, they are hit with a rising tide of delinquencies and defaults … [which] … become a major source of weakness for banks

When borrower distress undermines their balance sheets, banks are prevented from extending credit even to healthy borrowers. It is this combination of weak balance sheets and capital deprivation that prevents credit from flowing.
That is, banks are capital constrained not reserve constrained. When they have sufficient capital, they will then lend to any credit-worthy customer that comes through the door. They do not need reserves to do that – they attend to their reserve requirements as a sequentially separate operation.
Please read my blog – Lending is capital- not reserve-constrained – for more discussion on this point.
The important point is that the private sector – as the user of the currency – always faces default risk – and cannot go on borrowing (overall) indefinitely to drive economic growth. Eventually, that growth strategy fails.
A crisis then emerges if banks "find that raising external equity becomes especially difficult as problem loans escalate, not least if investors have trouble assessing the size and distribution of losses".
As we saw in the early days of the current crisis, governments were "forced to inject equity into banks" – or as the BIS General Manager suggests:
… the sovereign becomes a deus ex machina, the supernatural intervention that resolves some ancient Greek tragedies.
Although in modern Greece, the national government does not have that capacity and in attempting to serve that function (for example, the massive bailouts by Ireland) they worsen the problems faced by not using a currency they issue under monopoly conditions.
But truly sovereign nations (that is, those that issue their own currency and float it on international markets) can always bail their banks out as well as guaranteeing deposits.
That does not mean that these governments should do that. I would have nationalised a lot of the banks that the sovereign nations provided support to. The fact is that the bailouts allowed the failing banks not only to recover and continue paying massive salaries to their management but also provided them with margins to arbitrage within (that is, riskless trading opportunities) and make enormous profits for their shareholders.
The bailouts did very little to prevent foreclosures on mortgagees that lost their jobs and could no longer service their debts.
In BIS General Manager's description of the way a private financial crisis can result is not controversial. But then he oversteps by claiming that the private debt crisis becomes a sovereign debt crisis".
He says:
A remarkable feature of Europe's sovereign debt strains is the role played by sovereigns that had spent years apparently on the right side of the Maastricht criteria, keeping a prudent lid on both deficits and debt. Anyone predicting sovereign debt downgrades in 2005 would hardly have listed Ireland or Spain.
In the event, hidden weaknesses in financial sector balance sheets fed through to the sovereign … There are two important transmission channels from banks to sovereigns.
Note the sleight of hand. His discussion that follows is largely about Europe but then he implies that there are "important transmission channels from banks to sovereigns" that turn a private debt crisis in to a sovereign debt crisis – as if this is a general discussion.
The two channels he notes are obvious:
1. "private credit booms can flatter the public sector's accounts". Governments get flooded with tax revenue when economic growth is strong. If that growth is built on a house of cards (increasing non-government deficits) then the fiscal position is illusory and will change.
So when the previous conservative government in Australia boasted that it was running surpluses (from 1996-2007) because it was a prudent macroeconomic manager they forgot to tell everyone that the only reason they were able to do that was because Australian households incurred record debt levels which kept consumption growth strong. This atypical period could not last and now the government is running deficits – as they should given a return by the private sector to more typical saving levels.
But for Ireland and Spain, their property booms certainly made their governments look like Grade A Maastricht Treaty performers but once the boom ended, then the BIS General Manager is correct to conclude that "these boom-related revenues fall away, revealing underlying fiscal deficits. And then when the banks run into trouble, the cost of rescuing and recapitalising them does grievous damage to the public accounts".
His conclusion in this regard that this observation "This has important policy implications regarding the size of the fiscal space needed to prevent this situation" is incorrect as a general rule.
2. "If institutions have failed to build up sufficient capital and liquidity buffers during the boom, credit constraints become more significant, over and above any perceived deterioration in borrower quality" … and that can "choke off the credit supply" which "further dampens economic activity, thus widening the public sector deficit". All true. But this only becomes a fiscal problem when the government is not sovereign in its own currency.
The BIS General Manager then really descends into propaganda.
He claims that to overcome this crisis:
… the sovereign can run up its own deficits and debt to the point where it becomes a source of weakness to those that hold that debt, including domestic banks … This is a recurring story,4 recently best exemplified by Greece. One can see in credit default swaps on the Greek sovereign and Greek banks how the impairment of the sovereign's creditworthiness has affected the banks' creditworthiness.
The footnote 4 (appending the "recurring story") is to book – C Reinhart and K Rogoff, This time it's different: Eight centuries of financial folly, Princeton University Press, 2009.
First, Greece is a good example of how a private sector crisis of a balance sheet origin can cause the national government (note: I don't use the descriptor sovereign in the case of any non-currency issuing government) can increase its default risk.
But tying that into a general narrative (a "recurring story") and giving authority to that statement by reference to Reinhart and Rogoff – is chicanery at best.
This is a popular piece of duplicity among financial commentators – the sky is falling and all governments are facing bankruptcy just read Reinhart and Rogoff! I wonder how many commentators who invoke this book have actually read it in detail and understood its applicability.
Here is draft version of This Time is Different that you can read for free.
Of critical importance, quite apart from the other issues that one might have with Reinhart and Rogoff's analysis (and I have many), one has to appreciate what they are talking about. Most of the commentators do not spell out the definitions of a sovereign default used in the book. In this way they deliberately (or through ignorance – one or the other) blur the terminology and start claiming or leaving the reader to assume that the analysis applies to all governments everywhere.
It does not. On Page 2 of the draft, Reinhart and Rogoff say:
We begin by discussing sovereign default on external debt (i.e., a government default on its own external debt or private sector debts that were publicly guaranteed.)
That is very clear. They are talking about problems that national governments face when they borrow in a foreign currency.
For a start, the US government has no foreign currency-denominated debt. Remember it has domestic debt owned by foreigners – but that is not remotely like debt that is issued in a foreign currency. Reinhart and Rogoff are only talking about debt that is issued in a foreign jurisdiction typically in that foreign nation's currency.
Japan has no foreign currency-denominated debt. Many other advanced nations have no foreign currency-denominated debt.
It turns out that many developing nations do have such debt courtesy of the multilateral institutions like the IMF and the World Bank who have made it their job to load poor nations up with debt that is always poised to explode on them. Then they lend them some more.
But it is very clear that there is never a solvency issue on domestic debt whether it is held by foreigners or domestic investors.
Reinhart and Rogoff also pull out examples of sovereign defaults way back in history without any recognition that what happens in a modern monetary system with flexible exchange rates is not commensurate to previous monetary arrangements (gold standards, fixed exchange rates etc). Argentina in 2001 is also not a good example because they surrendered their currency sovereignty courtesy of the US exchange rate peg (currency board).
Further, Reinhart and Rogoff (on page 14 of the draft) qualify their analysis:
Table 1 flags which countries in our sample may be considered default virgins, at least in the narrow sense that they have never failed to meet their debt repayment or rescheduled. One conspicuous grouping of countries includes the high-income Anglophone nations, the United States, Canada, Australia, and New Zealand. (The mother country, England, defaulted in earlier eras as we shall see.) Also included are all of the Scandinavian countries, Norway, Sweden, Finland and Denmark. Also in Europe, there is Belgium. In Asia, there is Hong Kong, Malaysia, Singapore, Taiwan, Thailand and Korea. Admittedly, the latter two countries, especially, managed to avoid default only through massive International Monetary Fund loan packages during the last 1990s debt crisis and otherwise suffered much of the same trauma as a typical defaulting country.
Britain has defaulted only once in its history – during the 1930s – while it was on a gold standard. The Bank of England overseeing an economy ravaged by the Great Depression defaulted on gold payments in September, 1931. The circumstances of that default are not remotely relevant today. There is no gold standard, the sterling floats. Britain has never defaulted when its monetary system was based on a non-convertible currency.
A large number of defaults are associated with wars or insurrections where new regimes refuse to honour the debts of the previous rulers. These are hardly financial motives. Japan defaulted during WW2 by refusing to repay debts to its enemies – a wise move one would have thought and hardly counts as a financial default.
But if you consider the "virgin" list – how much of the World's GDP does this group of nations represent? Answer: a huge proportion, especially if you include Japan and a host of other European nations that have not defaulted in modern times.
Further, how many nations with non-convertible currencies and flexible exchange rates have ever defaulted? Answer: hardly any and the defaults were either political or because they were given poor advice (for example Russia in 1998).
Reinhart and Rogoff don't make this distinction – in fact a search of the draft text reveals no "hits" at all for the search string "fixed exchange rates" or "flexible exchange rates" or "convertible" or "non-convertible", yet from a MMT perspective these are crucial differences in understanding the operations of and the constraints on the monetary system.
Further, if you consider the Latin American crises in the 1980s, as a modern example, you cannot help implicate the IMF and fixed exchange rates in that crisis. The IMF pushed Mexico and other nations to hold parities against the US dollar yet permit creditors to exit the country. For Mexican creditors this meant that interest returns sky-rocketed (the interest rate rises were to protect the currency) and the poor Mexicans wore the damage.
It was clear during this crisis that the IMF and the US Federal Reserve were more interested in saving the first-world banks who were exposed than caring about the local citizens who were scorched by harsh austerity programs. Same old, same old.
So when the BIS General Manager says:
When sovereign debt morphs from a risk-free into a "credit risk" instrument, the consequences are likely to be severe. They are likely to include disruption to the financial system and abrupt deleveraging by banks, harming the real economy and employment.
All we are talking about are the EMU nations which all raise debt in a foreign currency – the Euro!
There are no general insights that he is offering.
The second speech is from the same presenter – Why central bank balance sheets matter – and was given in Thailand on December 12, 2011 at a Bank of Thailand conference. One wonders whether he just skips around the World like this misleading his listeners in between staying at sumptuous hotels and wining and dining in fine style.
This Speech extends the misinformation and focuses on his assertion that "one of the lessons of the recent crisis is that more attention must be paid to balance sheets than was the case before the crisis".
He notes that from inception "central banks were given the monopoly of note issue, and the role of lender of last resort naturally fell to them" and says:
During times of financial distress, only the central bank could be a credible lender of last resort. Its ability to create monetary liabilities could be used to provide liquid assets to a bank in difficulty.
That is, the government. In the EMU case, this "government" role is ceded to the ECB which is unelected and unaccountable. But the capacity remains even in the Eurozone. The ECB can "fund" all government deficits without issue and should be doing that at present given the huge real output gaps and zero inflation risk.
The BIS General Manager's aim is to use the fact to outline "the special role that central bank balance sheets have played historically in ensuring monetary and financial stability". But he is wanting to elicit caution – mainstream caution:
Central banks have been ready to buy a wide range of financial assets on a large scale in order to further major macroeconomic and financial stability objectives. Because the scale and persistence of the worldwide expansion in central bank balance sheets are unprecedented, we need to pay special attention to possible medium-term risks.
The risks he outlines are:
Risk 1. The "central bank's balance sheet becomes more exposed to market developments – a fall in the value of foreign assets or a rise in long-term interest rates could reduce the value of its assets while leaving the value of its liabilities intact".
By which he means that in an accounting sense "the capital of the central bank could be put at risk". That is, the central bank might find itself with negative equity.
Does this matter? For a private bank it means the end. For a central bank that is as the "only … credible lender of last resort" how could it ever matter?
First, it would not mean anything in terms of the central bank's capacity to meet any financial obligations that the it might have. There can never be a "run" on the central bank because its monetary liabilities are non-redeemable and all assets and liabilities are denominated in the specific currency of issue. It can always pay interest on reserves if it chooses and provide reserves as required.
Further, the private analogy is inapplicable in the same way that the household-government budget analogy is flawed when applied to a fiat monetary system.
For a private corporation (like a commercial bank), they would have to swap sound assets for equity when recapitalising. This would not apply to a central bank. Assume it might need to recapitalised at some point for accounting purposes.
So how can it recapitalise? Answer: the government (or itself in the case of the ECB) can just give "its" central bank whatever value of government bonds are required to recapitalise it is a formal balance sheet sense. Simple as that!
Some would reply by saying this would be politically costly or amount to a loss of central bank independence. It might have political consequences but just as the ECB has become a quasi "fiscal authority" in the Eurozone to stop that system imploding (it will implode if they stop) all manner of contrivances emerge very quickly in modern politics to "save the day".
For example, the US Treasury would not hesitate to "bail" the Federal Reserve out if required. It cannot go broke. The US government is never revenue constrained because it is the monopoly issuer of the currency. It is not a household nor a private corporation.
And when you read the BIS General Manager's speech you will find that the "negative equity" issue is not a financial one. He says:
This could in some circumstances raise unwarranted political questions and may even undermine the central bank's credibility. A country is better off if the central bank has the financial strength needed to carry out its functions. It is of course the macroeconomic and financial stability of the country that should determine the policy decisions of the central bank, and not profit or loss implications for the central bank's balance sheet.
Note: "unwarranted political questions".
Please read my blogs – The US Federal Reserve is on the brink of insolvency (not!) and Central bank independence – another faux agenda – for more discussion on this point.
The point is that these "issues" or "constraints" are totally manufactured by the dominant neo-liberal ideology. When it comes to the crunch – the "profit or loss implications for the central bank's balance sheet" are sideshows and the central bank has to be focused on the "macroeconomic and financial stability of the country".
Please read my blog – The central bank must treat financial stability as a public good – for more discussion on this point.
Risk 2: inflation:
… does the expansion of central bank balance sheets risk creating inflation? A preliminary answer is "not necessarily" … There has been little correlation in recent years between the expansion of central bank balance sheets and inflation. This is true both for emerging economies and for advanced economies.
But … without any evidence to back up the statement – the BIS General Manager cannot help himself:
But the ultimate answer to this question about inflation might be "not yet".
When?:
Much will depend on whether governments in the advanced countries take decisive action in the years ahead to curb future fiscal deficits in a durable way. The very high and growing levels of public debt in many countries raise uncomfortable questions for central banks not only about the creditworthiness of the sovereign but also about fiscal dominance.
This has nothing to do with the question he is posing. If government deficits continue to grow and push nominal aggregate demand growth beyond the capacity of the real production sector to absorb it via increased output then of-course inflation is the result. That goes for any of the components of spending – private consumption, investment, and net exports.
At present, that risk is very low or non-existent.
To see why central bank balance sheet expansion is not an inflation risk – please read the following blogs – Building bank reserves will not expand credit and Building bank reserves is not inflationary.
He goes on to outline other risks – "excessive credit expansion" etc. More of the same.
Conclusion
Not a very edifying start to 2012. Please read my blog – BIS = BS – the I used to stand for integrity – for why I think the BIS is now firmly part of the problem.
It seems they pay very high salaries for their senior officials to swan around the world appearing at conferences that the BIS jointly sponsor and spreading propaganda about the way the monetary system functions and the implications for the real economy.
Most of what the BIS General Manager noted in these two speeches – in the context of government policy – was false.
Somewhat related aside
Rupert Murdoch seems not to understand how fiat currency systems work. The Melbourne Age (January 2, 2012) reported – New to Twitter: the tweet Murdoch took down … fast – that the media boss has just begun to tweet and is already getting into hot water.
The following graphic is of a tweet that he quickly deleted after it caused some angst.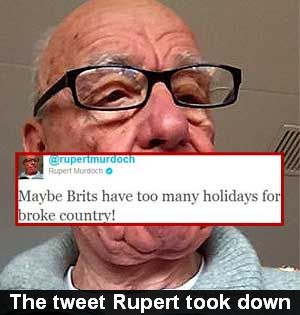 Britain cannot go broke – it issues its own currency. Once the British government actually works out what that means and starts conditioning the political process accordingly then they will be in a better position to do what they are elected to do – advance the prosperity of the British people.
As it stands, the Government actually thinks (by its actions) that it can go broke – although clearly that is a ruse to finish of the neo-liberal agenda of reducing the welfare net and making it easier for the capital class to capture an even larger share of real national income.
Total aside
My new year's resolution was to write (slightly) shorter blogs. The problem I face is clear to me even if it is not to others. Many commentators – especially those who are new to my blog and who haven't the desire to take stock of several years of writing already take exception to some ideas they read as if I haven't thought of all the most obvious issues that might arise.
This has been very apparent in the recent kerfuffle about the central place that employment guarantees occupy in MMT. It is simply impossible to cover all tracks in a single blog and it be would be very boring to regular readers if I tried.
So I try to strike a balance and make sure that I don't just leave key propositions as single line assertions which would make the obvious retort that I am a crazy, ideologue even more attractive to new readers.
We are working on a FAQ and once that is in place I will be able to shunt obvious issues off to that resource.
But the reality is that the concepts being discussed are often not intuitive and for most they are difficult to grasp. The explication of a different way of thinking about macroeconomics to an audience that has been thoroughly ground in the mainstream – either through formal training in economics or through the relentless output of the financial media – is not an easy task.
As we have seen recently, even some who claim to be at the forefront of MMT blogging – miss essential features of the approach that we have been developing.
The upshot is that the blogs are longer than short. But I always aim to make them shorter.
That is enough for today!