I blame the British government for the riots
There has been a lot of "opinion" expressed over the last few days about the causes of the British riots. If I had a meter to assess the ideological biases given breath in the press over this issue to date it would be swinging out there in the right-wing of opinion – "cultural problem", "lawless lazy youth fed by the welfare state", "criminality", "intolerable monsters" all words I have read or heard in the media recently. Anyway who has my view is labelled a "left-wing cynic" who want to "makes excuses for thugs". Opinion is after all just that so it is always of benefit to temper it with research evidence. Anyway, the short conclusion – supported by the research evidence – is that I blame the British government for the riots.

I grew up on a post WW2 Housing Commission estate in Ashwood a suburb of Melbourne, Australia. These were places provided by the state at low rentals for the soldiers who came back from the War and who were not able to afford to do any better given their incomes and their burgeoning families – the baby boomer kids. They were disadvantaged areas in a relative sense and were generally wastelands – sparse services (shops, professional help etc) and lots of crime, gangs ("the Jordy Boys") and police aggro.
These were the baby-boomer breeding grounds and there were always enough kids in the street to have exciting cricket and football matches. The children from these poor estates received support from the state in the form of subsidised school uniforms, books, materials and small living allowances which enabled pro-education families to keep their children in school – the only escape really from the poverty.
Many of the parents were alcoholics, working in low-skill jobs with low-pay. There was domestic violence, street violence and a disregard for authority. The men were tough and had low levels of tolerance for cultural finery. They were misogynist, homophobic, racist and probably other words I don't know. It was not an intellectual environment.
But having said that the area was also a hot-bed of rock and blues music (and tattoos) with some really good musicians emerging out of the garages.
The estate was recently the subject of an excellent historical analysis – Once there was Jordanville – which is a very interesting portrayal of social change and welfare provision. If you grew up on one of the "pre-fab" public housing estates in Melbourne during the 1950-1960s you will probably find some of the archival material of great interest. I did.
This State Library of Victoria picture depicts one of the Housing Commission of Victoria signs on the South Jordanville Estate, advertising 986 houses for 4,240 people – the picture was taken on March 27, 1953.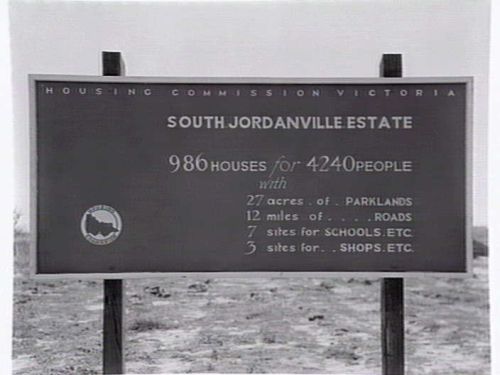 Here is a 1953 State Library of Victoria picture of a typical building (two adjoined houses) on the estates (this one from nearby Ashburton estate). We called these the "cheese" houses (as in Swiss Cheese) given the rather distinctive architecture (not!) surrounding the porches. They were constructed out of pre-fabricated concrete blocks which were then trucked in and bolted together on-site. The houses were cold in winter and mould crept up the concrete walls because typically the joints between floor and wall were not exactly flush! Other houses were made of brick but with zero insulation – that is, cold and small.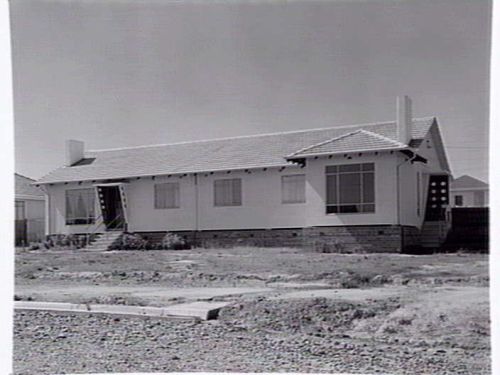 This is the picture my high school in its early days (taken 1958 – although I didn't attend there until the mid-1960s) – not exactly salubrious. The State Library of Victoria description of the photo:
… more like a prison camp than a place of learning. The only things missing from the six rusting Nissen huts are the bayonets and barbed wire.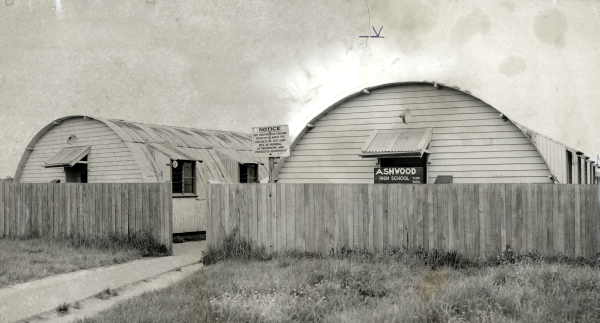 The same type of huts were used for the Holmesglen Migrant Hostel, which abutted the estate. This was one of several hostels where the new migrants were located upon arrival to our land. You could fry eggs on the corrugated iron roofs/walls in summer they were so hot and the families were squeezed in like sardines. They were even more disadvantaged than the locals but we all seemed to get along and the migrant parents and the local parents all had work.
Here is a picture – from the Museum of Victoria from 1962 of that hostel which was a few hundred metres from my childhood home.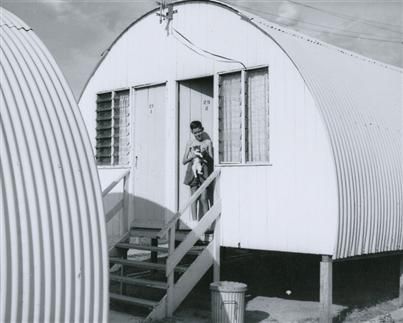 The relevance of all that other than satisfying my own research interests (to see what documentation there is of these early housing developments) is that while the parents were poor and had little resources there was some mobility for the children who grew up on these estates. There was hope.
For the academically bright there were a sequence of state-provided scholarships (now not provided) which gave parents a small living allowance as an incentive to keep their kids progressing through school. For those who were not academically inclined there were many apprenticeship opportunities mostly provided within the state and federal government (housing, roads, infrastructure, railways, etc) which engendered skill development and a career path.
And, for those who were not inclined or able to take advantage of these opportunities, there were countless factory and low-skill jobs available which provided a person (at the lowest academic rung) a chance to have a secture job with relatively protected conditions and undertake career development to move up within the manufacturing chain (to say leading hand etc).
Further the parents all had secure incomes – low to be sure – but there was full employment and supplementary state benefits to assist with low cost housing, health care and education. The welfare state did not erode the incentive to work. There was no hint that a person would not work. Jobs were there and people wanted them.
This was the Welfare State in action – buttressing a system that was predicated on the state maintaining full employment.
There were youth gangs in the area. For example, the "Jordy sharpies", a strange lot of characters who wore flagged pants with knitted shirts and black socks and light brown sandals and shaved heads. They were violent, intolerant and ugly. But they only really caused havoc on Friday and Saturday nights because the rest of the time they were working courtesy of full employment. There wasn't a sense of extreme disadvantage even though a researcher like me would look back on that time and consider the "objective" data demonstrated abject disadvantage.
But our parents – the drunks and others – all worked because there was full employment. There was full employment and welfare and continuous budget deficits and low inflation and rising living standards (real wages growing in line with productivity) because the federal government took responsibility for these things.
Maintaining full employment was an overriding goal of economic policy which governments of all political persuasions took seriously. Unemployment rates below two per cent were considered normal and when unemployment threatened to increase, government intervened by stimulating aggregate demand. Even conservative governments acted in this way, if only because they feared the electoral backlash that was associated with unemployment in excess of 2 per cent.
While unemployment was seen as a waste of resources and a loss of national income which together restrained the growth of living standards, it was also constructed in terms of social and philosophical objectives pertaining to dignity, well-being and the quest for sophistication. It was also clearly understood that the maintenance of full employment was the collective responsibility of society, expressed through the macroeconomic policy settings. Governments had to ensure that there were jobs available that were accessible to the most disadvantaged workers in the economy.
This framework has been systematically abandoned in most OECD countries over the last 35 years. The overriding priority of macroeconomic policy has shifted towards keeping inflation low and suppressing the stabilisation functions of fiscal policy. Concerted political campaigns by neo-liberal governments aided and abetted by a capitalist class intent on regaining total control of workplaces, have hectored communities into accepting that mass unemployment and rising underemployment is no longer the responsibility of government.
As a consequence, the insights gained from the writings of Keynes, Marx and Kalecki into how deficient demand in macroeconomic systems constrains employment opportunities and forces some individuals into involuntary unemployment have been discarded.
The concept of systemic failure has been replaced by sheeting the responsibility for economic outcomes onto the individual. Accordingly, anyone who is unemployed has chosen to be in that state either because they didn't invest in appropriate skills; haven't searched for available opportunities with sufficient effort or rigour; or have become either "work shy" or too selective in the jobs they would accept.
Governments are seen to have bolstered this individual lethargy through providing excessively generous income support payments and restrictive hiring and firing regulations. The prevailing view held by economists and policy makers is that individuals should be willing to adapt to changing circumstances and individuals should not be prevented in doing so by outdated regulations and institutions.
The role of government is then prescribed as one of ensuring individuals reach states where they are employable. This involves reducing the ease of access to income support payments via pernicious work tests and compliance programs; reducing or eliminating other "barriers" to employment (for example, unfair dismissal regulations); and forcing unemployed individuals into a relentless succession of training programs designed to address deficiencies in skills and character.
If I had have grown up on the same sort of estate now – with unemployment high and hope low – and was of migrant background to boot (adding a racial element) – then I think if the government had have cut funding to our sole resource – the local youth club – and the police, after years of relentless stop-searches and harassment based on race, had actually murdered one of us, then I can easily imagine the kids becoming violent and rioting. Disadvantage is hard enough even when the state is attenuating it via welfare support and there is full employment to ensure people have stable (albeit low incomes).
Combine a dysfunctional and underfunded schooling system, constant racial harassment by the authorities, very high unemployment and you don't exactly set in place the building blocks for social harmony.
Anyway, as I said in the introduction, opinion is one thing but research is another. There was an interesting Discussion Paper released this month by the UK-based Centre for Economic Policy Research – Austerity and anarchy: budget cuts and social unrest in Europe, 1919-2009 – which provides some evidence-based assessments that might help us understand the British riots.
The Discussion Paper seeks to "assess whether episodes of "fiscal consolidation lead to social unrest". They argue that from "the end of the Weimar Republic in Germany in the 1930s to anti-government demonstrations in Greece in 2010-11, austerity has tended to go hand in hand with politically motivated violence and social instability". They clearly wrote this before the current British riots.
They assembled a panel data set (that is for a number of countries over time) focused on Europe between 1919 to 2009. The period is interesting because it involved "high levels of instability in the first half of the 20th century to relatively low ones in the second, and … frequently troubled economic conditions to prosperity". In other words, it satisfies the needs of time-series econometrics – variance in the data. You cannot find anything interesting when the data is not variable.
Their research results:
… show a clear positive correlation between fiscal retrenchment and instability.
They suggest that "sustainable debt levels for countries that are prone to unrest may be lower than they otherwise would be" which raises an interesting point. It is clear that the macroeconomic underpinning of their work – specifically their concept of "fiscal sustainability" is mainstream and I would reject that outright. You might like to read this suite of blogs – Fiscal sustainability 101 – Part 1 – Fiscal sustainability 101 – Part 2 – Fiscal sustainability 101 – Part 3 – to understand the concept from the perspective of Modern Monetary Theory (MMT).
But even though if we interrogated the authors I would be sure they would come out with all the mainstream macroeconomic myths the current work I am discussing here is not really dependent on those underpinnings. It is an empirical study which relates the extant data in an interesting way which I think provides a reasonable basis for inference (judging by the econometric techniques used).
They define instability in terms of "riots, demonstrations, political assassinations, government crises, and attempted revolutions" and compile a summation measure they call CHAOS.
Their challenge is to assess "for every percentage cut in government spending, how much more instability should we expect" given that the "data shows a clear link between the magnitude of expenditure cutbacks and increases in social unrest."
Their first graph (which I reproduce below) shows the frequencies of the various measures of instability "conditional on the size of budget cuts".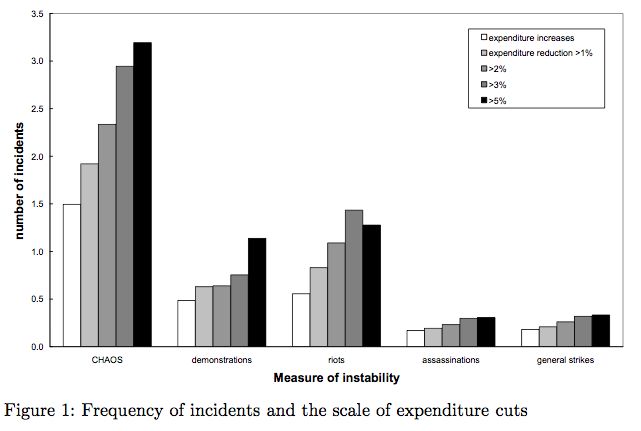 They conclude that:
When expenditure is increasing, the average country-year unit of observation in our data registers less than 1.5 events. When expenditure cuts reach 1% or more of GDP, this grows to nearly 2 events, a relative increase by almost a third compared to the periods of budget expansion. As cuts intensify, the frequency of disturbances rises. Once austerity measures involve expenditure reductions by 5% or more, there are more than 3 events per year and country — twice as many as in times of expenditure increases.
So there is a link between "austerity measures and unrest" but then they ask "Is the link causal?". They recognise that "(o)ther factors, such as generally depressed economic conditions, could drive up unrest and the need for cutbacks simultaneously".
Once again you sense their mainstream bias – that when you have depressed conditions you need fiscal austerity. Why? Answer: the budget deficit rises due to the automatic stabilisers (even if there is no discretionary fiscal stimulus) and because governments hang on to gold standard practices and issue debt to match their deficits the public debt ratios rise beyond the erroneous mainstream threshold of sustainability. It becomes self-defining – even though it is flawed root-and-branch logic.
But the statistical point is sound – two events could be related because they are both driven by a third causal event without the two events being causally related.
To "demonstrate that causality runs from cut-backs to unrest" the authors "refine the data in two ways:
First, we analyse a more detailed dataset that gives information about the causes of each incident. Second, we use recently-compiled data on changes in the government budget that follow directly from policy changes … For both types of additional evidence, we find clear indications that the link runs from budget cuts to unrest
They conduct a series of other "control" and "placebo" tests to reinforce their findings which I will leave to the interested reader to delve into separately.
There has also been claims that social media and mobile phones allow thugs to riot more easily. The Discusssion Paper investigated this question and found that "If anything, higher levels of media availability and a more developed telecommunications infrastructure reduce the strength of the mapping from budget cuts to instability". So censorship is unlikely to stop this sort of event.
Which brings me to the point.
The right-wing press in the UK is now using these events to further their ideological agenda.
I loved this (representative) headline – Left-wing cynics blame the Tory cuts for orgy of violence: MPs and activists line up to make excuses for thugs.
The Daily Mail article said:
Left-wing politicians have cynically sought to make political capital out of the riots, blaming government cuts for the orgy of violence.

Labour MPs and activists lined up to make excuses for the thugs, spouting claims that disadvantaged youth had no option but to smash up high streets.
The article was mostly a series of quotes from commentators and the BBC who might have dared linked the economic conditions and fiscal austerity to the riots. They then quotes extensively some conservative MP who said "It's complete nonsense. These riots are about vandalism".
How come vandalism is concentrated in areas with the highest unemployment?
Another conservative MP said "This is opportunistic criminality". But is opportunism the manifestation of an uncontrolled crisis? If you have no hope
I am sure that the British Prime Minister was relaxing at his Tuscan holiday villa thinking that everyone plays by the same rules and that he could then impose harsh cutbacks on the poorest communities and everyone would cop it sweet. While he might claim that the violence is "utterly unacceptable' and "pure criminality" what he doesn't want to acknowledge is that the system that has made him rich along with his mates (on all sides of politics) has also created the conditions that deny a growing minority of young people any real hope.
The high unemployment that the system delivers in the disadvantaged areas means that the youth are largely idle and the opportunities that are available to them are mostly destructive for themselves and others.
Why should some person with a high income in a secure job say that a kid on a housing estate who hasn't the slightest hope of getting the same (no matter how hard they might try) who turns to dealing in drugs so they can have some material comfort is making criminal and opportunistic choices. What would I do if I had nothing and no hope?
I thought this Sydney Morning Herald article (August 9, 2011) – Anarchy reigns and a nation struggles to understand why – had a more reasoned view of the situation. You can see the original blog – Panic on the streets of London.
The author said:
… a young man in Tottenham was asked if rioting really achieved anything.

"Yes," said the young man. "You wouldn't be talking to me now if we didn't riot, would you? Two months ago we marched to Scotland Yard, more than 2000 of us, all blacks, and it was peaceful and calm and you know what? Not a word in the press. Last night a bit of rioting and looting and look around you."

There are communities all over the country that nobody paid attention to unless there had recently been a riot or a murdered child. Well, they're paying attention now.
The article argues that the riots are the product of a life-time of abuse and disrespect by a system that ignores the problems.
The Economist (August 9, 2011) – Political risk and austerity said:
Nevertheless, it is reasonable to ask why people are doing this now and not five years ago. The high level of youth unemployment (20% of those aged 16 to 24 are out of work), the inequality of incomes and wealth and the effect of local authority spending cuts on youth services are all factors that might have contributed.
The fiscal austerity according to this view then is a trigger – sort of like the last straw.
Ultimately, I consider one of the advantages of full employment to be a more coherent society where everyone has a chance to demonstrate their potential in various ways. One of the costs of unemployment is the denial of potential. While mostly these costs are borne by the individual and their families, when particular conditions are coincident you get social unrest which sometimes escalates into riots and more.
The reason I blame the British government (the sequence of them) is that they have embraced a neo-liberal philosophy (and enacted it) which denies any state responsibility for full employment. Further in embracing the mainstream view that budget deficits are essentially bad and that fiscal austerity is necessary they have denied the macroeconomy the aggregate demand necessary to generate enough jobs.
The government always chooses the unemployment rate. After all the private spending decisions have been made which determine a particular demand for labour, the government can either fill the spending gap to make sure the remaining jobs are provided (in relation to the willing labour force) or leave the workers unemployed. The government always has that choice and always has the financial (fiscal) capacity to provide the jobs. Unemployment is a sign that the state has not spent enough in any particular period.
Then you overlay that macroeconomic policy failure with all the rest of the inequalities that exist in a demand-constrained economy and the result is that a selective cohort (not just black in this case but definitely youth – these riots are about age not race) bears the brunt of unemployment and the lack of hope that it brings.
I also heard an interesting radio program on the way to the airport this morning that noted that we don't attribute the same degree of hatred to the Wall Street bankers who stole, lied and were opportunistic in the extreme and have caused more damage than these riots by a factor of some X.
The response to the riots should be initially to announce a Job Guarantee which would provide the youth of Britain with some income security and perhaps give the government some room to work out how to address the more deep-seated issues that have led to the riots.
But the research evidence I cited today definitely implicates the fiscal austerity.
Conclusion
Running out of time now and about to fly back home.
Tomorrow the July Labour Force data for Australia is released. I will probably look into that.
That is enough for today!