To challenge something you have to represent it correctly
I haven't much time today. I note that the British Chancellor has made an emergency speech to the House of Commons last night (August 11, 2011) – Statement on the global economy. He claimed that the fiscal austerity had made the UK a "safe haven" for investors. The reason that demand for gilts is high at present is because the bond markets know the UK has no default risk. I also noted Paul Krugman's wrote a blog in the New York Times yesterday (August 11, 2011) – Franc Thoughts on Long-Run Fiscal Issues – where he challenges Modern Monetary Theory (MMT) directly. To challenge something you have to represent it correctly.

Both inputs to public space were interesting and deserve a response but with time short I thought a few notes on the Paul Krugman blog would be useful.
He said:
Regular readers of comments will notice a continual stream of criticism from MMT (modern monetary theory) types, who insist that deficits are never a problem as long as you have your own currency. I really don't want to get into that fight right now, because for the time being the MMT people and yours truly are on the same side of the policy debate. Right now it really doesn't matter at all whether the United States issues zero-interest short-term debt or simply prints zero-interest dollar bills, and concern about crowding out is just bad economics.

But we won't always be in a liquidity trap. Someday private demand will be high enough that the Fed will have good reason to raise interest rates above zero, to limit inflation. And when that happens, deficits – and the perceived willingness of the government to raise enough revenue to cover its spending – will matter.
First, I have never said that "deficits are never a problem as long as you have your own currency". I have never heard Warren Mosler say that, nor Randy Wray, nor Stephanie Kelton, nor Pavlina Tcherneva, nor Scott Fullwiler nor others who have been working on developing MMT. I have never read anything to that end in anything the key proponents of MMT have written.
We always say that insolvency is never an issue for a sovereign nation which is one that issues its own currency, floats it on international markets and doesn't borrow in a foreign currency.
But inflation may be a problem if the budget deficit is excessive in relation to the other spending aggregates (private domestic sector and external sector). There is only so much real productive capacity at any point in time which can absorb flows of nominal spending (aggregate demand) and respond to it in real terms (that is, by producing/supply of real goods and services.
Once that capacity is exhausted the only response from the supply side can be to increase prices. Inflation occurs in this situation if the flow of spending which is beyond that capacity continues. Remember that a once-off price rise is not inflation – it has to be a continuous increase in prices.
So at that point budget deficits – being a nominal flow of spending each period – matter for inflation. But at that point – full capacity utilisation – some of the key objectives of fiscal policy should have been reached – full employment and potential growth.
I appreciate that governments can become captured by lobby groups which then make it hard for them to tailor the nominal spending impulse to match the real capacity limits. But that is not a statement that budget deficits are damaging. Rather it reflects the poorly developed political processes that have hijacked our democracies.
Second, you will appreciate that if the budget deficit is calibrated correctly – which means that it matches the saving intentions of the foreign and private domestic sectors taken together – then it can be 10 per cent of GDP or 1 per cent of GDP forever without any risk of inflation.
It is only when the budget deficit accelerates and pushes total spending in the economy beyond the real capacity limits that they become problematic. So continuous budget deficits forever are fine if the circumstances are correct.
Third, you will also appreciate that there is nothing special in this regard about a net public injection of spending when compared to a deficit in the private domestic sector or an external surplus. These balances all add to aggregate demand.
So to say that budget deficits are dangerous with respect to inflation – under certain situations – is saying nothing more than any nominal spending growth that pushes aggregate demand beyond the real capacity limits is dangerous.
Would we say that the private sector has to present a coherent "Spending Stabilisation" plan in the long-run to avoid this danger? I don't hear anyone talking about that. Which tells you that the emphasis on fiscal consolidation with Paul Krugman is really referring to reflects an ideological bias.
Further just as when private spending is too strong (if only) the government has the capacity to increase taxes to choke of some of the private purchasing power (among other restrictive policy tools) should they decide that at full capacity the public-private mix is appropriate they can also cut public spending.
Paul Krugman then provided an example – France in the period after the end of World War 1 which he says he studied during his PhD years. He says:
Like many nations, France came out of World War I with very large debts, peaking at 240 percent of GDP according to this recent IMF presentation (pdf, slide 17). And France was unable politically to raise enough taxes to cover the cost of servicing that debt. And investors lost confidence in the government's solvency.

Various expedients were tried, including – late in the game – creation of monetary base, which was advocated by a finance minister on the (very MMT) grounds that the division of government liabilities between currency and short-term bills made no difference. But it turned out that it did: the franc plunged, and the price level soared.
Again, you have to be careful not to set up a straw person that you happily attack.
First, we know that the European nations were heavily indebted (and seriously damaged in real terms as a result of the war effort). We also know that at the start of the War in 1914 the US was indebted to Europe (heavily) but by the end of the war the situation was the opposite. The US provided billions of dollars in loands as well as selling massive quantities of military supplies to France and the other allies.
The British also lent the other allies considerable amounts during the war – resulting in it owing billions to the US but being owed billions by France (about $US3.5 billion) and other nations.
The foreign currency-denominated debts had to be paid back in hard currency and with trade in chaos after the war this clearly became a problem for the heavily indebted nations like France to deal with.
So France was carrying debt denominated in a foreign-currency – a very non-MMT prescription.
Paul Krugman also doesn't relate the fact that when the Bolsheviks overthrew the Tsar they defaulted on 12 billion francs of debt which at the time was about 25 per cent of France's total holdings of foreign debt.
Second, no MMT advocate that I deal with on a professional level would deny that under certain conditions – trade chaos, foreign defaults etc – that the currency can depreciate during a domestic expansion or a budget deficit. If the depreciation is sufficient then imported inflation might be an issue.
There is nothing in MMT that refutes that possibility. The historical cases of these events are limited and are usually associated with special events such as the immediate post-World War 1 chaos.
I haven't enough time today to go further into the history but I think Paul Krugman is being a little disingenuous in presenting a selective treatment of it.
Recent Speech on Full Employment
I processed this presentation today which might be of interest. It runs for 20 minutes and is an edited version of a Keynote Address I gave on June 29, 2011 to the National Skills Conference in Melbourne, Australia.
The audience was made up of practitioners in the field of vocational training and policy development. I was asked to talk about the concept of full employment in Australia and while the setting is country-specific, the general principles are applicable to any nation.
The presentation comprises audio over a slide-show.
Conclusion
I didn't have any time to write much today. But then that might be a relief.
Digression – Cadel Evans
Cadel Evans was honoured in Melbourne at lunch-time today with thousands lining the streets for his ride with 30 youngsters. It was called a Cadel-ebration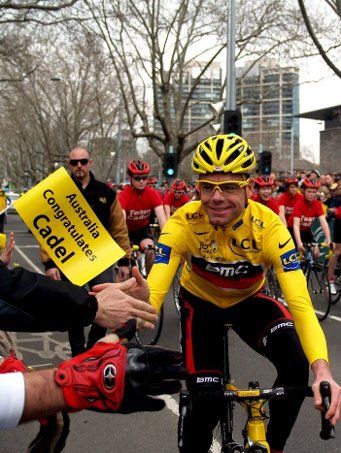 Here are the fans: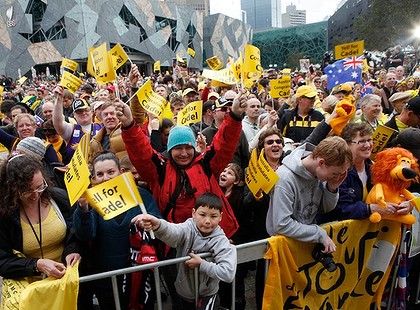 The Australian Prime Minister sent Cadel a message of congratulation and said, in part:
… And here back on Australian soil you have 22 million reasons for feeling back home because on this day all Australians are paying tribute to your efforts.
This created a research question. According to the ABS Population Clock – there were 22,676,656 Australians as at 13:35:04 (AEST).
So who are the 676,656 persons who didn't like Cadel's great sporting achievement?
Saturday Quiz
The Saturday Quiz will be available as usual sometime tomorrow.
That is enough for today!