Today I was reflecting on the role of students in social change. I was a student activist and took that role very seriously when I was a full-time student. I did have a sense of entitlement that it was our future and we had to rock the boat to make it work in the way we wanted. I probably proposed things without fully understanding them – that is the nature of being a student – enthusiasm gets ahead of judgement. But I also was lucky to have a few really great mentors in my earlier days who helped me. It is the role of the mentors and teachers to steer that youthful zeal to develop mature, knowledge-based assessments and informed action. I find my profession to be seriously defective in that sense because they indulge more in propaganda than they do in educating the students who want to learn economics. I do not think the average economics program to be of much educative value. But I understand the conservative nature of my profession and the reasons they behave in that way. What is more objectionable is when a self-styled progressive organisation engages in the same sort of exercise with students yet denies that they are doing it. The problem then is the beautiful enthusiasm of our youth becomes manipulated by their mentors and what should have been an educative process becomes a compromise ideological exercise serving the top-end-of-town. So today – continuing my truth theme – I am writing about processes and organisations that become ineluctably compromised.

A person is a student because they are learning. We are all students at some point in our lives and to be progressive requires us to remain life-long students in various ways.
Learning should mean that we embrace a wide literature – certainly go back to primary sources – and construct an understanding based upon the rules of knowledge that the education community accepts for the moment (but which are always contestable).
We would not consider a student to be well-educated or capable of informed viewpoint on a technical topic if they hadn't been confronted with the range of approaches that any discipline will yield.
While my blog about macroeconomics is presented in as non-technical language as I can muster the reality is that the discipline is highly technical and there are concepts that are, for example, embedded in accounting frameworks that defy opinion. The reality presented by these frameworks is indisputable.
I acknowledge that we can debate the underlying concept of accounting. But that is another debate. We can also debate the concepts and their associations. For example, we know that the National Accounts present a highly partial view of human progress and discriminate along gender and other grounds (unpaid housework not being counted etc). But that is another debate.
Within the existing logic of the National Accounts there are some ineluctable certainties. For example, external deficits drain demand and hence growth; the private sector cannot sustain deficits (spending more than it earns) indefinitely, and non-government surpluses have to equal government deficits.
An understanding of how these "facts" and the relationships between sectors (external, private domestic and government) play out in spending and output determination is at the heart of macroeconomics.
But if the non-government sector is draining demand (via external deficits and/or private sector overall saving) then the level of economic activity will fall unless the drain is offset by government deficits. Spending creates income and it has to come from somewhere.
Then if you to juxtapose that knowledge with an understanding of the essential features of the fiat monetary system you quickly realise that no credible concept of fiscal sustainability can be defined with reference to public debt ratios or budget deficit to GDP ratios.
Please read my blogs – Fiscal sustainability 101 – Part 1 – Fiscal sustainability 101 – Part 2 – Fiscal sustainability 101 – Part 3 – for more discussion on this point.
Modern Monetary Theory (MMT) tells us that when governments use fiat currencies within a flexible exchange rate system the monetary unit which is defined by the sovereign government is convertible only into itself and not legally convertible by government into gold as it was under the gold standard, or any other real good or service.
The currency of issue is defined as the only unit that which is acceptable for payment of taxes and other financial demands of the government of issue.
Accordingly, national government spending is not revenue constrained. A private citizen or firm is constrained by the sources of available funds, including income from all sources, asset sales and borrowings from external parties.
But the national government spends simply by crediting a private sector bank account at the central bank. Operationally, this process is independent of any prior revenue, including taxing and borrowing.
When taxation is paid by the private sector cheques (or bank transfers) that are drawn on private accounts in the member banks, the RBA debits a private sector bank account. No real resources are transferred to government. Nor is government's ability to spend augmented by said debiting of private bank accounts.
So the household, the user of the currency, must finance its spending, ex ante, whereas government, the issuer of the currency, necessarily must spend first (credit private bank accounts) before it can subsequently debit private accounts, should it so desire.
The government is ultimately the source of the funds the private sector requires to pay its taxes and to net save (including the need to maintain transaction balances). This makes government solvency in its currency of issue a given and a non issue.
A sovereign government can always afford to purchase anything that is available for sale in the currency it issues and pay any entitlement/liability that is denominated in the same currency.
Linking this back to the National Accounting discussed above we know that it is a matter of fact that the government deficit (surplus) is equal ($-for-$) to the non-government (residents and non-residents) surplus (deficit).
In aggregate, there can be no net savings of financial assets of the non-government sector without cumulative government deficit spending. In other words, the only entity that can provide the non-government sector with net financial assets (net savings) and thereby simultaneously accommodate any net desire to save and thus eliminate unemployment is the government.
The systematic pursuit of government budget surpluses is necessarily manifested as systematic declines in private sector savings. Pursuing budget surpluses is necessarily equivalent to the pursuit of non-government sector deficits.
A student of fiat monetary systems would learn this material and eschew the way in which mainstream economics textbooks portray the world. The latter still use analytical frameworks which were applicable (to some extent only) to the fixed-exchange rate systems that were largely abandoned by the advanced world in the early 1970s.
Applying understandings about how convertible currency/fixed exchange rate monetary systems operate to modern fiat currency systems is invalid. It will always lead one to spurious conclusions and sidetrack the focus from the important issues which I outline below.
The way we understand the monetary system does not have to dictate the policy leanings one adopts. But it certainly constrains us in the way we seek to justify or defend our policy prescriptions which often reflect our underlying ideological perspectives or values.
For example, I might consider business profit margins to be the primary objective of policy and desire to "reward" entrepreneurship (as I define it) with a policy framework that empowers business firms over say workers and their union organisations. That would be a value judgement. I might then adopt the view that entrenched unemployment is a way of undermining union strength and tipping the balance away from workers in the bargaining process.
I would be misguided into think this is best for growth or in fact the long-term profit interests of firms. But ideologies can be in denial of the facts.
So an understanding of MMT with that political/ideological persuasion would support a campaign of fiscal austerity with fiscal initiatives that defended profits (expanding corporate welfare). I would know that this would damage economic growth and cause unemployment but it would be consistent with my "view" that unemployment was good for firms in their quest to rule over unions.
It would be dishonest of me to represent the call for fiscal austerity as a way of solving unsustainable fiscal trajectories or that a fiscal contraction expansion was forthcoming. MMT exposes those lies but doesn't preclude one from advocating fiscal austerity for other political/ideological aims.
So students should be careful of what they say before they have a full and rich understanding of the area they are seeking to comment on. I do not think it is paternalistic to say that students should learn before they talk.
I support student activism but I also know how many student radicals in my day quickly became corporate executives pursuing the capitalist goals once graduation day passed. I also know how misguided students can be when they do not fully comprehend the complexity of a situation.
A whole bunch of eager students keen to be involved in their society and enthusiastic about the issues of the day is a good thing. But being a student is about learning and becoming educated. So care has to be exercised to temper the eagerness and innocence with a humility that accepts that one doesn't know much at first.
Which brings me to the Budget for a Millennial America – which was produced university students in the US sponsored and organised by the so-called progressive US-based Roosevelt Institute under the guise of the Roosevelt Institute Campus Network.
Apparently students got together to develop the Budget for a Millennial America which they claim is:
… a rigorous plan that makes the essential investments in education, health care, infrastructure and green energy needed to ensure a robust 21st century economy, while reducing the federal debt to a sustainable level. The plan reflects the views of a cross-section of some three thousand Millennials. It was created democratically through the Campus Network's unique model of student engagement with members and nonmembers alike. The budget addresses the root causes, not just the symptoms, of the federal debt …
If you see their launch site the first graph header depicts how much lower the federal public debt ratio will be under their plan. That is a highly revealing emphasis and it permeates the whole approach taken in the document.
They say that the budget plan "reflects the Millennial Generation's priorities" without explaining where those priorities came from or the means they prioritise. Priorities have to reflect available means. If the conception of the available means is distorted or pure fiction then the priorities will be without application.
They do not discuss real resource conflicts nor acknowledge that these conflicts are likely to be small with such entrenched unemployment. Their analysis is pitched in terms of "unsustainable public debt" and problematic deficits. The latter are not related in any coherent way to the former.
My assessment as an educator is that this is not a rigorous plan because it is based on ignorance. And I would say – deliberately controlled ignorance.
You can get 3,000 or 4,000 or as many bushy-tailed students full of zeal together that you like. They can work hard and express their exuberance by producing a document aimed at indicating how the youth of America feel about public issues. But the results will be worthless if they are not based on an understanding of the subject matter. Exuberance is not knowledge. It is religious fervour if it is not backed by an educated understanding of the subject at hand.
So a "Budget for a Millennial America" has to be based on a proper understanding of how the fiat monetary system operates and the choices it gives the national government. It has to be based on a starting point that there is no fiscal problem as noted above.
The problem is that it assumes as its starting point that:
America has come to a crossroads … The role of government and public spending is now hotly contested, and our generation is faced with hard fiscal choices … Any solution to our fiscal trouble must not only resolve the gap between spending and revenue, but also address the underlying causes.
Where did that starting point come from? What knowledge was that based on?
I examined the reference list in the Report which as an examiner is normally the first task I undertake. I have examined many doctoral and lesser theses in my career.
An examiner has to be convinced that the student has covered the main literature in the area under consideration. As a proponent of MMT I do not confine that set ("main literature") to MMT writing. There are many seminal and related mainstream articles and material that has to be considered and worked through by a serious student.
Not only is a historical understanding necessary of how the debates have evolved but also analytical capacities have to be developed as part of the learning process. A lot of radically-inclined students have approached me over the years seeking advice. There is a paucity of non-mainstream academics in economics and so I have always felt obliged to provide support. I always recommend, contrary to what these students expect, that they should become very skilled in the technical side of mainstream economics.
I tell them to become mathematically competent and skilled at econometrics. The only way one can engage with the debate and debunk poor analysis and false presumptions is to be at least as good at "their paradigm" as they are.
In addition, I advise students to really learn the way the monetary system operates – to study central bank balance sheets – to understand banking operations – to explore in depth the way government budgets operate and to really treat the National Accounting system as important rather then something you cover in the first lecture and then forget.
The reference list (bibliography) of the "Budget for a Millennial America" is very revealing. I would fail a student who submitted this document to me for examination simply on the grounds that it fails to demonstrate an adequate understanding of the literature that is applicable to this area of macroeconomics. That assessment is quite apart from the flawed method and spurious conclusions that the students have produced.
So the defective starting assumptions of the "Budget for a Millennial America" which probably drives the narrowly defined literature that the students appear to have consulted raises the question about why a so-called "progressive" organisation (the Roosevelt Institute) is publishing this sort of neo-liberal-inspired literature and promoting it in the public debate.
We now know that the Roosevelt Institute Campus Network (that is, the Roosevelt Institute) is sponsored to a significant level by the Peter G. Peterson Foundation – the vanguard of deficit terrorism.
I first referred to this issue in last week's blog – Americans are stupid but they are not alone. The question of private wealth funding summits and research etc came to a head in the US a few week's ago with the decision by the Roosevelt Institute to accept $US200,000 from the Peter G. Peterson Foundation to prepare a document as part of the 2011 Fiscal Summit organised by the Peterson group.
The Roosevelt Institute claims claims to be "carrying forward the legacy and values" of the Roosevelts (FDR and wife) – a point I will reflect on later.
The Peter G. Peterson Foundation is bankrolling the public hysteria about US fiscal policy and public debt and providing ammunition for politicians and lobbyists to undermine the government's capacity to maintain a stimulus to growth. The Foundation clearly uses its enormous pile of funds to perpetuate a campaign of mis-information and lies about the current policy parameters and to advocate policies which would damage the disadvantaged citizens and entrench unemployment.
Their agenda which is highlighted during these now annual Fiscal Summits is not something a truly progressive thinker would associate with. Their starting point – that the fiscal position in the US is unsustainable and fiscal austerity is required – is the anathema of a progressive position.
But moreover it is a denial of a true understanding of the monetary system that operates in the US. To be categorical – there is no short-term or long-term fiscal problem in the US.
That is not to say there are not very significant problems in the US at present and into the future. At the top of the short-term list (with long-term implications) is entrenched high unemployment, rising inequality and sluggish non-green growth.
This malaise is overlaid by longer term trends towards excessive indulgence in health care by the rich and inadequate access to the same for the poor. The urban landscape in some American cities also acts as breeding grounds for intergenerational disadvantage. Further, public infrastructure is decaying due to lack of investment (public transport systems, schools, etc).
These are the problems that progressives should be focusing on – not non-problems like the budget balance or the public debt ratio.
As noted above Roosevelt the Roosevelt Institute's "Budget for a Millennial America" assumes without question that the policy focus must address the "fiscal problem" in the US and that net spending cuts should be "progressive". This is the way the "progressives" get compromised – by advocating cuts which are supposedly more "humane" than the conservatives proposals.
The problem is that no net public spending cuts are warranted (nor humane) at present given the entrenched unemployment. The US requires fiscal expansion not austerity.
Yves Smith (Naked Capitalism) wrote an excellent exposition of this "progressive" sell-out – Bribes Work: How Peterson, the Enemy of Social Security, Bought the Roosevelt Name recently.
She wrote:
And so it is that the arch-enemy of Social Security, Pete Peterson, rented out the good name of Franklin Delano Roosevelt, the reputation of the Center for American Progress, and EPI. All three groups submitted budget proposals to close the deficit and had their teams share the stage with Republican con artist du jour Paul Ryan. The goal of Peterson's conference was to legitimize the fiscal crisis narrative, and to make sure that "all sides" were represented.
The New Deal 2.0 lot at Roosevelt responded to the accusations soon after – Speaking Truth to Power. Their "defense" was pathetic. They accepted the money, got some students to workshop a paper about deficit reduction, and claimed it was in the cause of advancing liberal views.
They cannot get beyond the fact that the PGPF compromised them by giving them cash to write material supportive of his deficit terrorism. The matter has since moved to other blogs and sites as so-called progressives try to defend the indefensible – progressives taking money from Peterson.
There is a question whether the legacy of FDR should be progressive anyway. That is the topic for another day because it is very complex. But at the macroeconomic level, the public works expansion notwithstanding, FDR and the New Dealers were fiscal conservatives and favoured balanced budgets. My view (to be explained one day) is that New Dealers were firmly in the deficit dove camp and which I consider makes them part of the problem and faux progressives.
The reason they are part of the problem is that in advocating balanced budgets averaged over the business cycle they ignore the fact that the budget balance is in fact an endogenous outcome, which is largely determined by private spending decisions and the state of the external sector. Prescribing a rule (average balanced budget) may be in contradiction with these non-government spending decisions such that either the budget rule is impossible to achieve with full employment or the goal of full employment is sacrificed.
They are part of the problem because they advocated balanced budgets (over the cycle) as a result of some fear about public debt and deficits. That fear is a religious artifact and is not grounded in any reasonable knowledge of the monetary system.
We have seen over the last thirty years or more that it is the goal of full employment that is compromised. "Progressives" who argue that there is a fiscal problem at present are falling prey to that bias.
FDR hired fiscal conservatives as his Treasury secretary and advisers (for example Henry Morgenthau Jr. and Lewis Douglas). If you read the documents of the day you will see that the narratives were all couched in terms of "deficit burdens" and "budget cost impositions" rather than the progressive terms such as "full employment", "community need", "rights of citizens", "public purpose".
It was only the scale of the unemployment problem that forced FDR to introduce large-scale employment programs. I would argue that these initiatives were against his conservative right inclination but he was pragmatic enough to implement them.
The give-away is in the language he used to artificially segment the budget into his "balanced regular budget" and the "emergency budget". That construct reflected his underlying bias towards fiscal conservatism.
Further, as a link to the present it was FDR who fought for the Social Security program to be "funded" by new taxes on workers rather than from "general revenue". The elaborate accounting gymnastics that now provide scope for conservatives to claim that the Social Security Trust Fund is going broke – despite the fact that the US government can always pay social security pensions – may be traced back to the debates in the 1930s where FDR leaned to the conservative side.
In short, I don't hold FDR's Administration as being the beacon for progressives.
If you take that line, it shouldn't come as a surprise that the Roosevelt Institute – which says it is "Carrying forward the legacy and values of Franklin and Eleanor Roosevelt" – would take money from the Peter G. Peterson Foundation to support the latter's obsession that there are unsustainable fiscal problems. A reasonable assessment – despite all their posturing to the contrary is that the Roosevelt Institute is not a progressive organisation in the first place.
Conclusion
My question is this: What would have the students come up with if they truly understood the nature of the monetary system they were discussing (implicitly) and understood that there is no long-term fiscal problem in the US?
What reforms would they recommend if they changed their primary goal from reducing the public debt ratio to creating full employment and equity?
The way it stands is that there Millennial Budget is highly compromised not only because they accepted a substantial sum from the Peter G. Peterson Foundation but more as a result of the fact that they engaged in poor scholarship as evidenced by the appallingly biased set of references that they cite.
The fact they adopted an unquestioning approach to the prior issue – that is, whether there is a fiscal problem or not – is testament to the biased nature of their work. They needed to first of all debate that issue and learn about the technical issues involved before developing a policy framework that expressed their ideals.
The Peter G. Peterson money notwithstanding, if they truly understood the monetary system and the options it presents to the US government as the monopoly issuer of the US currency, then I am sure the PGPF 2011 Fiscal Summit would not have welcomed their presence and I am sure they would have come up with a more employment rich and equitable plan.
Finally, it is way past the time that all MMT advocates should decamp from their associations with the Roosevelt Institute. The whole show is ineluctably compromised whichever way you think about it.
That is enough for today!
Update – Wednesday, June 15, 2011 – 21:06 AEST
As an update to today's blog I received this E-mail from Marshall Auerback who has had an association with the Roosevelt Institute for some time now and who is listed in the Millennial Budget document in the Special Thanks section implying he gave some mentoring to the project or otherwise assisted it.
The Millennial Budget is available at:
– Peter G. Peterson Foundation
The documents are identical. It is also available in other locations if you search.
The following graphic is an excerpt from the credits of the official Roosevelt Institute document and shows the attribution given to Marshall Auerback and others: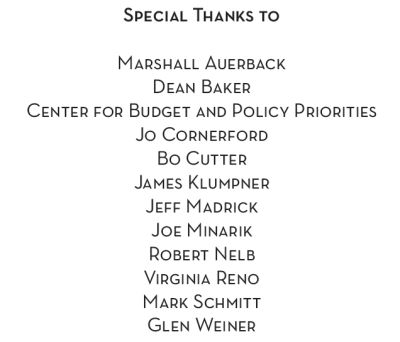 Marshall is an MMT advocate and is prominent in the US media. I have had several exchanges with him in the last week or so about his association with the Roosevelt Institute and the Peter G. Peterson Foundation (by implication) along the lines of this blog – ineluctable compromises etc.
The E-mail was sent by Marshall to the following people:
Hilary Doe – Campus Network National Director – Produced the Millennial Budget Document
Zachary Kolodin – Project Director, Future Preparedness Index, Campus Network – Produced the Millennial Budget Document
And copied to:
Andrew Rich – President and CEO Roosevelt Institute, New York City
Nicholas Brown – Economic Policy Fellow at Roosevelt Institution – Produced the Millennial Budget Document
Brad Bosserman – Economic Policy Fellow at Roosevelt Institution – Produced the Millennial Budget Document
Reese Neader – Policy Director, Campus Network Produced the Millennial Budget Document
Mark Schmitt – Senior Fellow & Director of the Fellows Program, Washington DC
Lynn Parramore – Editor, New Deal 2.0, New York City
Marshall wanted me to make it public to demonstrate the way in which this organisation operates.
Dear Zachary and Hillary,

It has been drawn to my attention that I am listed as a "mentor" in the RI publication dealing with the millennial budget. As I've already indicated to you, I had NOTHING to do with the budget and opposed the prevailing paradigm that was apparent in the work, especially in regard to the notion that we have some sort of arbitrary "budget deficit constraint". If you've read anything I've contributed to the Roosevelt Institute, you'd see that its contrary to everything I believe in economic theory and, in any case, as I've made persistently clear in my correspondence with you and others, I think it was a travesty of the Roosevelt name and legacy to have any association at all with that well known deficit terrorist, Pete Peterson and his odious institute.

I most certainly did not approve you using my name in that way and in fact am horrified by the underlying assumptions that went into Campus Network Budget document.

Please would you remove my name forthwith from the document as a mentor, as I want no association with the document, or anything remotely connected to the Peterson Institute.

Yours truly,

Marshall Auerback
The Roosevelt Institute clearly ignored his request. But then they are "progressive" and the future of America.