When a nation stops growing
<![CDATA[A lot of readers write to me questioning why I consider economic growth to be important. It is a complex topic and beyond a single blog - especially one that I am writing late this Friday afternoon. The short response is that I am not pro-growth. I am pro-employment and pro maximising human potential. In some circumstances economic growth is a necessary condition to achieve these goals - for example, when material standards of living are very low. In other situations, populations can still prosper with little or no growth. I do not advocate growth at the expense of environmental sustainability. But even with slow growth economies, fiscal policy is an important consideration and governments may have to expand budget deficits as a proportion of GDP to keep their economies from falling further backwards. That is the case in Japan at this present time - a nation that has all but stopped growing over the last twenty years. The latest data out this week shows that the Japanese economy contracted again in the March quarter – as consumers cut their spending and exports slowed dramatically in the wake of supply constraints emerging from the natural disaster earlier in the year. I created the following table to show the contributions to real GDP growth from March 2007 to March 2011 across the National Accounts aggregates.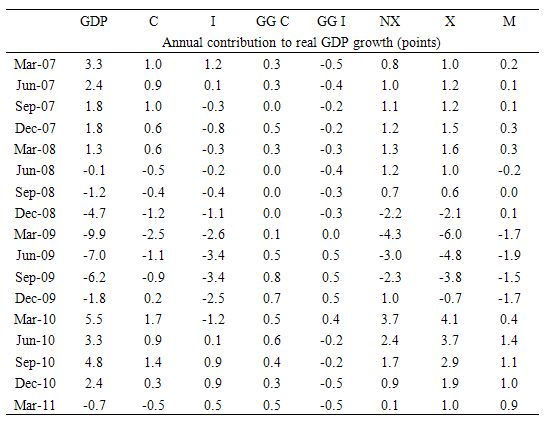 The symbols are standard – C for household consumption, I for private capital formation, GG C for government consumption, GG I for government capital formation, NX for net exports, X for exports and M for imports. NX = X – M. The GDP growth rate is annualised as are the contributions. You can see how severe the financial crisis was as net exports collapsed in the December 2008 quarter but consumers were already going into their holes in mid-2008. Private firms stopped investing even earlier than that. Over the last year the Japanese government has been reducing the growth rate as a result of contractions in their investment. While exports improved their contributions in 2010, that contribution slowed late in 2010 and is now very sluggish. This is partly the result of global austerity measures being taken and partly due to supply issues arising from the disasters. In the March quarter private investment slowed and household consumption went backwards. Consider this graph. It is constructed from the National Accounts data for Japan available their
Cabinet Office
. It shows Nominal GDP (in level form) since the first quarter 1980 to March 2011 (in billions of yen). It is a stark graph that shows the second-largest economy (well perhaps now third) not growing at very much at all over the last 20 years. Nominal GDP is now below the level recorded in September 1991. So after 20 years of economic activity the economy has not expanded in terms of market price-valued GDP.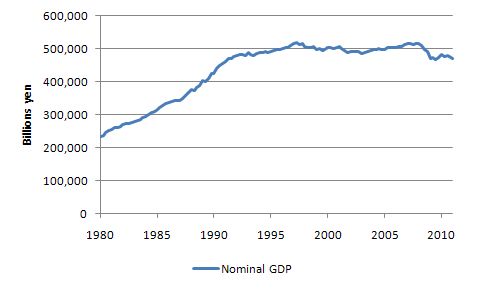 If we consider this in Per Capita terms, the same story unfolds. The following graph compares nominal GDP per capita (blue) and real GDP per capita (green) since 1980. The 2011 figure is an IMF estimate and will probably be overstated given the natural disaster. The difference between the two series is the inflation rate which has been low and sometimes negative in Japan over the period shown.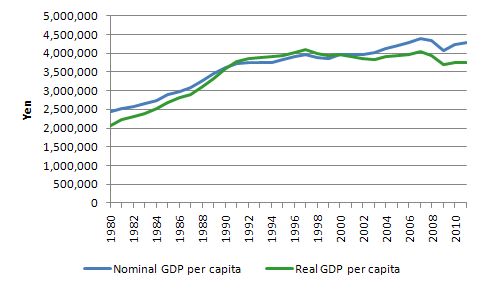 The following data comes from the
OECD
and shows GDP per capita (compared using USD PPP 2009). You can see that Japan is mid-ranked just below the OECD average.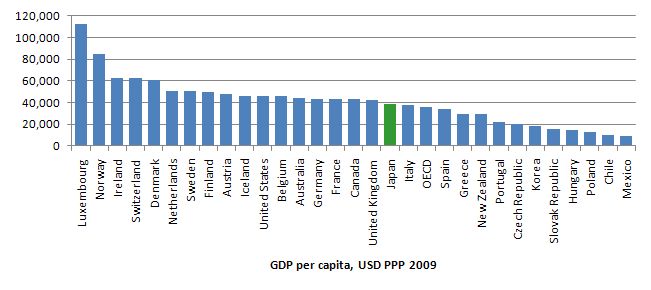 The conservatives often blame Japan's mid-range GDP per capita performance on its regulative structures and tax policies. They also claim it is the result of what they see as Japan's service sector inefficiency. This so-called "poor" per capita performance is tied in with the fiscal austerity and structural reform campaigns that the IMF and OECD are pursuing. In this IMF Working Paper (released January 01, 2011) –
The Impact of Fiscal Consolidation and Structural Reforms on Growth in Japan
we read:
With Japan's public debt at historic levels, concerns are rising over the growth impact of needed fiscal adjustment. The severe recession and sizeable fiscal stimulus have pushed up Japan's public debt from 188 percent of GDP in 2007 to 218 percent of GDP in 2009. Bringing down the public debt ratio to more sustainable levels would require a large and sustained adjustment that will weaken aggregate demand.
They then claimed that in this context:
Structural reforms could help offset the negative impact of fiscal consolidation and raise medium-term potential growth. In this context, policies aiming at raising services sector productivity through deregulation or increasing competition and labor market flexibility could support fiscal consolidation through higher tax revenues.
That is the one-trick the IMF always offer – cut public net spending and deregulate (cut workers' protections and wages) and – somehow – miraculously – expect the impact on aggregate demand to be neutral in the "medium-term". We are asked to ignore what happens in the short-run to workers who lose their jobs or entitlements and forget about the hysteretic effects relating to consumer and investor confidence. Firms apparently just love deregulation so much that they will ignore the declining sales volumes as consumers tighten their spending and build productive capacity to allow them to sell more. It just doesn't work like that. The only times an individual nation has successfully grown as they cut public net spending is when their external sectors and private domestic sectors are growing strongly. Prior to the crisis, the IMF released a paper (January 2, 2007) –
Strategies for Fiscal Consolidation in Japan
– which said:
Japan's key fiscal challenge is to put public finances on a more sustainable footing. Large government budget deficits have boosted Japan's net public debt to over 85 percent of GDP, one of the highest in the OECD … In the years ahead … the government's net debt could rise to over 150 percent of GDP.
I could trawl back through my archives and find similar warnings when the debt ratio was less and they were claiming it would get to 80 per cent and 70 and 50 etc. In fact, the OECD and the IMF have been going on about Japan – relentlessly – for years now and each time they proffer some dire forecast – the situation gets "worse" (by their measurements) and nothing particularly bad happens. In particular, unemployment remains relatively low and their is still a commitment to income security in Japan. The OECD also follow the IMF lock-step and have pursued a long campaign trying aimed at dismantling worker protections in the service sector in Japan. For example in this OECD Economics Working Paper (No. 651) paper (published in December 2008), we read that:
Boosting productivity in the service sector is a key priority for promoting long-term growth. Services account for a dominant share of economic activity in Japan; its share of output increased from 66% in 1993 to 70% in 2003, matching the OECD average. The disappointing productivity performance in Japan's service sector – which has lagged far behind the manufacturing sector in recent years – is thus a source of major concern.
Exactly why is it a source of major concern. Westerners who travel to Japan might think it is a bit quaint to be offered such eloquent service when in a retail setting – especially compared to the generalised rudeness one experiences from bored staff in many European cities. But what is the problem of having people working The OECD correctly say that "(t)he service sector is largely responsible for low aggregate productivity in the Japanese economy". But it is also responsible for the low unemployment and solid income security that Japanese workers enjoy. It is clear that the Japanese economy is dual in nature. Their export-oriented manufacturing sector is highly productive because it competes in world markets. Its domestic service sector does not have to "compete" in this way and can focus on other objectives that are of benefit to the Japanese people. Like – maintaining high levels of secure employment with comcomitant income security. Like – being nice to each other when transactions are required. Like – being nice to tourists who bring them income. The result from the conservative perspective – low productivity and waste. From my perspective, the mainstream concept of productivity is heavily biased to private costs and benefits. I prefer to see it more expansively If you understand economics, you will realise that even mainstream economists consider optimality in terms of social benefits and costs which include private calculations. In the ideological narratives you will rarely hear them talk as if social outcomes (excluded by the market which values private outcomes) matter. But all their models require consideration of these externalities (external to the private market costs and benefits). So what benefits does the services sector bring in Japan that the private costs and benefits (which lead to the low productivity estimates) ignore. I would think the excluded net benefits are significant which means that a corrected productivity measure would be much higher than the mainstream would care to consider. However, there is another side to the argument that I agree with. As the dependency ratio rises, Japan will have to create more from less (productive workers). This will require a re-think of how they offer services. But that is a separate argument to the macroeconomic argument that the IMF makes that hacking into worker entitlements will somehow create aggregate demand as the public sector hacks into its net spending. That is never going to happen. In that context it was a relief to read one commentator challenging the current conventional wisdom on Japan. A Bloomberg opinion piece today (May 21, 2011) –
Japan's Slump Heightens Calls for Faster Stimulus
– calls for more activist fiscal policy from the Japanese government at a time when the IMF and others The author writes that in the March 2011 quarter:
Household spending had the largest back-to-back quarterly drop since the global financial crisis … The figures contrast with comments by Japan's central bank, which holds a policy meeting today, that the economy's main challenge is one of supply chain disruptions caused by the earthquake, tsunami and nuclear crisis.
And should I add the IMF and OECD line. The Bloomberg article quotes an economist from a major Japanese corporation:
Speed is key here, and the government needs to act … A delay in the second budget is not only going to postpone the economy's return to growth, but it's also going to reduce Japan's capacity to grow in the long run. Companies aren't going to invest in a country that takes forever to rebuild itself.
Fancy a private sector corporate economist talking like that. In Australia, the press would boycott such an opinion because it would fit in with their "growth = inflation = required fiscal consolidation" mantra. But the point is clear. Private spending depends on confidence and investment doesn't occur when consumers are pessimistic and cutting back. Those conditions were exactly the type that Keynes noted in the 1930s and arise every time the private sector demand wanes. Firms need some certainty that they will be able to sell the products forthcoming from any extra capacity they might build before they will build it. The capitalist economy is driven by guesses in the face of uncertainty. Firms and households are not Ricardian and do not factor in mythical future tax hikes when they see a budget deficit. There is no empirical substantiation of that mainstream notion at all despite the claims to the contrary from conservative commentators. The agenda of the latter is to create small government no matter what and they try to justify that in any way they can. The Bloomberg article correctly notes that "(d)ata for April suggests the economy will continue shrinking this quarter". What the Japanese government has to do immediately is to expand its discretionary budget deficit. The contraction in private demand and the contribution of net exports has to be replaced. There is only one sector that can do that – the government sector. There will be screams of a rising public debt ratio should the government do that. But the debt ratio will continue rising as long as growth is so sluggish and the Japanese government issues debt to match its deficit. There is no problem at all in increasing its debt ratio. The IMF and OECD predicted meltdown years ago. Only benefits can come from issuing more debt – in the form of stable incomes to the private sector. But I would finally break the debt mould and force the Bank of Japan to "fund" the net spending which is allowable under Japanese law. There is only a deflationary risk in Japan at present.
Conclusion
There is an urgent need for a new fiscal stimulus in Japan. Presently, it is not a low growth rate that matters in Japan. The problem is that the growth rate is continually being threatened by private spending contraction and a political process that is under pressure from the IMF and OECD and others to impose harsh fiscal austerity. The last thing the Japanese economy needs right now is a contraction in public spending. All the scaremongering about an exploding public debt ratio are lies and should be ignored. The Japanese government has to ensure that the low growth is steady. Stimulating further growth, given the slowing population is probably not going to be possible or necessary. As a matter of long-term structural adjustment, the Japanese government might reasonably start reducing the reliance of the economy on export performance. But that is a topic for another day as is the rising income inequality in Japan.
Saturday Quiz
The Saturday quiz will be back sometime tomorrow. That is enough for today! ]]>