I often get asked by people I have consulted for to write justifications for their existence (that is, the organisation and its charter). Sometimes it is a trade union, another times a government department and on. In each case you have to think out what the essential interactions are between the organisation in question and the rest of the world and articulate some sense of value to those interactions. These calibrations may not necessarily be quantitative but often it is useful if they are because bean-counting economists around the place who read the analysis I provide in this part of my professional life rarely think more broadly and spare the thought – can probably not even spell "social benefit" much less conceive of it. In the current economic crisis the only problems that should be receiving daily scrutiny in the debate are unemployment, real income loss, and the resulting poverty. We rarely see those items headlined. Instead, we are barraged with a virulent confection of bile about things that do not matter – public deficit to GDP ratios etc. And this anti-government campaign is succeeding in part because people believe the rhetoric that government is wasteful and doesn't do anything. Well I am here to tell you ….

For my whole academic career I have advocated that the government assume the responsibility for providing work to anyone who is unable to find work in the private sector. I have advocated large-scale public works programs to accomplish these ends in developing countries and during major economic downturns. More recently, in my consulting capacity I have been involved in such programs and provided advice to governments about the best way to organise and implement them. I have seen such programs reduce poverty, provide a buffer against major demand collapse and create public goods which subsequently have provided billions of dollars worth of value adding to the private sector.
I am familiar with many such projects that were implemented to alleviate the hardship and penury brought on by unemployment during the Great Depression in the 1930s in various nations. Many of these projects are still delivering value to communities and private business interests some 80 years later.
There are many examples of such public infrastructure which is delivering long-term benefits to current and future generations. Just take a drive down the Great Ocean Road in my home state of Victoria (I live in NSW now) which carved out of the cliff face during the 1930s as a public works job creation project! This is now a multi-million dollar tourist resource that the private sector leverages profits from every day and day-trippers and holiday makers enjoy immensely. The private sector would never have constructed such a road!
I hope all the deficit terrorists out there who are contemplating a holiday to Victoria, Australia take an ethical stance and avoid taking the beautiful journey down the 60 odd kilometres of Ocean Road and stay away. After all – government activity is valueless.
Anyway, in my guise as a major advocate of public works programs and job creation schemes etc over many years and with a relatively high media profile in Australia – I am constantly being accused of suggesting worthless schemes – make-work, boondoggling and leaf-raking exercises that just encourage slothfulness and erode our freedoms etc. The discussion usually turns to accusations that I am advocating socialism and if the attack is particularly enthusiastic the C word enters the fray (which is not *unt but c*****ist). At that point I just say whatever!
Please read my blogs – Fiscal sustainability 101 – Part 2 – Boondoggling and leaf-raking … – for more discussion on this point.
As an aside to the C-word (it is Friday!), I recall a funny story explaining why the National Party in Australia changed its name from the Country Party. This is the rural party in Australia – which is conservative on social issues and preaches free markets but always has its hand out for public subsidies to agriculture. The former Labor Prime Minister Gough Whitlam made fun of them at the time saying they had to change the name because the then Country Party leader had developed a stutter and it was embarrassing to listen to him talk about his party!
Anyway, getting back on track, the question I often ask in these sort of situations is whether anyone knows of anyone ever who has gone into a shop and been asked prior to having their money accepted for the purchase whether they have a "real job" or whether they are a "wasteful public employee" or questions of that intent. I have never been asked.
Remember the golden rule of macroeconomics (which has been my theme this week): Spending equals income! Which has several other golden rules that follow: Income equals and generates spending. Spending generates employment to create the income. Employment makes people feel better and usually means their children will have a better life. Spending can be public and private. The macroeconomy doesn't discriminate!
The other question that is worth asking is how much productivity does one have to produce to be a superior outcome to zero productivity? I am not suggesting public works or public job creation is even low productivity (that is a loaded term anyway) but the fact is that millions of people around the world right now are achieving zero productivity levels however you construct the concept or calibrate it.
So what exactly is this concept of waste that these idiots continually proffer as a defence against their preferred position that the government do nothing and leave these millions idle – slowing drifting into poverty and social alienation?
The point is that I have heard this over and over again yet been involved and know of many such schemes over many years where such employment is creative and valuable and provides long-lived benefits to both the general community and the private corporate sector.
Government spending more generally …
I have been reading the Co-Chairs Draft Proposal from the US National Commission on Fiscal Responsibility and Reform, which was released on Wednesday (November 11, 2010). If I was religious I would be saying Please god, help us all. As I am not, I will say it anyway!
I will provide more detailed analysis of the material they are starting to pump out in due course. But in the accompanying presentation, the opening slide caught my eye immediately. It said:
We have a patriotic duty to come together on a plan that will make America better off tomorrow than it is today

– America cannot be great if we go broke. Our economy will not grow and our country will not be able to compete without a plan to get this crushing debt burden off our back.

– Throughout our history, Americans have always been willing to sacrifice to make our nation stronger over the long haul. That's the promise of America:to give our children and grandchildren a better life.

– American families have spent the past 2 years making tough choices in their own lives. They expect us to do the same. The American people are counting on us to put politics aside, pull together not pull apart, and agree on a plan to live within our means and make America strong for the long haul.
I recommend they redraft that slide prior to deleting the remaining 47 slides that follow. Perhaps something along these lines:
We have a responsibility to come together on a plan that will make America better off tomorrow than it is today given how bad the state of the real economy is now and how weak the government fiscal response has been.

America cannot be great if the private sector goes broke. Our economy will not grow and our country will not be able to compete without a plan to get this crushing private debt burden off our back. Given the government has no solvency risk (and cannot go broke) and that fiscal policy has the unique capacity to support spending and employment while the private sector restructures its balance sheet, it is our responsibility to recommend a further (jobs rich) fiscal stimulus.
Throughout our history, Americans have always been willing to sacrifice to make our nation stronger over the long haul. That's the promise of America: to give our children and grandchildren a better life. And if we succumb to the maniacal protests of the deficit terrorists and cut back net public spending now and drive millions more workers out of jobs then we will be guilty of crimes against our children and grandchildren.
American families have spent the past 2 years facing tough choices in their own lives because the market system failed due to lax government regulation and dishonest and irresponsible entrepreneurial behaviour. Their situation has worsened because the government did not have the courage to provide enough fiscal support to ensure there was enough spending to support their their jobs. They have been lied to by the press, the conservatives and we have gone along with these lies – the buck stops with the President on this who had shamefully lied to the American people when he told them that the government had run out of money. The American people are now counting on us to stop lying and to face up to the basic macroeconomic rule that spending equals income. The American people know that they have live within their means but they know the government has no such financial constraint and should be spending so that they can be employed and save and that will make America strong for the long haul.
I think that might be better although PowerPoint would probably split the message onto two slides. But it is better to tell the truth on two slides than to lie on one.
On Slide 6 the heading is "Cut Spending We Simply Can't Afford, Wherever We Find It". Who is We? Answer: the private sector should never spend more than they can afford. That means they should only run sustainable debt burdens and probably not be in debt overall as a sector. But the US government can always afford to buy whatever there is for sale in US dollars on any given day.
A sovereign government like that in the US is never revenue constrained because it is the monopoly issuer of the currency. It is nonsensical to talk about the US government as if it is a budget-constrained household.
That doesn't mean (all you goldies out there) that the US government should spend without discretion or control. It should only spend to ensure its socio-economic program to advance public purpose is being progressed and only in net amounts that ensure that nominal spending growth doesn't outstrip the real capacity of the economy to absorb it with output increases. If the two aims are mutually inconsistent (that is, the implied size of government to deliver this program and the current size of the private sector overall add up to more than the real economy can support) then the government can either reduce its program ambitions (a political issue) or reduce the size of the private sector (via taxation increases etc). But none of these choices and decisions are financial in nature. They are mostly of a political nature.
And the hypocrisy is stunning
Meanwhile, the German moralists are going hard at it after the publication on November 7, 2010 of a story in the Athens-based Magazine – Proto Thema. For those who read Greek here is the original story.
The translation of the headline is broadly: "Sir, where did you get the Porsche?"
Even though I was brought up in the second-largest Greek speaking city in the world outside of Athens – that is, Melbourne, Victoria – I have to defer to my Greek-speaking friends for a perfect translation.
They tell me the story went like this:
Faced with one of the largest European affairs wasting resources, especially at European level, of more than 150-200 million, distinguished professors of major universities in the country appear to be the European Anti-Fraud Office (OLAF) and the Greek Justice.

Apparently, some well-known Greek university professors (mainly from the IT fields from two Athens institutions) took money from EU research programs and "suddenly came into possession of expensive properties and Porsche cars".

European fraud investigators from OLAF performed surprise raids on their homes, their university offices and a known IT company and siezed computer HDDs.

The accusation is that these professors accepted EU research funding and published fake research studies and used invoices from suppliers in countries with tax havens to launder the funding into personal uses.

Apparently, the professors earn around 1,500 to 2,000 Euro per month but are now in the possession of expensive villas and cars and took luxurious holidays and didn't spare the fine wine.
The outrage in Germany is clearly very strong given they think they bailed out Greece for billions this year. The German press has made a meal of the story.
My reaction: some people are dishonest. Dishonest people are in public and private life and always take advantage of lax regulations. The financial collapse was driven, in part, by cheats who relentlessly lobbied governments to free up markets (which means abandon the checks and balances on them) and then rorted the system for what they could.
If this story about the professors is true it just tells me that the EU rules surrounding research funding and the accountability for such funding is poorly designed and/or implemented.
It doesn't tell me that public spending is intrinsically wasteful. It doesn't tell me that fiscal austerity will improve anything. It doesn't tell me that the Germans have a moral right to inflict widespread hardship on the Greek people because they are lazy, cheats and whatever else they can be called.
I have been a recipient of a substantial amount of public research funding over many years in Australia via the Australian Research Council. The ARC provide a highly competitive grant scheme and the grants deliver very high status to their recipients. Being successful in this regard has allowed me, in part, to build a research centre at the University. But it would be impossible for me to channel the funding into fine villas and cars even if I wanted to. Why? Answer: there are strict regulations and auditing!
Anyway, on the subject of German hypocrisy and the claims that export-led growth combined with fiscal austerity claims will improve things consider the following.
Take a look at this beauty! I am trying to appeal to all those militaristic types out here by calling this awful black thing beautiful – you know, penetrate a new market for the dissemination of Modern Monetary Theory (MMT) ideas. Note the flag!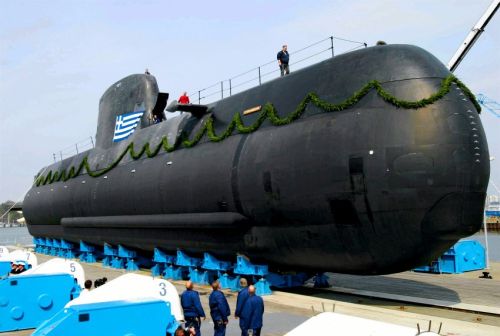 In the accompanying description, the German magazine Der Spiegel says:
Modernste U-Boote mit Brennstoffzellentechnik: Trotz Finanzkrise haben etwa die Griechen insgesamt sechs Boote der Klasse 214 bei den deutschen Howaldtswerken (HDW) geordert, die zu ThyssenKrupp Marine Systems gehören.
Meaning? These state-of-the-art U-boats (submarines) are equipped with fuel cell technology : Despite the financial crisis, the Greeks have ordered a total of six boats of the Class 214 from the German company HDW, which is owned by ThyssenKrupp Marine Systems.
Get the picture? The Greek government which is being coerced by the Euro bosses (who are, in turn, being coerced by the Germans) and seriously cutting back their social spending are still buying very expensive arms from the Germans.
I sent the Treasurer in the Greek government an E-mail today urging their government to increase increase social spending by implementing (in the first instance) a Job Guarantee which would attenuate the collapse of private spending while they designed some other public initiatives to arrest their decline. I also said they should pull out of the Euro this weekend in the process. Moreover I recommended that at the same time they should immediately abandon all contracts to purchase military equipment from Germany and France and make peace with Turkey in the process!
But the general point is that Germany is looking better than Greece because it is exporting still while at the same time demanding the nations they export to cut government spending (but presumably not on goods that the Germans sell).
Some explanatory text from an article in :
Vor den Deutschen rangieren in der Rangliste der Waffenhändler nur noch die USA und Russland; hinter ihnen die von hiesigen Rüstungsmanagern beneideten Franzosen und Briten. Nach Berechnungen des anerkannten Stockholmer Friedensforschungsinstituts SIPRI lag der deutsche Weltmarktanteil zwischen 2005 und 2009 bei elf Prozent. Den wiederum größten Anteil an Kriegswaffen made in Germany erhielten demnach die Türkei (14 Prozent), Griechenland (13 Prozent) und Südafrika (zwölf Prozent). Im Jahr 2008 etwa erlaubte die Bundesregierung die Ausfuhr von Rüstungsgütern im Wert von fast sechs Milliarden Euro.
Translation: "Germany ranks third in the world behind the US and Russia in world sales of armaments. According to data available from the acknowledged Stockholm Peace Research Institute, the German share of the world market over 2005-2009 averaged eleven percent. The largest buyers of military equipment made in Germany were Turkey (14 percent of total sales), Greece (13 percent) and South Africa (twelve percent). In 2008, the federal government allowed military equipment worth almost six billion euros to be exported".
If you read the SIPRI Yearbook 2010, which carries the subtitle Armaments, Disarmament and International Security you will stumble on the following Table.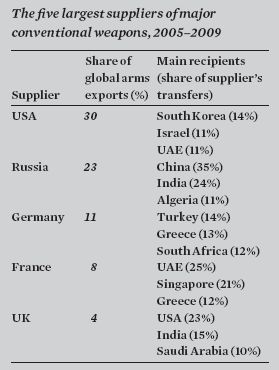 So the two big nations in Europe – France and Germany – have been pushing this stuff onto Greece like there will be no tomorrow while at the same time accusing them of over-spending and public waste.
The Greek people should revolt and the German and French citizens should join them in sympathy. This ruling-class hypocrisy is bringing them all down to their knees.
Excellent data on military expenditure is available from the Stockholm International Peace Research Institute. The following graph shows military expenditure from 1988 to 2008 as a percent of GDP for selected countries. Message for Greece – Turkey is disarming!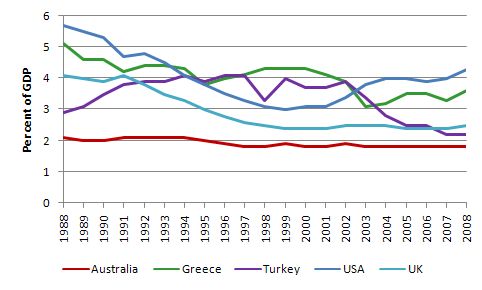 The theme broadened for me today though. I was sent the latest specialist Enterprise Hardware/Software & Hard Disk Drives sector financial briefing this morning (thanks Marshall) from a leading financial information company in this field. The briefing carried the heading – Cisco Fall-Out: Public & SP Vertical Weakness a Focus – and the relevant extract follows (if you can translate the esoteric language!):

I am from a profession that hides behind jargon to ensure that our messages are garbled. It is a control mechanism which allows my pompous colleagues to sound authoritative when in fact all they are pumping out is drivel. What they say is dangerous, but drivel nonetheless.
You can get more detail from Cisco's 2010 Annual Report
But if you cut through all this financial talk the message is very clear. Here is a large private company that employs tens of thousands of people – currently employing 72,600 people (Source).
Bloomberg reported on Cisco's poor figures with an extraordinary headline – Cisco Shortfall Shows Risks in Government Spending Cuts.
Everybody repeat that headline a few times in between repeating the mantra for the week – spending equals income.
The Bloomberg report says that:
Disappointing sales and profit forecasts from Cisco Systems Inc. show cutbacks in government spending that pose risks for companies that rely on the sector for growth.

Governments in Europe, Japan and some U.S. states reduced orders as their budgets came under pressure … State government orders fell 48 percent in the last quarter from the previous period …

The challenges for Cisco, which gets about 22 percent of its business from the public sector, may signal broader risks for businesses that depend on government spending. Companies in technology, construction and health care draw revenue from state and local governments, which reduced their spending in the third quarter and cut into U.S. economic growth.
Spending equals income. The macroeconomic system does not distinguish between public or private spending. A $ spent is a $ of income generated and a part of a job (whether in the public or private sector) supported.
The Bloomberg report couldn't be clearer saying that "cutbacks at the state and local level are starting to weigh on companies doing business with those governments. The slowdown in municipal and state expenditures is putting a bigger burden on private industries and consumers to spend at a pace that maintains the economic recovery".
Spending equals income. Income follows output which generates employment. If the private sector will not spend then the government has to fill the gap. If not, profitable private companies who would otherwise be in good shape start to struggle. They lay off workers and the loss of income that results reverberates throughout the rest of the economy.
Please read my blog – Spending multipliers – for more discussion on this point.
So if you cannot get your head around the value of public employment schemes (but keep trying) it should be much easier to understand Cisco's dilemma. The public cutbacks are undermining their markets. The lost spending is reducing their income. The reduced income will reduce their employment levels. The workers who lose their jobs will stop spending … and then …
Get your heads around that!
Cutting government spending will reduce the tax burden
In the current debate, the proponents of fiscal austerity keep wheeling out the Ricardian Equivalence line which I have written about a lot in this blog and in my academic work. Briefly, the mainstream macroeconomists claim that the reason that the private sector is not spending at present is because they are expecting higher taxes in the future because they expect the budget deficits will have to be paid back sometime and so they are saving up to pay those tax bills.
The reality is that there are not a host of Ricardian consumers and firms just waiting to spend up big as they perceive their "future tax burdens" will be reduced by the austerity packages. That is one of the biggest hoaxes to emerge from mainstream macroeconomics. It is a bald-faced lie and does not withstand empirical scrutiny. They just think if they keep repeating the same thing repeatedly then eventually it becomes true. It will never be true.
Please read my blogs – Pushing the fantasy barrow and Fiscal austerity – the newest fallacy of composition – for more discussion on this point.
But for Cisco workers and all the other public and private sector workers who depend on government contracts etc for their livelihood and the other workers who, in turn, depend on the spending of this first group of workers for their employment, it is completely true that fiscal austerity will reduce their tax burdens.
You don't have to pay tax if you don't have a job!
Conclusion
I have run out of blog time today but the message should be clear.
I hope you all continue to spread it so that it may grow.
Saturday Quiz
The Saturday Quiz will be back sometime tomorrow – even harder than last week!
That is enough for today!